Alaska - Interior
Home to North America's highest peak and a remarkable diversity of flora and fauna
About
Interior Alaska is characterised by unending wilderness, large rivers, climatic extremes and expansive forests. Whilst its rugged terrain makes large parts relatively inhospitable, the Interior has a long history of riches that have been utilised by farmers, fur trappers, and gold miners over the centuries and there is a wealth of beautiful scenery and historical landmarks for visitors to explore.
The region is known for its extreme weather and daylight hours. In the winter, temperatures have lows of around -24°C and in the very depth of winter, there are only around four hours of daylight. Summer sees highs of around 17°C and around 21 hours of daylight. This ensures that interior Alaska is a year-round destination, and the ideal spot for adventurous visitors to seek out either the Midnight Sun or the Northern Lights.
Speak to our Artisan Travel Experts
01670 785 085
The Golden Heart city
The main city in this location is Fairbanks, the 'Golden Heart' city that is second in size only to Anchorage. The city forms the main trade and transportation centre for the Interior and Far North regions and dates back to the time of the Gold Rush when an Italian prospector named Felix Pedro struck gold 12 miles to the north of the city. The city population contracted rapidly after the gold rush began to diminish, but has seen growth in recent years after the construction of the Alaska Railroad, Alaska Highway and the trans-Alaska oil pipeline. Fairbanks is the ideal base for enjoying an array of varied activities, from shopping and exploring art galleries, to golfing, fishing and snowmobiling. Furthermore, from Fairbanks, you can take part in many small plane excursions into the Arctic Circle and Alaska's Far North region.
Untamed wilderness
The centrepiece of Interior Alaska, and ranked often as Alaska's top attractions, is Denali National Park. Established in 1917, the abundance of untamed wilderness and unique wildlife make the park perhaps one of the greatest natural places in the world. The park is famed for Mount McKinley, which stands at 20,320 feet and is the highest mountain peak in North America, but there is also an endless array of natural wonders to gaze upon, including glaciers, tundra and taiga forests. Visitors can also expect to witness an array of wildlife too with over 160 bird species and 37 species of mammals including bears, caribou, Dall sheep, moose, wolves, porcupines and foxes.
---
Photography by State of Alaska/Chris McLennan, Matt Hage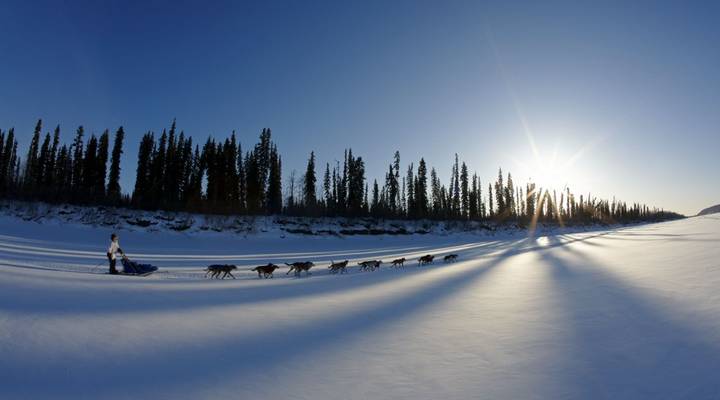 Holidays
Accommodation