Overview
The ultimate in European wildlife watching; spend two of your four nights in a wildlife hide in Finland's Wild Taiga, a remote and beautiful wilderness in Eastern Finland. Situated on the Russian border, this is a place where wildlife roams freely in seemingly unending forests. Brown bear, wolves, wolverine, lynx, beaver and elk all inhabit the area and the expert local team will do all they can to show these exceptional animals in their natural habitat.
What's included?
Transfers: Return airport transfers from Kajaani
Accommodation: 2 nights' accommodation at Hotel Kalevala in an en-suite standard classic double/twin room, 2 nights' accommodation in shared animal hide
Meals: 4 breakfasts, 4 dinners
The following activities are included in the holiday: Visit to Petola Nature Centre, 2 nights in hide on wildlife safaris with expert guide, beaver safari by rowing boat (order subject to change)
English speaking wilderness guides
Free use of bicycles and rowing boats during your stay
Image credits: Hotel Kalevala & Visit Finland
---
This is an exceptional wildlife holiday which allows you to spend time in a wilderness region that few people are lucky enough to visit. You will spend two of your four nights in a wildlife hide in 'no man's land' between Finland and Russia, in the company of an expert wildlife guide and photographer.
Situated in the middle of the Finnish Wild Taiga, your holiday will be spent in a vast expanse of stunning wilderness filled with flora and fauna. Wildlife encounters here can include sightings of brown bear, wolverine, lynx, beavers and wolves to name but a few.
This wildlife trip will take you to the secret spots and hidden locations of the Taiga, a huge forest that spreads throughout Sweden, Finland, Russia and North America. This coniferous woodland is mainly made up of pine, spruce and larch trees and it forms the largest land habitat in the world. It is this huge, untouched wilderness that allows nature to flourish and provides you with the opportunity to view magical wildlife in its natural habitat.
Read more
From your hide, you will hopefully take photos of the local wildlife as the forests come to life. Brown bear often graze just outside the hide and other animals such as wolverine and lynx have been known to make an appearance, so cameras should be at the ready.
In addition, you'll enjoy a leisurely rowing boat trip searching for wild beaver and there will also be plenty of free time for you to take part in a variety of additional activities, such as cycling, hiking and additional wildlife viewing.
Either side of your wilderness camp, you will be able to enjoy the comfort of Hotel Kalevala for two nights and the informative Petola Nature Centre which is situated next door.
---
Image credits: Hotel Kalevala & Konsta Punkka and Matthieu Ever Visit Finland
View Gallery
Download Dossier
Key facts
| | |
| --- | --- |
| Duration: | 4 nights |
| Pace: | Balanced |
| Suitable for: | Ages 18+ with a reasonable level of physical fitness. See our terms for further information |
Make an enquiry
Agenda
Accommodation
Included in price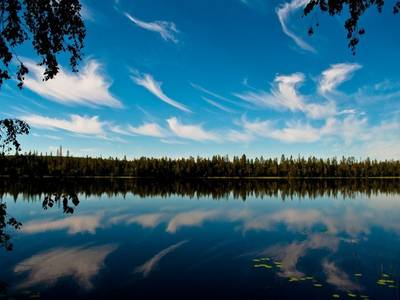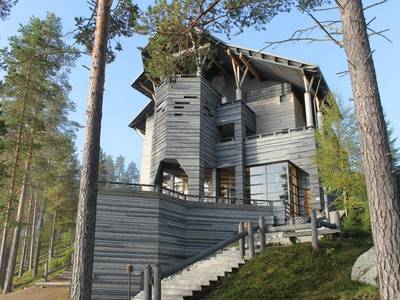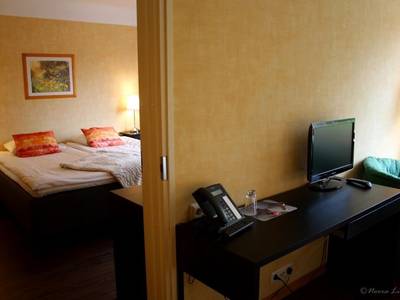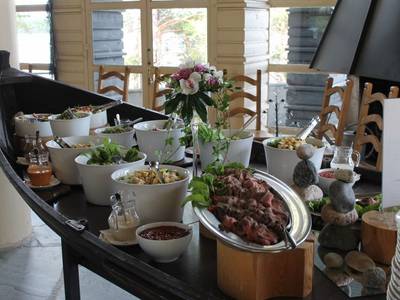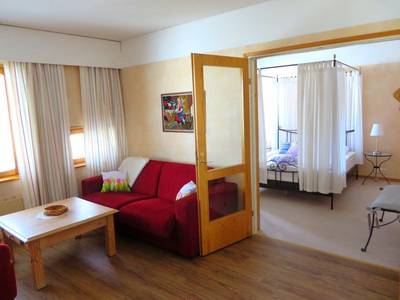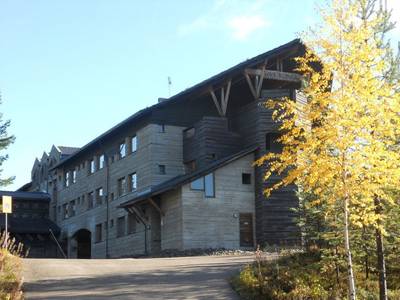 Hotel Kalevala
Nights:
1,4
Located in Kuhmo, close to the Russian border in Eastern Finland, the Hotel Kalevala is surrounded by stunning scenery and beautiful wilderness.
It is just steps away from the shores of the beautiful Lake Lammasjärvi and the hotel building is in a unique setting which mirrors the nature that surrounds it, offering breathtaking views out over the lake. With 47 rooms, the hotel provides a quiet, relatively intimate atmosphere that compliments its surroundings.
Facilities:
A restaurant that offers traditional and international specialities, with stunning views out to the lake
Lounge area with fireplace
A summer terrace
Two traditional saunas: Peat sauna & Infra-red sauna (supplement payable locally)
Jacuzzi for up to 7 people
A variety of massage treatments are available from the on-site spa area
Free Wi-Fi
Classic room
The Classic room has either a double or twin beds and the size is approximately 21m². The facilities include shower and WC, hairdryer, flat TV, radio, minibar and Wi-Fi.
Family room
These are two standard rooms with interconnecting doors and each room has a size of 19m². The facilities in each room include a shower and WC, hairdryer, flat TV, radio, minibar and Wi-Fi.
Superior room
The superior room offers an amazing lake view and is 21m² in size. The facilities include shower and WC, hairdryer, bathrobes, slippers, flat TV, radio, minibar, coffee/tea making facilities and Wi-Fi.
Read more
Read less
Bear Hide In Finland
Nights:
2-3
The hide is located in no-man's land, close to the Russian border. Fitted with bunk beds, there is room for 12 people, with mattresses and sleeping bags provided.
Equipped with comfortable viewing chairs, each with their own window and photography hole, the hide offers panoramic views of the surrounding wilderness. A dry toilet is located within the hide.
The hide is situated in prime bear viewing country, deep in the wilderness, surrounded by towering trees and shrubs and dotted with small, glistening lakes, all of which make it the perfect place for wildlife to thrive. The Finnish Wild Taiga forest is home to a variety of animals, including brown bear, wolverine, lynx, beavers and wolves.
Personalise
Personalise this tour
---
Our pick
Join the famous Elk Safari on day 4. Look out into the beautiful surroundings of the evergreen forest and keep your eyes peeled for the largest member of the deer family, the European Elk.
Read more
On this guided tour you might even see the rare Wild Forest Reindeer, as well as eagles and wolverines. Transfers and coffee are included and the tour lasts between three and four hours.
A minimum of two people are required for this tour to operate.
---
Other options
Activities
Hiking tour on brown bear's tracks
From: £60pp
If you can't get enough of learning about bears, then this is the perfect tour for you.
Read more about this activity
Available during your free time on day 4 you can join this two to three hour nature walk in the Finnish Taiga. Listen to stories about the Finnish bear, whilst discovering the secrets and tracks of this fascinating predator. Your guide will share all of his knowledge and will teach you how to read their tracks and traces, such as marks on the trees.
A minimum of two people are required for this tour to operate.
Bicycling and hiking tour
From: £44pp
If you would like to do something active and exciting, why not join this tour during your free time on day 4.
Read more about this activity
During this three hour guided tour, you will enjoy a mix of 10km of biking and 3km of hiking through beautiful woodland scenery. You will hike along the Kämärä forest path, which winds along the wooded hill of Pönkävaara. A coffee break is included.
A minimum of two people are required for this tour to operate.
Dates & Prices
We include more, no hidden costs
On each of our holidays you will see a clear outline of exactly what's included in the price of your holiday. We never use 'headline' or 'lead-in' prices like so many tour operators, as we prefer to include as much as we can, rather than see our clients incur considerable additional costs in our destinations.
Prices
Dates

Sun 15 Apr 2018
to
Wed 11 Jul 2018

Enquire

Adults

£ 1,275

Single Adult

£ 1,365

Sun 29 Jul 2018
to
Thu 13 Sep 2018

Book

Adults

£ 1,275

Single Adult

£ 1,365
Next season's provisional dates and prices
You can make a pre-reservation to secure your holiday at this stage by paying a deposit but, the provisional departure dates, prices and itineraries remain subject to change. We will contact you when the final dates, prices and itineraries are confirmed and you will have 14 days to decide if you would like to go ahead. If you decide not to travel we will refund your deposit. Our Travel Experts will happily provide you with full terms and a complete quotation.
Dates

Sun 14 Apr 2019
to
Wed 10 Jul 2019

Enquire

Adults

£ 1,430

Single Adult

£ 1,530

Sun 28 Jul 2019
to
Thu 12 Sep 2019

Enquire

Adults

£ 1,430

Single Adult

£ 1,530
Terms
For our full booking terms and conditions please click here
Holiday group size (approximate)
A minimum of 2 and a maximum of 30 people
Group sizes
Most of our holidays require a minimum number of participants to operate. Minimum numbers are detailed on each holiday page and are always approximate. Group sizes for tailor made holidays will vary for each of the activities. For private departures you may also be joined by other guests during the activities unless you have discussed specific private activities with us.
If your selected date has not yet reached minimum numbers you will be informed at the time of booking. In the unlikely event that your chosen date has not reached the required minimum numbers nine weeks before your scheduled departure date we will contact you and discuss the various options available to you. We will always do all we can to operate a holiday and in some cases we may be able to operate the holiday by combining your itinerary with that of other guests for some activities (this may mean that the maximum group size is increased but this will be discussed in full with you).
If we are unable to operate the holiday then you will be offered the chance to transfer to an alternative holiday or date (subject to availability). If the alternative is more expensive you will be asked to pay the difference, if it is cheaper then you will be reimbursed. You will also be offered the option to cancel and receive a full refund of all monies paid.
Minimum age
Whilst Artisan Travel only sells holidays to those aged 18 years and over on a small selection of holidays there may be those under the age of 18 who have booked with other companies and where our local supplier also allow those under 18 to participate (additional activities during tailor made holidays for example). Our travel experts will answer any concerns you may have in this regard.
Medical History and advice
You must inform us at the time of booking if any of your party has a disability, medical or behavioural conditions which could affect their own participation in the holiday or indeed that of the other people on the holiday.
We cannot be held responsible for any incident or event arising from your failure to do so.
Experience and fitness
Any activities included in your itinerary are all designed for beginners. Full instruction and tuition is provided for all activities and you do not need to have any previous experience. For example you need never have set foot on a pair of skis of any kind before a cross-country ski tour. We have adults of all ages and fitness levels taking part in our holidays.
We do highlight certain itineraries where an increased level of fitness is required.If you have any questions at all with regards to fitness levels please get in touch and talk to one of our experts. You can find further details in our trip preparation section online. You must inform us at the time of booking if any of your party has a disability, medical or behavioural conditions which could affect their own participation in the holiday or indeed that of the other people on the holiday.
Guides and safety
It is absolutely essential when partaking in any activity that you listen very closely to, and abide by, the instructions provided. Nobody knows the environment better than our activity providers who work here almost everyday.
Consequently, their knowledge and experience is unsurpassed. If there is anything that you are unsure of during a safety briefing or that you would like to clarify with the guides please make this clear to them immediately before starting the activity.
There may be rare occasions when our guides consider local conditions unsuitable for a certain activity. Hence, your itinerary may be subject to change at short notice but we will always endeavour to firstly find a replacement on the day and secondly, to provide the cancelled activity later in your stay whenever possible. Very occasionally it proves impossible to provide the activity in which case you will be refunded when you return home.
Our guides' word on activities is always final and your safety is their principal concern at all times, please respect their decisions. By following their instructions, your safety and enjoyment during each activity will be greatly enhanced.
You must inform us of any medical conditions that may affect your participation in an activity at the time of booking.
Booking activities locally
In almost all of our destinations you can book and pay for additional activities locally. Please note that we cannot be held responsible for any injury or loss that occurs through any activities that are booked in your destination (see our terms and conditions for further details).
Please always ensure that your safety is your primary concern when arranging any such activity.
Car Hire
If your trip includes car hire the named driver must have a credit card registered in their name which they can present when they collect their car along with their driving licence, as a deposit will be held on the credit card. Please see your trip dossier for full details.
---
---