Overview
Based on Sipan Island, this is the active way to explore Europe's grandest coastal city and the breathtaking Dalmatian Coast. Several gentle activities (sea kayaking, paddle boarding, cycling, walking and sunset sailing) help you to discover the coastal fortress of Dubrovnik and three Croatian islands, Lopud, Koločep and Sipan. The activities last between 2 and 5 hours leaving you with plenty of time to relax, explore, delve into the local history and culture and sample the Mediterranean cuisine.
What's included?
Transfers: return airport transfers*
Accommodation: 7 nights at the 3-star Guesthouse Dubravka in Luka Šipanska on Sipan Island
Meals: 7 breakfasts, 3 dinners
The following activities are included in the holiday: two sea kayaking trips (previous experience not required), paddleboarding, cycling, walking, Dubrovnik sightseeing and sunset sailing (the order of activities is subject to change)
Fully qualified guides and instructors during activities
Equipment, training, and supervision for all activities with expert local guides
Local taxes and transfer fees (including ferry crossings for activities where specified)
* We recommend arriving in Dubrovnik by 3 pm. We provide transfers from Dubrovnik Airport, harbour and bus station until 6 pm but, if you arrive after 3 pm, you may miss the welcome dinner and orientation briefing. Should you arrive after 6 pm then a private transfer or night in Dubrovnik (at an additional cost) may be required.
---
Dubrovnik is stately, imposing and magnificent. It's little wonder that this coastal fortress has provided many a backdrop for historical or fantasy-based television (think Game of Thrones). You could spend day after day exploring the maze of streets, alleys and squares, the honey coloured and red roof topped buildings, the cafes, bars and restaurants and, best of all, the utterly captivating views earned by walking the walls that protect this fortified city.
In the summer months, Dubrovnik is a very busy place and so this holiday is based on a small island less than an hour's ferry journey from the city but, a million miles away in terms of visitor numbers.
Alongside Dubrovnik, there are few stretches of coastal waters as stunning as that of Dalmatia. This trip combines Dubrovnik with the three "main" islands of the Elaphiti Archipelago, Sipan (pronounced "Shipan"), Lopud and Koločep ("Kolochep").
Read more
Sipan is the largest of the Elaphiti Islands and will be your base for the week. You will be staying in the charming and archetypically Croatian fishing village of Šipanska Luka.
After an active day, dining outside on fresh seafood, fish and traditional Croatian fare could not be a more enticing prospect. Fortunately, your guest house accommodation has an excellent restaurant with terrace seating situated just a peeled prawn shell's throw from the gently lapping water of the Adriatic.
The sunsets here are unforgettable so why not linger a while with a glass or two of the local wine while the burning orange ball descends slowly into the Adriatic? 'Tis heavenly.
From this Sipan base, our guides will help you to explore Lopud, Koločep and Sipan itself during a fun-filled activity week. All the necessary equipment is provided so there's no need to worry about anything other than listening to the guides' instructions and having a thoroughly enjoyable holiday.
You'll find yourself exploring the smaller Elaphiti islands by sea kayak and paddleboard as well as cycling on Sipan, hiking on Lopud, and sea kayaking and snorkelling the waters that surround Koločep.
Combine these activities with a day exploring Dubrovnik and plenty of time to enjoy Sipan's sandy beaches and you've pretty much got this part of Croatia covered.
---
Credit: Huck Finn Adventure Travel, Ivo Biocina and Croatian National Tourist Board, Zeljko Kelemen
Agenda
Accommodation
Included in price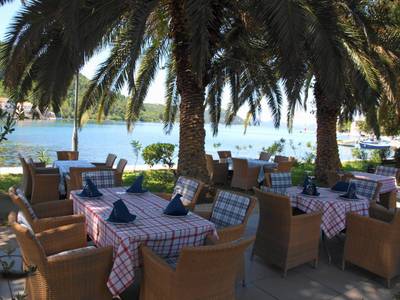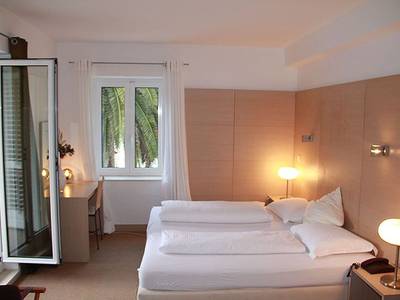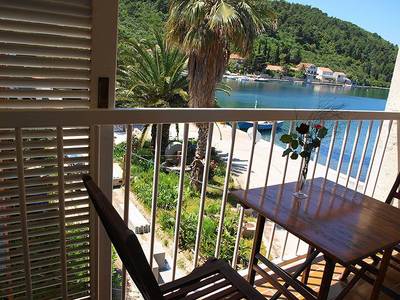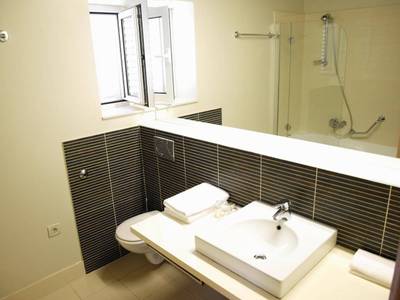 Guesthouse Dubravka, Sipan Island
Nights:
1-7
This traditionally stone-built guesthouse has only six bedrooms so early booking is absolutely essential. It is situated right on the seafront in the small village of Šipanska Luka in the northwest of Sipan Island. With the beach just a few steps away, and a lovely harbour lined with palm trees, the location could hardly be better.
The six bedrooms have either a double bed or two singles. They are traditionally furnished with villa-type shuttered windows, have en-suite facilities and air conditioning. Free Wi-Fi is available throughout. A few of the rooms have small balconies.
The seafront restaurant is downstairs and serves delicious food that is typical of the Dalmatian islands. Fish and seafood feature prominently as do traditional dishes such as beef goulash and "pig on a spit". The village is small and there are not many restaurants, so it is worth booking a table for the nights when dinner is not included.
The seafront terrace is a lovely, lovely place to relax with a drink and a meal. Sitting under the palm trees and watching the sun set into the Adriatic has to be one of life's simplest yet most rewarding of pleasures.
Read more
Read less
Dates & Prices
We include more, no hidden costs
On each of our holidays you will see a clear outline of exactly what's included in the price of your holiday. We never use 'headline' or 'lead-in' prices like so many tour operators, as we prefer to include as much as we can, rather than see our clients incur considerable additional costs in our destinations.
Departures
This trip runs from Saturday to Saturday during the date ranges below.
---
Prices
Departure dates between

Sat 20 Apr 2019
to
Sat 18 May 2019

Enquire

Adults

£ 615

Sat 25 May 2019
to
Sat 08 Jun 2019

Enquire

Adults

£ 695

Sat 15 Jun 2019
to
Sat 31 Aug 2019

Enquire

Adults

£ 765

Sat 07 Sep 2019
to
Sat 21 Sep 2019

Enquire

Adults

£ 695

Sat 28 Sep 2019
to
Sat 12 Oct 2019

Enquire

Adults

£ 615
Next season's pre-sale dates and prices
To secure your holiday for next season, you can make a pre-reservation by paying only £50pp. The provisional departure dates, prices and itineraries remain subject to change. We will contact you when the final dates, prices and itineraries are confirmed and you will have 14 days to decide if you would like to go ahead. Should you wish to proceed then a further deposit (typically of £150pp) will be payable at this stage. If you decide not to travel, we will refund your initial £50pp payment. Our Travel Experts will happily provide you with full terms and a complete quotation.
Departure dates between

Sat 18 Apr 2020
to
Sat 16 May 2020

Enquire

Adults

£ 690

Sat 23 May 2020
to
Sat 06 Jun 2020

Enquire

Adults

£ 780

Sat 13 Jun 2020
to
Sat 29 Aug 2020

Enquire

Adults

£ 860

Sat 05 Sep 2020
to
Sat 19 Sep 2020

Enquire

Adults

£ 780

Sat 26 Sep 2020
to
Sat 10 Oct 2020

Enquire

Adults

£ 690
Terms
For our full booking terms and conditions please click here
Holiday group size (approximate)
Approximately 4-16 people
Group sizes
Most of our holidays require a minimum number of participants to operate. Minimum numbers are detailed on each holiday page and are always approximate. Group sizes for tailor-made holidays will vary for each of the activities. For private departures, you may also be joined by other guests during the activities unless you have discussed specific private activities with us.
If your selected date has not yet reached minimum numbers, you will be informed at the time of booking. In the unlikely event that your chosen date has not reached the required minimum numbers nine weeks before your scheduled departure date, we will contact you and discuss the various options available to you. We will always do all we can to operate a holiday and in some cases, we may be able to operate the holiday by combining your itinerary with that of other guests for some activities (this may mean that the maximum group size is increased but this will be discussed in full with you).
If we are unable to operate the holiday, then you will be offered the chance to transfer to an alternative holiday or date (subject to availability). If the alternative is more expensive you will be asked to pay the difference, if it is cheaper then you will be reimbursed. You will also be offered the option to cancel and receive a full refund of all monies paid.
Minimum age
Unless otherwise stated in the 'Key Facts', the minimum age for participation in an Artisan holiday is typically 8 years old (there may be younger children in some destinations who have booked with other companies). If an adult only environment is important to you, then please contact our Travel Experts and they will advise on the best dates and destinations for you. If you are looking for a holiday designed specifically for families then please see our sister company: www.activitiesabroad.com
Single supplements
Please note that some of our holidays may incur a single supplement. Please speak to one of our Travel Experts who will provide you with a quotation.
Medical history and advice
You must inform us at the time of booking if any of your party has a disability, medical or behavioural conditions which could affect their own participation in the holiday or indeed that of the other people on the holiday.
We cannot be held responsible for any incident or event arising from your failure to do so.
Reduced mobility
If you have a reduced level of mobility, then please contact our Travel Experts to discuss the suitability of this holiday in relation to your requirements.
Experience and fitness
Any activities included in your itinerary are all designed for beginners. Full instruction and tuition are provided for all activities and you do not need to have any previous experience. For example, you need never have set foot on a pair of skis of any kind before a cross-country ski tour. We have adults of all ages and fitness levels taking part in our holidays.
We do highlight certain itineraries where an increased level of fitness is required. If you have any questions at all with regards to fitness levels please get in touch and talk to one of our experts. You can find further details in our trip preparation section online. You must inform us at the time of booking if any of your party has a disability, medical or behavioural conditions which could affect their own participation in the holiday or indeed that of the other people on the holiday.
Guides and safety
It is essential when partaking in any activity that you listen very closely to, and abide by, the instructions provided. Nobody knows the environment better than our activity providers who work here almost every day.
Consequently, their knowledge and experience are unsurpassed. If there is anything that you are unsure of during a safety briefing or that you would like to clarify with the guides, please make this clear to them immediately before starting the activity.
There may be rare occasions when our guides consider local conditions unsuitable for a certain activity. Hence, your itinerary may be subject to change at short notice, but we will always endeavour to firstly find a replacement on the day and secondly, to provide the cancelled activity later in your stay whenever possible. Very occasionally it proves impossible to provide the activity in which case you will be refunded when you return home.
Our guides' word on activities is always final and your safety is their principal concern at all times, please respect their decisions. By following their instructions, your safety and enjoyment during each activity will be greatly enhanced.
You must inform us of any medical conditions that may affect your participation in an activity at the time of booking.
Booking activities locally
In almost all our destinations, you can book and pay for additional activities locally. Please note that we cannot be held responsible for any injury or loss that occurs through any activities that are booked in your destination (see our terms and conditions for further details).
Please always ensure that your safety is your primary concern when arranging any such activity.
Car hire
If your trip includes car hire the named driver must have a credit card registered in their name which they can present when they collect their car along with their driving licence, as a deposit will be held on the credit card. Please see your trip dossier for full details.
Reviews
Traveller Reviews
We enjoyed all the activities
29 September 2018
by Colin and Pauline Simpson
Our 2 activity guides Luka and Aleks were very enthusiastic and coped well with our large group, taking us out in smaller groups for the activities. They were very informative, friendly and hospitable. They listened to us as a group and took on board any comments. We enjoyed all the activities but perhaps the sunset catamaran sail at the end was a very appropriate end to a lovely island based…
Read more holiday.
Read less
---
---