Overview
Cruise the Aegean on a mega-yacht exploring Greece's Cycladic and Saronic islands. Make port at lesser known islands such as Kea and Delos, stroll the cobbled back streets of Nafplio's medieval old town and marvel at the coastal fortress town of Monemvasia. You will also spend time at "must-see" destinations such as Athens, Santorini and Mykonos. This is small-ship cruising and the ocean is your swimming pool. Regular dips in the crystal Aegean waters are pretty much compulsory!
What's included?
Transfers: private return airport transfers (from Athens Airport to your hotel and from your hotel to the port)
Accommodation: 2 nights in a 4* hotel in Athens. 7 nights in a lower deck twin or double cabin with an en-suite on board M/Y Callisto OR M/Y Harmony V* (upgrades are available, please see the 'Accommodation' section)
Meals: 9 breakfasts, 3 lunches and 4 dinners
Filter coffee, tea and drinking water are available throughout each day.
The following activities are included in the holiday: welcome drinks on arrival, captain's dinner drinks reception, a fun BBQ and a locally-themed evening (the order of activities is subject to change)
During this trip, you will visit: Athens, Kea, Delos, Mykonos, Santorini, Crete (Rethymnon), Kythira, Monemvasia, Nafplio and Hydra
Please note: that shore excursions can be booked and paid for with your cruise coordinator once you are on board. Please see the 'Personalise' tab for your excursion options.
A note about flights: flights are not included in the holiday price so that the best possible fares and schedule can be found at the time of booking.
*Please note: departures in April and May will run with the M/Y Callisto. All other departure dates will run with the M/Y Harmony V.
---
This nine-night cruise will take you on an unforgettable journey across the Aegean Sea. Not only that, but an exclusive Motor yacht (the M/Y Callisto) or Mega Yacht (the M/Y Harmony V) will be your base, depending on your departure date. You will simply hop on and off in order to experience the ancient culture and breath-taking beauty of the Greek Islands.
All of the islands in Greece's archipelago are rich in culture, history, ancient mythology and geographical diversity, not to mention mind-blowing scenery. Beginning and ending in Athens, and visiting eight islands in total, you will sail full-circle and experience the myriad of attributes that burst from these isles.
Voyaging to islands such as serene Kea, glamorous, bustling Mykonos, spectacular Santorini, romantic, medieval Monemvasia and many more in between, this itinerary has been carefully constructed to include a complete range of destinations. You will journey to rugged and remote islands that are practically untouched by tourists, and to large, popular islands with outstanding restaurants, bars and nightlife. Each day will bring something completely new.
All of this will be enjoyed in the most fantastic accommodation. Your nights in Athens will be spent in the stylish, 4* Fresh Hotel, which offers exceptional cuisine, a rooftop pool, bar and restaurant with panoramic views of the city, and a "SILK" lounge and bar serving delicious, ice cold drinks and mouth-watering snacks. Or, you can upgrade to the luxury 5* hotel, Wyndham Grand? (details can be found in the 'Accommodation' section).
You will also spend seven nights on board the M/Y Callisto (departures from April until May) or the M/Y Harmony V (departures from June onwards). Both vessels are elegantly designed to provide a seriously comfortable travelling experience. With only a handful of guests and a large amount of living space to enjoy, the boats offer a relaxing and exclusive journey. There will also be plentiful entertainment on board, from swim stops along the way, to a sophisticated Captain's dinner, a local culture evening and a tasty barbeque outdoors on the deck.
---
Image credits: Variety Cruises, Fresh Hotel, Wyndham Grand
View Gallery
Download Dossier
Key facts
| | |
| --- | --- |
| Duration: | 9 nights |
| Pace: | Relaxed |
| Suitable for: | Anybody over the age of 18. See our terms for further information. |
Make an enquiry
Agenda
Accommodation
Included in price
Option 1
Fresh Hotel, Athens
Nights:
1,9
This 4* accommodation is a stylish, modern and simply delectable hotel in the centre of the ancient city of Athens, offering a wide variety of first-class facilities. The hotel restaurant offers phenomenal views of Athens, either through the panoramic windows from the inside, or from the outdoor terrace. The food served here is delicious, and the menu ranges from traditional Greek dishes such as moussaka, souvlaki and salads, to pasta, burgers and sandwiches; there is something to suit everyone's taste.
The hotel's terrace also has an outdoor pool with sun beds, stunning views and the option to book a poolside yoga session (these are payable locally and cost €20). There is also a fully equipped gym, and a hotel spa should you wish to be pampered during your stay.
Hotel facilities
24-hour front desk service and concierge service are available at the hotel, ready for when you need anything at all during your stay
American buffet breakfast is included in the price
Free Wi-Fi is available throughout the hotel, should you wish to share tales of your trip with friends and family at home
An outdoor swimming pool by the glamorous rooftop bar and restaurant is available to all guests
Hotel guests have access to the fitness room and sauna and to the hotel's art gallery
Room Type
Superior twin or double room: These modern and trendy rooms are equipped with all the necessary facilities. There is an en-suite which is complete with organic Greek Korres shower products, and the rooms all have air-conditioning, free Wi-Fi and hairdryers, and are 22 square metres in size.
Read more
Read less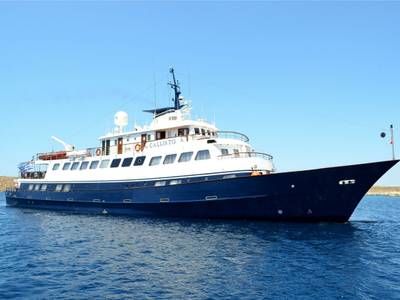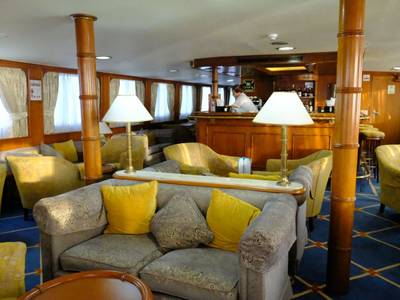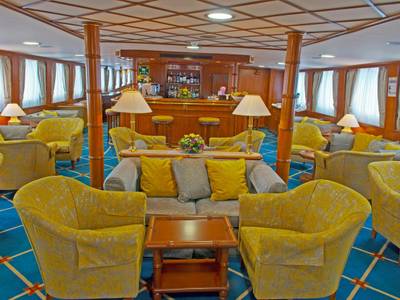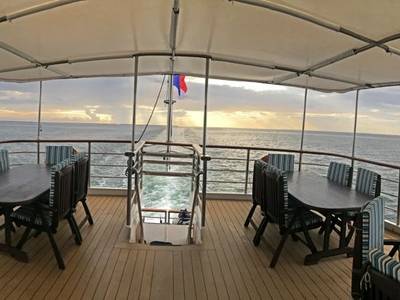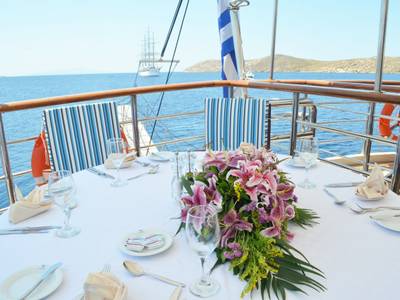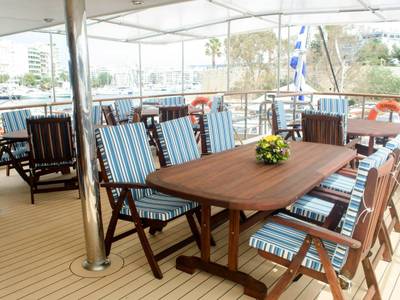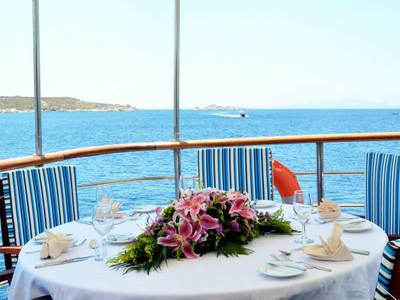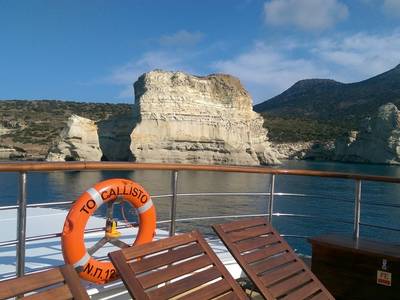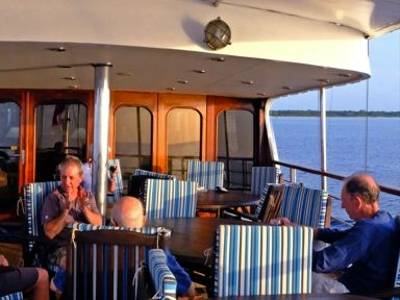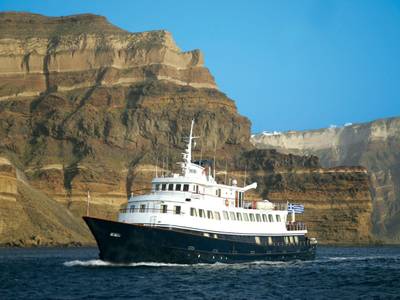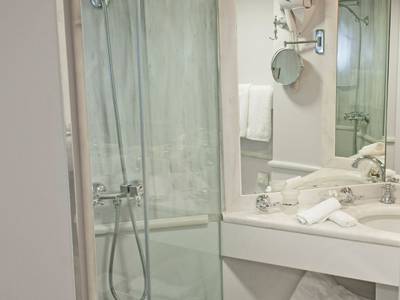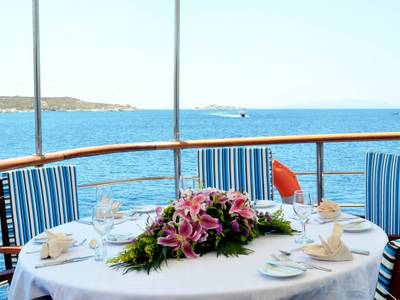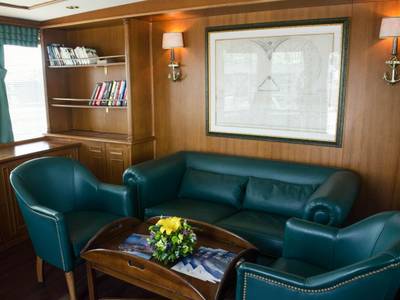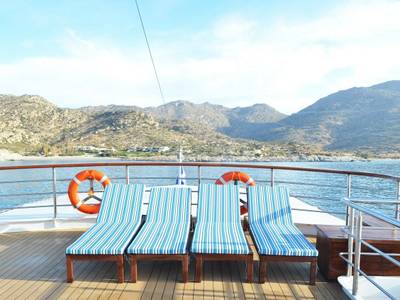 M/Y Callisto
Nights:
2-8
This 'boutique' category motor-yacht offers exclusive, high-end accommodation for the duration of your cruise. This classically elegant cruiser was completely renovated in 2016, and its spacious communal areas and cosy bedrooms create a fantastic base for a week of island hopping.
Life on board involves admiring the views from the outdoor deck, enjoying a drink in the indoor/ outdoor lounge and bar, and flicking through a book in the cosy library with its wraparound windows. A small gallery connects the upper deck bar and dining room, showcasing a selection of elegant art pieces. There is also a swimming platform on Callisto's stern, ideal for cooling swim stops in sheltered bays along the way.
Hotel Facilities
Half board accommodation is provided on the yacht and will be served in the indoor dining area, or 'al fresco' in the outdoor dining area. The staff here are extremely flexible, so you can dine in whichever restaurant you wish (weather-permitting).
The small onboard library and gallery are wonderful places in which to relax.
Filter coffee, tea and water are available throughout the day.
One gigabyte of wifi onboard is included in the price of your holiday. If you would like to add more during your stay for an additional fee, this can be arranged and paid for locally.
A multilingual Cruise Coordinator will be on-board throughout to assist you in any way and the experienced crew and captain are there to ensure your comfort and the highest possible levels of safety.
In order to make the most of your swim stops along the way, free use of fishing and snorkelling equipment is available
All cabins are air-conditioned and have ensuite facilities, fully equipped with all necessary amenities, including hair dryers
Cabin Type
Category C: This category of cabin is located on the lower deck, and has a porthole for outside viewing. Each cabin has a marble-appointed en-suite bathroom with its own shower, a television, a telephone for internal use, a hairdryer, mini-fridge and a safe box. Category C cabins consist of a twin bed layout.
Upgrades
Category A: This cabin type is based on the main deck, and has large windows for superior views of the ocean and the stunning coastlines of each destination. Cabins at the bow section offer double beds, while all other Category A cabins offer twin beds. All have the same facilities as other cabin types, including an en-suite bathroom, provided hairdryer and television.
Category B: Like category C cabins, B cabins are located on the lower deck with a porthole for admiring the ocean vistas. This cabin offers more space and a different interior décor to a category C cabin. Category B cabins also offer twin beds.
Category P: Like cabin type A, category P cabins are on the main deck and have a large window for admiring the views. Cabins located at the bow section offer double beds, and all other cabins offer twin beds. Each cabin holds the same facilities as the others, and offers a more spacious stay than any other cabin type.
*Please speak to our travel experts about the prices for upgraded accommodation.
Ship Details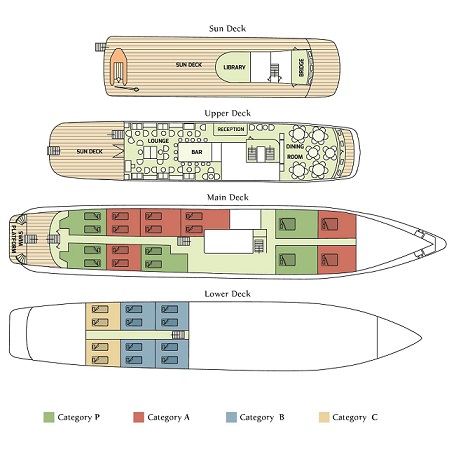 Launched: 2000
Rebuilt: 2005
Renovated: 2015-2016
Length: 50.00 meters
Breadth: 8.00 meters
Draft: 3.80 meters
Crew: 16 - 18 persons
Cruising speed: 10.00 knots
Cabins: 17
Passengers: Max 34
Image Credits: Variety Cruises
Read more
Read less
Option 2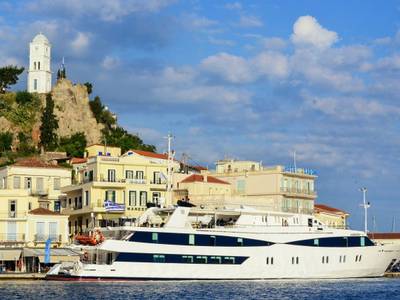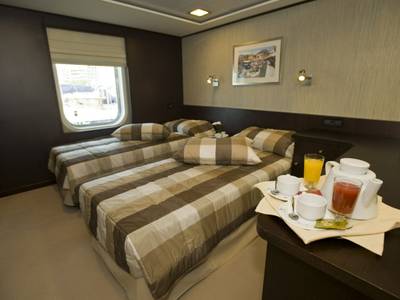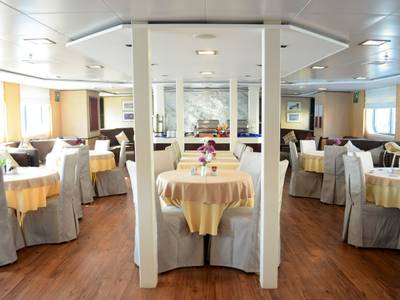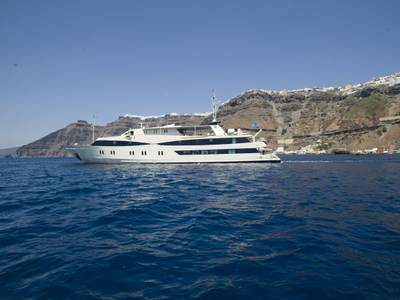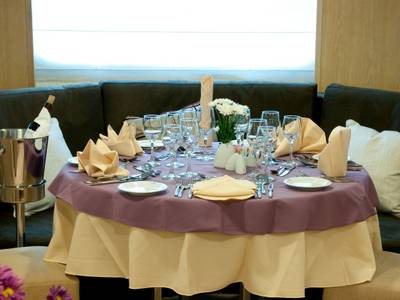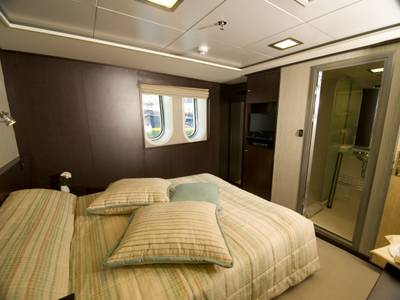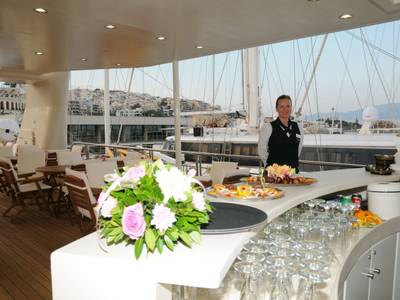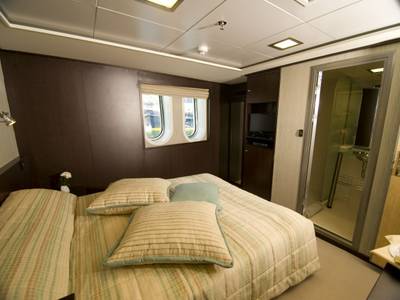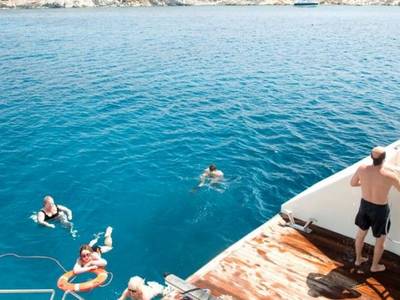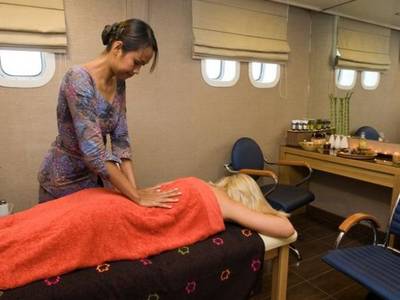 The M/Y Harmony V
Nights:
2-8
The M/Y Harmony V is an elegant yacht, providing modern, high-tech transport from island to island. Run by a skilled and knowledgeable crew, the M/Y Harmony V offers a sophisticated lounge area, an American-style bar that leads into an indoor dining area, and an outdoor dining area on the sun deck which is perfect for enjoying the sunshine and admiring the scenery. Meals on the yacht are generally served 'al fresco' and are prepared by talented, onboard chefs who cook with fresh, local produce picked up from each destination along the cruise. The 25 cabins offer upscale, intimate accommodation with modern furnishings and all necessary facilities.
Hotel facilities:
The yacht provides full board accommodation, serving delicious meals either in the interior or exterior dining area. The breakfast consists of an American-style buffet, and onboard chefs always make sure to include local flavours in their mouth-watering dishes.
Tea and filter coffee are provided on board throughout the day.
Wi-Fi is available for an additional fee, payable on board.
A multilingual Cruise Escort will accompany all passengers for the duration of the tour.
In order to make the most of your swim stops along the way, free use of fishing and snorkelling equipment is available.
All cabins are air-conditioned and have en-suite facilities, fully equipped with all necessary amenities, including hair dryers.
The onboard mini spa (13m²) offers a variety of massage, facial, hair and pedicure treatments.
Cabin Type:
Category C: Category C cabins are situated on the main deck, and consist of one double bed. The cabins provide ensuite facilities, complete with a shower, and a hairdryer is provided in every cabin. There are two porthole windows in the room, a flat-screen TV set, a DVD player, a mini fridge for extra snacks and drinks to be stored in your room and safety deposit boxes for all of your valuable items.
Upgrades:
Category A: Category A cabins are on the main deck and come with large windows, meaning superior views. This cabin comes with all of the same facilities as C and B.
Category B: Category B cabins offer the exact same facilities as cabin C, but with two larger windows, offering a better opportunity for admiring the surrounding views. These cabins either provide one double bed or two single beds.
Category P: Category P has equal facilities to the other cabins, but it is situated on the top deck, which makes for a splendid vista of the ocean. The cabin is also larger, offering more living space during your trip, and offers a sofa to enjoy during a relaxing evening.
*Please speak to our travel experts about the prices for upgraded accommodation.
Ship Details: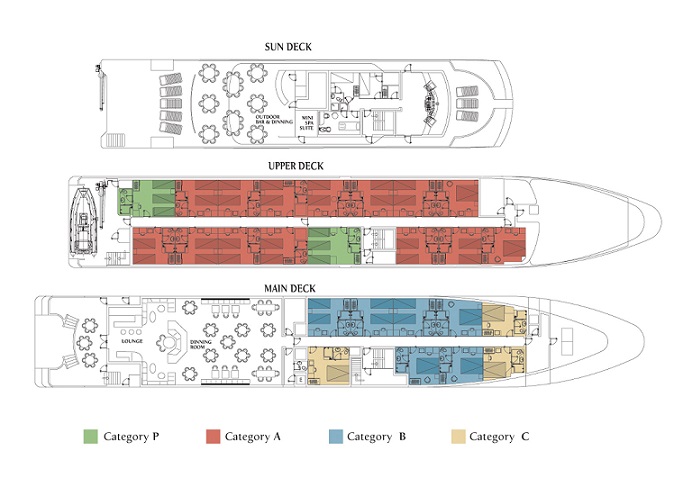 Launched: 2009
Length: 55 metres
Breadth: 8.20 metres
Draft: 3.00 metres
Crew: 16-18 people
Cruising speed: 11.00 knots
Cabins: 25
Passengers: Max 49
Image credits: Variety Cruises
Read more
Read less
---
Other options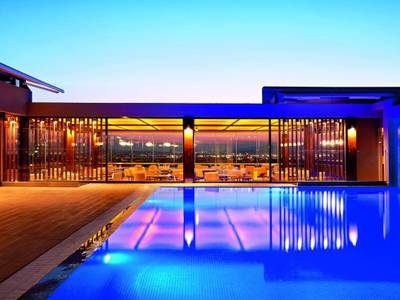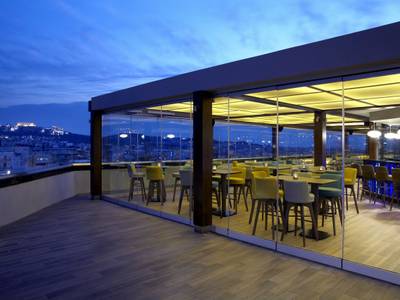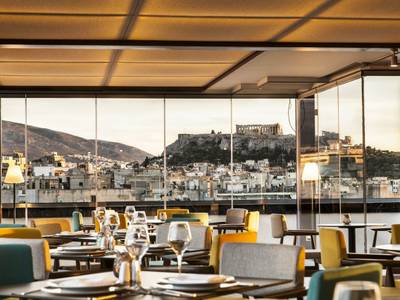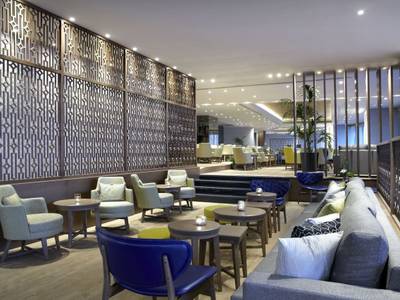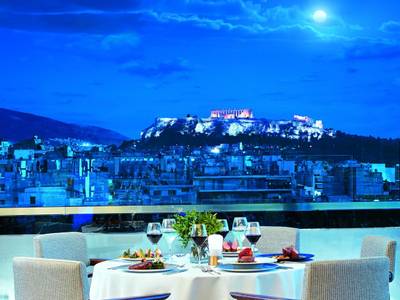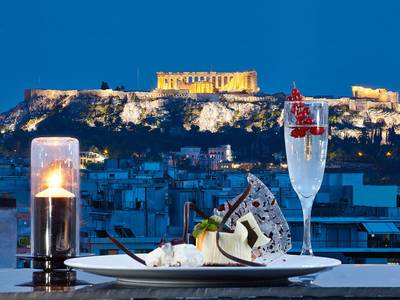 Wyndham Grand, Athens
Supplements from: £45pp
This exquisite, 5* hotel in the centre of Athens offers a relaxing, comfortable and luxurious stay. Everything, from the lobby to the hotel's rooms, oozes elegance and taste.
Three different bar and dining areas are on offer at the hotel. The first is the glamorous Restaurant Fos - an indoor restaurant serving delightful breakfasts, buffet brunches, lunches and dinners. The second is Lobby Lounge Silk, serving refreshing beverages, delicious light meals and snacks, and offering a sophisticated ambience. And finally, the third is the splendid rooftop bar and restaurant, "Above", which provides stunning panoramic views of Athens, with a clear vista of the Acropolis and the Parthenon. Here, you can dine on traditional Greek cuisine as well as European dishes, offering something for each individual taste.
The hotel is situated in Karaiskaki Square – an ideal location due to its central placement yet lack of crowds and noise. From here, all of the famous landmarks and sites are easily accessible, either by walking or by taking transport nearby the hotel.
Hotel Facilities
Free Wi-Fi is available throughout the hotel
There are three hotel restaurants to choose from, and breakfast is included and served in Restaurant Fos
An idyllic outdoor pool on the rooftop offers breathtaking views of the city, as well as a sun deck which is perfect for soaking in the rays
Multilingual staff are available to assist your every need
Room Type
Standard twin/ double Atrium or City View: Each room has a light, modern and sophisticated décor, with comfortable double or twin beds complete with Egyptian cotton bedding. A flat screen HDTV is provided for relaxing evenings in your room, as well as a safe for your valuable items, a mini-bar, a kettle and a room service menu. The spacious ensuite is complete with all amenities, including a hairdryer. You can choose whether you would prefer an atrium view room or a city view room (subject to availability).
Read more
Read less
Personalise
Personalise this tour
---
Our pick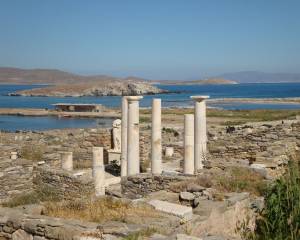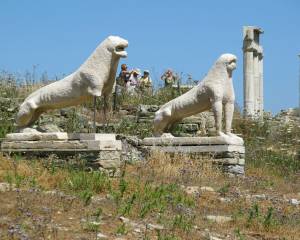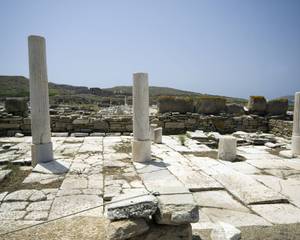 As you squint through the blue haze of the Aegean, the tiny island of Delos appears wholly innocuous. With no permanent residents and, at first glance, little to recommend the island, it would be all too easy to simply sail on by. However, as you approach, the vestiges of a fascinating ancient history begin to emerge and the island reveals itself as one of the most significant archaeological sites in Greece.
Read more
The importance of Delos in both Greek history and Greek mythology cannot be understated and the island has been granted UNESCO World Heritage status.
Delos is famed in Greek mythology, as the birthplace of the Greek God Apollo and his twin sister Artemis. In historical terms, it was originally populated as a shrine to the gods before becoming an important commercial centre. You could spend months exploring the sprawling ruins of the ancient town. As your guide shows you the island's best preserved quarters, it's not hard to imagine the Ancient Greeks going about their spiritual and commercial business.
During this guided excursion, you will see Hellenistic houses, with their impressively preserved intricate mosaics; The Sanctuary, where you can see ruins of a temple dedicated to Apollo and the famous Terrace of the Lions which are believed to be guardians of the Sacred Lake. You will then move onto the Theatre and the Roman quarter, with its ancient statues dedicated to Dionysus. You will also have the option to visit the museum which houses many fascinating artefacts including the original marble lions (whisper it quietly but those on the terrace are replicas!).
The guided tour will last for around three hours overall, and any transfers, entry fees and taxes are included in the cost. This tour can be booked and paid for locally.
Please note: shore excursions must be booked and paid for with your cruise co-ordinator once you are on-board.
Minimum group size: 14
Duration: 3 hours
---
Other options
Activities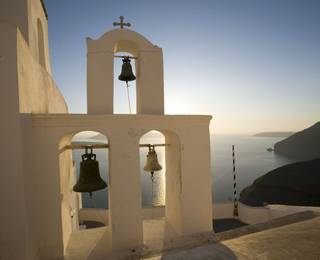 Santorini – Fira town, Akrotiri Archaeological Site and Oia
Santorini is one of those "must-see" islands and one that our local team could not exclude when piecing together this itinerary. Famed for its white-washed villages and blue-domed churches which appear to cling to the jutting cliffs, the island is a glamorous, cosmopolitan spot, with fascinating geographical and archaeological features to appreciate.
Of course, Santorini can become extremely busy, particularly during peak season. The beauty of visiting the island on a small mega-yacht is that the crew have the flexibility to beat the large cruise ships to the harbour. By doing so, you can avoid the crowds as much as possible whilst boarding the cable car to reach the island's capital, Fira.
Read more about this activity
You will be taken on a guided walk through this bustling hub, which is brimming with cafés, bars and restaurants and also offers some of the most stunning views of the island.
Afterwards, you will hop onto a coach for a picturesque drive through Santorini's countryside to the more remote, archaeological site of Akrotiri. Akrotiri is considered to be the "Greek Pompeii", as it was buried in volcanic ash following the Minoan eruption sometime. Believed to be one of the most violent eruptions of the last 10000 years, excavations of the area have unveiled an ancient town frozen in time and remains still stand today.
You will continue by coach to Oia. This is the spot where so many of those iconic images of Santorini are captured. You know the ones. They show white-washed houses and villas perched on a jagged, volcanic rock face. Mingled with the buildings are the domed rooftops of the churches, painted vibrantly blue to match the Aegean waters below and the cloudless sky above.
Naturally, there will be plenty of opportunities for you to photograph this renowned scene for yourself.
You will have no difficulty reaching the harbour, as your coach will take you directly to Fira, ready for embarkation.
Please note: shore excursions must be booked and paid for with your cruise co-ordinator once you are on-board.
Minimum group size: 14
Duration: 4.5 hours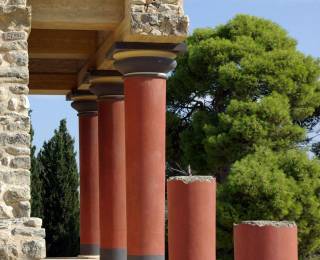 Rethymnon, Crete - Knossos and Heraklion
From the harbour, you will drive for around an hour to the prehistoric Minoan Palace, in the ancient city of Knossos. The palace has many elements to explore in the company of your expert guide, including the royal quarters, shrines, repositories, banquet halls and a throne room. The site is a monumental symbol of Minoan Civilisation and has huge mythological significance, as King Minos, creator of the labyrinth, is said to have reigned here.
Read more about this activity
Following your palace visit, you will proceed by bus to the centre of Heraklion. Offering quite the contrast to the ancient ruins of Knossos, Heraklion is one of Crete's largest cities and a vibrant metropolis.
Our local providers are aware that interests amongst the group will vary and, as there is much to see in Heraklion, they have left some time for you to explore individually. There are archaeological sites and museums, scenic walks, including along the promenade to the Koules Fortress, and many cafés and restaurants where you can savour the local cuisine.
The cost of this tour covers entry fees, the light food tasting and all necessary transfers.
Please note: shore excursions must be booked and paid for with your cruise co-ordinator once you are on-board.
Minimum group size: 14
Duration: 6 hours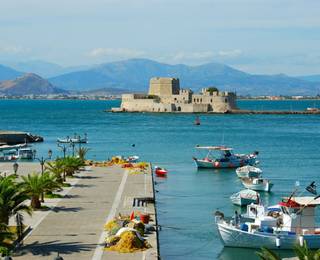 Nafplion - Mycenae
To begin your tour, your bus will take you from the harbour and through the fertile countryside of the Argolis Peninsula past its orange and lemon orchards and into the mountains. After around half an hour, you will reach the ancient city of Mycenae, which is nestled between two sloping hills, making it naturally fortified and an ideal place for settlement as far back as the 7th millennium BC.
Read more about this activity
Sung about in Homer's epics, and the alleged kingdom of Agamemnon, the city is brimming with historical sites and artefacts, including the Tomb of Agamemnon, huge arches and ancient ramparts. Your expert local guide will show you all of the most significant aspects of the area, including the Tomb of Agamemnon, the Palace and the Lion's Gate.
This tour includes a professional local guide, all necessary transportation and entry fees.
Please note: shore excursions must be booked and paid for with your cruise co-ordinator once you are on-board.
Minimum group size: 14
Duration: 3 hours
Dates & Prices
We include more, no hidden costs
On each of our holidays you will see a clear outline of exactly what's included in the price of your holiday. We never use 'headline' or 'lead-in' prices like so many tour operators, as we prefer to include as much as we can, rather than see our clients incur considerable additional costs in our destinations.
Priced based on 2 adults (18+) sharing a standard double or twin hotel room and a Category C double or twin room (lower deck)
Prices
Fresh Hotel & The M/Y Callisto

Fresh Hotel & The M/Y Harmony V
Next season's provisional dates and prices
You can make a pre-reservation to secure your holiday at this stage by paying a deposit but, the provisional departure dates, prices and itineraries remain subject to change. We will contact you when the final dates, prices and itineraries are confirmed and you will have 14 days to decide if you would like to go ahead. If you decide not to travel we will refund your deposit. Our Travel Experts will happily provide you with full terms and a complete quotation.
Dates

Thu 25 Apr 2019
to
Sat 04 May 2019

Enquire

Adults

£ 2,975

Single Adult

£ 4,290

Thu 02 May 2019
to
Sat 11 May 2019

Enquire

Adults

£ 2,975

Single Adult

£ 4,290

Thu 09 May 2019
to
Sat 18 May 2019

Enquire

Adults

£ 2,975

Single Adult

£ 4,290

Thu 16 May 2019
to
Sat 25 May 2019

Enquire

Adults

£ 2,975

Single Adult

£ 4,290

Thu 23 May 2019
to
Sat 04 May 2019

Enquire

Adults

£ 2,975

Single Adult

£ 4,290
Terms
For our full booking terms and conditions please click here
Holiday group size (approximate)
Minimum 10 people, maximum 49
Group sizes
Most of our holidays require a minimum number of participants to operate. Minimum numbers are detailed on each holiday page and are always approximate. Group sizes for tailor made holidays will vary for each of the activities. For private departures you may also be joined by other guests during the activities unless you have discussed specific private activities with us.
If your selected date has not yet reached minimum numbers you will be informed at the time of booking. In the unlikely event that your chosen date has not reached the required minimum numbers nine weeks before your scheduled departure date we will contact you and discuss the various options available to you. We will always do all we can to operate a holiday and in some cases we may be able to operate the holiday by combining your itinerary with that of other guests for some activities (this may mean that the maximum group size is increased but this will be discussed in full with you).
If we are unable to operate the holiday then you will be offered the chance to transfer to an alternative holiday or date (subject to availability). If the alternative is more expensive you will be asked to pay the difference, if it is cheaper then you will be reimbursed. You will also be offered the option to cancel and receive a full refund of all monies paid.
Minimum age
Whilst Artisan Travel only sells holidays to those aged 18 years and over on a small selection of holidays there may be those under the age of 18 who have booked with other companies and where our local supplier also allow those under 18 to participate (additional activities during tailor made holidays for example). Our travel experts will answer any concerns you may have in this regard.
Medical History and advice
You must inform us at the time of booking if any of your party has a disability, medical or behavioural conditions which could affect their own participation in the holiday or indeed that of the other people on the holiday.
We cannot be held responsible for any incident or event arising from your failure to do so.
Experience and fitness
Any activities included in your itinerary are all designed for beginners. Full instruction and tuition is provided for all activities and you do not need to have any previous experience. For example you need never have set foot on a pair of skis of any kind before a cross-country ski tour. We have adults of all ages and fitness levels taking part in our holidays.
We do highlight certain itineraries where an increased level of fitness is required.If you have any questions at all with regards to fitness levels please get in touch and talk to one of our experts. You can find further details in our trip preparation section online. You must inform us at the time of booking if any of your party has a disability, medical or behavioural conditions which could affect their own participation in the holiday or indeed that of the other people on the holiday.
Guides and safety
It is absolutely essential when partaking in any activity that you listen very closely to, and abide by, the instructions provided. Nobody knows the environment better than our activity providers who work here almost everyday.
Consequently, their knowledge and experience is unsurpassed. If there is anything that you are unsure of during a safety briefing or that you would like to clarify with the guides please make this clear to them immediately before starting the activity.
There may be rare occasions when our guides consider local conditions unsuitable for a certain activity. Hence, your itinerary may be subject to change at short notice but we will always endeavour to firstly find a replacement on the day and secondly, to provide the cancelled activity later in your stay whenever possible. Very occasionally it proves impossible to provide the activity in which case you will be refunded when you return home.
Our guides' word on activities is always final and your safety is their principal concern at all times, please respect their decisions. By following their instructions, your safety and enjoyment during each activity will be greatly enhanced.
You must inform us of any medical conditions that may affect your participation in an activity at the time of booking.
Booking activities locally
In almost all of our destinations you can book and pay for additional activities locally. Please note that we cannot be held responsible for any injury or loss that occurs through any activities that are booked in your destination (see our terms and conditions for further details).
Please always ensure that your safety is your primary concern when arranging any such activity.
Car Hire
If your trip includes car hire the named driver must have a credit card registered in their name which they can present when they collect their car along with their driving licence, as a deposit will be held on the credit card. Please see your trip dossier for full details.
Payment and cancellation terms:
Please note that the following payment and cancellation terms supersede those mentioned in sections 2 and 6 of our general booking terms and conditions.
Payment terms:
- A deposit of 30% of the total holiday cost is required at the time of booking. Full payment is required 70 days/10 weeks prior to departure.
Cancellation terms:
- After booking and more than 70 days prior to departure = loss of deposit
- 70-50 days prior to departure = 55%
- 49-34 days prior to departure = 80%
- 33-0 days prior to departure = 100%
---
---