Overview
Join Sven Engholm, one of Scandinavia's greatest mushers on a dog sledding adventure in Karasjok, Norway. Time spent with this living legend and these beautiful dogs puts you in the company of the best, for the greatest dog sledding experience possible.
What's included?
Flights: flights from London Heathrow to Ivalo Airport (via Helsinki)
Transfers: return group airport transfers are included

Accommodation: 2 nights shared log cabin accommodation (in own private room), 2 nights wilderness camp/cabin
Activities (order subject to change): 3-day husky safari
Meals: 4 breakfasts, 3 lunches, 4 dinners
Cold weather clothing for the duration of your stay
Fully qualified wilderness guides and instructors during activities

---
Authenticity explains the popularity of the Karasjok husky safari, which was created by Sven Engholm, (Scandinavia's 11 times winner of the Finnmarkslopet longest dog sled race in Europe and also a top ten finisher in the Iditarod 1800km North American mushing race). The passion for mushing and the excitement of the trail is simply contagious in his company.
Your wilderness husky dog adventure lasts three days and two nights, covering up to 25km to 50km each day. With breathtaking winter scenery as your backdrop, look out for local wildlife such as reindeer and moose in their natural habitats.
Your accommodation is a mix of log cabins at Engholm Husky Farm (6km from Karasjok). A launch pad for some of the world's best dog sledding - life is all about the dogs and sledding here, where fifty resident huskies are the main form of transport.
Read more
In keeping with the intimate and unique feel of this trip, there are only eight cabins at the husky farm. Each cabin has been built by hand and tastefully filled with handcrafted pieces, giving a combination of comfort with traditional Sámi decor. Whilst out mushing, if your host discovers a particularly unusual or useful piece of wood, he marks it on his GPS and it will be retrieved later. The wood is then crafted into something that adds to the unique beauty of each cabin. Admire lampshades made from bird feathers, seats and dining tables hung by ropes from the cabin ceiling and reindeer skin stool covers - everywhere you look there is something special that brings the great outdoors indoors.
---
Image credits: Engholm Husky, Oliver Kay (client Jan '17)
View Gallery
Download Holiday Overview
Download Trip Notes
Key facts
| | |
| --- | --- |
| Duration: | 4 nights |
| Pace: | Active |
| Suitable for: | Ages 15+ with a good level of physical fitness. See our terms for further information. |
Make an enquiry
Agenda
Accommodation
Included in price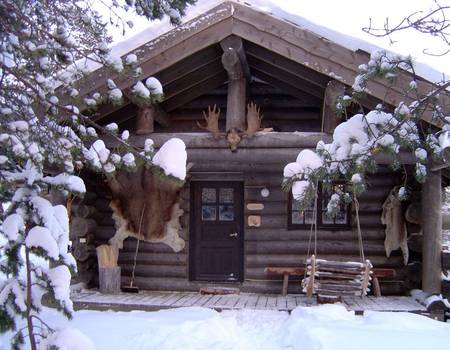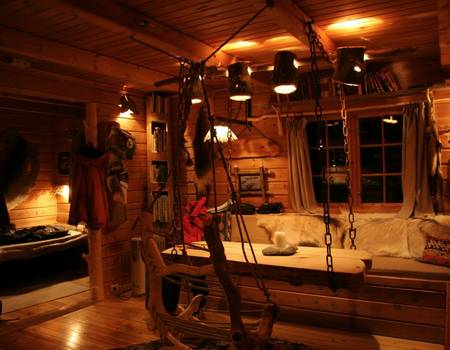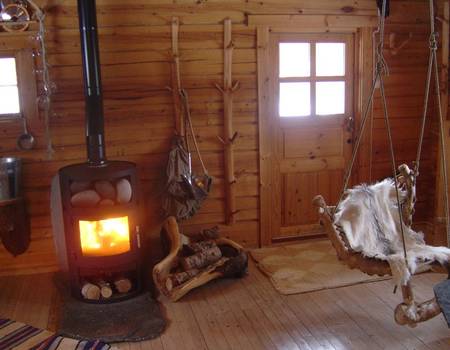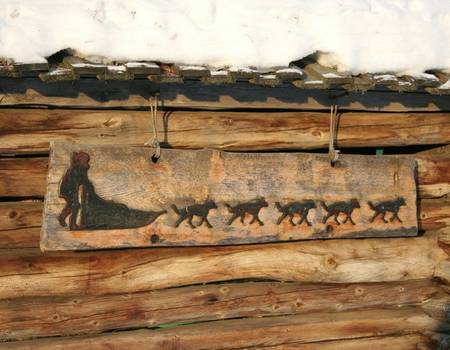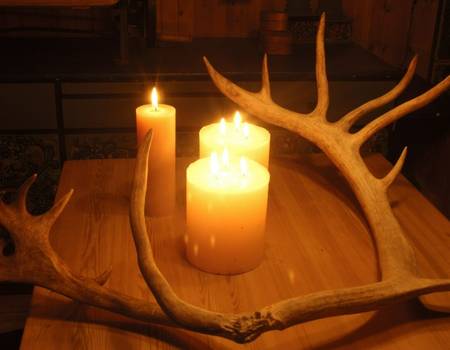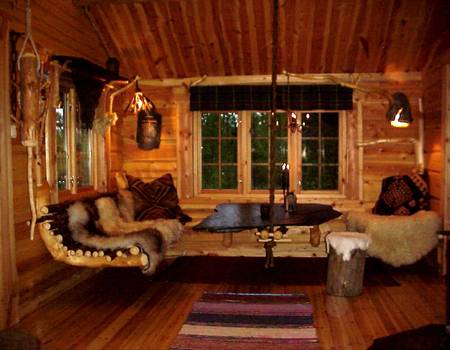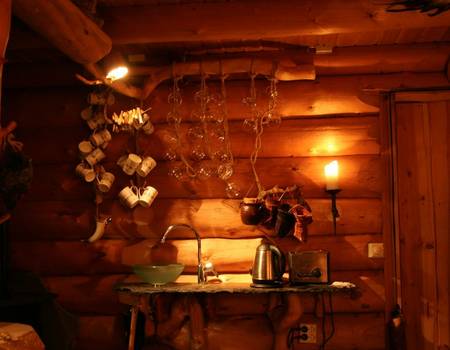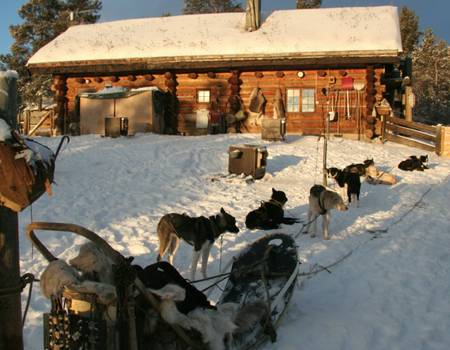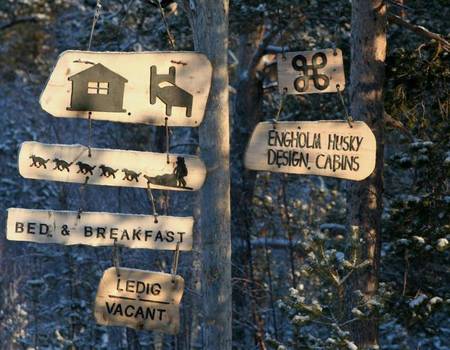 Engholm Husky Farm
Nights:
1,4
Karasjok is the centre for Sámi culture in the wilds of Lapland and Engholm Husky Farm and cabins are located 6km from the main village. This accommodation, situated in the remote forests of North East Norway, provides a wonderful introduction to the Sámi culture within this remote region.
All cabins are decorated with local items that the owner (and resident interior designer) Sven has collected and crafted from natural materials scavenged from nature in the area around the lodge.
When out mushing, your host may see a piece of wood that would make a coat hanger, a shelf, a lampstand, anything really. He uses his GPS to pinpoint its location and then picks it up next time he's passing and fashions it into something both useful and remarkable. Lampshades made from bird feathers, comfy seats and dining tables hanging by ropes from the ceiling, reindeer skin stool covers and much, much more. Everywhere you look there is something that reflects living here in the Arctic. Your stay is made extra special by dishes served in the cosy dining area including locally sourced reindeer and fish.
Aside from the unique collection of log cabins the lodge is also a working husky farm that is home to about 50 working dogs - so be prepared for the wolf-like calls of the dogs in the morning.
Hotel facilities
There are only eight individually designed cabins here, each with Wi-Fi access. Each of these cabins has sleeping facilities for between two and six people, with the majority having log fireplaces and their own toilet and shower - those without, have access to a large bathroom in the main building. The lodge also offers a sauna and a hot tub, with intoxicating views of the surrounding scenery.
Read more
Read less
Wilderness Cabins
Nights:
2-3
Wilderness cabin accommodation is reserved for those people enjoying overnight safaris. There can surely be few better forms of escape from the everyday stresses (which could include laptops, mobiles and your day job) than a night in one of these cabins. Their isolation also means that the views of the night sky are incredible.
The Northern Lights could well pay you a visit should conditions be right and, if the sky is clear, you will never forget the sight of the galaxy overhead.
The title is fairly self-explanatory as the cabins are located in the wilds. The cabins that you visit are determined by the conditions of the trails you are using. They are varied in their set up but all offer the same incredible experience of complete silence in the evening (not guaranteed if you are dog sledding as the huskies do like a howl now and then!).
Some of the cabins are more basic than others, as some have no electricity or running water. Everyone will join the guide to help set up camp by collecting wood and water if needed. Participating enhances the wilderness experience.
Once the fire is lit, the food is cooked. The guides prepare your meals over an open fire and our guests always provide exceptional feedback on the meals that the guides rustle up.
Should you have specific dietary requirements, please mention these at the time of booking.
There are no showers or bathroom facilities in the cabins but this is all part of the adventure. Scandinavia is renowned for its saunas and the wilderness cabins are no exception. Once heated, you can steam clean in the sauna. The toilet facilities are normally a short walk from the cabin and are compostable. We certainly recommend a head torch for any ventures to the toilet during the night!
In most cases, the sleeping arrangements are dormitory style. You will be given your own arctic-grade sleeping bag in which to sleep and, combined with your thermals and the open fire, this should keep you lovely and warm.
You will carry with you all that you need for any stay in the cabins, so luggage is typically restricted to the essentials. Your main bag will be securely stored back at the hotel and a safe is provided for your valuables.
There is something so refreshing about realising that you can strip back your belongings and enjoy such a simple but satisfying experience.
Depending on the weather conditions you might spend the nights in cosy and warm basecamp tents at one of the wilderness camps.
---
Image Credits: Antti Pietikainen
Read more
Read less
Personalise
Personalise this tour
---
Our pick
Extend your stay at Karasjok
If you can't quite bear to leave Karasjok just yet then we can arrange for you to extend your stay in order to take advantage of the other activities on offer here. Your extra night or nights will be spent in one of the cabins (based on two people sharing) and includes breakfast, a packed lunch and your evening meal.
---
Other options
Activities
Husky safari
From: £250pp
Engholm Husky Centre is renowned for its enthusiastic sled dogs and racing heritage. During one of your free days, you may wish to further experience the joys of dog sledding and take the trails once again for another thrilling safari into the wilds. We will be more than happy to arrange an additional full day safari for you.
Cross-country skiing
From: £125pp
If you book additional nights or have a free day during your holiday, you have the option to add on a guided cross-country skiing activity. This a much-enjoyed and traditional pastime in Scandinavia, and, once you have the hang of it, can be marvellous fun and a great way to travel across the snow-covered landscape.
Visit to a reindeer herd
From: £270pp
Reindeer are of huge importance in Lapland and if you have a free day or book additional nights on your Karasjok Adventure we would strongly recommend this activity. It will give you a unique and valuable insight into the lives of Sámi herders in this region. You will spend time at the reindeer pasture and encounter the animals whilst also having the chance to ask the herder any questions you may have.
Dates & Prices
We include more, no hidden costs
On each of our holidays you will see a clear outline of exactly what's included in the price of your holiday. We never use 'headline' or 'lead-in' prices like so many tour operators, as we prefer to include as much as we can, rather than see our clients incur considerable additional costs in our destinations.
Prices
Next season's pre-sale dates and prices
To secure your holiday for next season, you can make a pre-reservation by paying a deposit of only £50pp. The provisional prices, departure dates, and itinerary remain subject to change. We will contact you when final details are confirmed, and you will have 14 days to decide if you would like to go ahead. Should you wish to proceed then a further deposit (typically of £350pp) will be payable at this stage. If you decide not to travel, we will refund your initial £50pp payment. Our Travel Experts will happily provide you with full terms and a complete quotation.
Dates

Thu 06 Jan 2022
to
Mon 10 Jan 2022

Enquire

Adults

£ 2,395

Thu 13 Jan 2022
to
Mon 17 Jan 2022

Enquire

Adults

£ 2,395

Thu 20 Jan 2022
to
Mon 24 Jan 2022

Enquire

Adults

£ 2,355

Thu 27 Jan 2022
to
Mon 31 Jan 2022

Enquire

Adults

£ 2,395

Thu 03 Feb 2022
to
Mon 07 Feb 2022

Enquire

Adults

£ 2,395

Mon 07 Feb 2022
to
Fri 11 Feb 2022

Enquire

Adults

£ 2,420

Mon 14 Feb 2022
to
Fri 18 Feb 2022

Enquire

Adults

£ 2,570

Mon 21 Feb 2022
to
Fri 25 Feb 2022

Enquire

Adults

£ 2,420

Mon 28 Feb 2022
to
Fri 04 Mar 2022

Enquire

Adults

£ 2,465

Mon 07 Mar 2022
to
Fri 11 Mar 2022

Enquire

Adults

£ 2,515

Mon 14 Mar 2022
to
Fri 18 Mar 2022

Enquire

Adults

£ 2,580

Mon 21 Mar 2022
to
Fri 25 Mar 2022

Enquire

Adults

£ 2,420

Mon 28 Mar 2022
to
Fri 01 Apr 2022

Enquire

Adults

£ 2,695

Mon 04 Apr 2022
to
Fri 08 Apr 2022

Enquire

Adults

£ 2,720

Mon 11 Apr 2022
to
Fri 15 Apr 2022

Enquire

Adults

£ 2,720
Please note: Our holiday prices are based on the lowest available airline fares. These fares can sell out quickly and, as a result, prices may increase and supplements may be applicable. We recommend booking at the earliest opportunity in order to secure the best possible fares and flight times.
Supplements:
| | |
| --- | --- |
| Single supplement (transfer only - return journey) | From £405 |
Terms
For our full booking terms and conditions please click here
The Specifics
Holiday group size (approximate)
Minimum 2 - 8 people
Group Size
We always try to provide an approximation of the group size you can expect to be with for the duration of each of our holidays. It may be that you are joined by others for parts of your holiday (such as transfers and particular activities) but the above number reflects those you can normally expect to be with from beginning to end. If group size is something which is particularly important to you, please speak to our Travel Experts and they can suggest the best holidays for you.
Tailor-made holiday group sizes will vary for all activities as will the group size for any additional activities you book.
Minimum and maximum age
If a specific minimum age applies to this holiday, it can be found in the Key Facts box on the holiday Overview page.
Unless otherwise stated in the in the Key Facts box on the holiday Overview page, the minimum age for participation in an Artisan holiday is typically 8 years old (there may be younger children in some destinations who have booked with other companies). If an adult-only environment is important to you, then please contact our Travel Experts and they will advise on the best dates and destinations for you. If you are looking for a holiday designed specifically for families then please see our sister company www.activitiesabroad.com
Itinerary amendments
The order of activities listed in this agenda is provided for guidance only, your final and detailed itinerary will be provided either with your final travel documents (which are uploaded into your online account around a week prior to departure) or upon arrival.
Medical History and Advice
We want our holidays to be accessible as they can be and will do our best to accommodate any special requests and requirements where possible. We have a wide range of holidays and destinations and so our travel experts will help find the best holiday for you.
In order to give us the best possible chance to do this we ask that if you or any member of your party has any medical condition or disability which may affect your holiday or has any special requirements, that you tell us at the time of enquiry or booking. You must also promptly advise us if any medical condition or disability which may affect your holiday develops after your booking has been confirmed. You may need to provide a doctor's note and proof of insurance in some cases as the health and safety of our clients is absolutely paramount.
In providing this information you are allowing us to work with our expert local partners to ensure that your whole party can enjoy the holiday. By letting us know in advance we can discreetly work with you to adapt any part of the holiday which may potentially be challenging. Being able to prepare for this in advance makes an incredible difference to what we can offer and minimises any impact on your party and the rest of the group.
Unfortunately, if you choose not to share this information with us in advance then it may limit some or all of the itinerary you have booked, and we cannot be held accountable for any additional costs or missed activities resulting from this.
Insurance
Insurance is not included in your holiday, but it is a pre-requisite to travelling with us. You will need to ensure that you have cover for all the activities that you will be participating in during your holiday.
It is extremely important that you take out a suitable travel insurance policy at the time of booking. Plans do sometimes change, and you will need this policy should you need to cancel your holiday.
If you are struggling to find a suitable policy then details of our preferred provider, who will cover you for all the activities we offer, can be found on our website by clicking here. Please note that this policy is available to EU residents under the age of 75 only.
The UK Foreign Office Advice
Our clients' safety is at the centre of everything we do, and our operations team continually assesses and monitors the destinations we feature. We carry out thorough risk assessments and work closely with all of our suppliers to continually follow best practice. For up to date travel advice the UK government offers its Travel Aware website as well as the advice detailed below.
The Foreign and Commonwealth Office Advice
We receive all updates from the Foreign and Commonwealth Office (FCO) with regards to travel advice and we always ensure that we follow this advice in our operations. The FCO issues travel advisories for countries based on a very wide range of factors. They may provide notification about things as simple as a football match and crowds, or they may go so far as to advise against all travel to a region. We ask all our clients to refer to the relevant Travel Advice by Country for the destinations they are visiting in order to make an informed decision on the safety of the destination based on the details provided. It also provides vital information regarding entry requirements, embassy information, local laws and customs as well as specific safety and health. Guests should take responsibility for keeping themselves up to date with this advice. Please also ensure that, if you are transiting through another country, you have read the advice and meet the entry requirements for that destination too.
The FCO travel advice is applicable to British Passport Holders. Most governments will issue their own travel advice for a region and, if you are not a UK resident then you can find some helpful links below:
Australian Department of Foreign Affairs and Trade http://www.smartraveller.gov.au/
New Zealand Ministry of Foreign Affairs and Trade http://www.safetravel.govt.nz/
Canadian Consular Affairs Bureau http://voyage.gc.ca/
The U.S. Bureau of Consular Affairs http://travel.state.gov/content/travel/english.html
If the FCO deems that there is an unacceptable level of risk for UK citizens then, together with the government, they may issue an advisory against all travel to a region or country. If such an advisory is published, then we will act accordingly, and this may require the cancellation, curtailment or amendment of a holiday itinerary. These decisions are made on the basis of ensuring our clients' safety and will affect all clients on the holiday, regardless of their nationality.
If one of our local experts suggests an amendment due to a situation which develops locally then we may also take the decision to amend an itinerary appropriately.
If we have to cancel your holiday prior to departure you will be offered the option of an alternative trip (where any price difference will either be refunded to or covered by you) or a full refund of the monies paid.
If we have to curtail a holiday, then you will be refunded for any costs for the elements we have been unable to deliver, where we have been able to secure a refund from our suppliers. If we must reroute a holiday, then any basis for refund is determined on a case by case basis and dependent on whether the central holiday experience was provided or not.
Booking activities locally
Additional activities can be booked locally in almost all our destinations. However, as per our booking conditions, we cannot be held responsible for any injury or loss incurred through participation in activities which are booked at your destination outside of our holiday itinerary (see our 'Terms and Conditions' for further details).
When arranging any such activity please always ensure that safety is your primary concern.
In some of our destinations, you can borrow or hire equipment for use in your free time. You do so entirely at your own risk. You must ensure that you are properly prepared, have the necessary equipment and knowledge (maps, etc) and ensure that where applicable, you follow marked routes. We recommend discussing your plans with the local teams who will be able to advise on the most suitable options for you.
Always let the reception/guide know where you are planning to go and take a torch and mobile phone (with the hotel/guide's phone number stored). It is also a good idea to leave your contact number and the time you expect to return to the hotel should the hotel need to contact you.
Brexit information for British Passport holders
For the most up to date information on how the UK's departure from the EU may affect your holiday please click here to view our Brexit information for British Passport holders.
Flight schedule changes and connecting transportation
On your documentation, we will confirm your flight schedule. Sometimes the flight number, routing and timings might change prior to your departure. If the change is classed as a significant change then we will contact you to discuss this. Please see our booking conditions for details.
Flight schedule changes can impact on your pre and post-holiday travel arrangements if these have been booked separately to your holiday. We strongly recommend that you do not book transport (such as trains or transfers), car parking or non-connecting flights to the departure point for your holiday until you have received your final confirmed travel times when your final travel documents are issued. We are not responsible for the effect of any schedule change on your pre or post travel arrangements. We strongly recommend that you do not purchase non-flexible or non-refundable tickets to avoid cancellation and penalty charges.
Booking your own flights - cancellation disclaimer
If you have chosen to book your own flights, then you will need to wait until we confirm to you that the holiday departure has met the minimum numbers required to run (if applicable to your chosen holiday). Once the holiday is guaranteed to run, you will be informed and you can then make your arrangements.
If transfers are included in your holiday, please ensure that any potential flights will be met by our standard transfers (speak to one of our Travel Experts for advice) otherwise private transfer supplements may be applicable. Once your flights are booked, please send us a copy of your detailed flight itinerary.
Please be aware that most tickets are non-refundable in the case of cancellation. For this reason, we strongly advise you check the rules of the ticket and check the limitations of your cancellation insurance before booking. We cannot be held liable, in the unlikely eventuality that we should be forced to cancel or amend your trip, for losses incurred relating to any flight booking you have made.
Terms and Conditions
Our full booking terms and conditions can be found on our website: https://www.artisantravel.co.uk/booking-conditions
Additional Cancellation Terms and Conditions
Please note that the following cancellation terms supersede those mentioned in section 7 of our general booking terms and conditions.
More than 63 days prior to departure - Loss of deposit (including the full cost of flights or other services where paid at the time of booking)
- 62 days or less before departure: 100%
Reviews
Traveller Reviews
Husky safari
26 January 2017
by Kay and Paul Humphreys
The dog sledging was excellent - very hands on and involved.
Wilderness was breathtaking
22 January 2015
by Caroline Stern
The husky safari was excellent; the dogs were big and strong and the wilderness was breathtaking.
---
---