Overview
Put together your perfect Lappish trip to Luosto Finland for a minimum of three nights. Fill your time with as many activities as you'd like including dog sledding, snowmobiling and Northern Lights hunting. Return to your cosy log cabin every night, complete with private sauna and crackling log fire.
What's included?
Flights: Return flights from London Gatwick to Rovaniemi (via Helsinki). Direct flights are available on certain days. Flight routes are subject to change
Transfers: Return airport transfers are included
Accommodation: Log cabin accommodation (minimum three nights)
Meals: Half board
Activities: Choose from our extensive range of activities (individually priced as detailed in the 'Activities' section)
Cold weather clothing for the duration of your stay
Services of our local guides and instructors
---
Luosto is a well-kept secret that exceeds everyone's expectations of Lapland. This small ski resort brings together everything you want to experience in this part of the world and more. From a minimum of three nights with the option to add additional days, you can design your own holiday filled with your choice of activities from an impressive list. In addition to snowmobiling and husky sledding, more traditional pastimes like cross-country skiing and ice fishing can be experienced. Whether it be meeting the reindeer, venturing out on snowshoes or spending a day on the slopes, the choice is yours. When you want to relax you can head to your cabin's private sauna, or the hotel's pool and spa facilities, which can be added to your package.
Witnessing the Northern Lights is a once-in-a-lifetime experience but it is, of course, the one thing you cannot book in advance! However, the good news is that Luosto is a prime Aurora location so you may well be fortunate enough to add this to your list of achievements too.
Read more
Before you turn in for a wonderful night's sleep in this cleanest of air, you can warm up with a sauna and sit by the log fire in your snow-surrounded cabin (a short walk from the main hotel). Your cabin has a kitchenette and dining area. The cabin contains two large double beds which are positioned end to end and with two single bunk beds on the upper bunk (accessible by ladder), making them ideal for a couple or a small group.
Prices include flights, transfers, half board accommodation for three nights. Cold weather clothing is also provided for the duration of your stay.
Aurora Alert: you will also have access to Luosto's Aurora Alert Realtime Northern Lights alarm system, free of charge. This system needs to be activated on your smartphone or tablet and requires data-connection or Wi-Fi, please ask reception for details on how to activate it. Using a local sensor from the Luosto area, the alarm system will send you a voice signal if the Auroras are visible in the sky and will inform you how strong the Northern Lights are. Remember to keep your sound on and allow all notifications from the system in order for it to work. Guests can also opt for a paid SMS service.
All activities are individually priced. Each person who books five or more activities in advance of travel (excludes accommodation upgrades and equipment hire) will receive a 5% discount on the total price of their activities.
Please note: some activities require a minimum number of participants to operate, schedules are always subject to change and are subject to availability.
Please note: some elements of this itinerary (including transfers and some activities) are shared with our sister company Activities Abroad and are popular with families during the school holidays. If a child-free holiday is important to your party when travelling, please speak to our travel experts for recommendations.
---
Image credit: Snow Games and Miika Hämäläinen
Accommodation
Included in price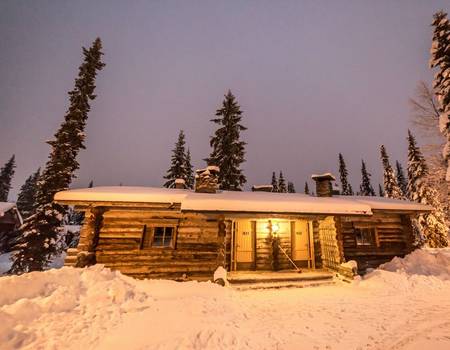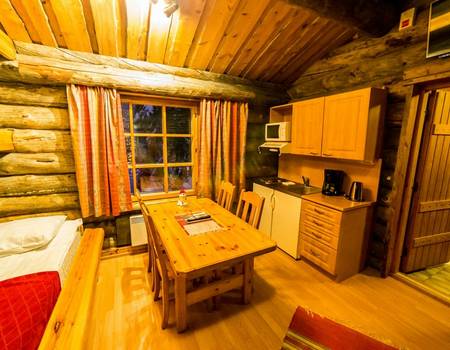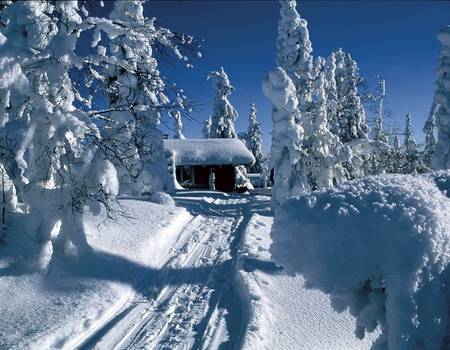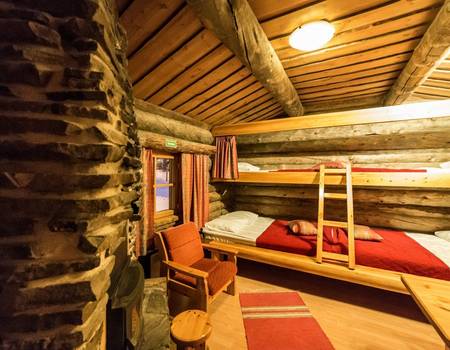 Luosto Log Cabins
Nights:
1-3
Luosto is a charming ski village in Finnish Lapland with a picturesque backdrop of forested fells and frozen lakes, making it the ideal winter retreat. With its handful of shops and cáfes, the village manages to maintain a traditional Northern Finnish feel and the guests have easy access to local facilities.
The Luosto Log Cabins are owned by the Luosto Tunturi Hotel, which is one of only two hotels in Luosto. They are just a short walk from the main hotel building, so you are within easy reach of Tunturi's facilities.
Hotel facilities
In the main building, you will find the two hotel restaurants
The Tunturi Restaurant (used for the majority of our packages), serves a wide range of local and international dishes in buffet style.
The hotel also has the Bistro restaurant, which is a smaller restaurant
The Kelo Log Cabin restaurant is an additional restaurant, situated a short walk away from the hotel, and is usually used on one night of the itineraries
A popular feature of the Luosto Tunturi is the pool and spa area, which offers an ideal retreat after a day's activities. In addition to this, there is also a hot tub and a sauna wing where both Turkish and Finnish saunas are heated daily. These facilities are available to log cabin guests for a small supplement
At the Amethyst Spa area, you can also book a range of massage and beauty treatments in advance or on arrival (subject to availability)
There are seven neighbouring downhill ski slopes and ski hire is available locally. The hotel will also help you arrange ski passes. Also, cross-country skis and snowshoes can be hired locally for you to explore the variety of trails surrounding the hotel.
Free Wi-Fi is also available throughout the hotel
Guest bedroom types
Log cabins: The log cabins are situated just a short walk from the hotel and are perfect for a private retreat. The cabins are ideal for a couple. The cabins are comprised of essentially one main room with a kitchenette, dining area and a television. A cosy wood burning stove provides a warming centrepiece. The beds are arranged in a unique bunk format with the lower bunk formed of two double beds and the upper bunk housing two single beds. Each cabin is en-suite with a private sauna.
Please note: pool, spa and gym usage is not included when you stay in a log cabin, however, this can be added to your package. Please speak to our Travel Experts for further details.
Read more
Read less
---
Other options
Wilderness Cabins
Wilderness cabin accommodation is reserved for those people enjoying overnight safaris. There can surely be few better forms of escape from the everyday stresses (which could include laptops, mobiles and your day job) than a night in one of these cabins. Their isolation also means that the views of the night sky are incredible.
The Northern Lights could well pay you a visit should conditions be right and, if the sky is clear, you will never forget the sight of the galaxy overhead.
The title is fairly self-explanatory as the cabins are located in the wilds. The cabins that you visit are determined by the conditions of the trails you are using. They are varied in their set up but all offer the same incredible experience of complete silence in the evening (not guaranteed if you are dog sledding as the huskies do like a howl now and then!).
Some of the cabins are more basic than others, as some have no electricity or running water. Everyone will join the guide to help set up camp by collecting wood and water if needed. Participating enhances the wilderness experience.
Once the fire is lit, the food is cooked. The guides prepare your meals over an open fire and our guests always provide exceptional feedback on the meals that the guides rustle up.
Should you have specific dietary requirements, please mention these at the time of booking.
There are no showers or bathroom facilities in the cabins but this is all part of the adventure. Scandinavia is renowned for its saunas and the wilderness cabins are no exception. Once heated, you can steam clean in the sauna. The toilet facilities are normally a short walk from the cabin and are compostable. We certainly recommend a head torch for any ventures to the toilet during the night!
In most cases, the sleeping arrangements are dormitory style. You will be given your own arctic-grade sleeping bag in which to sleep and, combined with your thermals and the open fire, this should keep you lovely and warm.
You will carry with you all that you need for any stay in the cabins, so luggage is typically restricted to the essentials. Your main bag will be securely stored back at the hotel and a safe is provided for your valuables.
There is something so refreshing about realising that you can strip back your belongings and enjoy such a simple but satisfying experience.
Depending on the weather conditions you might spend the nights in cosy and warm basecamp tents at one of the wilderness camps.
---
Image Credits: Antti Pietikainen
Read more
Read less
---
Special Nights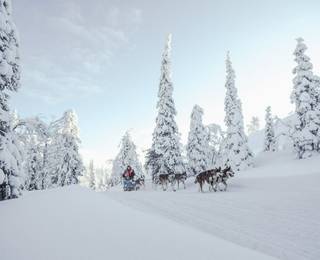 Overnight Husky Safari
From: £548pp
Experience the ultimate dog sled trip as your eager team leads you on an overnight wilderness adventure. After full instruction, you will set off into the wilds with your guide leading the way. Everyone will travel with their own sled and team of dogs and so this is a real hands-on experience from start to finish.
Your destination is a wilderness cabin where you will enjoy an evening of campfire cooking and camaraderie. There's no running water out here, nor electricity, so this is a real back to basics experience – but one you will never forget. All guests will help collect firewood and prepare the meals before staying in the dormitory accommodation.
This safari offers the best opportunity for guests to really bond with a team of dogs as you will spend a full 24 hours in their company. The distances travelled will depend entirely on the conditions but you should expect to cover around 20km per day. Guides, instruction, dinner, breakfast and equipment included.
Available: Monday and Wednesday at 12 pm
Duration: 24 hours (approximately)
Please note that prices vary depending on departure date:
06 Jan 2020 – 22 Mar 2020 - Adult £629
23 Mar 2020 onwards - Adult £548
Image Credit: Lappikuva & Jani Kärppä
Arctic View Room
Why not start or end your holiday in real style with a night in a stunning Glass Arctic View Room! These rooms are situated close to the Hotel Aurora, a short walk from the Tunturi Hotel and the cabins.
These luxurious rooms offer great views of the northern skies. The panoramic windows and partially glassed roofs mean that they are ideal for keeping your eye out for a potential Aurora display.
Hotel Aurora's ten rooms will bring guests closer to the Finnish Winter's polar nights in total comfort – with high-quality features, fully-equipped bathrooms and great views. Guests will enjoy dinner in the delightful restaurant at Hotel Aurora and breakfast the next day is also included.
Standard prices are based on guests spending their first or final night in the Arctic View Rooms. You will, therefore, be asked to check out of your previous hotel room or cabin on the morning before your stay. If you would prefer to keep your hotel room or spend a different night in these unique rooms (or indeed if they are fully booked for your final night) supplements will apply. You can of course also choose to spend an additional night in Lapland to enjoy these rooms following your holiday.
Please contact one of our Travel Experts for a complete quote.
---
Please note: prices are based on you spending the first or last night of your holiday in this unique accommodation and not keeping your original accommodation. If you would like to do this on any other night during your holiday you will need to keep your accommodation and supplements will apply.
Read more
Read less
Activities
Keep yourself busy!
---
---
---
Activities
Special Nights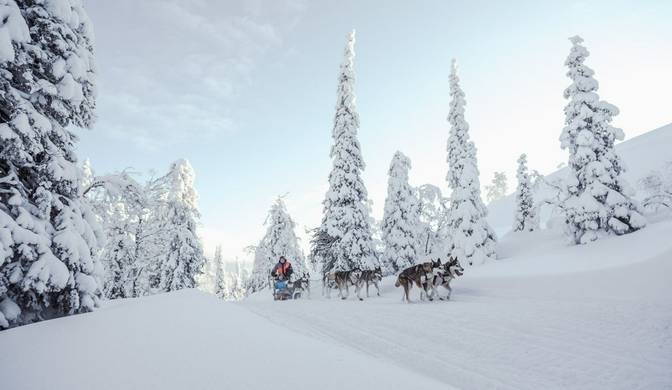 Valid 06 Jan - 28 Mar 2020
Valid 01 Dec - 30 Apr 2020
Dates & Prices
Thank you for your interest in this Artisan Travel experience.
We have found that this holiday is better tailored exactly to your requirements, so please email our Travel Experts at This email address is being protected from spambots. You need JavaScript enabled to view it. or contact us on 01670 785 085 to discuss the various options available to you.
Our Travel Experts have been to all the destinations we feature and love to share their experiences and insight. We want to match you with your perfect trip, so if you have any questions please get in touch; we will be happy to talk through the destinations and itineraries with you.
---
Offer - Save 5% on activities
Book five or more activities in advance of travel (excludes accommodation upgrades and equipment hire) and receive a 5% discount on the total price of your activities. All activities are individually priced. T&C's apply.
Reviews
Traveller Reviews
Just being there was amazing
28 March 2018
by Anthony Butler & Felicity Dunkley
Hard to say what we enjoyed most. Just being there was amazing, and I wouldn't like to single out any one. However, the night-time guided snowshoe hike was pretty magical and well and imaginatively guided. We loved the husky sledding as well.
Fantastic holiday
29 December 2016
by Julia Eason & Ian Hitchman
Fantastic holiday, can not recommend enough. Huge thank you for all your help in advance, everything went very smoothly. Was really sad to come home but hope to be able to visit again in the future. The snowmobile tour of the fells was a fantastic trip for anyone interested in having a lengthy trip on snowmobiles. The trip was fantastic and the guides very good. Big thanks also should go to Greta…
Read more the local rep who was very friendly and helpful and a credit to your company.
Read less
Luosto Log Cabin - tailor made holiday
12 March 2016
by Keith Clayson
We both really enjoyed the holiday in Luosto, everyone was pleasant and very helpful. All the tours we went on were well planned and in good weather too.
All activities and equipment provided were excellent
20 December 2015
by Helen Etchells
Our holiday went very smoothly. All activities and equipment provided were excellent. The guides were friendly and knowledgeable. Our log cabin accommodation was basic but warm and comfortable. We really enjoyed the Husky Safari. We hadn't expected to be driving the huskies ourselves through some stunning scenery. After the safari we were allowed to cuddle the husky puppies. These was and…
Read more informative chat about training the dogs.
Read less
This was the best adventure holiday we have been on
14 December 2015
by Dale Johnson
This was the best adventure holiday we have been on. Very well organised, great accommodation and food. Everyone was so helpful and looked after us to make this a great time. All the equipment from clothing to snowmobiles were in excellent condition, plus qualified staff. The husky safari followed by the snowmobile activities (were favourite activities). Having a coffee break midway in an activity…
Read more was a good idea.
Read less
Vastly exceeded our expectations
18 February 2015
by Gerwyn Williams
Simply thought that everything was first class. Vastly exceeded our expectations.
The guide was excellent, great fun and very helpful
15 February 2015
by Simon Payne
Evening snowmobile to Northern Lights; when we got there we found out that there was only us going on the tour! The guide was excellent; great fun and very helpful when I wanted to keep stopping for photos. He was always checking we were ok and warm and nothing was too much trouble for him! Thank You
---
---