HOLIDAY TYPE:
Small Group
VISITING:
Finland
BROCHURE CODE:
5526
All prices include: flights, transfers, accommodation, guided activities, meals and cold weather clothing; all as listed.
Overview
Celebrate the New Year twice – once in Finland and then again in Norway on this brilliant seven-night trip to Utsjoki. Immerse yourself in the local Sámi culture and take part in some amazing activities including dog sledding, reindeer sleigh ride and cross-country skiing.
What's included?
Flights: direct return flights from London Gatwick to Ivalo
Transfers: return airport transfers
Accommodation: 7 nights' in a standard double or twin hotel room. Cabin upgrades can be arranged on request and subject to a supplement
Meals: 7 breakfasts, 6 lunches, 7 dinners
The following activities are included: snowshoeing, husky safari, reindeer sleigh ride, Northern Lights by snowmobile-pulled sleigh and Northern Lights snowshoe walk (order subject to change)
Cold weather clothing provided for the duration of the trip
Fully qualified guides and instructors during activities
---
If you have dreamt of spending New Year's Eve, in a unique way, in beautiful winter surroundings, this trip is perfect for you; you can celebrate not only once, but twice!
Your week will be spent taking part in some thrilling activities. You will find yourself speeding over the fells on a husky sleigh, taking in the enchanting winter forest as reindeer pull you through the snow and taking a nature tour on snowshoes. You have free time available for when you want to relax or add extra activities to your holiday (details can be found in the 'Personalise' section). There are plenty of opportunities to learn about the Sámi culture during this trip, and your Sámi wilderness guide will teach you everything there is to know about the Sámi lifestyle, as well as give you the opportunity to experience it for yourself.
In the peaceful town of Utsjoki, where your hotel room overlooks the breathtaking Teno River and the Norwegian Fells, you will end the week with a traditional Finnish dinner and party, counting down to the New Year, then rewinding the evening as you cross the border to Norway and celebrate the last hour all over again.
---
©Klaus-Peter Kappest & Hotel Village Valle

Agenda
Accommodation
Included in price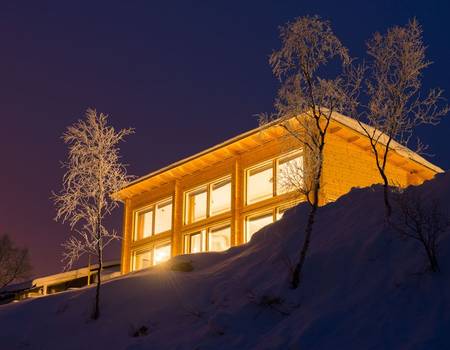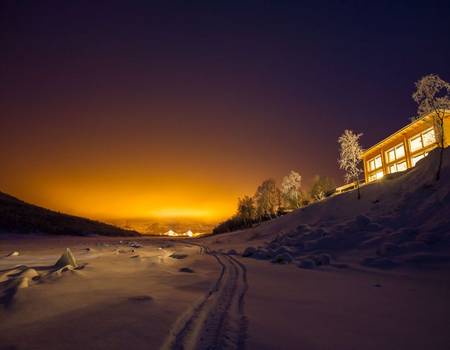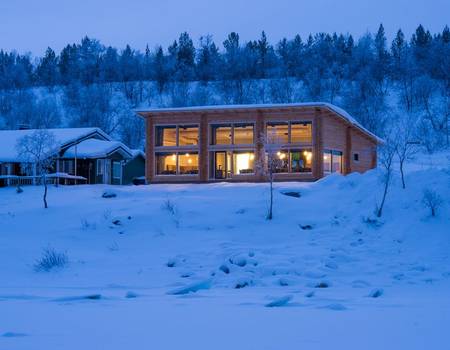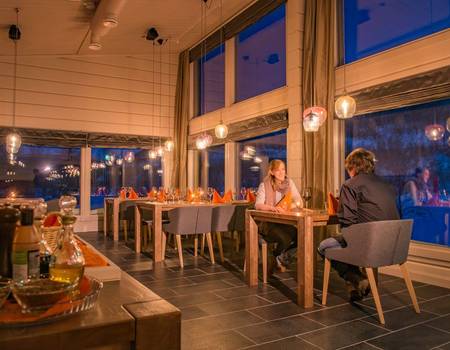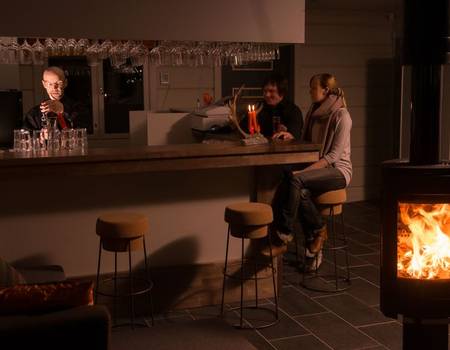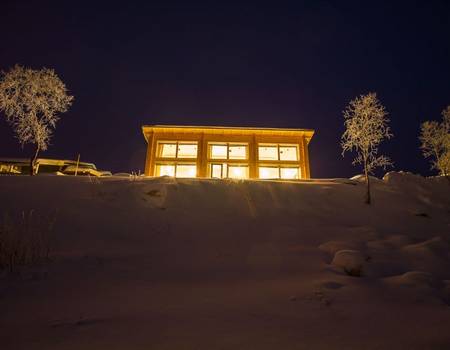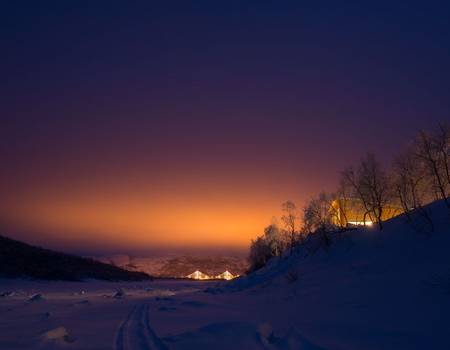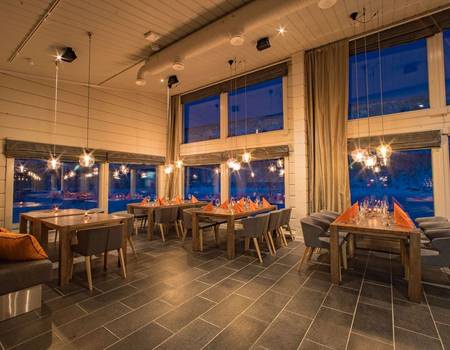 Holiday Village Valle Hotel
Nights:
1-7
This small holiday village run by a Sámi reindeer herding family offers cosy winter cabins and a lovely hotel by the famous Teno River. The accommodation has a reception building which includes a dining room with a fireplace, a lounge and a wonderful view of the Teno and the Norwegian fells opposite.
Meals are served in the main building and include local produce and delicacies.
Guest room options
Hotel room: each room has a big window that looks out onto the River Teno and the Norwegian Fells. The rooms consist of two single beds, which can be pushed together to make a double, and two big, cosy chairs, one of which can be pulled out to form an extra bed. These rooms all have ensuite bathrooms, a drying cupboard for clothes, a kettle and a hairdryer. Wi-Fi is available throughout the whole of Village Valle premises.
Read more
Read less
Personalise
Personalise this tour
---
Our pick
Cross-country skiing is one of the oldest methods of travel used by the Sámi people. Using the cross-country skiing equipment will allow you to make the most of the snow-covered landscape and explore the untouched wilderness that surrounds the area and to appreciate the beauty of this remote region. You will enjoy a real sense of silence during this activity and hopefully, encounter some of the local wildlife such as elk, hare and willow grouse. There will be a break for warm drinks en-route. This activity requires a minimum of two participants.
A minimum number of 2 participants is required for this activity to take place.
Duration: 2 hours
---
Other options
Activities
Tour to the Arctic Ocean by car
From: £175pp
You will be driven over the border into Norway to the magnificent Varangerfjord and the fishing village of Nesseby. A trip will be made to the nearby Sámi museum to learn more about the indigenous people of the Nordic countries, and you will also find out about contemporary life by the Arctic Ocean. Time will be made to visit a 'seita', or Sámi worship site, and there will be a picnic lunch along the way. Heading back, a stop will be made at a Sámi handicraft workshop in the village of Tana.
A minimum number of four participants is required for this activity to take place.
Duration: 4-5 hours
Fell scenery tour
From: £88pp
If you want to experience something different, why not try this scenery tour? On a sleigh pulled by a guide's snowmobile, you can sit back, ride through the snow and take in the incredibly peaceful and clear fell surroundings. You will drive to a breath-taking viewpoint that offers you a fantastic vista of the River Teno.
A minimum of 2 participants is required for this activity to take place.
Duration: 2-3 hours
You will take a short, 15-minute transfer to the nearby small lake ready to try this popular Finnish pastime and number one winter sport for locals. You will learn the secrets of a successful ice fishing experience, and if you are lucky you may find yourself catching arctic trout or salmon trout. You also have the opportunity to try drilling a hole in the ice yourself with a special ice drill.
While you are busy fishing, your guide will prepare warm drinks by a campfire for you to enjoy during this activity.
A minimum number of 2 participants is required for this activity to take place.
Duration: 2-3 hours
Dates & Prices
Thank you for your interest in this Artisan Travel experience.
We have found that this holiday is better tailored exactly to your requirements, so please email our Travel Experts at This email address is being protected from spambots. You need JavaScript enabled to view it. or contact us on 01670 785 085 to discuss the various options available to you.
Our Travel Experts have been to all the destinations we feature and love to share their experiences and insight. We want to match you with your perfect trip, so if you have any questions please get in touch; we will be happy to talk through the destinations and itineraries with you.
Reviews
Traveller Reviews
It was perfect!
29 December 2019
by Nathalie Crahay & Ingo Eschweiler
Even though Holiday Village Valle was not our first choice of accommodation (based on pictures) it absolutely exceeded our expectations. The rooms, even though basic, are very spacious and clean and comfortably designed. The fact that there is limited accommodation made the stay very personal and allowed for pleasant interactions with other guests and the staff. Food wise, we have absolutely no…
Read more complaints, we were served local, nourishing and delicious meals three times a day: king crab legs for New Year's eve, raw salmon tartare, beetroot spreads, rabbit stew and we even got home brewed kombucha. We also had a lovely Sami dinner in a hut. The activities were always well organised and planned and the guides were very flexible and accommodation. Did you want to go at a later time, stay a bit longer on a certain spot, etc everything was feasible. They really went out their way to make the stay as enjoyable as possible.
Read less
All spot on!
07 January 2019
by Lynne Vipond
The only reason I would not go back to Utsjoki is because there are so many places in the world to visit and so little time in which to do it! All spot on!
TOTALLY AMAZING!
04 January 2018
by Jane and David Williamson
If someone had told me before our holiday that I would be capable of managing my own team of huskies and spending 2 days travelling over frozen lakes in the Arctic with them, I would have called them bonkers! It was TOTALLY AMAZING! The dogs were so friendly and so happy and you could tell they just loved running together pulling the sledge. We had magnificent weather too, loads and loads and…
Read more loads of snow and blue-sky days, so the views across the lakes and forest runs were outstanding.
Read less
Amazing winter holidays
26 December 2016
by Silvie Lorkova and James Baister
Amazing winter holidays. Great communication and support from Artisan Travel and very welcoming team at Utsjoki. Enjoyed every day and activity, well planned and organised, traditional food very tasty and amazing place surrounded by nature. Lots of opportunities to see the Aurora lights:). Thank you, Silvie & Chris
No faults in the entire trip!
26 December 2016
by Shaemala Anpalakhan
Highly enthusiastic guides and restaurant staff. No faults in the entire trip! Strongest lights were seen on New Year's Eve pre-countdown which made it more special. Will be returning to Holiday Village soon!
Excellent trip
26 December 2016
by Elizabeth DeLorenzo and Elaine Brown
Excellent trip, had a blast. The dog sledding trip. It was amazing! The sky was this beautiful pink colour the whole time we were there, almost like sunrise and sunset the whole time. It was beautiful scenery and so much fun. The dogs were so adorable, and so happy to be running. We had a nice fire after to warm up. Everyone had a great time! I also really liked the New Year's Eve festivities. The…
Read more winter games that day was fun. I loved the fireworks at midnight when it was snowing! Also really liked releasing the lanterns into the snowy sky. Then we walked over to Norway and celebrated again. It was a fun night. The Northern Lights were out the best we had seen too earlier at dinner. Great finish to the week.
Read less
---
---