There is nothing quite like the excitement of imminent departure as you and your small band of wilderness explorers wait to start the 5 day Husky safari at Harriniva in Finnish Lapland.
The anticipation has been building since the moment you awoke, ate your hearty breakfast and made your way the mere 200m across from the main building towards the increasing volume of eager huskies waiting for the chance to do what they love as working dogs...pull.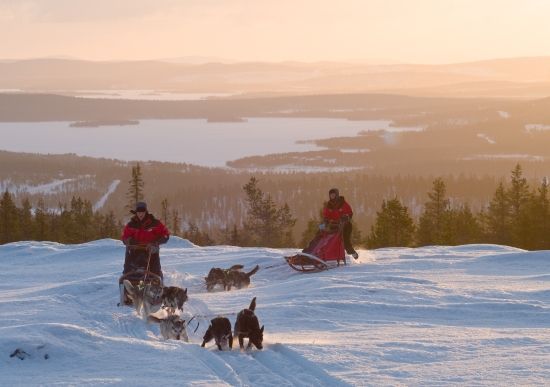 ---
The important thing in our job is getting to know a destination and experiencing everything it has to offer. On my very first trip to Finnish Lapland I learned very quickly that the best way to appreciate the wide open wilderness spaces north of the Arctic Circle is by snowmobile. You can enjoy all sorts of activities here in Lapland; dog sledding and reindeer safaris, snowshoeing and cross-country skiing will all get you from A to B but nothing will show you as much or take you as far as a snowmobile.
My first snowmobile safari was blessed by a typically beautiful early-spring day (in the opinion of most locals, late-March and early-April are the best times to visit) with not a cloud to obscure the azure blue skies.
The other thing that struck me about this pristine setting was just how calm and unspoiled it is. Lapland must be as close to purity as anywhere in the world and the air is said to be the cleanest anywhere in Europe (and very probably further afield too).
---