There are so many great things about a winter escape to the Arctic, from the chance to hunt for the Northern Lights to experiencing the thrill of a husky safari to snowmobiling across the snow-covered fells but obviously, you don't have all day! So instead here are seven of our favourite Arctic escapes to get you excited about winter!
1) Harriniva – Five-Day Husky Safari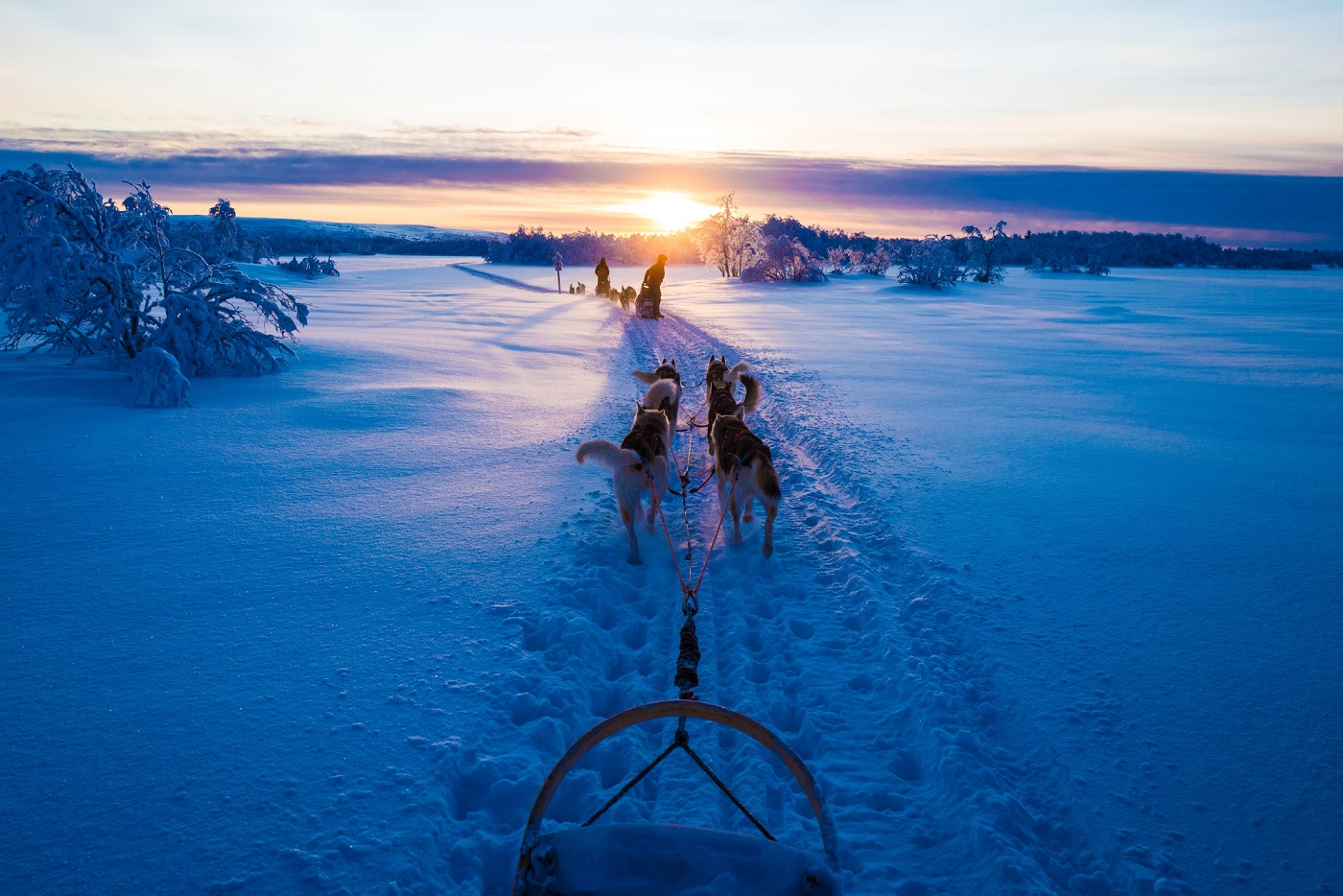 If you are looking for a real adventure it is hard to look past our five-day husky safari through the Pallas-Ylläs National Park in North West Finland. Travelling with a small group of fellow adventurers, you will learn from an expert musher before taking control of your own team of huskies. You will travel between 25 to 40 kilometres each day as you build a bond with your dogs and experience some truly stunning frozen landscapes. After spending the day with your dogs, you'll unwind in a remote wilderness cabin, having fed and set your dogs to bed for the night. This is a truly remarkable way to experience one of the Arctic's most famous pastimes and escape from the stresses and strains of everyday life!
Click here to view this holiday!
2) Reykjavik and Keflavik – Auroras, Whales and the Blue Lagoon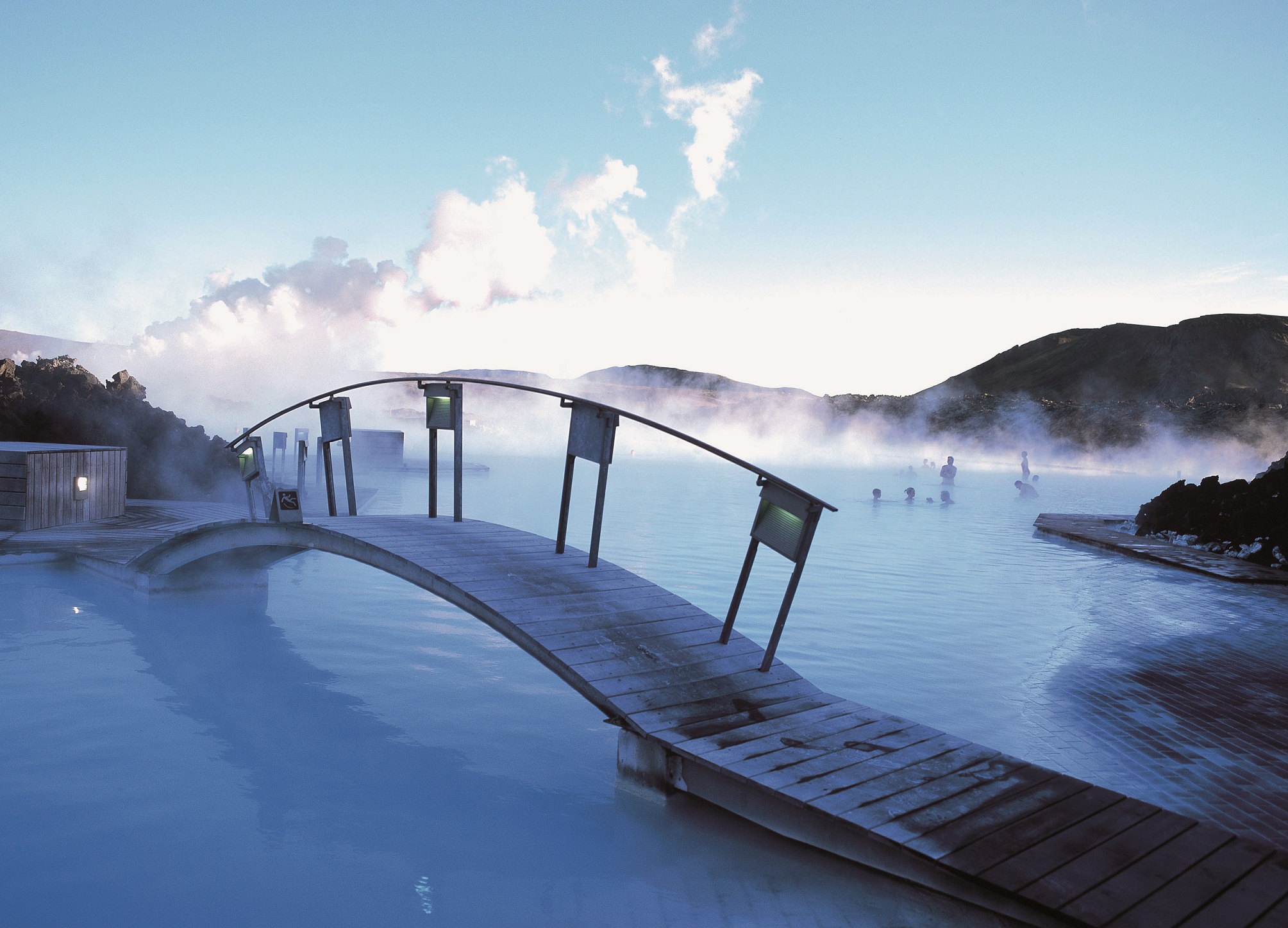 Iceland is a destination that offers an incredible number of fantastic attractions. From some truly stunning landscapes to some fantastic wildlife, unique culture and a vibrant capital city, our break to Reykjavik and Keflavik is a great way to combine Iceland's highlights in one great itinerary. So, whether you fancy relaxing in the famous Blue Lagoon, or exploring the fascinating culture, architecture and cuisine of Reykjavik, this holiday really does have a lot of memorable experiences to offer. If this doesn't seem like enough to tempt you to explore Iceland in the winter, there is also the chance to hunt the Northern Lights in a custom-made 4x4 super jeep and take to sea in search of marine life that can regularly be spotted off the coast; not a bad way to spend your winter break!
Click here to view this holiday!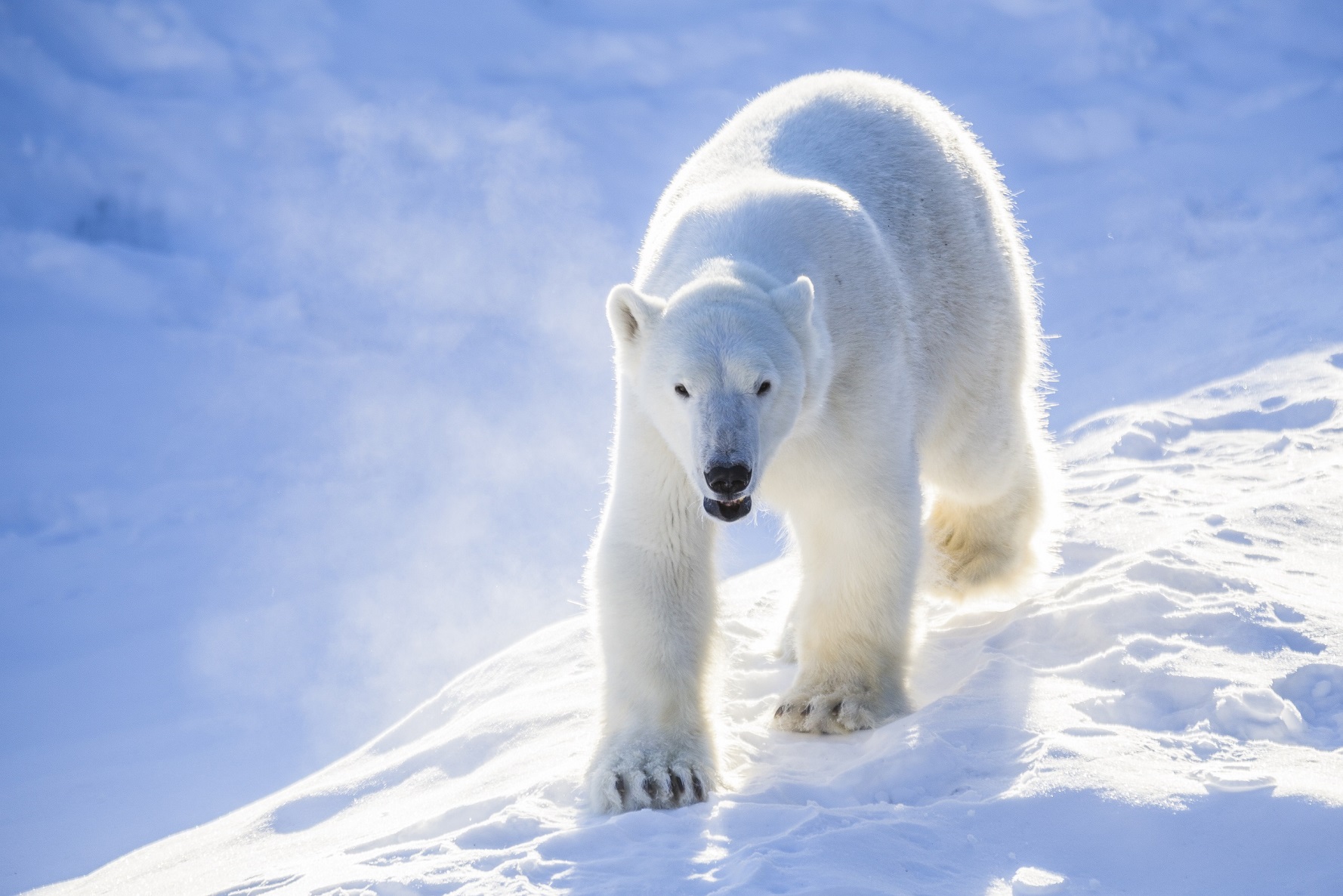 It is safe to say that there aren't many places in the world that let you encounter the majestic polar bear up close! However, thanks to its close proximity to the Ranua Wildlife Park this is just one of many optional activities on our tailor-made break to Ranua in Finnish Lapland that allows you to get up close to some of the Arctic's most endangered wildlife. Alongside these wildlife experiences, you also have the opportunity to enjoy some other fantastic activities. So, whether you want to learn to fish with an authentic Arctic fisherman, enjoy a husky safari, go searching for the Northern Lights by snowmobile or experience a horse-drawn sleigh ride through the stunning frozen wilderness, Ranua has this and so much more to offer. With its extensive range of optional activities and wonderful accommodation, our tailor-made holiday to Ranua lets you create your perfect Arctic escape.
Click here to view this holiday!
4) Dog sledding in the Yukon – following the Yukon Quest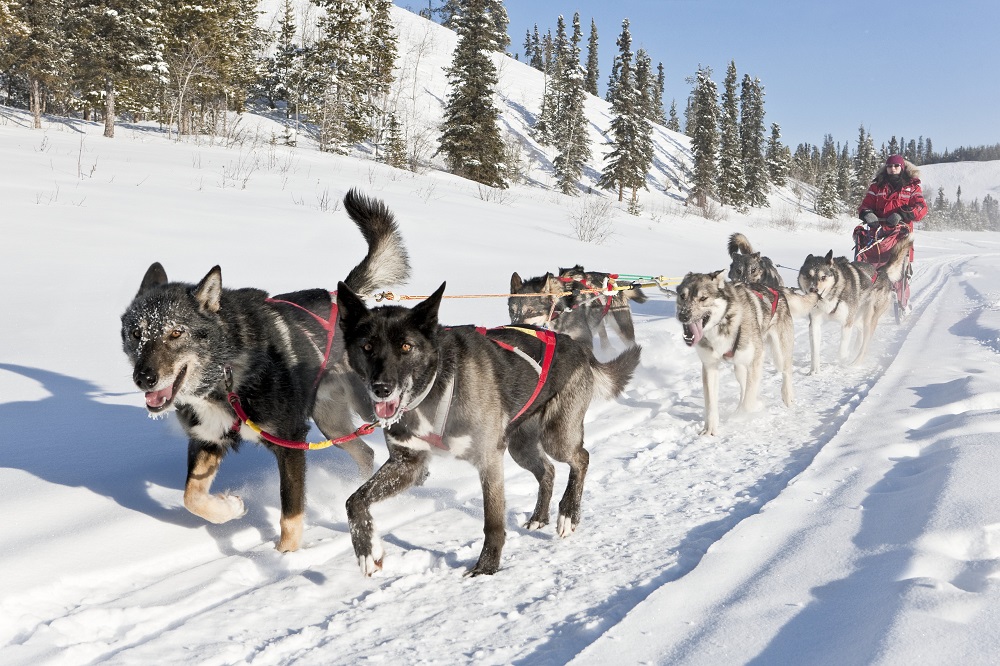 You may not have heard of it but the Yukon Quest is hailed as the toughest dog sled race in the world. Despite its name, this race actually traverses 1,000 miles of the vast wildernesses of both Alaska and the Yukon and follows part of the Klondike Gold Rush trails from the late 1800s. Not only does this holiday give you the chance to witness the start of the race and meet some of the mushers taking part in this gruelling task, it also gives you the opportunity to experience two days of dog sledding across the snow-covered trails of the Yukon for yourself. Additionally, there is the chance to explore some of the Yukon's fascinating history and wildlife as you visit the frontier town of Dawson City, a place that comes complete with unpaved streets, wooden boardwalks and saloons, and the Yukon Wildlife Preserve, which is home to species such as caribou, moose and elk.
Click here to view this holiday!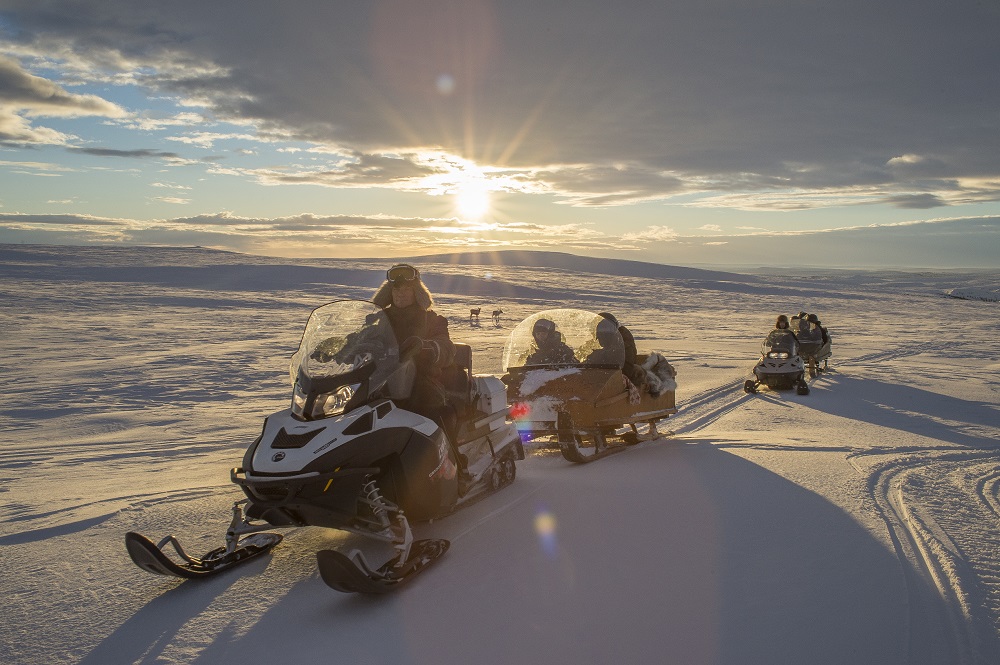 If you are looking for a special way to celebrate the New Year it would be hard to beat the opportunity to welcome in 2019 twice in one night, and our break to Utsjoki, Finnish Lapland lets you do just that! Thanks to its peaceful location overlooking the breath-taking Norwegian fells and the Teno River, having celebrated in Finland you will move across a bridge to Norway, where due to the time difference you will be able to celebrate all over again. As well as enjoying double the festivities, you will also be able to take part in some great Arctic adventures too such as a reindeer sleigh ride, husky safari and Northern Lights snowshoeing. Not a bad way to spend your New Year!
Click here to view this holiday!
6) Kirkenes – Northern Lights and Snowhotel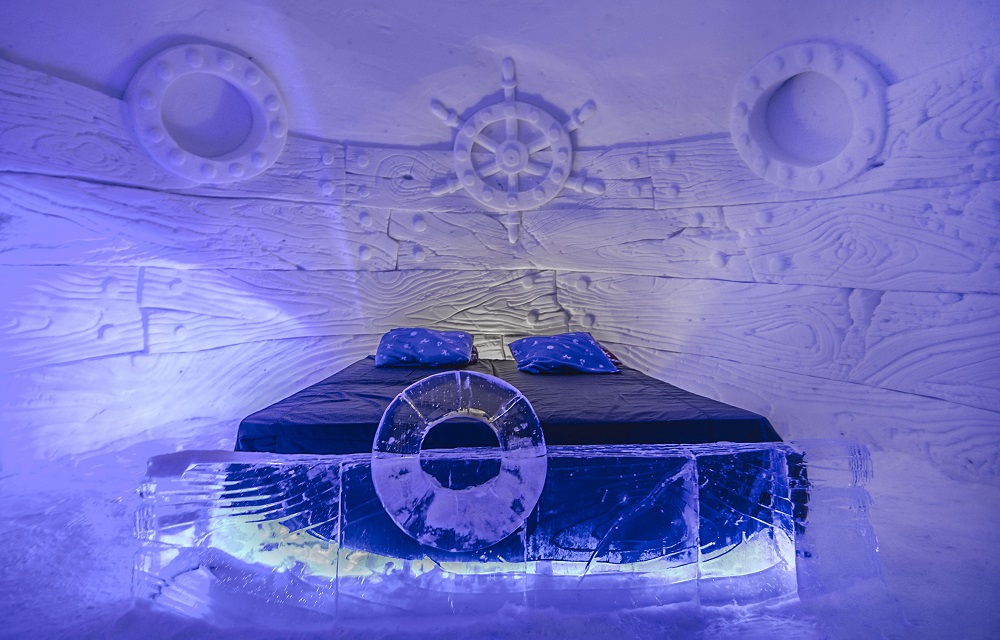 The Norwegian frontier town of Kirkenes is only 15 km from the Russian border and its rugged coastline and mountainous backdrop make for a great playground for some amazing winter activities. However, there are two things that have really put Kirkenes on the map – King crab and the Snowhotel. A trip to Kirkenes wouldn't be complete without catching and sampling these delicious crustaceans, who can grow up to 5ft 9inches so it is perhaps no surprise that we have made sure it is included in the itinerary. With beautiful rooms crafted from ice and snow, an ice bar and some stunning sculptures, the Snowhotel is an impressive sight and well worth a visit to Kirkenes on its own. Of course, if visiting isn't quite enough you can choose to spend a night in this extra special accommodation for an evening to cherish forever.
Click here to view this holiday!
7) Harriniva – Summit Snowmobile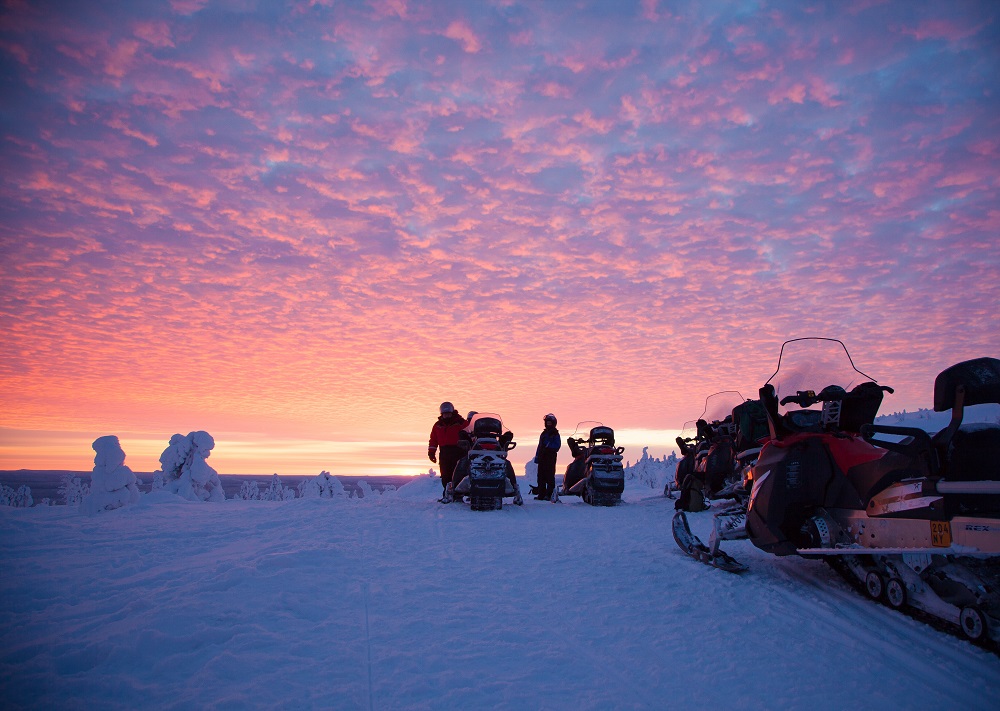 If you are looking for an adrenaline-fuelled adventure through the spectacular trails of Finnish Lapland, then our epic snowmobile adventure in Harriniva is for you!
Having mastered the art of handling your snowmobile, your Arctic adventure through snow-laden forests and across frozen lakes will begin. With expert guides to lead the way, you will cover between 100-150km over 5 days and explore some of Northern Finland's most impressive landscapes. Beginning on the breath-taking trails to Kilpisjärvi, a remote and mystical region of Lapland steeped in Sámi tradition, you will then travel on to the summit of Halti, Finland's highest mountain. Here, you will ride out to the point where Finland, Norway and Sweden meet and enjoy some spectacular views before returning to Muonio and a well-deserved sauna and farewell dinner!
Click here to view this holiday!
Click here to find out more about our winter holidays
---
Image credits: K Chae & Visit Finland, Visit Iceland, Gulo Gulo Holiday Village, Arctic Range Adventure Ltd, Klaus-Peter Kappest, Kirkenes Snowhotel, Antii Pietikäinen