Lulea
Luleå is one of tourism's well-guarded secrets. Sitting on the Bay of Bothnia and its 1000+ island archipelago it is a delightful place pretty much all year round.
About
Luleå, in Swedish Lapland, is a region where small independent and family-run businesses have come together to work to promote their region and create incredible visitor memories. Our partners in Luleå are passionate and enthusiastic, dedicated to their region and so keen to show you all what it has to offer.
This is small-scale tourism fuelled by a community spirit amongst the providers that is a very rare commodity. The region has so much to offer in terms of accommodation, landscape, and experiences but, it is the people that provide all of these things, who are the real key to its success.
Our holiday is based at the delightful Sörbyn Lodge, situated in a remote hamlet and surrounded by forests and fells. The lodge is situated on the shore of a frozen lake and is ideally located for activities and exploring. It is at the heart of the community here and is renowned for providing incredible meals for guests.
The region is also home to the world-famous Treehotel and we strongly recommend extending your holiday to spend a night in one of the unforgettable tree rooms.
In close partnership with local tourism providers, we have created a holiday aimed at ensuring that you see the very best of this stunning area and enjoy its most memorable activities.
---

Speak to our Artisan Travel Experts
01670 785 085
Our holidays
For us, winter is when Luleå and Sörbyn Lodge are at their glorious best.
Our itineraries are designed to allow you to actively explore the region but, we make sure you've also got time to relax.
Tailor-making a holiday at Sörbyn is an excellent option as you can really plan the agenda around your own specific interests. If you fancy a festive Tailor Made getaway, then we can promise you'll never find a tastier Christmas dinner than at Sörbyn Lodge. Alternatively, you can choose to join in with the New Year festivities here instead.
Sörbyn offers some activities which are rarely found elsewhere such as a moose safari and a visit to a Sámi reindeer herding family. This is in addition to a variety of snowmobile trips (from tasters to 150km adventures), dog sledding (either driving your own or a wonderful sit-on sled experience) and the likes of snowshoeing, Aurora hunting and ice fishing.
The accommodation
There are only eight guest rooms at Sörbyn Lodge so you really will be part of an exclusive group of guests who get to stay here. The lodge is split into a main restaurant and reception building and then the accommodation buildings which are just a very short walk away.
The rooms here are decorated in a modern way and each is designed to reflect an element of the climate or nature of the region. They are all comfortable and all en-suite, providing a great place to relax and unwind after an active day in Swedish Lapland.
The lodge also offers a selection of cabins which are a couple of minutes' walk away from the central building and are a lovely option for those who fancy their own space and private sauna.
Sörbyn is famed for its food. It is a passion which is obvious from the first time you eat there. They pride themselves on providing a fine dining experience in a relaxed setting and showcasing local ingredients as much as possible. There is a well-stocked bar in the restaurant as well as a lounge area with roaring fire.
If you can extend your time in Sweden then we can also arrange for you to stay in one or two jaw-dropping accommodations – The Treehotel, which is within the Luleå region, and the ICEHOTEL®, which is a scenic train ride away. If you can fit in both then we highly recommend it!
---
Photography by Graeme Richardson
Read more
Read less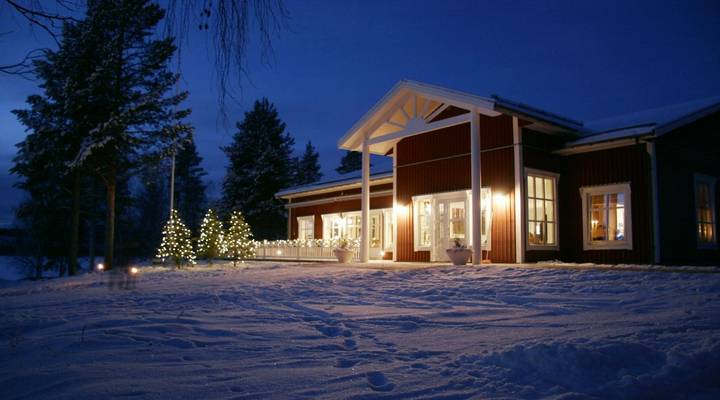 Holidays
Accommodation