Overview
This in an incredibly exciting and varied seven-night self-drive tour of the Snæfellsnes Peninsula on the west coast of Iceland, an area depicted as 'mini Iceland'. Here you will find an example of all that the island has to offer - volcanoes, lava fields, glaciers and much more. The area is also home to some of the best accommodation in all of Iceland.
What's included?
Car Hire: 7 nights/8 days hire including Sat Nav, collision waiver and unlimited miles (from September to April a compact 4x4 (Dacia Duster or similar) is included in the price. From May to August we include a compact 2-wheel drive car (VW Golf or similar) with the option to upgrade if clients wish – see 'Personalise' for details
Accommodation: 2 nights Hotel Glymur, 2 nights Búðir, 2 nights Hótel Egilsen, 1-night Hotel Holt
Meals: 7 breakfasts
A comprehensive guidebook and detailed map of Iceland are included
A note on flights: flights are not included in the holiday price so that the best possible fares and schedule can be found at the time of booking. There are low cost and scheduled flights operating this route and our travel experts will happily provide a quotation and arrange the flights as part of the package.
---
This seven-night Iceland self-drive holiday has been carefully designed to showcase the highlights of the unforgettable Snaefellsnes Peninsula in the west of this wonderful island. Often referred to as 'Iceland in Miniature', the area offers volcanic landscapes, vast glaciers, spectacular coastline and charming fishing villages; all within a short distance of one another.
We have used our experience and expertise to create an ideal routing through the region for our guests and this agenda outlines some of the sights and experiences we feel are unmissable. However, as you have your own car you can explore Iceland at your own pace and indulge in the places that you wish to. You can be as active or as relaxed as you like and can tailor your time to suit your needs.
We ensure that each night you head to a wonderful hotel in which you can relax and unwind.
We have included accommodation at four of West Iceland's most unique and interesting hotels. Hotel Glymur, with its incredible scenic fjord views; Hotel Búðir with its traditional feel, secluded setting and world-famous menu; Hotel Egilsen which offers boutique rooms, an environmentally friendly approach and a fabulous breakfast; and finally Hotel Holt in Reykjavik which has a lovely laid-back atmosphere and ideal location just outside the main hustle and bustle of the city but a very short walk to all of its wonderful shops, restaurants, cafés and other attractions.
Read more
To describe Iceland, you need a fairly broad vocabulary as it needs more than a few words to do it justice – ethereal, breathtaking, dramatic, remarkable, wonderful, welcoming...the list goes on. The geography, the natural wonders, the food and the culture all combine to offer visitors an island retreat that captures the hearts of the people who visit.
---
Image credits: Iceland Pro Travel
Agenda
Accommodation
Personalise
Personalise this tour
---
Our pick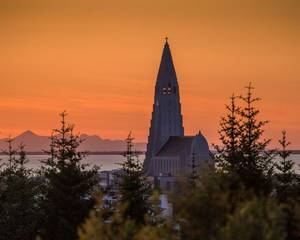 Reykjavik is a city which offers both small town friendliness and cool urban cosmopolitanism. Visitors to the most northerly capital in the world can enjoy a wide range of distinctive architecture, a vibrant café culture and some five-star dining experiences.
Attractions such as art galleries are also worth visiting and the city's long and rich history means there is a variety of museums to enjoy, detailing its Viking past up to its integral use as a base during WWII. The city is also well known internationally for its thriving nightlife, particularly during the long nights of the Midnight Sun. An extended stay in Reykjavik can be added to any of our Iceland trips, and our sales team would be happy to discuss your accommodation and flight option with you, simply contact us for a quote.
Image credit: Visit Iceland
---
Other options
Little Extras
Upgrade your car hire
Guests can choose to upgrade their inclusive car hire to a larger 4 x 4 (travelling in winter) or a larger vehicle or 4 x 4 (travelling in summer).
Our Travel Experts will be happy to provide you with a quotation based on the most appropriate vehicle for your party.
Dates & Prices
We include more, no hidden costs
On each of our holidays you will see a clear outline of exactly what's included in the price of your holiday. We never use 'headline' or 'lead-in' prices like so many tour operators, as we prefer to include as much as we can, rather than see our clients incur considerable additional costs in our destinations.
* Please note - Departures between 21/12/18 - 04/01/19 will be subject to a festive supplement. Please contact our Travel Experts for a quote.
Prices
Dates

Mon 01 Oct 2018
to
Tue 23 Apr 2019

Enquire

Adults

£ 1,665
Next season's pre-sale dates and prices
To secure your holiday for next season, you can make a pre-reservation by paying only £50pp. The provisional departure dates, prices and itineraries remain subject to change. We will contact you when the final dates, prices and itineraries are confirmed and you will have 14 days to decide if you would like to go ahead. Should you wish to proceed then a further deposit (typically of £150pp) will be payable at this stage. If you decide not to travel, we will refund your initial £50pp payment. Our Travel Experts will happily provide you with full terms and a complete quotation.
Departure dates between

Mon 01 Apr 2019
to
Tue 23 Apr 2019

Enquire

Adults

£ 1,940

Wed 24 Apr 2019
to
Sat 31 Aug 2019

Enquire

Adults

£ 2,275

Sun 01 Sep 2019
to
Mon 30 Sep 2019

Enquire

Adults

£ 2,135

Tue 01 Oct 2019
to
Thu 23 Apr 2020

Enquire

Adults

£ 1,780
Terms
For our full booking terms and conditions please click here
Holiday group size (approximate)
Group sizes
Most of our holidays require a minimum number of participants to operate. Minimum numbers are detailed on each holiday page and are always approximate. Group sizes for tailor-made holidays will vary for each of the activities. For private departures, you may also be joined by other guests during the activities unless you have discussed specific private activities with us.
If your selected date has not yet reached minimum numbers, you will be informed at the time of booking. In the unlikely event that your chosen date has not reached the required minimum numbers nine weeks before your scheduled departure date, we will contact you and discuss the various options available to you. We will always do all we can to operate a holiday and in some cases, we may be able to operate the holiday by combining your itinerary with that of other guests for some activities (this may mean that the maximum group size is increased but this will be discussed in full with you).
If we are unable to operate the holiday, then you will be offered the chance to transfer to an alternative holiday or date (subject to availability). If the alternative is more expensive you will be asked to pay the difference, if it is cheaper then you will be reimbursed. You will also be offered the option to cancel and receive a full refund of all monies paid.
Minimum age
Unless otherwise stated in the 'Key Facts', the minimum age for participation in an Artisan holiday is typically 8 years old (there may be younger children in some destinations who have booked with other companies). If an adult only environment is important to you, then please contact our Travel Experts and they will advise on the best dates and destinations for you. If you are looking for a holiday designed specifically for families then please see our sister company: www.activitiesabroad.com
Single supplements
Please note that some of our holidays may incur a single supplement. Please speak to one of our Travel Experts who will provide you with a quotation.
Medical history and advice
You must inform us at the time of booking if any of your party has a disability, medical or behavioural conditions which could affect their own participation in the holiday or indeed that of the other people on the holiday.
We cannot be held responsible for any incident or event arising from your failure to do so.
Reduced mobility
If you have a reduced level of mobility, then please contact our Travel Experts to discuss the suitability of this holiday in relation to your requirements.
Experience and fitness
Any activities included in your itinerary are all designed for beginners. Full instruction and tuition are provided for all activities and you do not need to have any previous experience. For example, you need never have set foot on a pair of skis of any kind before a cross-country ski tour. We have adults of all ages and fitness levels taking part in our holidays.
We do highlight certain itineraries where an increased level of fitness is required. If you have any questions at all with regards to fitness levels please get in touch and talk to one of our experts. You can find further details in our trip preparation section online. You must inform us at the time of booking if any of your party has a disability, medical or behavioural conditions which could affect their own participation in the holiday or indeed that of the other people on the holiday.
Guides and safety
It is essential when partaking in any activity that you listen very closely to, and abide by, the instructions provided. Nobody knows the environment better than our activity providers who work here almost every day.
Consequently, their knowledge and experience are unsurpassed. If there is anything that you are unsure of during a safety briefing or that you would like to clarify with the guides, please make this clear to them immediately before starting the activity.
There may be rare occasions when our guides consider local conditions unsuitable for a certain activity. Hence, your itinerary may be subject to change at short notice, but we will always endeavour to firstly find a replacement on the day and secondly, to provide the cancelled activity later in your stay whenever possible. Very occasionally it proves impossible to provide the activity in which case you will be refunded when you return home.
Our guides' word on activities is always final and your safety is their principal concern at all times, please respect their decisions. By following their instructions, your safety and enjoyment during each activity will be greatly enhanced.
You must inform us of any medical conditions that may affect your participation in an activity at the time of booking.
Booking activities locally
In almost all our destinations, you can book and pay for additional activities locally. Please note that we cannot be held responsible for any injury or loss that occurs through any activities that are booked in your destination (see our terms and conditions for further details).
Please always ensure that your safety is your primary concern when arranging any such activity.
Car hire
If your trip includes car hire the named driver must have a credit card registered in their name which they can present when they collect their car along with their driving licence, as a deposit will be held on the credit card. Please see your trip dossier for full details.
Cancellation terms
Please note that the following cancellation terms supersede those mentioned in section 7 of our general booking terms and conditions.
After booking and more than 63 days prior to departure = loss of deposit (including the full cost of flights or other services where paid at the time of booking)
63-57 days prior to departure = 40%
56 days or less = 100%
Reviews
Traveller Reviews
Everything ran like clockwork
28 February 2018
by Phil and Karen Cox
Everything ran like clockwork; planes, hire car, hotels, activities - so really stress-free for us. Overall a fantastic experience and Dawn's personal experience allowed us to see and experience so much more than we could have put together by ourselves, so big thanks there. It far surpassed our expectations, we loved it all. Would like to stay at Hotel Budir in the summer and explore the peninsula…
Read more properly, and if there's a next time, visit the North and the fjords too.
Read less
We hope to travel back to Iceland
01 May 2016
by Mr & Mrs Stamper-Iveson
Accommodation and food was very good and we enjoyed the variety of styles. The locations were all good and we particularly liked the little boutique hotel at Stykisshulmur. We hope to travel back to Iceland - possibly the north and maybe with a 4x4 option. Generally a very good trip and loved the scenery.
---
Gallery
Photos (7)
Videos (1)
---