Harriniva - Summit Snowmobile
HOLIDAY TYPE:
Small Group
VISITING:
Finland
BROCHURE CODE:
5004
All prices include: transfers, accommodation, guided activities, meals and cold weather clothing; all as listed.
Overview
We recommend previous snowmobiling experience to take on this six-night adventure through some of the best of the Finnish landscape including up the highest mountain in Finland, Halti. Before then, you'll learn how to handle these powerful machines before you set off to reach otherwise out of bounds places.
What's included?
Transfers: return airport transfers to meet scheduled flights
Accommodation: 2 nights shared safari houses (for 3 - 4 people sharing), 2 nights Galdotieva Fell Centre cabin, 2 nights Kilpisjärvi cabin
Activities: 5-day snowmobile safari driving your own snowmobile (you must have a valid driving licence and some previous snowmobiling experience)
Meals: 6 breakfasts, 5 lunches, 6 dinners
Cold weather clothing for the duration of your stay
Fully qualified wilderness guides and instructors during activities
A note on flights: whilst flights are not included in the holiday price, our team will happily provide a quote and arrange them for you. Simply ask one of our travel experts for details of the available options from your preferred departure airport. Direct flights are available on some dates and our team will offer you the best available flights and fares.
---
You need to be over 18 years old and in good physical condition to undertake this snowmobile safari into the remote wilderness. A full driving licence is required and you must have previous experience of snowmobiling for this holiday.
You will follow your knowledgeable local guide on breathtaking trails to Kilpisjärvi – a mystical and remote region steeped in Sámi tradition and folklore. Admire the incredible views of frozen lakes and snow-covered mountain peaks along the way through the wildest corner of Finnish Lapland.
Before February, the weather is too hostile to travel from Muonio to Kilpisjärvi. But we are ready to take you there as soon as the time is right and the weather improves to reveal one of Finland's best-kept secrets. The locals agree that this is one of the most beautiful places in all the country.
When snowmobiling came to this area in the 1960s it transformed the lives of the local people; communities could keep in contact in the dark winter months and it made the tough existence of the Sámi reindeer herders easier. For guests here today, snowmobiling is about Arctic adventure that allows you to fully appreciate the beauty and the scale of the wilderness.
You will travel to the place where the borders of Finland, Sweden and Norway meet, as well as driving to the summit of Halti, Finland's highest mountain.
At the end of your holiday, we can arrange for you to spend the final night of your stay in either an Aurora Dome or a snow room at Torassieppi Winter Village for an unforgettable night.
---
Image credits: Antti Pietikäinen & Steve Cushing
View Gallery
Download Holiday Overview
Download Trip Notes
Key facts
| | |
| --- | --- |
| Duration: | 6 nights |
| Pace: | Active |
| Suitable for: | Ages 18+ with a good level of physical fitness and a full driving licence. |
Make an enquiry
Agenda
Accommodation
Included in price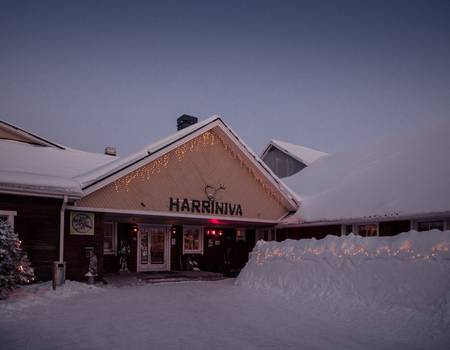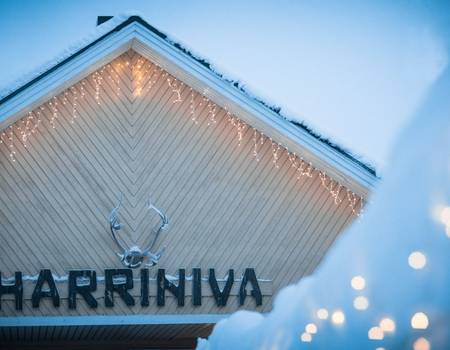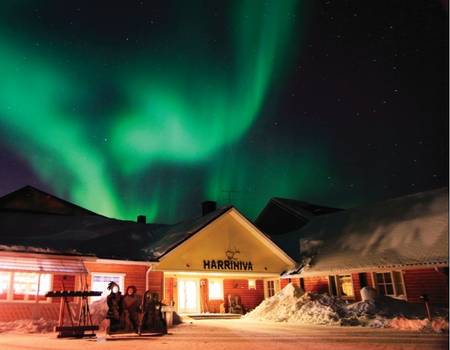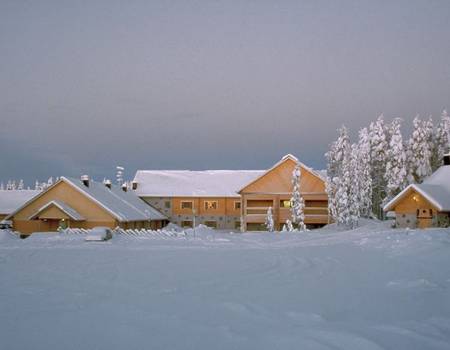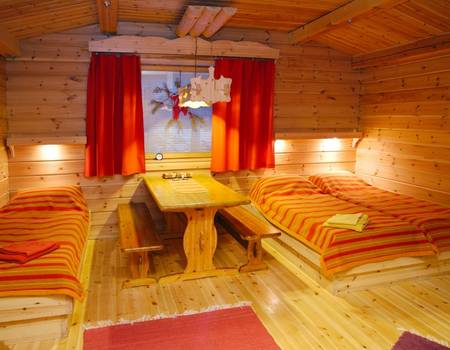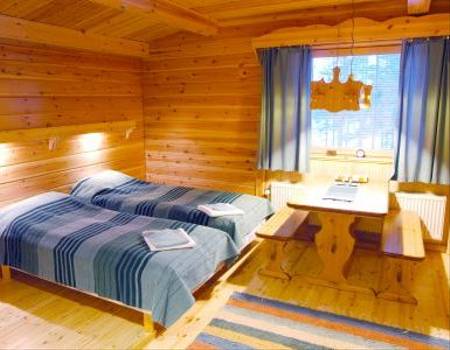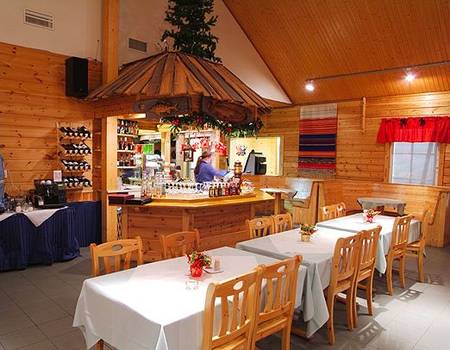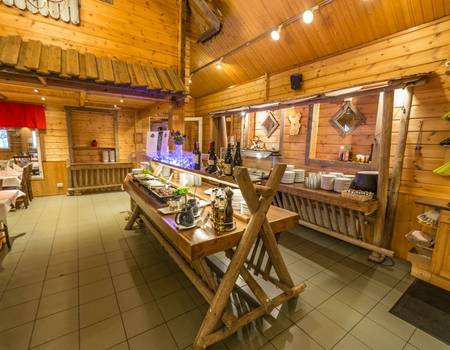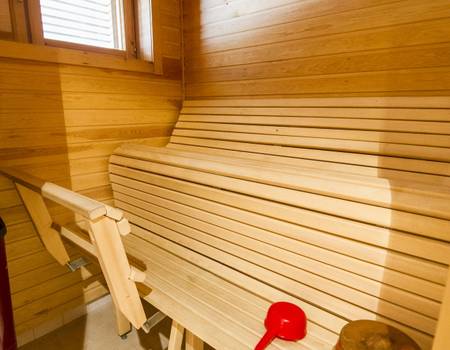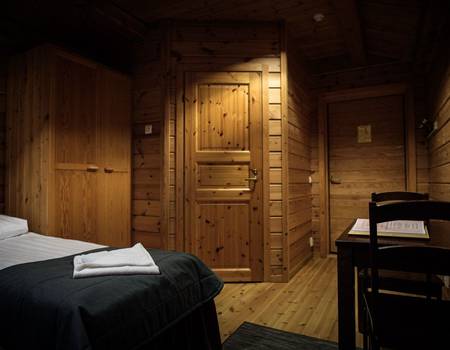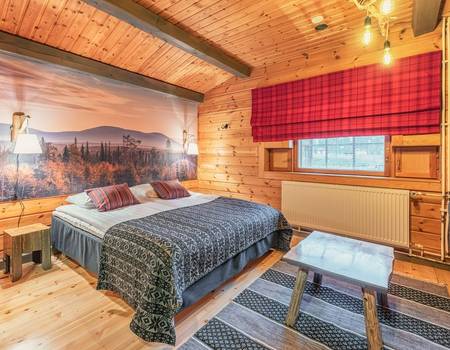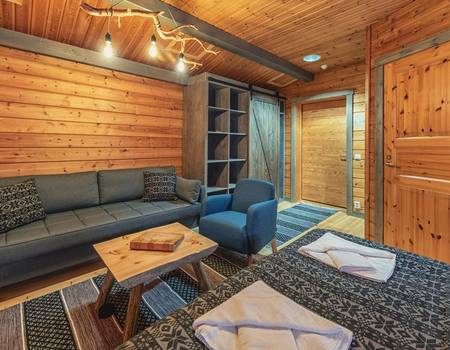 Harriniva Wilderness Hotel
Nights:
1,6
Ideally located in the north-west corner of Finland, high above the Arctic Circle and in the very heart of the Aurora Zone, Harriniva Wilderness Hotel serves as a perfect base for your adventure holiday.
Owned and run by the Pietikäinen family, the hotel has developed a growing reputation for its warm ambience and the large range of enjoyable activities on offer.
Hotel facilities
The hotel has a range of facilities that have been designed to make your stay here as enjoyable as possible.
There is free Wi-Fi throughout for guest use, in our experience, we have found it works best in the main reception and dining area
The hotel restaurant consists of three separate dining areas. The meals are served in a buffet style with two or three choices for each course. The food here is hearty and wholesome
The hotel also has a pub serving a range of beers, wines and spirits - this is the perfect place to unwind and relax with your fellow guests in the evening
Tea and coffee are available free of charge throughout the day in the hotel restaurant / bar area.
In the main reception area of the hotel, you will find a small gift shop selling a range of postcards, soft toys and handcrafted products. There is also a selection of snacks that can be purchased
A sauna is available for guest use with separate facilities for men and women. This is free of charge and is heated every evening for around three hours
The hotel also has an Aurora Wellness Centre (situated a short walk away on the riverbank), where you can enjoy a range of therapies such as facials or massages. A real treat after a day of sapping up the pristine wilderness! During peak periods, we would strongly recommend booking therapies in advance through reception (all payable locally)
Snowshoes and cross-country skis are available to hire for a small charge and there are marked trails surrounding the hotel for those with some experience. For those interested in downhill skiing, the reception will be able to arrange a taxi to the nearby ski resort of Olos (payable locally).
Room types
Double/twin rooms: Harriniva has 64 guest bedrooms which consist of twin or double rooms. Triple rooms are also available on request. Decorated in traditional Scandinavian style, all rooms have an en-suite shower room and a hairdryer.
Safari House: For those travelling on our longer husky or snowmobile experiences, your nights before and after setting out on your adventure you will stay either at one of the Pietikäinen family's three hotels (in a shared room) or a safari house located near the Harriniva Wilderness Hotel (max distance of around 5km). If you are staying in one of the hotels then you will enjoy your evening meal in that hotel restaurant, if you are staying in one of the safari houses the hotel will provide a minibus to take you to dinner. You will be provided will full information regarding your accommodation for the first and final nights of your stay upon arrival. If you would like to upgrade to a private en-suite hotel room for the start and end of your stay then please ask our Travel Experts for a quotation. If you are staying in one of the Safari Houses then each has sleeping facilities, a shower room, toilet, hairdryer and a sauna.
Wilderness plus rooms: These recently renovated rooms include double/twin beds and an unfolding sofa suitable for 1 adult or 2 children. Decorated in traditional Scandinavian style, all rooms have an en-suite shower room and a hairdryer, as well as a small seating area
---
Image Credits: Matt Robinson, Emmi Kähkönen, Harriniva Hotels & Safaris
Read more
Read less
Galdotieva Fell Centre
Nights:
2,5
Situated close to the Norwegian border, Galdotieva Fell Centre is a spectacularly isolated spot on the route to Norway, which will play a significant part in your wilderness adventure. With very few cars or people passing this way, the vast landscape will take your breath away.
The shared cabins have a perfect position to capture remarkable views across the frozen wilds with nothing else in sight so you can experience uninterrupted views of the Northern skies and the possibility of exceptional Aurora viewing.
Hotel facilities
The main building is a short walk away from the ten cabins. Here you will find the simple restaurant that serves wholesome and hearty meals for all you adventurers. Browse around the shop, a favourite with locals on their way to and from Norway, which stocks almost everything from outdoor gear to reindeer steaks! It is a great place to meet some locals who are passing through.
Room types
Galdotieva can accommodate around 50 guests in a total of 10 cabins.
Our guests stay in one of the four larger cabins which sleep four to eight guests. The cabins are simple yet cosy and comfortable providing a welcome retreat after a day of adventures. Each cabin contains a kitchenette, sauna, shower, WC, fireplace and TV. There is a dormitory style sleeping area on the second floor.
Read more
Read less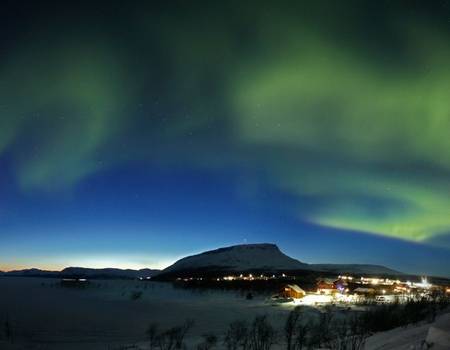 Kilpisjärvi
Nights:
3-4
Kilpisjärvi may not have five-star accommodation facilities, but it is in a five-star location; this is a stunning area of Finland that is well off the tourist trail and one that few people will ever get to experience.
Accommodation in this remote village is limited and so depending on availability you will stay in either simple apartments or cabin accommodation on the village outskirts. The bedrooms are typically all shared, as are the bathroom facilities.
Kilpisjärvi is a favourite holiday destination with many of our guides across Scandinavia and you are sure to discover why!
Image credits: Gareth Hutton, Antti Pietikäinen
Personalise
Personalise this tour
---
Our pick
The majority of our remote destinations in Finland can only be accessed by flights that connect through the Finnish capital city of Helsinki so a stopover here is a popular choice.
In Helsinki you can enjoy some world class restaurants, a rich culture and a beautiful coastal location on the Baltic Sea. Some of our favourite experiences include a tour of the Ateneum Art Museum, stopping off at one of the city's many coffee shops and taking a ferry ride out of the main city to visit the incredible UNSECO listed Suomenlinna Sea Fortress.
Read more
Please note that the included flights will not always allow for a stopover but we shall do what we can to meet your requirements. We would advise getting in touch with our Travel Experts to discuss all of the options available and they will happily provide a quotation for you.
Image credit: Visit Finland
---
Dates & Prices
Thank you for your interest in this Artisan Travel experience.
We have found that this holiday is better tailored exactly to your requirements, so please email our Travel Experts at This email address is being protected from spambots. You need JavaScript enabled to view it. or contact us on 01670 785 085 to discuss the various options available to you.
Our Travel Experts have been to all the destinations we feature and love to share their experiences and insight. We want to match you with your perfect trip, so if you have any questions please get in touch; we will be happy to talk through the destinations and itineraries with you.
Reviews
Traveller Reviews
Harriniva - Powder Pro Snowmobile
17 March 2019
by Brian Edlington
Its always a pleasure. The guides are great including me in the conversation (I have always been the only brit on every safari so far) & its great that all the other people make the effort to speak English which I appreciate can be a chore. The guide team of Arto & Mari were great. Mari was every bit as capable & with long blonde hair, blue eyes good looking made everyone happy to be…
Read more there! A true Finnish beauty. Please pass on my thanks for a great holiday to all the team at Harriniva Including the guides from previous years. Jani, Scotie & Karri
Read less
Harriniva - Summit Snowmobile
16 March 2019
by Iulian Alexe & friends
A special positive mention for our guide, Yanni. Very knowledgeable, positive, with a good sense of humor, perfect planning, friendly.
Still buzzing & aching a little. Had a great time.
10 April 2018
by Brian Edlington
Enough even for the most adventurous. River/forest trail,rolling moors, high fells, mountain passes, powder snow, high speeds on frozen lakes & the Northern lights! Still buzzing & aching a little. Had a great time. Many thanks to the guides & Artisan Travel/Harriniva's organisation & planning. Brian Edlington, The crazy Yorkshireman with the snowmobile with the reindeer bell.
---
---