Overview
Explore Northern Norway's dramatic and diverse scenery on this 10-day self-drive holiday. Visit Senja 'the fairy-tale island', the stunning white sandy beaches surrounding Sommarøy, the village of Andenes – a fantastic whale watching spot and the historical town of Narvik. Travel between the end of May to July to also experience the magic of the Midnight Sun.
What's included?
Rental car: standard two person\two door car hire included (upgrade available)
Accommodation: 1 night at Clarion Collection Aurora, 1 night wilderness glamping in Kvaløya, 2 nights at Hamn I Senja, 1 night at Hotel Marena Andenes, 1 night at Scandic Harstad, 1 night at Scandic Narvik, 2 nights at Sommarøy Arctic Hotel
Meals: 9 breakfasts, 1 light evening buffet and 1 dinner
A roadmap, route description, ferry schedules and times are all provided
What's not included
Flights are not included in your holiday, but our Travel Experts will happily make arrangements on your behalf, please just ask for a quote
Ferry tickets and car parking charges are not included and need to be paid for locally
---
Our 'Best of Northern Norway' certainly lives up to its name and combines many of the destinations which make Norway such a firm favourite here at Artisan Travel. With stunning fjord views, dramatic mountain landscapes and beautiful white sandy beaches you will be spoilt for choice when it comes to scenery. We have designed this self-drive holiday using our local guides' expertise and our own experiences in this unforgettable region.
Summer in Northern Norway sees the onset of the Midnight Sun, where sunlight reigns 24 hours a day. It occurs between late-May through to the end of July, meaning that you can spend so much more time in The Great Outdoors and really make the most of your stay.
For one night during your holiday, you will stay in a picturesque wilderness camp on the island of Kvaløya. Your rather luxurious tent accommodation has windows above the beds so that you can admire the mountain views until later at night, even after you have retreated to your duvet (of course there are also blinds to block the light when you do want to sleep).
Culturally, Northern Norway is fascinating. This self-drive holiday will give you an insight into the lives of the local people, from the cosmopolitan city of Tromso and the historical town of Narvik, to traditional fishing villages on the islands of Sommaroy and Senja, you will experience an all-encompassing view of this region.
Northern Norway is rich in wildlife and we would recommend heading to the coastline in Vesterålen, close to the village of Andenes, to try to catch a glimpse of the numerous species of whale and seabird. For information on guided whale watching tours run by an expert, local guides; please see our 'Personalise' section.
This self-drive holiday really does give you 'the best of Northern Norway'. The dramatic landscapes and diverse flora and fauna are appealing enough, but you can also tailor your holiday and choose from a range of additional activities with a focus on enjoying the outdoors and embracing the long summer days. The details of the available options can be found in the 'Personalise' section of the holiday page..
---
© Credit Reiner Schaufler, Frank Andreassen, www.Nordnorge.com, K.A. Fredriksen, Hamn I Senja & Tromsø Adventure, Frithjof Fure, Jelorent
Foap

, Visitnorway.com, Innovation Norway Michael Simon & Douglas Bardwell
View Gallery
Download Holiday Overview
Download Trip Notes
Key facts
| | |
| --- | --- |
| Duration: | 9 nights |
| Pace: | Set your own |
| Midnight Sun Dates: | 16th May - 26th July (Tromsø); 19th May – 23rd July (Senja) |
Make an enquiry
Agenda
Accommodation
Personalise
Personalise this tour
---
Our pick
Feel a sense of personal achievement on completion of hiking your first glacier. Take the opportunity to learn about the nature of glaciers whilst enjoying a hike and getting to know the natural environment.
Please Note: to book this activity you would need to extend your stay in Tromsø.
Min: 2
Duration: 12 hours
Availability on request
---
Image credit: Anders Gjengedal, Innovation Norway
---
Other options
Activities
Tromsø - Mountain hiking
From: £112pp
With a range of mountains offering picture-perfect views of the town and lower surrounding fjords, you won't be stuck for mountain hiking routes. We can organise a mountaineering guide to assist you in your hiking adventure.
Please Note: to book this activity you would need to extend your stay in Tromsø.
Min: 2
Duration: 8 hours
Available from 1st June and on request
Sommarøy/Tromsø – Puppy training
From: £125pp
Visit a local husky farm and learn how to train a puppy for its future role as a sled dog. This is a hands-on experience and you'll leave knowing you have helped train a future sled dog. Your experienced handler will guide you throughout your visit on how and why they train their dogs as they do.
Please note: this activity can be booked on either day 2, after leaving Tromsø, or day 5, before returning the car to the airport when leaving Sommarøy. Alternatively, you can extend your stay in Tromsø.
Min: 2
Duration: 4.5 hours
Availability on request
Sommarøy/Tromsø – Husky farm visit
From: £86pp
Visit a local husky farm where you will learn how these wonderful dogs have been trained and brought up to work as sled dogs. Your musher guide will show you around the farm so you learn a great deal about their lives with their dogs and the special bond they share.
Please note: this activity can be booked on either day 2, after leaving Tromsø, or day 5, before returning the car to the airport when leaving Sommarøy. Alternatively, you can extend your stay in Tromsø.
Min: 2
Duration: 3.5 hours
Availability on request
Sommarøy – Stand Up Paddling beginners course
From: £98pp
Stand up paddling is one of the world's fastest growing sports with an increasing popularity in Norway. This unique activity allows you to glide over the pristine waters of this coastal region in what makes for a magical experience amongst a beautiful landscape.
Sommarøy is the ideal location, with white sandy beaches and sheltered bays, it is an ideal spot for beginners. Knowledgeable guides will provide hands-on instruction for the duration of the tour.
Min: 2
Duration: 1.5 hours
Availability on request
---
Image credit: Visit Tromsø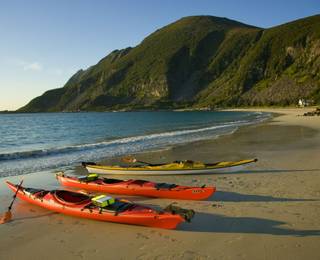 Senja - kayaking on Bergsfjorden - Midnight Sun tour
From: £175pp
Kayaking on the magical waters of Bergsfjorden offers a truly enchanting experience, particularly during the Midnight Sun.
North of the Arctic Circle, the sun doesn't set below the horizon from the end of May until the end of July creating 24 hours of daylight. Experience kayaking late into the evening amidst the crystal-clear waters, idyllic white sandy beaches and the stunning orange glow of the Midnight Sun.
The clear waters are perfect for kayaking and you may be sharing the water with some native seals and a variety of seabirds.
Min: 3
Duration: 2 hours
Availability on request
---
Image credit: Hamnisenja.no
Andenes - whale watching in Vesterålen
From: £120pp
For a memorable wildlife experience then Whale Watching is the trip of choice. Keep an eye out for numerous species of whale, such as the Orca or the humpback, as you head offshore amidst stunning landscapes. In addition to whales, you may also spot seals and various species of bird including the Atlantic Puffin. It is the ideal way to combine both scenery and wildlife.
Min: 2
Duration: 3-4 hours
Availability on request
Sommarøy - kayak tour of the fjords
From: £130pp
Kayaking is the perfect opportunity to get up close and personal with nature and explore the myriad of islands along Northern Norway's coast. You will also need to keep your eyes open for any whales, seals and sea eagles that you may encounter during your activity as they all inhabit the region.
Min: 2
Duration: 4 hours
Availability on request
Polaria Aquarium
From: £15pp
As the world's most northern aquarium the Polaria is one of Tromsø's premier attractions. It provides impressive scientific and educational exhibits which give an in-depth insight into the marine life of this region. The Polaria boasts an arctic aquarium, and a panoramic cinema exploring the effects of the melting ice within the region. It is also home to bearded seals which are the most notable residents.
---
Image credit: Polaria.no
Little Extras
Hire car upgrades
If you would prefer that little extra space or would prefer a larger car we can arrange for a car hire upgrade.
Read more about this activity
Economy two/four door upgrade: if you would prefer a more spacious car during your holiday in Norway then you could upgrade to an economy four-door car. Models include a VW Polo, Ford Fiesta, Fiat Punto or similar.
Compact four-door upgrade: models include the Toyota Auris or similar and provides adequate seating for up to four passengers. Air-conditioning as standard.
Intermediate four-door upgrade: Models include the Audi A3 or similar which is large enough to seat up to five adults. There is a range of upgrades available please ask one of our sales team for more details.
Dates & Prices
We include more, no hidden costs
On each of our holidays you will see a clear outline of exactly what's included in the price of your holiday. We never use 'headline' or 'lead-in' prices like so many tour operators, as we prefer to include as much as we can, rather than see our clients incur considerable additional costs in our destinations.
Prices
Terms
For our full booking terms and conditions please click here
The Specifics
Holiday group size (approximate)
Minimum 2 people, maximum 5 people (approximately)
Group Size
We always try to provide an approximation of the group size you can expect to be with for the duration of each of our holidays. It may be that you are joined by others for parts of your holiday (such as transfers and particular activities) but the above number reflects those you can normally expect to be with from beginning to end. If group size is something which is particularly important to you, please speak to our Travel Experts and they can suggest the best holidays for you.
Tailor-made holiday group sizes will vary for all activities as will the group size for any additional activities you book.
Minimum and maximum age
If a specific minimum age applies to this holiday, it can be found in the Key Facts box on the holiday Overview page.
Unless otherwise stated in the in the Key Facts box on the holiday Overview page, the minimum age for participation in an Artisan holiday is typically 8 years old (there may be younger children in some destinations who have booked with other companies). If an adult-only environment is important to you, then please contact our Travel Experts and they will advise on the best dates and destinations for you. If you are looking for a holiday designed specifically for families then please see our sister company www.activitiesabroad.com
Itinerary amendments
The order of activities listed in this agenda is provided for guidance only, your final and detailed itinerary will be provided either with your final travel documents (which are uploaded into your online account around a week prior to departure) or upon arrival.
Medical History and Advice
We want our holidays to be accessible as they can be and will do our best to accommodate any special requests and requirements where possible. We have a wide range of holidays and destinations and so our travel experts will help find the best holiday for you.
In order to give us the best possible chance to do this we ask that if you or any member of your party has any medical condition or disability which may affect your holiday or has any special requirements, that you tell us at the time of enquiry or booking. You must also promptly advise us if any medical condition or disability which may affect your holiday develops after your booking has been confirmed. You may need to provide a doctor's note and proof of insurance in some cases as the health and safety of our clients is absolutely paramount.
In providing this information you are allowing us to work with our expert local partners to ensure that your whole party can enjoy the holiday. By letting us know in advance we can discreetly work with you to adapt any part of the holiday which may potentially be challenging. Being able to prepare for this in advance makes an incredible difference to what we can offer and minimises any impact on your party and the rest of the group.
Unfortunately, if you choose not to share this information with us in advance then it may limit some or all of the itinerary you have booked, and we cannot be held accountable for any additional costs or missed activities resulting from this.
Insurance
Insurance is not included in your holiday, but it is a pre-requisite to travelling with us. You will need to ensure that you have cover for all the activities that you will be participating in during your holiday.
It is extremely important that you take out a suitable travel insurance policy at the time of booking. Plans do sometimes change, and you will need this policy should you need to cancel your holiday.
If you are struggling to find a suitable policy then details of our preferred provider, who will cover you for all the activities we offer, can be found on our website by clicking here. Please note that this policy is available to EU residents under the age of 75 only.
The UK Foreign Office Advice
Our clients' safety is at the centre of everything we do, and our operations team continually assesses and monitors the destinations we feature. We carry out thorough risk assessments and work closely with all of our suppliers to continually follow best practice. For up to date travel advice the UK government offers its Travel Aware website as well as the advice detailed below.
The Foreign and Commonwealth Office Advice
We receive all updates from the Foreign and Commonwealth Office (FCO) with regards to travel advice and we always ensure that we follow this advice in our operations. The FCO issues travel advisories for countries based on a very wide range of factors. They may provide notification about things as simple as a football match and crowds, or they may go so far as to advise against all travel to a region. We ask all our clients to refer to the relevant Travel Advice by Country for the destinations they are visiting in order to make an informed decision on the safety of the destination based on the details provided. It also provides vital information regarding entry requirements, embassy information, local laws and customs as well as specific safety and health. Guests should take responsibility for keeping themselves up to date with this advice. Please also ensure that, if you are transiting through another country, you have read the advice and meet the entry requirements for that destination too.
The FCO travel advice is applicable to British Passport Holders. Most governments will issue their own travel advice for a region and, if you are not a UK resident then you can find some helpful links below:
Australian Department of Foreign Affairs and Trade http://www.smartraveller.gov.au/
New Zealand Ministry of Foreign Affairs and Trade http://www.safetravel.govt.nz/
Canadian Consular Affairs Bureau http://voyage.gc.ca/
The U.S. Bureau of Consular Affairs http://travel.state.gov/content/travel/english.html
If the FCO deems that there is an unacceptable level of risk for UK citizens then, together with the government, they may issue an advisory against all travel to a region or country. If such an advisory is published, then we will act accordingly, and this may require the cancellation, curtailment or amendment of a holiday itinerary. These decisions are made on the basis of ensuring our clients' safety and will affect all clients on the holiday, regardless of their nationality.
If one of our local experts suggests an amendment due to a situation which develops locally then we may also take the decision to amend an itinerary appropriately.
If we have to cancel your holiday prior to departure you will be offered the option of an alternative trip (where any price difference will either be refunded to or covered by you) or a full refund of the monies paid.
If we have to curtail a holiday, then you will be refunded for any costs for the elements we have been unable to deliver, where we have been able to secure a refund from our suppliers. If we must reroute a holiday, then any basis for refund is determined on a case by case basis and dependent on whether the central holiday experience was provided or not.
Booking activities locally
Additional activities can be booked locally in almost all our destinations. However, as per our booking conditions, we cannot be held responsible for any injury or loss incurred through participation in activities which are booked at your destination outside of our holiday itinerary (see our 'Terms and Conditions' for further details).
When arranging any such activity please always ensure that safety is your primary concern.
In some of our destinations, you can borrow or hire equipment for use in your free time. You do so entirely at your own risk. You must ensure that you are properly prepared, have the necessary equipment and knowledge (maps, etc) and ensure that where applicable, you follow marked routes. We recommend discussing your plans with the local teams who will be able to advise on the most suitable options for you.
Always let the reception/guide know where you are planning to go and take a torch and mobile phone (with the hotel/guide's phone number stored). It is also a good idea to leave your contact number and the time you expect to return to the hotel should the hotel need to contact you.
Brexit information for British Passport holders
For the most up to date information on how the UK's departure from the EU may affect your holiday please click here to view our Brexit information for British Passport holders.
Flight schedule changes and connecting transportation
On your documentation, we will confirm your flight schedule. Sometimes the flight number, routing and timings might change prior to your departure. If the change is classed as a significant change then we will contact you to discuss this. Please see our booking conditions for details.
Flight schedule changes can impact on your pre and post-holiday travel arrangements if these have been booked separately to your holiday. We strongly recommend that you do not book transport (such as trains or transfers), car parking or non-connecting flights to the departure point for your holiday until you have received your final confirmed travel times when your final travel documents are issued. We are not responsible for the effect of any schedule change on your pre or post travel arrangements. We strongly recommend that you do not purchase non-flexible or non-refundable tickets to avoid cancellation and penalty charges.
Booking your own flights - cancellation disclaimer
If you have chosen to book your own flights, then you will need to wait until we confirm to you that the holiday departure has met the minimum numbers required to run (if applicable to your chosen holiday). Once the holiday is guaranteed to run, you will be informed and you can then make your arrangements.
If transfers are included in your holiday, please ensure that any potential flights will be met by our standard transfers (speak to one of our Travel Experts for advice) otherwise private transfer supplements may be applicable. Once your flights are booked, please send us a copy of your detailed flight itinerary.
Please be aware that most tickets are non-refundable in the case of cancellation. For this reason, we strongly advise you check the rules of the ticket and check the limitations of your cancellation insurance before booking. We cannot be held liable, in the unlikely eventuality that we should be forced to cancel or amend your trip, for losses incurred relating to any flight booking you have made.
Terms and Conditions
Our full booking terms and conditions can be found on our website: https://www.artisantravel.co.uk/booking-conditions
Car Hire
Full details of the car hire provided during your holiday can be found in the 'what's included' section of the holiday page. Upgrades are available for an additional cost. All car hire includes 'Supermax' insurance as standard and one named driver, additional drivers can be added for a supplement. Please contact one of our travel experts if you have any questions or would like an upgrade cost. THE NAMED DRIVER MUST HAVE A CREDIT CARD REGISTERED IN THEIR NAME WHICH THEY CAN PRESENT WHEN THEY COLLECT THEIR CAR ALONG WITH THEIR DRIVING LICENCE AS A DEPOSIT WILL BE HELD ON THE CREDIT CARD.
An Economy car is included in your holiday. These vehicles are 2/3 door manual cars without air-conditioning. Examples include: VW Lupo, Citroen C3, Toyota Aygo or similar
You can upgrade to the following vehicles for a supplement.
Compact/Midsize: These vehicles generally have 2 to 4 doors, seat 4 to 5 passengers, and have luggage capacity of up to 3 suitcases (luggage capacity varies by luggage size and vehicle model).They are manual and have air-conditioning. Examples include: VW Golf or similar
Fullsize/Standard: These vehicles generally have 4 doors, seat 4 to 5 passengers, and have luggage capacity of up to 4 to 5 suitcases (luggage capacity varies by luggage size and vehicle model).
They are manual and have air-conditioning. Examples include a Volvo V40 or VW Passat or similar (estate cars can be requested).
Premium: These premium and luxury vehicles generally have 2 to 4 doors, seat 4 to 5 passengers, and have luggage capacity of up to 4/5 suitcases (luggage capacity varies by luggage size and vehicle model
These estate cars are manual and have air-conditioning. Examples include Volvo V60 or similar.
Reviews
Traveller Reviews
All activities were good, most were great and a few were awesome
31 August 2015
by Douglas Bardwell
Forgetting the heat, I loved every hotel. All activities were good, most were great and a few were awesome. The best thing was the freedom to drive and stop where ever and whenever I wanted. Never felt like I was being pushed to get anywhere. As far as a single attraction - Horseback riding at Lofothest. Absolutely stunning scenery, great lunch, great guide, and wonderfully responsive and…
Read more comfortable horses. Improvements: I'd keep it just as is. It was great. Really appreciated the opportunity to take this tour. I enjoyed myself immensely and brought back some fabulous photos as well as memories.
Read less
---
---