Overview
This 4-night trip has been carefully designed to include the highlights of Iceland, from the natural beauty of the landscape to the rousing city of Reykjavik. Visit the Blue Lagoon, enjoy a whale-watching trip, hunt for the Northern Lights and explore the city or tailor your trip during plenty of free time.
What's included?
Transfers: return airport transfers and transfer between Keflavik and Reykjavik
Accommodation: 1 night Keflavik hotel and 3 nights in Hotel Oðinsve in en-suite rooms
Meals: 4 breakfasts
The following activities are included: Blue Lagoon entry, Northern Lights tour, whale watching tour (the order of activities is subject to change)
---
Iceland offers an endless number of diverse attractions – striking landscapes, unique culture and the vibrant capital of Reykjavik.
This trip is designed to introduce you to the stunning nature of Iceland, as well as the exciting buzz of Reykjavik, the world's most northerly capital.
You will spend your first night at the Northern Lights Inn, a cosy hotel with comfortable rooms, delicious food and a balcony especially for viewing the Northern Lights. It is also only a short walk away from the Blue Lagoon, a geothermal spa and sanctuary of relaxation. Entrance to this is included in the price of your holiday, so you can visit at your own leisure. Make the most of the experience and give yourself enough time to unwind in the cleansing hot water and absorb the surrounding volcanic landscape.
You will then be transferred to the city, where you will be based in Hotel Oðinsve, a boutique hotel in downtown Reykjavik. The hotel is located in a peaceful residential area, yet is only a few steps away from Reykjavik's major museums, shopping streets and restaurants. The hotel places high importance on welcoming and personal customer service, ensuring that you feel at home during your stay.
Read more
Spending three nights in Reykjavik will allow you to fully explore the city, while also using it as your base for travelling to more of Iceland's famous attractions. We can help you tailor your trip and add these to your holiday with ease to ensure that you fulfil your ideal itinerary.
We have, however, included two activities to your itinerary that we feel cannot be missed. The first is a whale watching trip to Faxaflói Bay, where frequent sightings of humpback and minke whales occur. The second is an activity that is essential when visiting Reykjavik in winter - a Northern Lights Tour, which will begin straight from your hotel. You will head out into the darkness on a hunt to spot the breath-taking colours and shapes dancing in the dark Arctic sky.
This four night holiday provides you with the chance to experience some unmissable activities and to customise your trip to suit your personal wishes. This is a fantastic trip on an amazing and diverse island.
---
Image credit: ThorirNK from Vik, Blue Lagoon, Visit Iceland, Iceland Pro Travel
Agenda
Accommodation
Included in price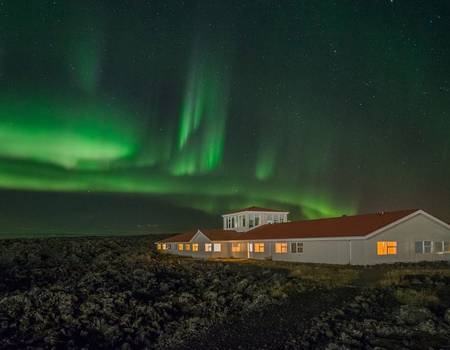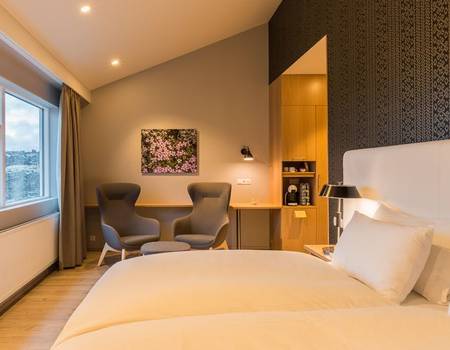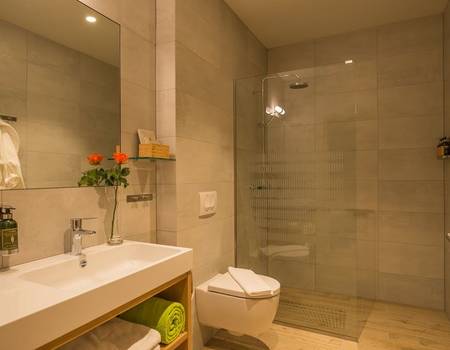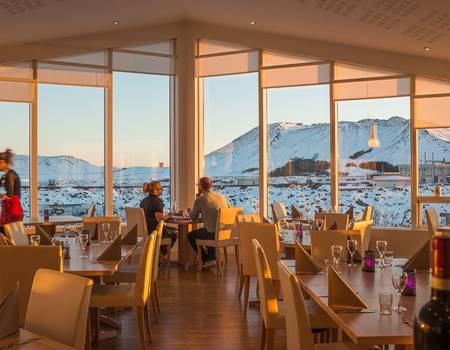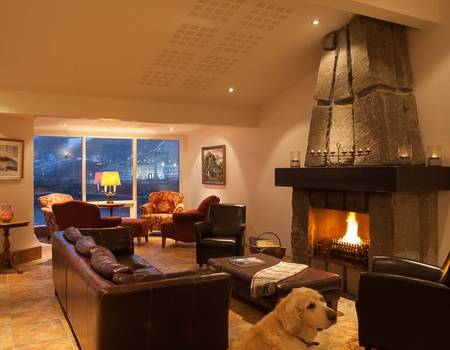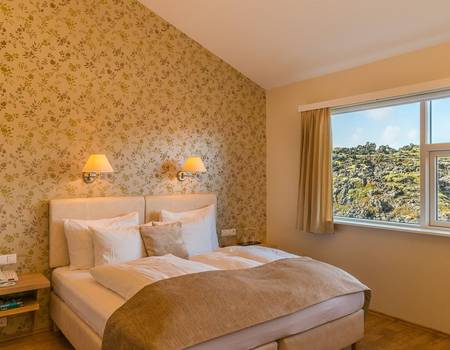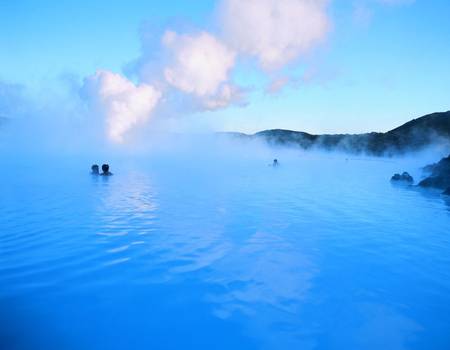 Northern Light Inn
Nights:
1
As the name may suggest, the Northern Light Inn is the ideal base for an Aurora-based trip in Iceland. Staying here puts you at a fantastic vantage point for a prospective display.
It enjoys an enviable position on the island, just a twenty-minute drive from Keflavik Airport and only a short distance from the world famous Blue Lagoon.
If you wish to visit the Blue Lagoon, you can take a two-minute drive in the complimentary shuttle bus or a fifteen-minute walk through the picturesque moss-covered lava fields.
The hotel operates an 'honesty bar' in its beautiful living room with fireplace. The perfect location to exchange experiences with fellow travellers
In a panoramic setting, the restaurant serves buffet meals and is renowned for its 'Nordic soul food'. Meals include a varied selection of healthy contemporary cuisine coupled with the best of hearty Icelandic classics such as ocean-fresh fish, free-range lamb and home baked goods
Guest bedroom types
DOUBLE/TWIN
The hotel has 32 guest bedrooms in total. The rooms are geothermally heated and have en-suite shower rooms, tea and coffee making facilities, Wi-Fi and TVs. Their simple and bright decoration exudes a modern Icelandic charm and tranquil atmosphere.
Read more
Read less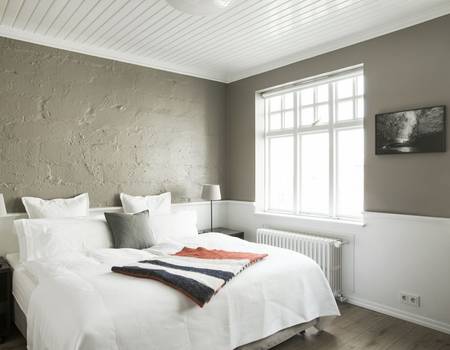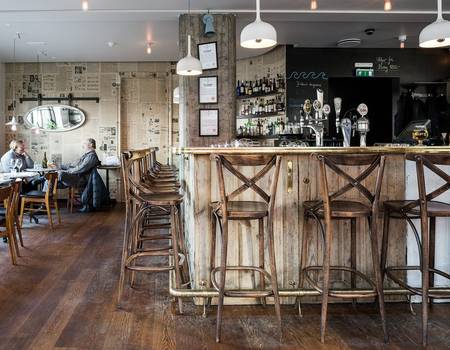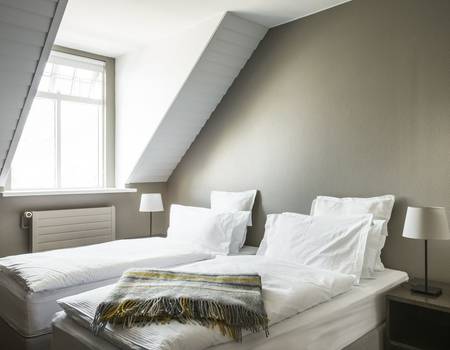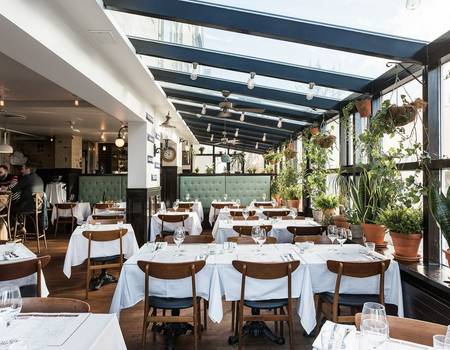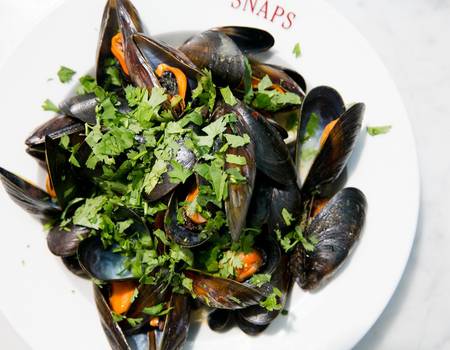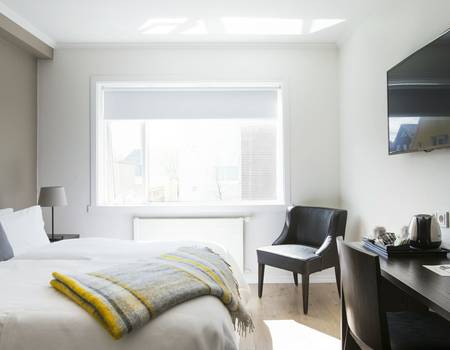 Hotel Oðinsve
Nights:
2-4
Hotel Oðinsve, (pronounced 'O-thin-svee-ah') is a charming four-star boutique hotel located in the heart of downtown Reykjavik. For its much-welcomed guests, it offers modern, comfortable accommodation and an ideal vantage point to access some of the city's best attractions.
The location ensures that just a short walk from the hotel you find yourself at the heart of the island's capital and its varied array of restaurants, cafes, bars and coffee houses. The hotel is also close to the National Theatre, the National Gallery of Iceland, the Icelandic Opera and the two main shopping streets of Reykjavik.
Despite being centrally located, the hotel is also in a quieter residential area so you can still enjoy a peaceful retreat.
Hotel facilities
The hotel building dates back to the 19th century and has recently undergone a refurbishment ensuring it reflects both the traditional Icelandic charm of the region and the modern style of the up and coming city.
The SNAPS restaurant is attached to the hotel, which is a bistro style eatery serving an array of delicious Scandinavian cuisine. Here you can enjoy a delicious and varied buffet breakfast and an á la carte menu in the evening.
Other facilities include a 24-hour reception and free Wi-Fi throughout.
For those guests staying at the hotel with car hire then public parking is available nearby (payable locally).
Guest Bedroom types
Double/twin
The hotel has 43 rooms in total. The décor is modern and bright, emphasising Nordic ambience and comfort, with locally sourced bedding and wooden floors. All the rooms have an en-suite with shower rooms and are fully equipped with TVs, hairdryers and minibars.
Read more
Read less
Personalise
Personalise this tour
---
Our pick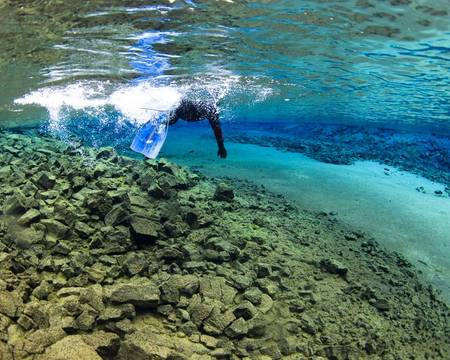 Reykjavik - Snorkelling Between Continents
Snorkelling at the Silfra Fissure in Thingvellir National Park is an unforgettable experience as you gaze down through some of the world's clearest water and find your eyes drawn down to the bottom of this crack in the Earth's crust.
This fissure has been created by the tectonic plates that underpin Eurasia and America drifting apart. It is a place where you can literally snorkel between continents.
Read more
The water's purity stems from the fact that it started life as glacial melt some 50 kilometres away and has made its way, over numerous decades, through volcanic lava to rest in the fissure.
The price includes all equipment including dry suit, flippers and snorkel and you will be in the water for around 30 minutes.
Please speak to one of our Travel Experts for a quote.
---
Other options
Activities
South Coast, Waterfalls and Glacier Hike
Available on Day 3, this coach trip will have you heading off towards the majestic south coast with its farming lands, thundering waterfalls, powerful volcanoes and majestic glaciers.
Your first stop will be Seljalandsfoss Waterfall where you will have the opportunity to walk behind the wall of water before the tour continues to a gentle hike on the ancient ice of a glacier with a knowledgeable and certified glacier guide.
Read more about this activity
After that, you will take a leisurely stroll along the black sand beach of Reynisfjara, which is famed for its basalt rock stacks which rise from the sea. Icelandic legend says they were trolls turned into rock by the rising sun when they came home late after a fishing trip.
The tour then continues with a sightseeing trip that will take in views of the famous volcanoes, Hekla and Eyjafjallajökull, and the Westman Islands, which rise steeply from the ocean just a few kilometres off the coast.
The guides reserve the right to alter the itinerary if weather conditions change and the glacier walk is cancelled. This tour will last around 11 hours and so it will surely be a day to remember.
---
Image Credits: Iceland Pro Travel
Dates & Prices
We include more, no hidden costs
On each of our holidays you will see a clear outline of exactly what's included in the price of your holiday. We never use 'headline' or 'lead-in' prices like so many tour operators, as we prefer to include as much as we can, rather than see our clients incur considerable additional costs in our destinations.
Prices
Next season's pre-sale dates and prices
To secure your holiday for next season, you can make a pre-sale booking and fix the price of your trip at the pre-sale price displayed below. Simply by paying an initial deposit of £100pp, you will protect yourself from any package price increases. The departure dates and itineraries remain preliminary and we will contact you when the final dates and itineraries are confirmed, you will then have 14 days to decide if you would like to go ahead. A further deposit payment will be due at the time of us confirming the trip details to you. If you decide not to travel, we will refund your full deposit payment. We reserve the right to charge supplements where there are significant changes to an itinerary or increases in flight costs. Any non-package rates remain subject to change.
Dates

Thu 31 Mar 2022
to
Mon 25 Apr 2022

Enquire

Adults

£ 940
Terms
For our full booking terms and conditions please click here
The Specifics
Holiday group size (approximate)
A minimum of one person is needed for this trip to run.
---
The following group sizes apply to the 'personalise' activities:
South Coast, Waterfalls and Glacier Hike: you will travel by coach (approx. 50-60 people); the glacier walk is always in smaller groups of approx. 12 people.
Snorkelling Between Continents: the transfer vehicle may take up to 12 people with a max of 6 people per guide whilst snorkelling. Please note that there may be other groups in the water at the same time.
Whale watching and Northern Lights excursion: there may be up to 200 people on the whale watching and Northern Lights excursion (maximum 12 per vehicle).
Please note that the Blue Lagoon is also open to the public during your visit.
---
Group Size
We always try to provide an approximation of the group size you can expect to be with for the duration of each of our holidays. It may be that you are joined by others for parts of your holiday (such as transfers and particular activities) but the above number reflects those you can normally expect to be with from beginning to end. If group size is something which is particularly important to you, please speak to our Travel Experts and they can suggest the best holidays for you.
Tailor-made holiday group sizes will vary for all activities as will the group size for any additional activities you book.
Minimum and maximum age
If a specific minimum age applies to this holiday, it can be found in the Key Facts box on the holiday Overview page.
Unless otherwise stated in the in the Key Facts box on the holiday Overview page, the minimum age for participation in an Artisan holiday is typically 8 years old (there may be younger children in some destinations who have booked with other companies). If an adult-only environment is important to you, then please contact our Travel Experts and they will advise on the best dates and destinations for you. If you are looking for a holiday designed specifically for families then please see our sister company www.activitiesabroad.com
Itinerary amendments
The order of activities listed in this agenda is provided for guidance only, your final and detailed itinerary will be provided either with your final travel documents (which are uploaded into your online account around a week prior to departure) or upon arrival.
Medical History and Advice
We want our holidays to be accessible as they can be and will do our best to accommodate any special requests and requirements where possible. We have a wide range of holidays and destinations and so our travel experts will help find the best holiday for you.
In order to give us the best possible chance to do this we ask that if you or any member of your party has any medical condition or disability which may affect your holiday or has any special requirements, that you tell us at the time of enquiry or booking. You must also promptly advise us if any medical condition or disability which may affect your holiday develops after your booking has been confirmed. You may need to provide a doctor's note and proof of insurance in some cases as the health and safety of our clients is absolutely paramount.
In providing this information you are allowing us to work with our expert local partners to ensure that your whole party can enjoy the holiday. By letting us know in advance we can discreetly work with you to adapt any part of the holiday which may potentially be challenging. Being able to prepare for this in advance makes an incredible difference to what we can offer and minimises any impact on your party and the rest of the group.
Unfortunately, if you choose not to share this information with us in advance then it may limit some or all of the itinerary you have booked, and we cannot be held accountable for any additional costs or missed activities resulting from this.
Insurance
Insurance is not included in your holiday, but it is a pre-requisite to travelling with us. You will need to ensure that you have cover for all the activities that you will be participating in during your holiday.
It is extremely important that you take out a suitable travel insurance policy at the time of booking. Plans do sometimes change, and you will need this policy should you need to cancel your holiday.
If you are struggling to find a suitable policy then details of our preferred provider, who will cover you for all the activities we offer, can be found on our website by clicking here. Please note that this policy is available to EU residents under the age of 75 only.
The UK Foreign Office Advice
Our clients' safety is at the centre of everything we do, and our operations team continually assesses and monitors the destinations we feature. We carry out thorough risk assessments and work closely with all of our suppliers to continually follow best practice. For up to date travel advice the UK government offers its Travel Aware website as well as the advice detailed below.
The Foreign and Commonwealth Office Advice
We receive all updates from the Foreign and Commonwealth Office (FCO) with regards to travel advice and we always ensure that we follow this advice in our operations. The FCO issues travel advisories for countries based on a very wide range of factors. They may provide notification about things as simple as a football match and crowds, or they may go so far as to advise against all travel to a region. We ask all our clients to refer to the relevant Travel Advice by Country for the destinations they are visiting in order to make an informed decision on the safety of the destination based on the details provided. It also provides vital information regarding entry requirements, embassy information, local laws and customs as well as specific safety and health. Guests should take responsibility for keeping themselves up to date with this advice. Please also ensure that, if you are transiting through another country, you have read the advice and meet the entry requirements for that destination too.
The FCO travel advice is applicable to British Passport Holders. Most governments will issue their own travel advice for a region and, if you are not a UK resident then you can find some helpful links below:
Australian Department of Foreign Affairs and Trade http://www.smartraveller.gov.au/
New Zealand Ministry of Foreign Affairs and Trade http://www.safetravel.govt.nz/
Canadian Consular Affairs Bureau http://voyage.gc.ca/
The U.S. Bureau of Consular Affairs http://travel.state.gov/content/travel/english.html
If the FCO deems that there is an unacceptable level of risk for UK citizens then, together with the government, they may issue an advisory against all travel to a region or country. If such an advisory is published, then we will act accordingly, and this may require the cancellation, curtailment or amendment of a holiday itinerary. These decisions are made on the basis of ensuring our clients' safety and will affect all clients on the holiday, regardless of their nationality.
If one of our local experts suggests an amendment due to a situation which develops locally then we may also take the decision to amend an itinerary appropriately.
If we have to cancel your holiday prior to departure you will be offered the option of an alternative trip (where any price difference will either be refunded to or covered by you) or a full refund of the monies paid.
If we have to curtail a holiday, then you will be refunded for any costs for the elements we have been unable to deliver, where we have been able to secure a refund from our suppliers. If we must reroute a holiday, then any basis for refund is determined on a case by case basis and dependent on whether the central holiday experience was provided or not.
Booking activities locally
Additional activities can be booked locally in almost all our destinations. However, as per our booking conditions, we cannot be held responsible for any injury or loss incurred through participation in activities which are booked at your destination outside of our holiday itinerary (see our 'Terms and Conditions' for further details).
When arranging any such activity please always ensure that safety is your primary concern.
In some of our destinations, you can borrow or hire equipment for use in your free time. You do so entirely at your own risk. You must ensure that you are properly prepared, have the necessary equipment and knowledge (maps, etc) and ensure that where applicable, you follow marked routes. We recommend discussing your plans with the local teams who will be able to advise on the most suitable options for you.
Always let the reception/guide know where you are planning to go and take a torch and mobile phone (with the hotel/guide's phone number stored). It is also a good idea to leave your contact number and the time you expect to return to the hotel should the hotel need to contact you.
Brexit information for British Passport holders
For the most up to date information on how the UK's departure from the EU may affect your holiday please click here to view our Brexit information for British Passport holders.
Flight schedule changes and connecting transportation
On your documentation, we will confirm your flight schedule. Sometimes the flight number, routing and timings might change prior to your departure. If the change is classed as a significant change then we will contact you to discuss this. Please see our booking conditions for details.
Flight schedule changes can impact on your pre and post-holiday travel arrangements if these have been booked separately to your holiday. We strongly recommend that you do not book transport (such as trains or transfers), car parking or non-connecting flights to the departure point for your holiday until you have received your final confirmed travel times when your final travel documents are issued. We are not responsible for the effect of any schedule change on your pre or post travel arrangements. We strongly recommend that you do not purchase non-flexible or non-refundable tickets to avoid cancellation and penalty charges.
Booking your own flights - cancellation disclaimer
If you have chosen to book your own flights, then you will need to wait until we confirm to you that the holiday departure has met the minimum numbers required to run (if applicable to your chosen holiday). Once the holiday is guaranteed to run, you will be informed and you can then make your arrangements.
If transfers are included in your holiday, please ensure that any potential flights will be met by our standard transfers (speak to one of our Travel Experts for advice) otherwise private transfer supplements may be applicable. Once your flights are booked, please send us a copy of your detailed flight itinerary.
Please be aware that most tickets are non-refundable in the case of cancellation. For this reason, we strongly advise you check the rules of the ticket and check the limitations of your cancellation insurance before booking. We cannot be held liable, in the unlikely eventuality that we should be forced to cancel or amend your trip, for losses incurred relating to any flight booking you have made.
Terms and Conditions
Our full booking terms and conditions can be found on our website: https://www.artisantravel.co.uk/booking-conditions
Additional Cancellation Terms and Conditions
Please note that the following cancellation terms supersede those mentioned in section 7 of our general booking terms and conditions.
- More than 63 days prior to departure - loss of deposit or 20% (whichever is higher)
- 63 to 42 days prior to departure - 40%
- 41 to 28 days prior to departure - 60%
- 27 to 14 days prior to departure – 90%
- 13 days or less – 100%
---
---