Overview
This holiday allows you to visit the world-famous ICEHOTEL® and enjoy the wonders of the Arctic in the summer and autumn months. What's more, you can design your own activity agenda using Lapland's expansive and dramatic wilderness as your playground.
What's included?
Flights: return flights from London to Kiruna (via Stockholm)
Transfers: return airport transfers
Accommodation: 2 nights in a Kaamos warm room and 1 night in an Art Suite cold room
Meals: breakfast
Activities: choose from our extensive range of activities (individually priced in the 'Personalise' section)
Fully qualified guides and instructors during activities
---
It is fair to say that not everybody enjoys the winter. Often it has been the reason folk who would love to witness the ICEHOTEL® fail to visit such a remarkable monument of snow and ice architecture.
Fortunately, that's all changed with our summer and autumn tailor-made breaks. Now, you can make the absolute most of stunning Lapland and marvel at the permanent features of the ICEHOTEL® 365 without visiting in the depths of winter.
You'll spend your first night in a cold room but don't worry, with an Arctic grade sleeping bag and reindeer hides to sleep on, you'll stay cosy as you admire the impressive ice and snow structures around you. Your next two nights are in a warm hotel room, so you can still experience all the features of the ICEHOTEL® whilst staying in the luxury of a 'Kaamos' room. If you prefer, you can upgrade so all of your nights are spent in a warm room though we thoroughly recommend sleeping in an ice room – the experience really is unmissable!
There are, in fact, many hotels in Northern Scandinavia which are made from snow and ice but only one can call itself "The Original". You'll find the pioneering ICEHOTEL® in Swedish Lapland's Jukkasjarvi, a small village surrounded by wilderness 200km north of the Arctic Circle.
The ICEHOTEL® has traditionally been constructed using frozen ice collected from the Torne River. This, of course, requires the onset of winter and so in the past, the doors have generally opened from mid-December onwards. Come the spring thaw, the ICEHOTEL® melted away for another year.
Read more
However, using the wonders of modern science and the remarkable energy provided by the sun, there is now a permanent ICEHOTEL® 365. It is kept cold by solar panels, which makes a lot of sense when the arrival of the Midnight Sun means the blazing orange ball doesn't set for over two months between late-May and mid-July. This ingenious use of technology allows you to marvel at the lovingly-crafted ice suites, enjoy a drink in the ice bar and admire the stunning ice gallery at any time of year.
However, this holiday is about more than the ICEHOTEL®.
The summer spectacle, the Midnight Sun, means 24 hours of daylight to give you more than enough time to explore the rugged Lappish landscapes. From white water rafting to hiking, mountain biking to canoeing, there are always plenty of daylight hours to enjoy incredible experiences.
In September and early-October the Midnight Sun might have disappeared but there is a lot to fill its place. The countryside becomes bathed in Autumnal colours and perhaps most exciting of all, the Aurora Borealis returns to the darkened night skies. It is a time for hiking, berry picking, rafting and gazing at night skies ablaze with swirling celestial light.
---
©MARTIN SMEDSÉN and Asaf Kliger and ICEHOTEL
Accommodation
Included in price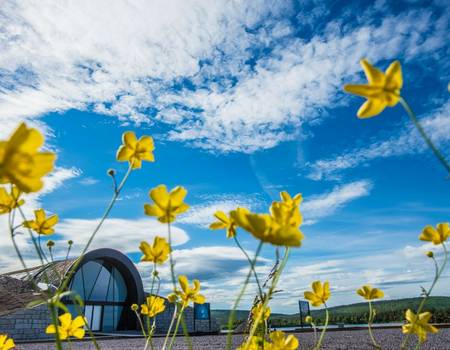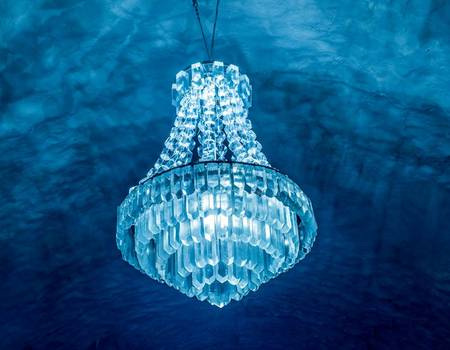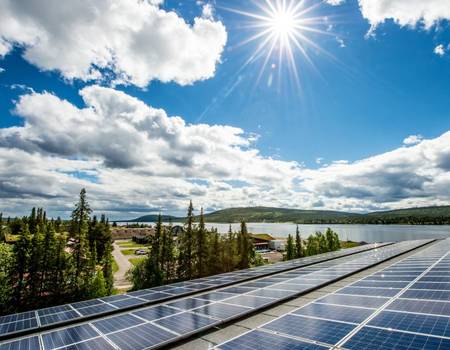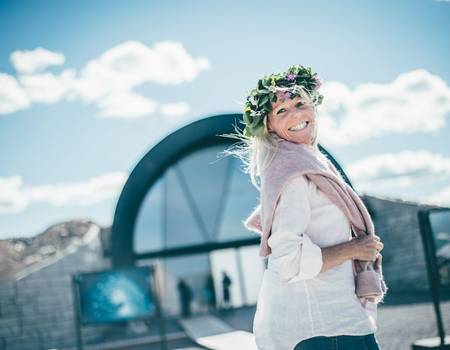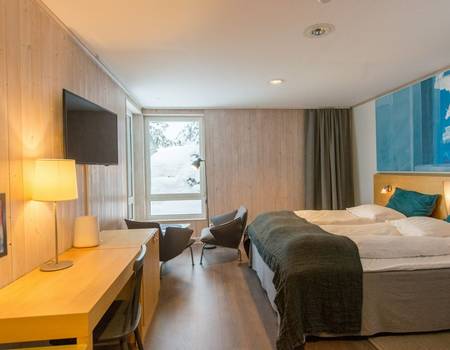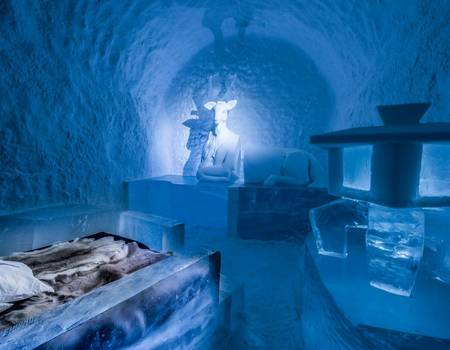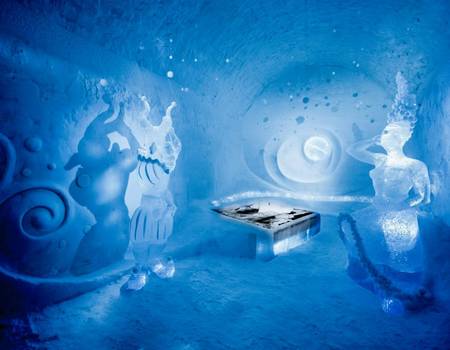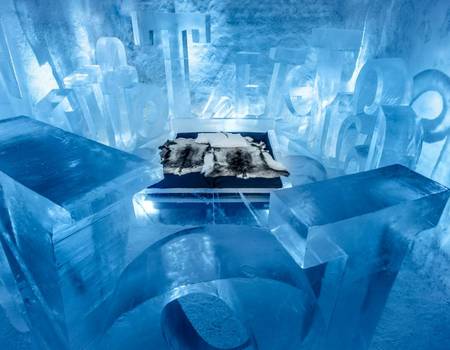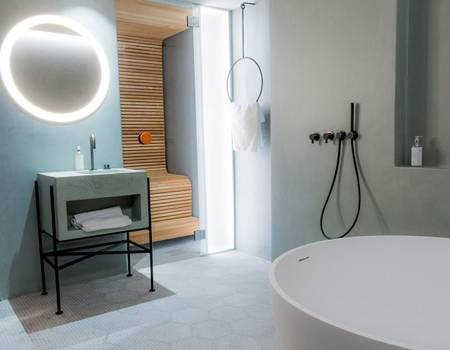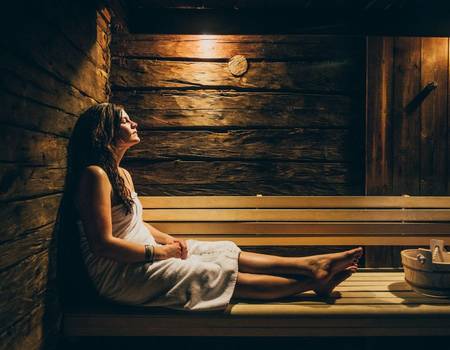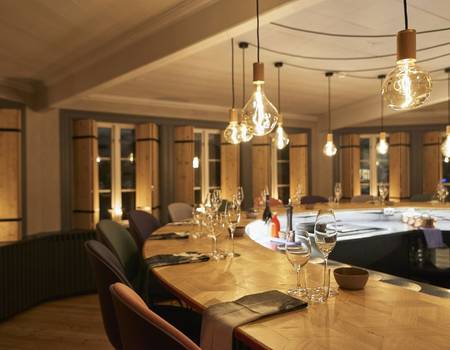 The ICEHOTEL® 365
Nights:
1-3
The ICEHOTEL® in Jukkasjarvi is the original snow and ice ("snice") hotel and is undoubtedly one of Northern Scandinavia's most fascinating sites. Until recently it has always been necessary to brave the sub-zero temperatures of winter if you want to visit or stay. Happily, for anybody who doesn't like the cold, there is now a permanent ICEHOTEL® 365 which is open every day of the year.
What's more, you don't even have to sleep in a cold room as you can upgrade to one of the lovely, warm rooms, chalets and suites on site for the duration of your stay.
---
ICEHOTEL® Facilities
It is important to remember that the ICEHOTEL® also has a "normal" warm side to it. Inside the main warm building you'll find a relaxing lounge area, a bar, dressing room, restaurant and the gift shop which sells ICEHOTEL® themed gifts and locally sourced handicrafts.
Meals are served in the warm restaurant. The breakfast buffet provides plenty of hot and cold choice to fortify you for the day ahead. Please note that dinner reservations must be made in advance and can be done through us.
If you are spending the night in one of the suites then you'll change in the facilities provided at the Riverside Lobby next to the main building before walking over to ICEHOTEL® 365 (approx. 60 to 80 metres).
---
Accommodation
ICEHOTEL® 365 – Cold Accommodation:
Accommodation at ICEHOTEL® 365 consists of 9 Deluxe Suites and 11 Art Suites. Ice artists from all over the world come to Jukkasjarvi to create these rooms and no two suites are the same. The expertise and skill is remarkable and each artisan carves his or her own unique vision into each room.
Temperatures inside the suites sit constantly between -5°C and -8°C and, we know that sounds cold but, without any wind chill factor, it's really very tolerable. This is especially the case when you are lying on your comfortable bed, insulated from the cold by a reindeer skins and a thermal sleeping bag.
There are also lockers where you can leave your valuables overnight as well as toilets, showers and, rather temptingly, a sauna. The warm building also has a small number of bunk beds in case you decide your ice room is not for you.
Deluxe Ice Suites 365 (upgrade):
All deluxe suites are individually themed and come equipped with a heated relaxation area.
ICEHOTEL® 365 – Warm Accommodation 'Kaamos':
All warm hotel rooms are spacious and tastefully decorated with natural materials. Each room has two beds, a desk, seating area with two armchairs and a coffee table and the en-suite bathroom comes equipped with heated floors. You can also upgrade a superior room for more space.
---
Photography by Asaf Kliger, Vanessa Romano And ICEHOTEL.
Suites featured: 'Oh Deer', designed by Ulrika Tallving & Carl Wellander. 'Dancers in the Dark', designed by Tjåsa Gusfors & Patrick Dallard. 'You Are My Type', designed by John Bark & Charli Kasselback.
Read more
Read less
Activities
Dates & Prices
Thank you for your interest in this Artisan Travel experience.
We have found that this holiday is better tailored exactly to your requirements, so please email our Travel Experts at This email address is being protected from spambots. You need JavaScript enabled to view it. or contact us on 01670 785 085 to discuss the various options available to you.
Our Travel Experts have been to all the destinations we feature and love to share their experiences and insight. We want to match you with your perfect trip, so if you have any questions please get in touch; we will be happy to talk through the destinations and itineraries with you.
Reviews
Traveller Reviews
Thank you- I had a great, stress free enjoyable holiday
28 July 2019
by Mary-Anne Jeffs
Genuinely surprised by how great a holiday I had. Staff at the office, hotel and the guides were all really helpful and friendly. Guides were knowledgeable and friendly. All transfers were easy, on time etc and utterly painless. Really enjoyed the destination- beautiful setting, great accommodation and the activities I took part in were really good. My room had a direct, close view of the river…
Read more which was beautiful. Especially recommend the photoadventures which has been one of my favourite days. The ice hotel experience was amazing. The equipment provided meant that it was very comfortable and the artistry of the rooms is phenomenal. Before going, I had an issue with no baggage applied for one way of the trip, but this was fixed very quickly by office staff. Only downside was that the location is relatively remote and food options are therefore limited if you were peckish between meal times or wanted food outside of the hotel. The photoadventures was a great day. Annette (the guide) arrived with good equipment which she talked me through. We then went out and I could ask to stop wherever I saw something I wanted to photograph in addition to pre determined stops. We took short strolls out into the countryside to get good views of the environment and had an amazing lunch bonfire on the beach. She had put lots of thought and effort into finding food for me with my difficult dietary needs and it was a really enjoyable experience. She guided me to take some great pictures of the mountains and also of close up photography. On our way back we came across reindeer which we stopped for to take lots of photos. Throughout the day, we had get conversation as she is a Sami, sharing Sami history and experiences, life with the reindeer, life in Sweden etc and our chats really added to the value of the day. Now need to go and review the photos and edit them but I have some amazing images.
Read less
---
---