Overview
Discover the immense variety of the world's biggest island and the beauty of the 'land of the fire and ice' during this thirteen-night tour of Greenland and Iceland. Enjoy the awe-inspiring south with its fascinating Viking history, see Ilulissat, the town of icebergs and a UNESCO World Heritage site before finishing in Reykjavik, the coastal capital of Iceland.
What's included?
Flights: Charter flight from Keflavik to Kangerlussuaq
Transfers: all transfers in Iceland and transfer from the airport to the ship in Greenland
Accommodation: 2 nights in a hotel in Reykjavik and 11 nights en-suite cabins in cabin category P (outside cabin with porthole). Upgrades are available
The following destinations are included in the holiday: Reykjavik, Kangerlussuaq, Sisimiut, Ilulissat, Uummannaq, Qeqertarsuaq, Nuuk, Narsasuaq, Quassiarsuk and Vestmannaeyjar
Meals: 2 breakfasts in Reykjavik; 11 breakfasts, 10 lunches, 11 dinners
Cruise itinerary as per agenda (subject to change)
Juice, water, tea and coffee are all included
Wind jacket
Onboard entertainment programme including lectures on Icelandic culture, history and wildlife from local experts
Zodiac excursions (weather dependent)
Use of gym facilities on board the ship
Fully qualified wilderness guides and instructors during activities
A note on flights: flights to and from Iceland are not included in the holiday price so that the best available fares and most appropriate schedules can be found for you at the time of booking. This route is served by both low cost and scheduled airlines and our Travel Experts will happily provide you with a quote and arrange flights on your behalf.
---
During this unforgettable thirteen night holiday, you will enjoy the long days of the Arctic summer whilst also making the most of the captivating and wild beauty of Greenland and the magnificent natural wonders of Iceland. You will also have time to explore Reykjavik, one of the smallest capitals in the world.
Boarding the boat in Greenland, you will explore the rugged and remote west coast, a region that reflects and promotes the traditional way of life which is widely embraced on the island. The landscape throughout is dominated by steep fjords, floating icebergs and immense glaciers and there is some staggering scenery to enjoy.
In Iceland, you will visit the Westman Islands and witness the power of the natural world as you see the destruction and beauty which has been caused by volcanic eruptions over thousands of years.
Throughout this arctic cruise, you can add in shore excursions to further explore or simply enjoy the views and the presentations from the expedition team on board. The MS Ocean Diamond is a delightful cruise ship; large enough to offer guests great facilities and comfort but, with a maximum of 224 passengers, the vessel is small enough to ensure the best possible experiences for all on board.
The expert team on board will make your stay as comfortable as possible and your meals are included from the night you board until the morning you disembark; so you really can relax and focus on your holiday.
This is an unforgettable arctic adventure which takes in two wild countries and a vast number of natural wonders.
---
Image credits: Iceland Pro Travel, Visit Greenland, Fotografie.Opzolder.Co, Victor Romera De La Fuente and Alison Freeman
Agenda
Accommodation
Included in price
Skuggi Hotel
Nights:
1,13
This hotel is located in Reykjavik's city centre, close to Laugavegur (which is the main shopping street), and an array of restaurants and bars. 'Skuggi' is the Icelandic word for 'shade', and the hotel has a fitting interior design of cool greys and calming white. The Skuggi Hotel has 100 rooms, designed with inspiration from the sublime black-and-white nature photography of Icelander Ragnar Axelsson.
Hotel facilities
Pick up a drink from the hotel's stylish on-site bar
Free Wi-Fi means you can keep friends and family up to date
Wake up to a spread of hot and cold options at the breakfast buffet
Hotel Rooms
The hotel offers both double (with king size bed) and twin rooms. All have an en-suite bathroom with a shower, toilet, hairdryer, and toiletries, free Wi-Fi, a satellite television, a telephone, a tea and coffee set, clothes rack, a desk and chair.
Please note: the inclusion of this hotel is dependent on availability. If changes become necessary for any reason, a substitute hotel may be required.
---
Image credits: Skuggi Hotel
Read more
Read less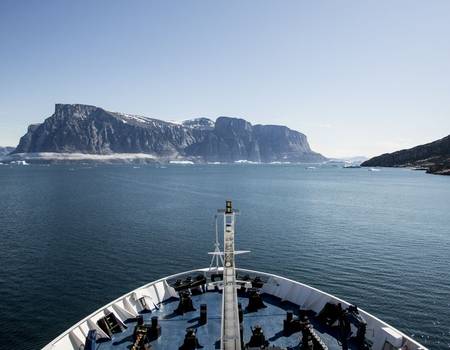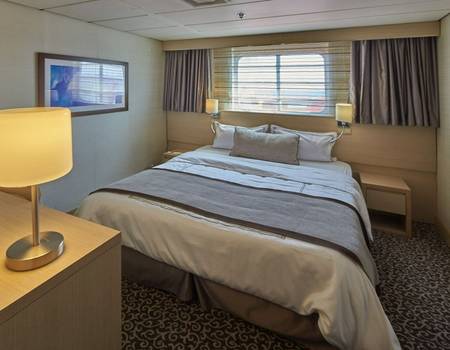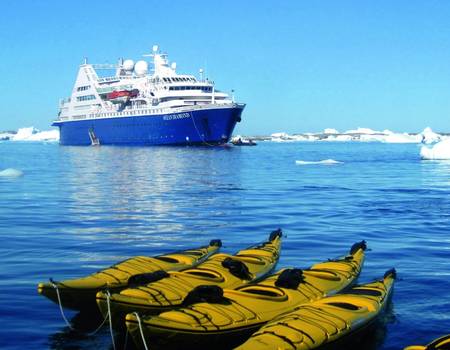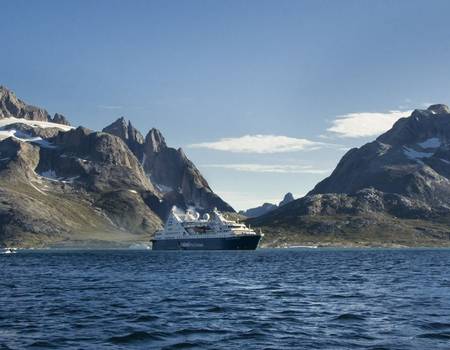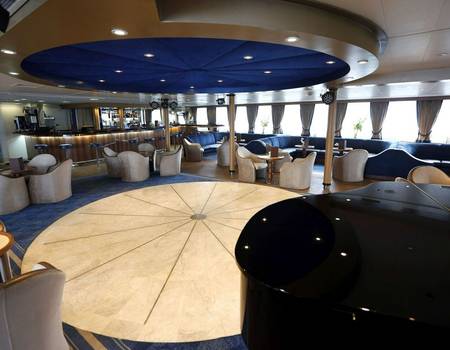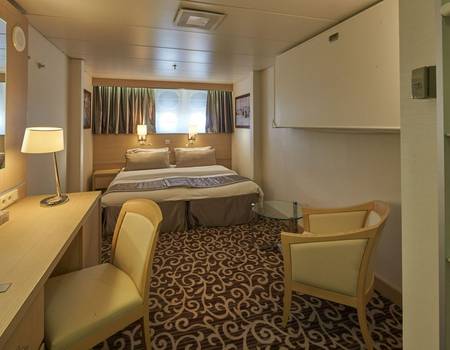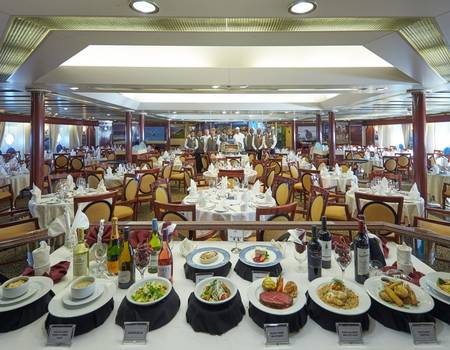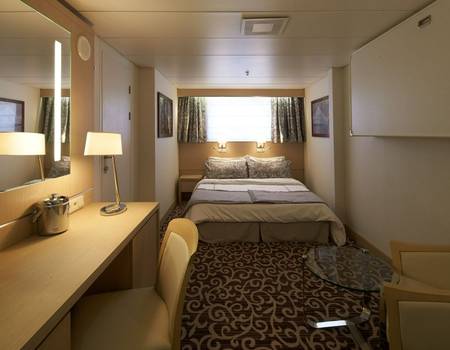 MS Ocean Diamond
Nights:
2-12
MS Ocean Diamond is a wonderful and modern vessel that has been specially equipped for Arctic voyages with ice-strengthened hull and stabilisers that help to reduce roll. She is an ideal expedition vessel but that does not mean that there is any need to compromise on comfort as the facilities on board are excellent. The experienced and expert crew works with the expedition team to ensure that guests have the best possible experience whilst on board.
She is compact and carries a maximum of 224 passengers, meaning that she can explore further than larger ships. This means that her passengers can take in highlights which may elude larger vessels.
Her average cruising speed is around 15.5 knots and she is the first ever polar passenger ship to be carbon neutral, with all emissions offset.
On board facilities
The ship has some fantastic facilities that make it both welcoming and comfortable.
All meals as listed are included in your stay and they are prepared by the ship's team of chefs. You are sure to experience a wealth of delicious specialities during your voyage. The restaurant offers panoramic views of your surroundings. Breakfast and lunch are a buffet and your evening meal will be à la carte. The dress code is casual and so you can leave your black tie at home and simply come equipped for the variable weather
Coffee, tea, water, apple and orange juice are included throughout and the lounge on deck 4 serves a late evening snack
The various deck and observation areas provide ideal viewpoints from which passengers can enjoy the surrounding scenery
The on board shop is a great place to pick up some souvenirs
Passengers can browse the books and DVDs in the well-stocked Polar library, sit back in the panorama salon or take advantage of the wellness programmes that are offered, such as yoga classes, massage therapy and aromatherapy treatments
There will be a range of talks held in the auditorium by local experts on the heritage and wildlife of the regions you are visiting and the ship's Zodiac boats are on hand (when conditions are favourable) to give guests the chance to explore further afield
Wi-Fi is available on board for an extra charge
Cabin Types
There are many types of cabin to choose from during your stay. Our holidays are based on Category P but we can arrange for guests to upgrade or downgrade to any of the other options subject to availability. Simply contact our Travel Experts for a quotation.
Cabin Type P - Outside Cabin with porthole: These cabins are 19m² and contain double/twin beds, en-suite shower room, TV with DVD, safe, wardrobe, refrigerator, individual temperature control, satellite telephone access, hairdryer and two portholes. Please note that some views can be restricted by lifeboats, etc on deck.
Additional Cabin Options
Cabin Type O – Outside cabin with obstructed view: These cabins are 19m² and contain double/twin beds, en-suite shower room, TV with DVD, safe, wardrobe, refrigerator, individual temperature control, satellite telephone access, hairdryer and picture window. Please note that the view will be restricted by lifeboats or similar.
Cabin Type D – Outside cabin with picture window: These cabins are between 17-19m² and contain double/twin beds, en-suite shower room, TV with DVD, safe, wardrobe, refrigerator, individual temperature control, satellite telephone access, hairdryer and picture window.
Cabin Type A - Balcony suite: These cabins are 30m² and contain a double bed, en-suite bathroom with bath and shower, sitting area, TV with DVD, wardrobe, safe, refrigerator, individual temperature control, satellite telephone access, hairdryer, full-size window with sliding glass door and a balcony.
Cabin Type B – Suite: The suites are spacious at 37m² and feature either two twins or a double bed as well as an additional two twin beds, two private bathrooms with shower or bathtub, sitting area, TV with DVD-player, wardrobe, safe, refrigerator, individual temperature controls, satellite telephone access, hairdryer and picture window.
Cabin Type T – Triple cabin with porthole: These cabins are 19m² and contain two twin beds and one upper bed. They are en-suite with shower room, TV with DVD, safe, wardrobe, refrigerator, individual temperature control, satellite telephone access, hairdryer and two portholes. Please note that the view may be obstructed.
---
Image Credits: MS Ocean Diamond
Read more
Read less
Personalise
Personalise this tour
---
Our pick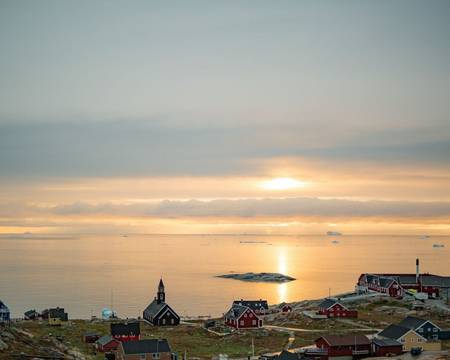 On this tour, you will learn about life 200 miles above the Arctic Circle. Ilulissat was an important Danish trading post in the past and this tour will take you to the harbour and the 18th-century Zion Church. Ability to walk on uneven terrain is required.
Following the tour, you can stay in town and perhaps visit the city museum, or walk back to the pier.
Read more
Approximate duration: 1.5hrs
Min/Max participants: 10/30
Available: Day 6
Price: 20 USD per person
Please note: clients pay for the excursion on board in the USD
---
Image credit: VisitGreenland.com - Aningaaq Rosing Carlsen

---
Other options
Dates & Prices
We include more, no hidden costs
On each of our holidays you will see a clear outline of exactly what's included in the price of your holiday. We never use 'headline' or 'lead-in' prices like so many tour operators, as we prefer to include as much as we can, rather than see our clients incur considerable additional costs in our destinations.
Prices
Dates

Wed 17 Aug 2022
to
Tue 30 Aug 2022

Book

Adults

£ 6,975
Next season's dates and prices
To secure your holiday for next season, you can make a pre-reservation by paying only £50pp. The provisional departure dates, prices and itineraries remain subject to change. We will contact you when the final dates, prices and itineraries are confirmed and you will have 14 days to decide if you would like to go ahead. Should you wish to proceed then a further deposit (typically of £250pp) will be payable at this stage. If you decide not to travel, we will refund your initial £50pp payment. Our Travel Experts will happily provide you with full terms and a complete quotation.
Dates

Wed 16 Aug 2023
to
Tue 29 Aug 2023

Enquire

Adults

£ 7,815
Terms
For our full booking terms and conditions please click here
The Specifics
Holiday group size (approximate)
Approximately 150 - 220 on board the ship but for activities the group size will be much smaller.
Group Size
We always try to provide an approximation of the group size you can expect to be with for the duration of each of our holidays. It may be that you are joined by others for parts of your holiday (such as transfers and particular activities) but the above number reflects those you can normally expect to be with from beginning to end. If group size is something which is particularly important to you, please speak to our Travel Experts and they can suggest the best holidays for you.
Tailor-made holiday group sizes will vary for all activities as will the group size for any additional activities you book.
Minimum and maximum age
If a specific minimum age applies to this holiday, it can be found in the Key Facts box on the holiday Overview page.
Unless otherwise stated in the in the Key Facts box on the holiday Overview page, the minimum age for participation in an Artisan holiday is typically 8 years old (there may be younger children in some destinations who have booked with other companies). If an adult-only environment is important to you, then please contact our Travel Experts and they will advise on the best dates and destinations for you. If you are looking for a holiday designed specifically for families then please see our sister company www.activitiesabroad.com
Itinerary amendments
The order of activities listed in this agenda is provided for guidance only, your final and detailed itinerary will be provided either with your final travel documents (which are uploaded into your online account around a week prior to departure) or upon arrival.
Medical History and Advice
We want our holidays to be accessible as they can be and will do our best to accommodate any special requests and requirements where possible. We have a wide range of holidays and destinations and so our travel experts will help find the best holiday for you.
In order to give us the best possible chance to do this we ask that if you or any member of your party has any medical condition or disability which may affect your holiday or has any special requirements, that you tell us at the time of enquiry or booking. You must also promptly advise us if any medical condition or disability which may affect your holiday develops after your booking has been confirmed. You may need to provide a doctor's note and proof of insurance in some cases as the health and safety of our clients is absolutely paramount.
In providing this information you are allowing us to work with our expert local partners to ensure that your whole party can enjoy the holiday. By letting us know in advance we can discreetly work with you to adapt any part of the holiday which may potentially be challenging. Being able to prepare for this in advance makes an incredible difference to what we can offer and minimises any impact on your party and the rest of the group.
Unfortunately, if you choose not to share this information with us in advance then it may limit some or all of the itinerary you have booked, and we cannot be held accountable for any additional costs or missed activities resulting from this.
Insurance
Insurance is not included in your holiday, but it is a pre-requisite to travelling with us. You will need to ensure that you have cover for all the activities that you will be participating in during your holiday.
It is extremely important that you take out a suitable travel insurance policy at the time of booking. Plans do sometimes change, and you will need this policy should you need to cancel your holiday.
If you are struggling to find a suitable policy then details of our preferred provider, who will cover you for all the activities we offer, can be found on our website by clicking here. Please note that this policy is available to EU residents under the age of 75 only.
The UK Foreign Office Advice
Our clients' safety is at the centre of everything we do, and our operations team continually assesses and monitors the destinations we feature. We carry out thorough risk assessments and work closely with all of our suppliers to continually follow best practice. For up to date travel advice the UK government offers its Travel Aware website as well as the advice detailed below.
The Foreign and Commonwealth Office Advice
We receive all updates from the Foreign and Commonwealth Office (FCO) with regards to travel advice and we always ensure that we follow this advice in our operations. The FCO issues travel advisories for countries based on a very wide range of factors. They may provide notification about things as simple as a football match and crowds, or they may go so far as to advise against all travel to a region. We ask all our clients to refer to the relevant Travel Advice by Country for the destinations they are visiting in order to make an informed decision on the safety of the destination based on the details provided. It also provides vital information regarding entry requirements, embassy information, local laws and customs as well as specific safety and health. Guests should take responsibility for keeping themselves up to date with this advice. Please also ensure that, if you are transiting through another country, you have read the advice and meet the entry requirements for that destination too.
The FCO travel advice is applicable to British Passport Holders. Most governments will issue their own travel advice for a region and, if you are not a UK resident then you can find some helpful links below:
Australian Department of Foreign Affairs and Trade http://www.smartraveller.gov.au/
New Zealand Ministry of Foreign Affairs and Trade http://www.safetravel.govt.nz/
Canadian Consular Affairs Bureau http://voyage.gc.ca/
The U.S. Bureau of Consular Affairs http://travel.state.gov/content/travel/english.html
If the FCO deems that there is an unacceptable level of risk for UK citizens then, together with the government, they may issue an advisory against all travel to a region or country. If such an advisory is published, then we will act accordingly, and this may require the cancellation, curtailment or amendment of a holiday itinerary. These decisions are made on the basis of ensuring our clients' safety and will affect all clients on the holiday, regardless of their nationality.
If one of our local experts suggests an amendment due to a situation which develops locally then we may also take the decision to amend an itinerary appropriately.
If we have to cancel your holiday prior to departure you will be offered the option of an alternative trip (where any price difference will either be refunded to or covered by you) or a full refund of the monies paid.
If we have to curtail a holiday, then you will be refunded for any costs for the elements we have been unable to deliver, where we have been able to secure a refund from our suppliers. If we must reroute a holiday, then any basis for refund is determined on a case by case basis and dependent on whether the central holiday experience was provided or not.
Booking activities locally
Additional activities can be booked locally in almost all our destinations. However, as per our booking conditions, we cannot be held responsible for any injury or loss incurred through participation in activities which are booked at your destination outside of our holiday itinerary (see our 'Terms and Conditions' for further details).
When arranging any such activity please always ensure that safety is your primary concern.
In some of our destinations, you can borrow or hire equipment for use in your free time. You do so entirely at your own risk. You must ensure that you are properly prepared, have the necessary equipment and knowledge (maps, etc) and ensure that where applicable, you follow marked routes. We recommend discussing your plans with the local teams who will be able to advise on the most suitable options for you.
Always let the reception/guide know where you are planning to go and take a torch and mobile phone (with the hotel/guide's phone number stored). It is also a good idea to leave your contact number and the time you expect to return to the hotel should the hotel need to contact you.
Brexit information for British Passport holders
For the most up to date information on how the UK's departure from the EU may affect your holiday please click here to view our Brexit information for British Passport holders.
Flight schedule changes and connecting transportation
On your documentation, we will confirm your flight schedule. Sometimes the flight number, routing and timings might change prior to your departure. If the change is classed as a significant change then we will contact you to discuss this. Please see our booking conditions for details.
Flight schedule changes can impact on your pre and post-holiday travel arrangements if these have been booked separately to your holiday. We strongly recommend that you do not book transport (such as trains or transfers), car parking or non-connecting flights to the departure point for your holiday until you have received your final confirmed travel times when your final travel documents are issued. We are not responsible for the effect of any schedule change on your pre or post travel arrangements. We strongly recommend that you do not purchase non-flexible or non-refundable tickets to avoid cancellation and penalty charges.
Booking your own flights - cancellation disclaimer
If you have chosen to book your own flights, then you will need to wait until we confirm to you that the holiday departure has met the minimum numbers required to run (if applicable to your chosen holiday). Once the holiday is guaranteed to run, you will be informed and you can then make your arrangements.
If transfers are included in your holiday, please ensure that any potential flights will be met by our standard transfers (speak to one of our Travel Experts for advice) otherwise private transfer supplements may be applicable. Once your flights are booked, please send us a copy of your detailed flight itinerary.
Please be aware that most tickets are non-refundable in the case of cancellation. For this reason, we strongly advise you check the rules of the ticket and check the limitations of your cancellation insurance before booking. We cannot be held liable, in the unlikely eventuality that we should be forced to cancel or amend your trip, for losses incurred relating to any flight booking you have made.
Terms and Conditions
Our full booking terms and conditions can be found on our website: https://www.artisantravel.co.uk/booking-conditions
Additional Payment Terms and Conditions
Payment terms
A deposit of 20% of the total holiday cost is required at the time of booking. Full payment is required 90 days prior to departure.
---
Gallery
Photos (7)
Videos (1)
---