Overview
This six-night summer holiday takes place on the wonderful Spitsbergen Island in the Norwegian archipelago of Svalbard. Take two separate day-long boat trips across the spectacular Isfjorden, visit the Esmark and Nordenskiöld Glaciers, as well as the Soviet ghost town of Pyramiden. You will also dogsled on wheels along the picturesque coast and look out for the Midnight Sun!
What's included?
Flights: return flights from London to Longyearbyen (flight routes subject to change)
Transfers: return airport transfers and transfers to and from activities
Accommodation: 6 nights at the Radisson Blu Polar Hotel
Meals: 6 breakfasts, 2 lunches, 1 dinner
The following activities are included in the holiday: Longyearbyen sightseeing, Arctic Wilderness Evening, Esmark Glacier and Barentsburg boat trip, dogsledding on wheels, Nordenskiöld Glacier and Pyramiden boat trip (the order of activities is subject to change)
Fully qualified guides and instructors during activities
---
Largest of the islands in the Norwegian archipelago of Svalbard, Spitsbergen is a wonderfully scenic destination for an Arctic summer holiday, shedding its winter coat for pleasantly cool temperatures and glorious Midnight Sun.
This six-night holiday transports you to the town of Longyearbyen, tucked away in its own bay next to the sublime Isfjorden. There will be two one-day trips by boat over its tranquil waters. The first goes to the staggering Esmark Glacier before stopping at the Russian town of Barentsburg and continuing past the cliffs of Fuglefjella, which are lined with seabird nests. The second heads to Nordenskiöld Glacier and the ghost town of Pyramiden, where Soviet buildings stand in silence.
It will be possible to take in the Isfjorden from the coast when participating in a fantastic session of dog sledding on wheels. Abandoning winter snow sleds for specially designed wagons, you can sit back and look at the water as you speed by on land.
Our itinerary also features a guided tour of the surrounding Longyear Valley, which is vast and largely untouched. You will also look around the peninsula of Hotellneset and visit the amazing Global Seed Vault. This is an intriguing facility built inside a mountain to store samples of the world's crop seeds as a safety reserve in the face of war and natural disasters.
On top of this, there will be an Arctic Wilderness Evening at a Camp Barentz, located several miles out of town. Get a taste of local hospitality inside a traditional cabin building – appropriately named 'Gammen', or 'Enjoyment' – and tuck into a dish of reindeer by firelight.
Read more
We have included a free day in the itinerary for you to explore Longyearbyen at your own pace. It is possible to book the 'Experience a miner's life' activity, which will give you an authentic look into the island's mining history with a visit to the Gruve 3 shaft. Wearing proper miner's clothes, you will be guided through, looking at equipment that still remains underground and learning about the past.
---
© Frank Andreassen, Marcela Cardenas, Jarle Roessland, Roy Mangersnes/wildphoto.no, Visit Svalbard, www.nordnorge.com,

Jens Henrik Nybo & Visitnorway.com, Spitsbergen Travel & Hanne Feyling, Douglas Bardwell (client)
Agenda
Accommodation
Included in price
Radisson Blu Polar Hotel Spitsbergen
Nights:
1-6
Located in the centre of Longyearbyen, the Radisson Blu is surrounded by mountains and lies close to the beautiful, wintery ocean. An ideal base for exploration, it provides the perfect place to retreat to after a day of fun and discovery.
Hotel facilities
There are 95 rooms, all designed to a high standard, offering warmth and comfort following your activities in the snow
The hotel has its own restaurant, Nansen, which serves authentic Arctic cuisine, as well as a variety of international specialities
The Barentz Pub & Spiseri is filled with a range of beer, wine and spirits and it is a wonderful place to unwind
Free Wi-Fi is available throughout the hotel
Outdoor hot tubs and a sauna are available and payable locally
Guest room types
Hotel rooms
The standard rooms each include either a double or twin beds, with room to accommodate an extra bed if required. Each room includes an en-suite bathroom with bathtub, mini bar, TV and Wi-Fi.
Guests can upgrade to a suite for a supplement.
Read more
Read less
---
Other options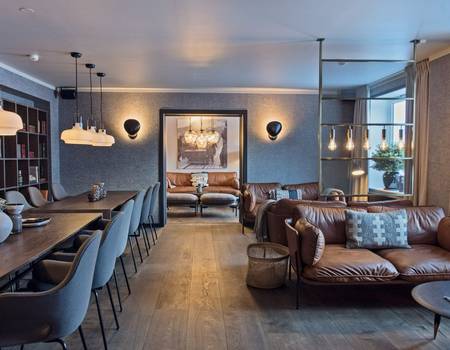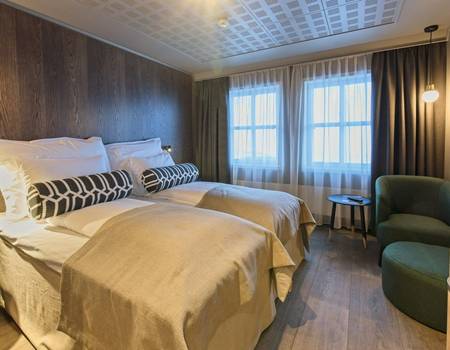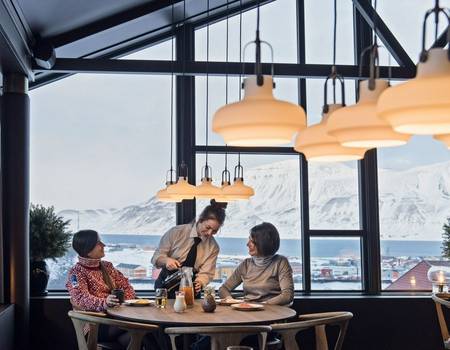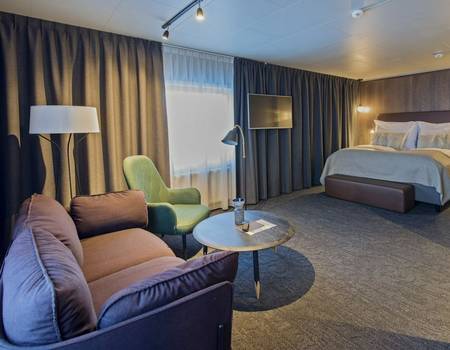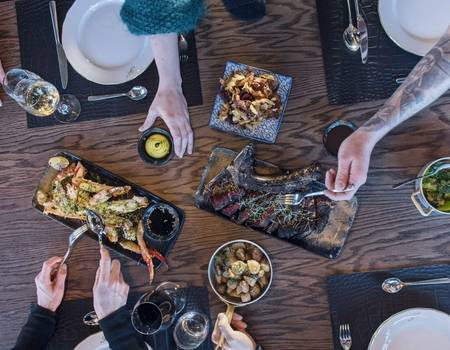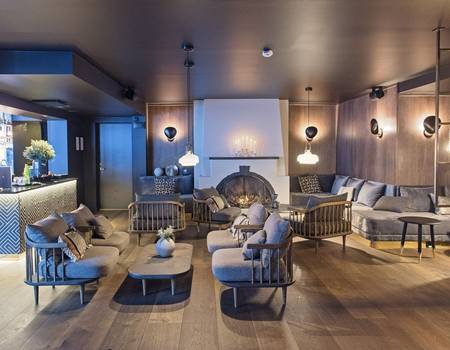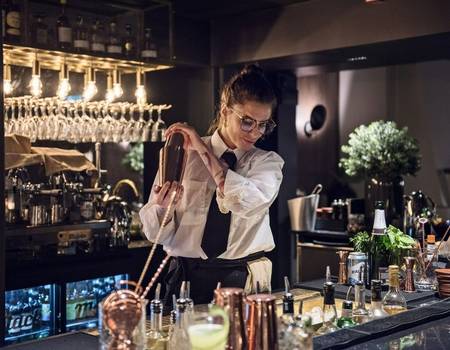 Funken Lodge
You can choose to upgrade to the historical and authentic Funken Lodge. Built in 1947, the hotel was recently completely renovated. It is full of modern amenities while still retaining much of its original character. Follow the photos, pictures, old maps and newspaper stories that line the walls to gain insight into the intriguing history here.
Through the windows, you'll have great views of the nearby glaciers as well as the town of Longyearbyen. This hotel is perfectly designed to be your luxury retreat in the midst of your Arctic summer adventure.
Hotel facilities
Enjoy a meal in the Funktionærmessen Restaurant. Inspired by international cuisine and using the best local ingredients, it's a must-try during your stay here. Sharing is encouraged, so you'll receive generous portions in order for everyone to try a variety of the delicious food
Relax in the cosy lounge area equipped with a fireplace and polar library with tales of the Arctic
For an extra special touch, go wine and champagne tasting in the Det Gamle Nordpolet, an Old Wine Monopoly. Payable locally
Make use of the free WiFi throughout the hotel and keep in touch with your loved ones
Room types
Standard double: enjoy views of the Arctic countryside from your spacious and cosy room equipped with a king-sized bed, armchair and ensuite bathroom with shower and hairdryer. You'll also have an iron and ironing board, a minibar, coffee machine, kettle and flat-screen TV.
Standard single: the rooms come with a comfortable single bed, bathroom with shower and hairdryer, and views out to the Arctic countryside. The room also comes equipped with a minibar, kettle, flat-screen TV, coffee machine, iron and ironing board.
Standard two single beds: the standard twin rooms come equipped with two single beds and all overlook the Arctic countryside. Your private bathroom includes a shower and hairdryer. You'll also have an iron and ironing board, coffee machine, kettle, minibar and flat-screen TV. If needed, an extra bed can be made up for a max occupancy of three people.
---
Image Credit: Agurtxane Concellon,Hurtigruten Svalbard
Read more
Read less
Personalise
Personalise this tour
---
Our pick
Experience a miner's life
Add this activity to your itinerary for a subterranean contrast to the outdoor Spitsbergen environment, taking you into the island's mining past.
A guide in a bus will collect you from your hotel, just as miners were picked up from stops many years ago. Reaching the Gruve 3 shaft, you will don typical working clothes and a helmet before stamping yourself in for a shift. You will then be led through part of the mine by your guide, where equipment can still be seen in position, illuminated by the light of your head-torches.
Read more
Hear stories about the people who worked here and admire their endurance and dedication. On finishing the mine tour, you will sign out and return to your normal clothes, going back to the world on the surface. It is worth wearing warm clothes for the visit.
Availability: Every day, all year
Duration: 3 hours
Start times: 09:00 or 15:00
Price: £65 per person
---
Other options
Extensions
Extend your stay in Oslo
Svalbard is part of Norway, so why not add a few nights in the capital to your holiday? Oslo is a splendid city sat at the top of its very own fjord. Here, you can lose yourself in Norway's Viking past when visiting the Viking Ship Museum, or pick a more modern maritime experience and head to the Kon-Tiki Museum, dedicated to Norwegian explorer Thor Heyerdahl and his Atlantic expedition in a native-style craft.
Read more about this activity
You might like to learn about Norway's monarchy and take a guided tour around the Royal Palace. You might also like to look around the many world-class art galleries which can be found here. What's more, you can get a dose of present-day culture in the wide selection of bars and cafés that can be found in this city.
Contact one of our helpful Travel Experts to arrange the best Oslo extension for you.
Extend your stay in Tromsø
Staying in the Norwegian city of Tromsø adds a nice urban contrast to your Svalbard stay. Popularly referred to as the 'Capital of the Arctic', Tromsø offers excellent nightlife and a tempting food scene, as well as beautiful fjord scenery and lovely architecture.
Read more about this activity
There is much that you can get up to here – we highly recommend the cable car and Polar Museum. Another attraction which is especially worth visiting is the Arctic-Alpine Botanical Garden, which is the world's most northerly botanical garden.
Two nights or more on either side of your holiday can certainly be arranged – please speak to one of our Travel Experts for further advice.
Dates & Prices
We include more, no hidden costs
On each of our holidays you will see a clear outline of exactly what's included in the price of your holiday. We never use 'headline' or 'lead-in' prices like so many tour operators, as we prefer to include as much as we can, rather than see our clients incur considerable additional costs in our destinations.
Prices
Next season's pre-sale dates and prices
To secure your holiday for next season, you can make a pre-reservation by paying only £50pp. The provisional departure dates, prices and itineraries remain subject to change. We will contact you when the final dates, prices and itineraries are confirmed and you will have 14 days to decide if you would like to go ahead. Should you wish to proceed then a further deposit (typically of £250pp) will be payable at this stage. If you decide not to travel, we will refund your initial £50pp payment. Our Travel Experts will happily provide you with full terms and a complete quotation.
Dates

Sat 13 Jun 2020
to
Fri 19 Jun 2020

Enquire

Adults

£ 2,605

Sat 20 Jun 2020
to
Fri 26 Jun 2020

Enquire

Adults

£ 2,680

Sat 27 Jun 2020
to
Fri 03 Jul 2020

Enquire

Adults

£ 2,605

Sat 04 Jul 2020
to
Fri 10 Jul 2020

Enquire

Adults

£ 2,605

Sat 11 Jul 2020
to
Fri 17 Jul 2020

Enquire

Adults

£ 2,570

Sat 18 Jul 2020
to
Fri 24 Jul 2020

Enquire

Adults

£ 2,570

Sat 25 Jul 2020
to
Fri 31 Jul 2020

Enquire

Adults

£ 2,605

Sat 01 Aug 2020
to
Fri 07 Aug 2020

Enquire

Adults

£ 2,570

Sat 08 Aug 2020
to
Fri 14 Aug 2020

Enquire

Adults

£ 2,570

Sat 15 Aug 2020
to
Fri 21 Aug 2020

Enquire

Adults

£ 2,570

Sat 22 Aug 2020
to
Fri 28 Aug 2020

Enquire

Adults

£ 2,570
Please note: Our holiday prices are based on the lowest available airline fares. These fares can sell out quickly and, as a result, prices may increase and supplements may be applicable. We recommend booking at the earliest opportunity in order to secure the best possible fares and flight times.
Terms
For our full booking terms and conditions please click here
The Specifics
Holiday group size (approximate)
Minimum 2 people
Group Size
We always try to provide an approximation of the group size you can expect to be with for the duration of each of our holidays. It may be that you are joined by others for parts of your holiday (such as transfers and particular activities) but the above number reflects those you can normally expect to be with from beginning to end. If group size is something which is particularly important to you, please speak to our Travel Experts and they can suggest the best holidays for you.
Tailor-made holiday group sizes will vary for all activities as will the group size for any additional activities you book.
Minimum and maximum age
If a specific minimum age applies to this holiday, it can be found in the Key Facts box on the holiday Overview page.
Unless otherwise stated in the in the Key Facts box on the holiday Overview page, the minimum age for participation in an Artisan holiday is typically 8 years old (there may be younger children in some destinations who have booked with other companies). If an adult-only environment is important to you, then please contact our Travel Experts and they will advise on the best dates and destinations for you. If you are looking for a holiday designed specifically for families then please see our sister company www.activitiesabroad.com
Itinerary amendments
The order of activities is always subject to change and guests will be provided with their final itinerary upon arrival. The trip dossier is standard to the holiday and does not account for any amends, additions or personalisation to an itinerary. Clients should refer to their booking documents for this information.
Medical History and Advice
We want our holidays to be accessible as they can be and will do our best to accommodate any special requests and requirements where possible. We have a wide range of holidays and destinations and so our travel experts will help find the best holiday for you.
In order to give us the best possible chance to do this we ask that if you or any member of your party has any medical condition or disability which may affect your holiday or has any special requirements, that you tell us at the time of enquiry or booking. You must also promptly advise us if any medical condition or disability which may affect your holiday develops after your booking has been confirmed. You may need to provide a doctor's note and proof of insurance in some cases as the health and safety of our clients is absolutely paramount.
In providing this information you are allowing us to work with our expert local partners to ensure that your whole party can enjoy the holiday. By letting us know in advance we can discreetly work with you to adapt any part of the holiday which may potentially be challenging. Being able to prepare for this in advance makes an incredible difference to what we can offer and minimises any impact on your party and the rest of the group.
Unfortunately, if you choose not to share this information with us in advance then it may limit some or all of the itinerary you have booked, and we cannot be held accountable for any additional costs or missed activities resulting from this.
Insurance
Insurance is not included in your holiday, but it is a pre-requisite to travelling with us. You will need to ensure that you have cover for all the activities that you will be participating in during your holiday.
It is extremely important that you take out a suitable travel insurance policy at the time of booking. Plans do sometimes change, and you will need this policy should you need to cancel your holiday.
If you are struggling to find a suitable policy then details of our preferred provider, who will cover you for all the activities we offer, can be found on our website by clicking here. Please note that this policy is available to EU residents under the age of 75 only.
The UK Foreign Office Advice
Our clients' safety is at the centre of everything we do, and our operations team continually assesses and monitors the destinations we feature. We carry out thorough risk assessments and work closely with all of our suppliers to continually follow best practice. For up to date travel advice the UK government offers its Travel Aware website as well as the advice detailed below.
The Foreign and Commonwealth Office Advice
We receive all updates from the Foreign and Commonwealth Office (FCO) with regards to travel advice and we always ensure that we follow this advice in our operations. The FCO issues travel advisories for countries based on a very wide range of factors. They may provide notification about things as simple as a football match and crowds, or they may go so far as to advise against all travel to a region. We ask all our clients to refer to the relevant Travel Advice by Country for the destinations they are visiting in order to make an informed decision on the safety of the destination based on the details provided. It also provides vital information regarding entry requirements, embassy information, local laws and customs as well as specific safety and health. Guests should take responsibility for keeping themselves up to date with this advice. Please also ensure that, if you are transiting through another country, you have read the advice and meet the entry requirements for that destination too.
The FCO travel advice is applicable to British Passport Holders. Most governments will issue their own travel advice for a region and, if you are not a UK resident then you can find some helpful links below:
Australian Department of Foreign Affairs and Trade http://www.smartraveller.gov.au/
New Zealand Ministry of Foreign Affairs and Trade http://www.safetravel.govt.nz/
Canadian Consular Affairs Bureau http://voyage.gc.ca/
The U.S. Bureau of Consular Affairs http://travel.state.gov/content/travel/english.html
If the FCO deems that there is an unacceptable level of risk for UK citizens then, together with the government, they may issue an advisory against all travel to a region or country. If such an advisory is published, then we will act accordingly, and this may require the cancellation, curtailment or amendment of a holiday itinerary. These decisions are made on the basis of ensuring our clients' safety and will affect all clients on the holiday, regardless of their nationality.
If one of our local experts suggests an amendment due to a situation which develops locally then we may also take the decision to amend an itinerary appropriately.
If we have to cancel your holiday prior to departure you will be offered the option of an alternative trip (where any price difference will either be refunded to or covered by you) or a full refund of the monies paid.
If we have to curtail a holiday, then you will be refunded for any costs for the elements we have been unable to deliver, where we have been able to secure a refund from our suppliers. If we must reroute a holiday, then any basis for refund is determined on a case by case basis and dependent on whether the central holiday experience was provided or not.
Booking activities locally
Additional activities can be booked locally in almost all our destinations. However, as per our booking conditions, we cannot be held responsible for any injury or loss incurred through participation in activities which are booked at your destination outside of our holiday itinerary (see our 'Terms and Conditions' for further details).
When arranging any such activity please always ensure that safety is your primary concern.
In some of our destinations, you can borrow or hire equipment for use in your free time. You do so entirely at your own risk. You must ensure that you are properly prepared, have the necessary equipment and knowledge (maps, etc) and ensure that where applicable, you follow marked routes. We recommend discussing your plans with the local teams who will be able to advise on the most suitable options for you.
Always let the reception/guide know where you are planning to go and take a torch and mobile phone (with the hotel/guide's phone number stored). It is also a good idea to leave your contact number and the time you expect to return to the hotel should the hotel need to contact you.
Brexit information for British Passport holders
We have no reason to believe that our holidays will be impacted after Brexit and so it is business as usual for us. The European Commission has stated that no aircraft will be grounded, even if no deal is reached between the EU and the UK.
However, the Foreign Office are advising people take the following steps so please review this information and take any necessary action.
The relevant points include:
check your passport
get travel insurance which covers your healthcare
If the UK leaves the EU with no deal, the rules for travel to most countries in Europe will change. If your adult passport was issued over 9 years ago, you may be affected. You should use this tool to check your passport is still valid for your trip before booking travel.
Adult and child passports should have at least 6 months' validity remaining on your date of travel. If you renewed your passport early, extra months would have been added to your new passport. Any extra months on an adult passport will not count towards the validity requirement, so some passport holders will need to have more than 6 months remaining in order to travel.
You will also need to double check your travel insurance as after Brexit there is no guarantee your European Health Insurance Card (EHIC) will be accepted.
Flight schedule changes and connecting transportation
On your documentation, we will confirm your flight schedule. Sometimes the flight number, routing and timings might change prior to your departure. If the change is classed as a significant change then we will contact you to discuss this. Please see our booking conditions for details.
Flight schedule changes can impact on your pre and post-holiday travel arrangements if these have been booked separately to your holiday. We strongly recommend that you do not book transport (such as trains or transfers), car parking or non-connecting flights to the departure point for your holiday until you have received your final confirmed travel times when your final travel documents are issued. We are not responsible for the effect of any schedule change on your pre or post travel arrangements. We strongly recommend that you do not purchase non-flexible or non-refundable tickets to avoid cancellation and penalty charges.
Booking your own flights - cancellation disclaimer
If you have chosen to book your own flights, then you will need to wait until we confirm to you that the holiday departure has met the minimum numbers required to run (if applicable to your chosen holiday). Once the holiday is guaranteed to run, you will be informed and you can then make your arrangements.
If transfers are included in your holiday, please ensure that any potential flights will be met by our standard transfers (speak to one of our Travel Experts for advice) otherwise private transfer supplements may be applicable. Once your flights are booked, please send us a copy of your detailed flight itinerary.
Please be aware that most tickets are non-refundable in the case of cancellation. For this reason, we strongly advise you check the rules of the ticket and check the limitations of your cancellation insurance before booking. We cannot be held liable, in the unlikely eventuality that we should be forced to cancel or amend your trip, for losses incurred relating to any flight booking you have made.
Terms and Conditions
Our full booking terms and conditions can be found on our website: https://www.artisantravel.co.uk/booking-conditions
---
---