Dalmatia
Probably one of the world's most exquisite island groupings and there is only one way to see them - on a small-ship cruise.
About
Dalmatia is a historical region of Croatia, on the eastern coast of the Adriatic Sea. Characterised by warm summers, turquoise waters, idyllic beaches, secluded coves and fascinating history, Dalmatia is a captivating and relaxing destination.
From Zadar in the north to Dubrovnik in the south, and with islands such as Hvar, Korcula and Mljet in between, this area is packed with picture postcard locations.
The region also has its fair share of heritage and history and Zadar, Trogir, Split and Dubrovnik are incredibly striking cities with ancient centres, Roman palaces, ramparts and fortresses, as well as stunning monasteries, baroque designs and cobbled streets where people have walked for centuries. Street music and local markets create an exciting atmosphere and you can soak it all up whilst sampling some delicious, fresh local food as you explore.
There is so much to see in Dalmatia that we feel that the best way to experience the region is on a small-ship cruise. The ships provide easy access to the heart of the cities and the best of the coastline meaning you can maximise your time in Croatia fully. We have both 7 and 10-night small-ship cruise options which allow you to take in the sights in style.
Speak to our Artisan Travel Experts
01670 785 085
Small Ships, Incredible Destinations
Our small-ship cruises provide the perfect set up, you simply unpack onboard and you'll be delivered to some of Europe's most spectacular islands and coastline. Our guests experience the best towns and cities in the region, a variety of islands (many of which elude larger vessels) and soak in the sun on deck as they watch the incredible landscape go by.
When it comes to mainland and island sights our Croatia's Highlights by Land and Sea holiday is a real treat. It reads as a checklist of UNESCO World Heritage sights, taking in the Plitvice Lakes National Park and the awe-inspiring Diocletian's Palace in Split. Your UNESCO trio is complete on arrival in Dubrovnik where the old city (of Games of Thrones fame) awaits. In between, you'll visit islands such as Mljet and Brac which are lesser known gems, alongside the likes of Hvar – which is Croatia's answer to Saint Tropez.
Our longer cruise, Islands and Cities of the Dalmatian Coast, focuses time on Dubrovnik before island hopping between Mljet, Hvar, mainland Makarska and Korčula.
No matter which you choose, the pace will be relaxed throughout and you will have time to unwind on deck, enjoy shore excursions and of course, there will be swim stops in some stunning locations en route.
Small-ship cruises are an exclusive and relaxing way of enjoying the best that Dalmatia has to offer and they really allow you to cover a huge range of experiences in a relatively short space of time.
Life On Board
During the land-based elements of the holidays, our guests will stay in some excellent accommodation options chosen to provide the best possible location for exploring the mainland ports.
The main accommodation though is of course on board the small ships.

For our Highlights by Land and Sea holiday your vessel will be one of two, twin masted ships which carry no more than 40 people. At 34 metres long, they come with between 17 and 19 cabins, restaurant, bar and two sun decks. The air-conditioned cabins are well equipped and they all have a porthole so you can wake up and immediately enjoy the sea view.
For our Islands and Cities week, you'll stay on board either MS Nikola Otac or MB Mali Ante. Again the maximum number of passengers is around 42 and the facilities are excellent on both ships. There is a restaurant, a sun deck and a range of guest cabins with air conditioning and portholes. Cabins can be upgraded on either ship.
The crew onboard all of the vessels are experts in their field and will take excellent care of you throughout your Croatian small-ship cruise experience.
---
Photography by Croatia National Tourist Board, Ivo Biocina, Denis Peros and Ivan Coric
Read more
Read less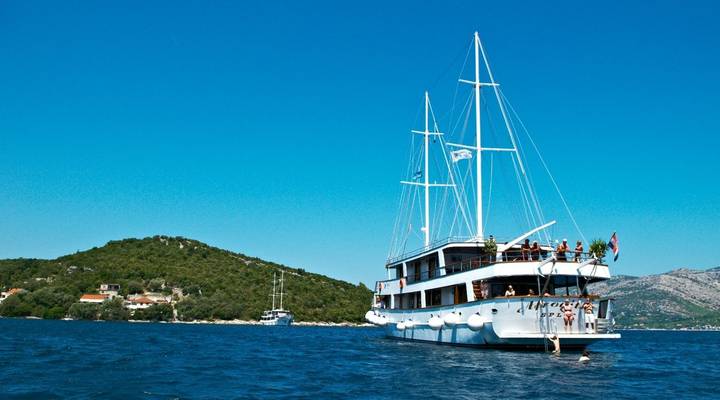 Popular holidays to Dalmatia
Holidays
Accommodation