Cruise the Islands and Cities of the Dalmatian Coast
HOLIDAY TYPE:
Small Group
VISITING:
Croatia
BROCHURE CODE:
5521
All prices include: transfers, accommodation and meals; all as listed.
Overview
Step aboard for a seven-night small-ship cruise holiday to see some of the most beautiful islands and towns in Croatia such as Dubrovnik, Hvar, Korčula and Pomena. Sailing from one charming spot to another, you can bask in the sun and enjoy a swim in the blue shimmering waters along the way.
What's included?
Transfers: return airport transfers
Accommodation: 7 nights accommodation in an en-suite cabin with double bed or twin beds
Meals and drinks: 7 breakfasts, 6 lunches and arrival dinner on day 1; water is included free of charge during meal times only
The following destinations are included in the holiday: Dubrovnik, Pomena (Mljet Island), Hvar, Brač, Split, Korčula, and Slano (order subject to change)
Please note: a tourist and harbour tax is payable locally in cash when you leave the boat. This costs approximately 28 euros per person for the week
---
The Croatian islands that are dotted along the Adriatic Coast are home to beautiful beaches, secluded coves and charming towns and villages. You will sail from the ancient and beautiful town of Dubrovnik to a variety of islands and towns filled with history, culture and beauty. The pace of this Croatia cruise holiday is relaxed and you are free to sit back and unwind on the deck or head out to explore the sights that you will be visiting along the way.
Sailing through the Adriatic and along the coast of middle Dalmatia, the vistas are simply stunning. With jagged mountains, rolling hills and pine-covered islands, this is an idyllic part of the world. You'll get to visit places such as Korčula, supposedly the home of the great explorer Marco Polo, and home to one of the finest medieval walled towns in Croatia. Another stop on the way is Mljet Island, a national park and home to a variety of flora and fauna, as well as a former Benedictine Monastery. The island is so beautiful that it is believed to be one of the islands that Odysseus is stranded on in Homer's epic.
Bursting with history and legend, this part of Croatia is also home to some incredibly cosmopolitan towns and cities that are filled with vibrant restaurants, cafés and bars. You'll be visiting Hvar and Dubrovnik, which have some of the most buzzing atmospheres in Croatia and are great places to soak up the culture, unwind and relax.
On top of all this, Croatian food is delectable: fresh seafood, gorgeous salads and flavoursome local wines and beers help to make this one of the most enjoyable destinations on offer, so get those deck shoes at the ready!
---
© Gulliver Travel, Ivo Biocina and Croatian National Tourist Board
Agenda
Accommodation
Included in price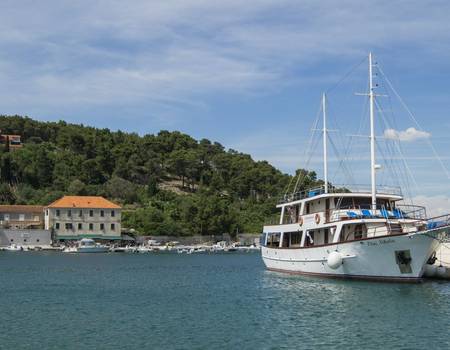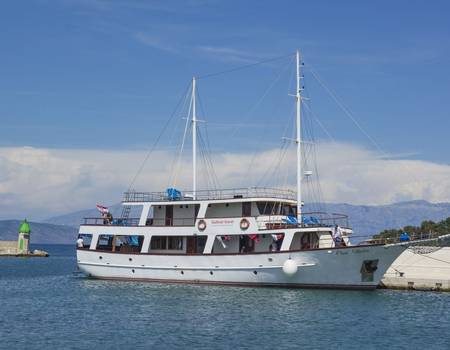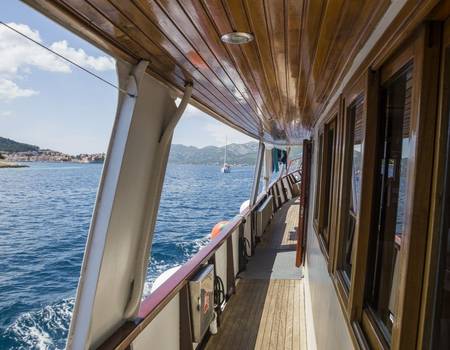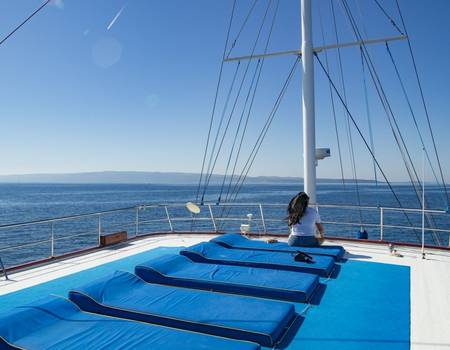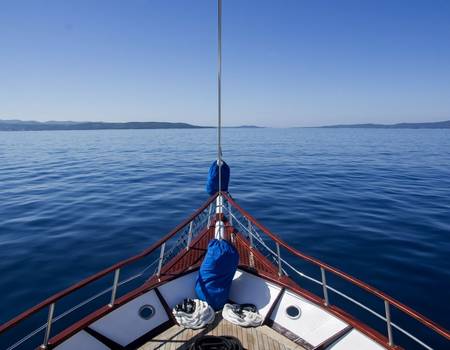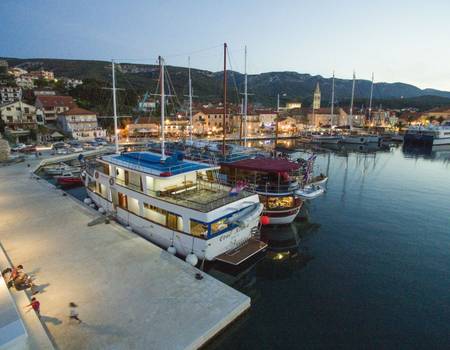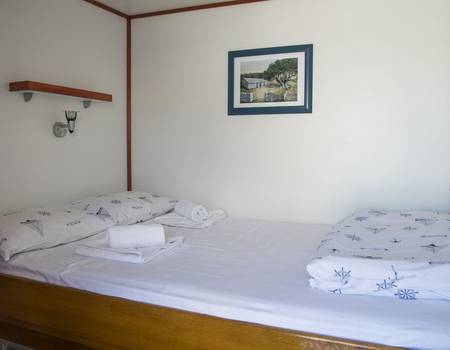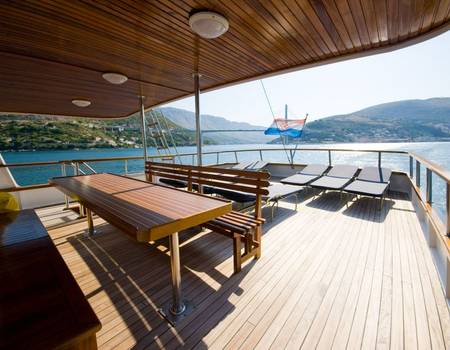 MB Otac Nikola
Nights:
1-7
During your cruise along the Croatian Coast, you'll stay aboard the Otac Nikola which can accommodate just 32 passengers. The size of the vessel means you'll visit exclusive places that big cruise ships simply can't reach. You'll explore national parks as well as the historical cities of Jelsa, Korčula, and Dubrovnik.
You will stay in a two or three-bed cabin equipped with private shower, toilet and air conditioning.
There is also an on-board bar and sun deck to relax and really enjoy the best of the Croatian weather. Just make sure you're looking out at the sights around you. The views are fabulous regardless of whether you are looking at the mainland or the islands. Inland, there's a formidable backdrop of the towering coastal mountains which give way to verdant vegetation then red-roofed towns and villages then the perfectly blue Adriatic.
Cabin accommodation
Your stay will be in a double bed/twin bed or three-bed cabin. They are equipped with air-conditioning and a private en-suite shower and toilet. There is also the option to upgrade to a main or upper deck room depending on availability. Please ask at the time of booking to secure your place.
Please note: due to specific requirements in some of the harbours, it is possible that ships will be tied sideways to each other and that passengers will need to transfer from one ship to another in order to get to shore. Please be careful when transferring from ship to ship and should you need assistance, the crew members will be delighted to help. All boat routes are dependent on the weather and may be changed at the Captain's discretion.
Towel replacement is once a week. If you wish to replace your towel more often, a fee will apply (3€ per towel each time you wish to replace it)
Card payments are not accepted onboard.
---
Image Credits: Gulliver Travel
Read more
Read less
Personalise
Personalise this tour
---
Our pick
Extend your stay at the Hotel San Antonio, Podstrana
With plenty of Croatian towns, cities, islands and beaches under your belt, you really need to add Split to the list and spend some time enjoying this magical city.
Read more
Filled with beautiful architecture, a stunning seaside promenade and the amazingly preserved UNESCO World Heritage Site of Diocletian's Palace, this is a place not to be missed. A short shuttle or taxi ride from the centre of Split and situated on the beach front, stay at the Hotel San Antonio in Podstrana for a relaxing night or two.
Please contact our Travel Experts for a quotation.
---
Dates & Prices
Thank you for your interest in this Artisan Travel experience.
We have found that this holiday is better tailored exactly to your requirements, so please email our Travel Experts at This email address is being protected from spambots. You need JavaScript enabled to view it. or contact us on 01670 785 085 to discuss the various options available to you.
Our Travel Experts have been to all the destinations we feature and love to share their experiences and insight. We want to match you with your perfect trip, so if you have any questions please get in touch; we will be happy to talk through the destinations and itineraries with you.
---
Departure dates: this trip departs on a Saturday
Fully booked for this season. Please contact our Travel Experts for a quotation for next year.
Reviews
Traveller Reviews
A wonderful week
07 September 2019
by Jennifer & Graham Longton
We enjoyed a wonderful week aboard the Solaris, sunshine and relaxation. The views and places visited were stunning, really interesting places to explore. Swimming from the ship in the Adriatic was a real pleasure, the sea was warm and crystal clear. The crew were really helpful and friendly and professional. Breakfast was delicious and varied, as vegetarians, we found lunches and dinners on the…
Read more heavy side and lacking in variety, more middle European than Mediterranean cuisine.
Read less
Overall it was a great experience and no complaints
01 June 2019
by Elzanne Wentzel & Alexander Pierce
Canoeing to the monastery in Miljet! Seeing all the different old towns, they are just magical and you feel like you will never be able to go down every little alley. Overall it was a great experience and no complaints. It would be nice if the salon can be open for guests that are awake early and want coffee/tea :)
We had the most amazing week
10 June 2017
by Anantbala Quilter & Kumudben Morton
We had the most amazing week. The crew were fantastic. They took great care of us. The rep Bruno looked after us v well. Overall the trip was fantastic. Allan and the team at ARTISAN TRAVEL were extremely helpful from start to finish. We were driving to Dubrovnik to board the ship and the directions were faultless. Allan thank you for going out of your way to look into the parking. The car park…
Read more was safe and a 2 min walk from where we had to board the ship and disembark. Thank you.
Read less
This holiday was ideal for a relaxing break
13 May 2017
by Moira & Neil Fairweather
The scenery was wonderful and this early in the season places were quiet which suited us. The local guide and crew were friendly and helpful.
Overall this has been the best holiday I think I have ever been on.
24 September 2016
by Holly & George Gilman
Overall this has been the best holiday I think I have ever been on. Completely stress-free (once I decided to book a taxi to the airport on the UK side rather than get a train!). Before the holiday your agents helped me find cheaper flights and organised food and transport despite the fact that this made us later than the rest of the guests. Incredibly happy with everything, thank you! We have…
Read more never done anything like this before, a boat cruise or Croatia, so didn't really know what to expect. The boat was fairly small (a good thing) with about 30 occupants and therefore it was a small crew of about 6 people which meant you got to talk to them all and get to know them. The chef was Italian and the food we received was absolutely incredible. When we heard we were going to be getting breakfast and lunch each day we thought it would be a sandwich based lunch but in fact, we got three-course meals every day! This meant we didn't really need to buy any extra food (we did though just to try the local cuisine). We normally keep ourselves to ourselves on holiday but we sat with a couple from New Zealand on the first day and ended up making very good friends and we are now planning to travel to New Zealand to stay with them. There was a large variation in age on the boat, my husband and I in our 20's and ranging up to roughly 75 but this was fine as you could plan whatever you fancied on shore - my husband and I opted for higher energy activities each day but you could have easily chosen to wander slowly round the town or stayed on the boat admiring the views. Everything was incredibly easy from travelling to eating to planning our days so no stress. I am so happy I booked this and for the price I paid it has massively exceeded my expectations.
Read less
A relaxing holiday in Croatia
10 September 2016
by Kathryn & Nicholas Heirons
It was a relaxing holiday where we got to see some beautiful, quieter parts on the Croatian islands as well as visiting Dubrovnik and the better-known harbours. The crew were very friendly and the chef produced delicious lunches. The cabins were comfortable with good ensuite facilities. Air conditioning was available throughout the night, not just for a couple of hours. It was a cosmopolitan group…
Read more with other guests from Scandinavia, France and Germany. There was an opportunity to hire cycles at most islands which was a nice change from lounging on deck!
Read less
Croatia July '16
09 July 2016
by Lynda and Trevor Walkington
---
---