The Arctic Bath Hotel
Image credits: Daniel Holmgren
If there is one thing Sweden does right, it's innovative architecture. From the original ICEHOTEL® to the world-famous Treehotel, if you're looking for a memorable night's stay, you will not be disappointed with Sweden's offerings - and with newest addition The Arctic Bath Hotel, you are quite frankly spoilt for choice.
The Arctic Bath is a wellness retreat with an extra special touch that only the Swedish could execute. Built to float on the stunning Lule River during the summer and freeze in place throughout the winter, the hotel offers the ultimate back-to-nature experience year-round.
Connected by floating walkways, the circular Arctic Bath features four saunas, a spa treatment room, a hot bath, outdoor and indoor showers and two dressing rooms. As per Nordic tradition, there is also a cold-water bath for guests to take an icy plunge and add to their wellbeing experience. Guests can choose to stay in one of the six floating cabins or land-based cabins. On land, you can make use of the huge glass windows facing north to search the skies for the Auroras or bask in the Midnight Sun and in the floating cabins, you can enjoy a brilliant view from your wooden deck outside. Learn more on our accommodation page here or scroll to discover everything that's on offer here.
About The Arctic Bath Hotel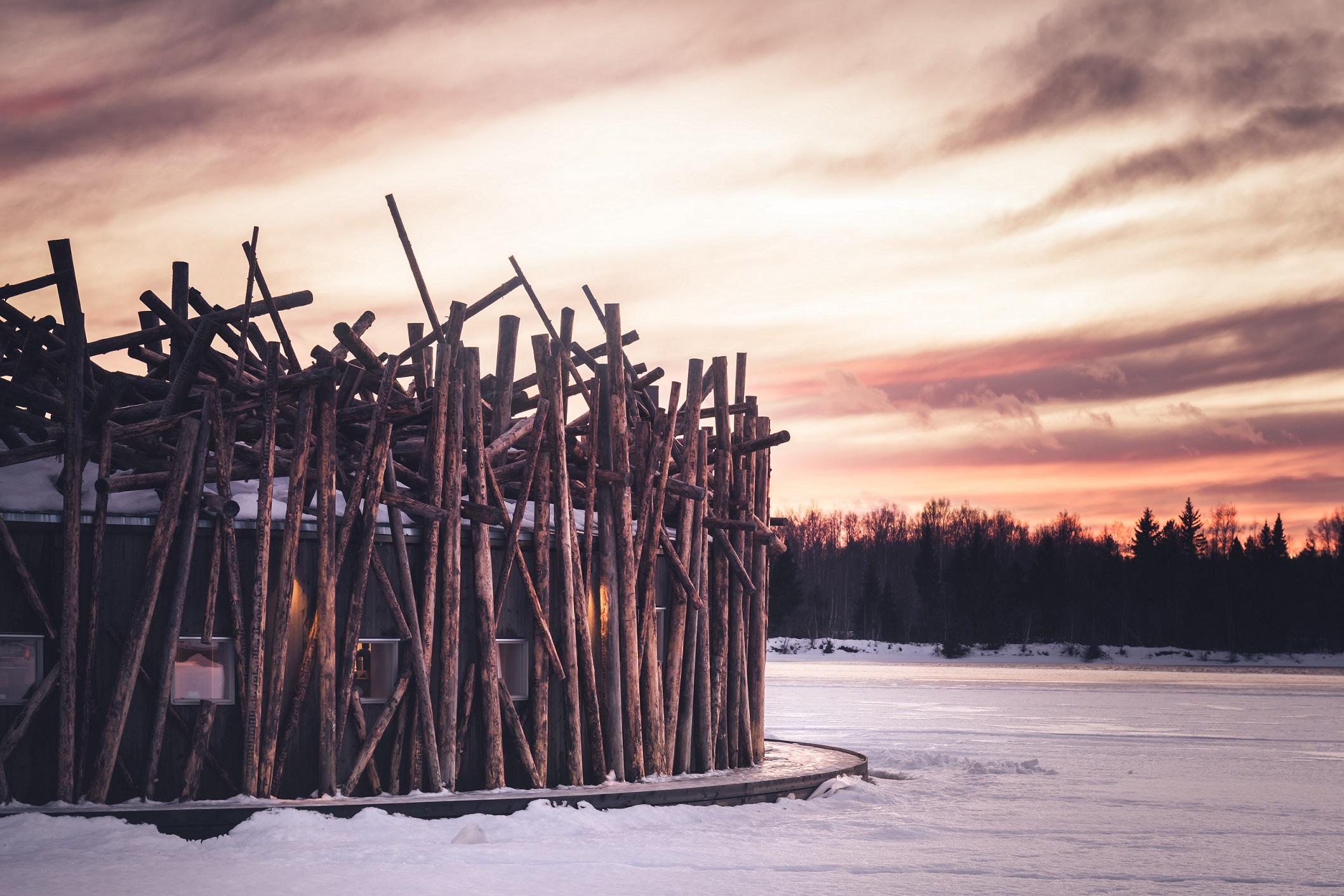 Exceptional Design
Architects Bertil Harström and Johan Kauppi designed the unique structure of The Arctic Bath Hotel, which pays homage to the floating timber era where felled trees were transported downriver. What's more, all buildings have been built using local wood from the region and the whole experience has been expertly designed so that guests leave a minimal environmental footprint behind.
Situated in the small village of Harads and on the Lule River which spans 280 miles through Northern Sweden, the surrounding wilderness area adds to the serene experience.
Wellbeing
The Arctic Bath believes in a holistic approach and the four cornerstones of wellness; proper nutrition, regular exercise, peace of mind and care of the face and body.
The onsite restaurant provides the nutrition, which features local, pure and sustainable ingredients. The activities provide the exercise, such as snowshoeing, hiking and yoga. Find peace of mind in the tranquil surroundings and by making use of the saunas and wellness areas and take care of your face and body with the available treatments on offer - ranging from massages to facials all using organic skincare.