About
The ICEHOTEL® - a year-round destination
It's remarkable to think that a hotel situated some 200km north of the Arctic Circle and constructed from "Snice" (snow and ice) could become a popular holiday choice. Nevertheless, the world famous and original ICEHOTEL® has achieved just that and now, it is open 365 days a year.
Not surprisingly perhaps, the ICEHOTEL® has always been open during the winter months. An annual labour of love, it is designed and constructed by the world's greatest ice and snow architects and artisans. And, every year when the spring thaw arrives, it slowly melts back into its original source, the River Torne.
However, that is all changing and, thanks to solar power (a plentiful commodity when the Midnight Sun never sets between late-May and mid-July) the ICEHOTEL® is now open every day of the year.
This opens up some very interesting options for those who prefer to travel outside of the cold winter months. A summer or autumn visit is now a compelling proposition for anybody who fancies seeing the majesty of Swedish Lapland. What's more, there are warm rooms as well as cold ones so you can still visit the ICEHOTEL® but sleep in the slightly cosier version.
Speak to our Artisan Travel Experts
01670 785 085
Activities in Swedish Lapland
Until recently, the focus in and around the ICEHOTEL® has always been on winter. Activities such as dog sledding, snowmobiling, cross-country skiing and, of course, searching for the Northern Lights have enthralled visitors for more than two decades.
Over the years, these activities have become increasingly varied and sophisticated. For example, you can start your holiday in traditional Lappish style and transfer from the airport to the accommodation in a sled pulled by a team of dogs. Perhaps you want to search for the Aurora Borealis on horseback? The possibilities are seemingly endless in this wonderful region.
Now, the ICEHOTEL® 365 has introduced summer and autumn choices too, allowing you to explore the wilderness landscapes of Swedish Lapland. From late-May until mid-July the Midnight Sun doesn't set below the horizon. This means 24 hours of daylight are available in which to enjoy hiking, fishing, rafting, cycling, canoeing and even stand up paddleboarding. It's quite something to sit on high ground at midnight in broad daylight, although seeing the sun in the northern sky takes a bit of getting used to!
Late-August and September are particularly exciting as autumn colours bathe the landscapes by day and the Midnight Sun sets, bringing darker nights and the arrival of the new Aurora hunting season. Imagine white water rafting on the Torne River by day and marvelling at the Northern Lights before going to bed in an ice room or suite... bucket list, bucket list, bucket list!
ICEHOTEL® Rooms
Now, this might sound paradoxical but when you visit the ICEHOTEL®, you don't have to sleep in the cold. Not everybody wants to spend the night in temperatures somewhere between -5°C and -8°C (although proper thermal gear is provided) so, while there is a range of ice and snow rooms, there is also what we might call "normal" accommodation here as well.
Of course, sleeping in one of the ice rooms or, even better, the spectacular Art Suites is something that you will never forget. The Art Suites are all individually designed with unique ice carvings decorating the rooms. The subject matter varies from room to room but over the years, we have always been spellbound by the sheer artistry required to produce such stunning works.
It's also worth remembering that it's really only your nose that feels the cold. All the beds are covered by one of the greatest insulators on the planet, reindeer hides and you are provided with an expedition grade sleeping bag. You will receive some advice as to what to wear at bedtime, but all you need do is look forward to a night in one of the world's most unusual hotels.
If you still don't fancy sleeping here then please don't give up on the ICEHOTEL®. You can still take a guided tour but base your stay in the much more familiar – and warmer – chalets or Kaamos hotel rooms where radiators come as standard! That way, you can retreat to the warmth after visiting the ICEHOTEL®'s ice bar, ice gallery and remarkable ice suites.
---
©Asaf Kliger AND Markus Alatalo AND Johan Ylitalo AND Maria Sirviö AND Tomas JöNsson and ICEHOTEL
Read more
Read less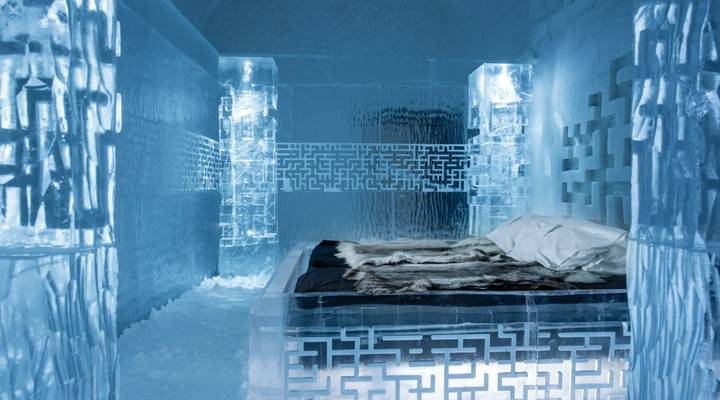 Popular holidays to The ICEHOTEL®
Holidays
Accommodation