Vuokatti
If you are looking for a winter escape, with comfort and adventure in equal measure, then look no further.
About
Vuokatti is a small ski village situated in the Lakeland region of Finland. This area is characterised by its forested, snow-covered hills and, as the name suggests, an abundance of lakes, which freeze during the winter to form plains of sparkling white. It is also home to what many people suggest to be the most pristine wilderness in Finland and you'll experience the remarkably crisp, pure air as soon as you arrive.
This area is a well-kept secret amongst the Finns themselves and it is where many people from the south of Finland spend their holidays. Vuokatti offers a taste of times gone by, offering the chance to relive the winter memories of your childhood, in an area which is unaffected by large scale tourism.
Vuokatti takes on a pristine and almost immaculate feel when the snow arrives and blankets the landscape. This 'Narnia-like' setting offers the perfect backdrop for a range of activities. We've worked with local experts to uncover the best accommodation and activity options for our guests in the area and you will not be disappointed.
We have created an all-encompassing multi-activity holiday as well as an unforgettable dog sledding trip which will introduce you to all aspects of dog sledding in Finland. The cherry on this already appealing cake is that our chosen hotel is among the most comfortable we have found anywhere in Finland. You will soon begin to understand why the Finns have been so keen to keep this region to themselves.
Speak to our Artisan Travel Experts
01670 785 085
Venturing out in Vuokatti
When winter descends upon Vuokatti, the landscapes transform into a picture-perfect winter wonderland. The abundant lakes freeze and the trees are blanketed in snow. On arrival here, the desire to explore is almost immediate and Vuokatti offers all of the key winter activities to get you out and about.
We have two holidays here which have been designed to showcase the best of the area and provide exceptional value for money.
Our multi-active short break will see you taking to the trails for a two-hour husky safari, enjoying snowshoeing, trying the traditional pastime of ice fishing and the thrills of snowmobiling. At night we have also included two activities which take you out in search of the Northern Lights. Whilst the region is further south than many of our destinations, the Aurora Borealis is often visible here. Regardless of whether the lights are visible, an evening snowshoe and snowmobile are two unforgettable activities.
One thing we feel that Vuokatti does particularly well is dog sledding and so we made that the focus of our five night Into the Wilderness holiday. Throughout your stay you will take part in three very different husky safaris, starting with an introductory session you'll progress to an evening safari and a full day adventure. We leave some free time for you to enjoy additional activities should you wish to.
No compromise on comfort
Vuokatti's wilderness location does not require any compromise on accommodation; indeed, our chosen hotel is among the most comfortable we offer in the North.
The Vuokatti Hotel and Suites is located by Lake Nuas and has 18 spacious rooms and 29 well-equipped suites. Each of the rooms or suites has an outlook over either the frozen lake, the Vuokatti fells or the charming courtyard.
The hotel has excellent facilities including a year-round outdoor pool and three saunas for guests to use. Saunas are a serious business in Finland and hotels often compete for the most unusual. The very special Honkalinna sauna at the hotel has large windows which offer panoramic views of the surrounding landscapes. It is a stunning place in which to gently steam clean after a day of activities.
---
The hotel was renovated in 2008 and is modern and elegant, offering a taste of luxury on the edge of the wilderness.
You may be out on safaris and adventures during the day on both of our holidays, yet each night your return to the comfort of the hotel. This is especially unusual for a husky-focused holiday such as our Into the Wilderness trip, as in most cases guests will spend time in shared or wilderness accommodation during these trips, but that is not the case here.
If you are looking for a winter escape, with comfort and adventure in equal measure, then look no further.
---
Image credits: Vuokatti Safaris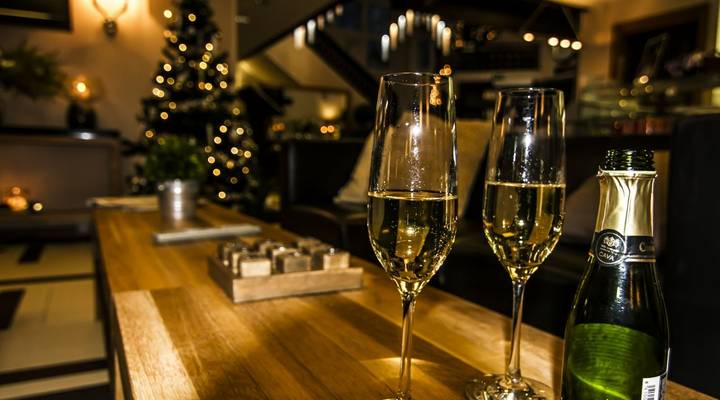 Holidays
Accommodation