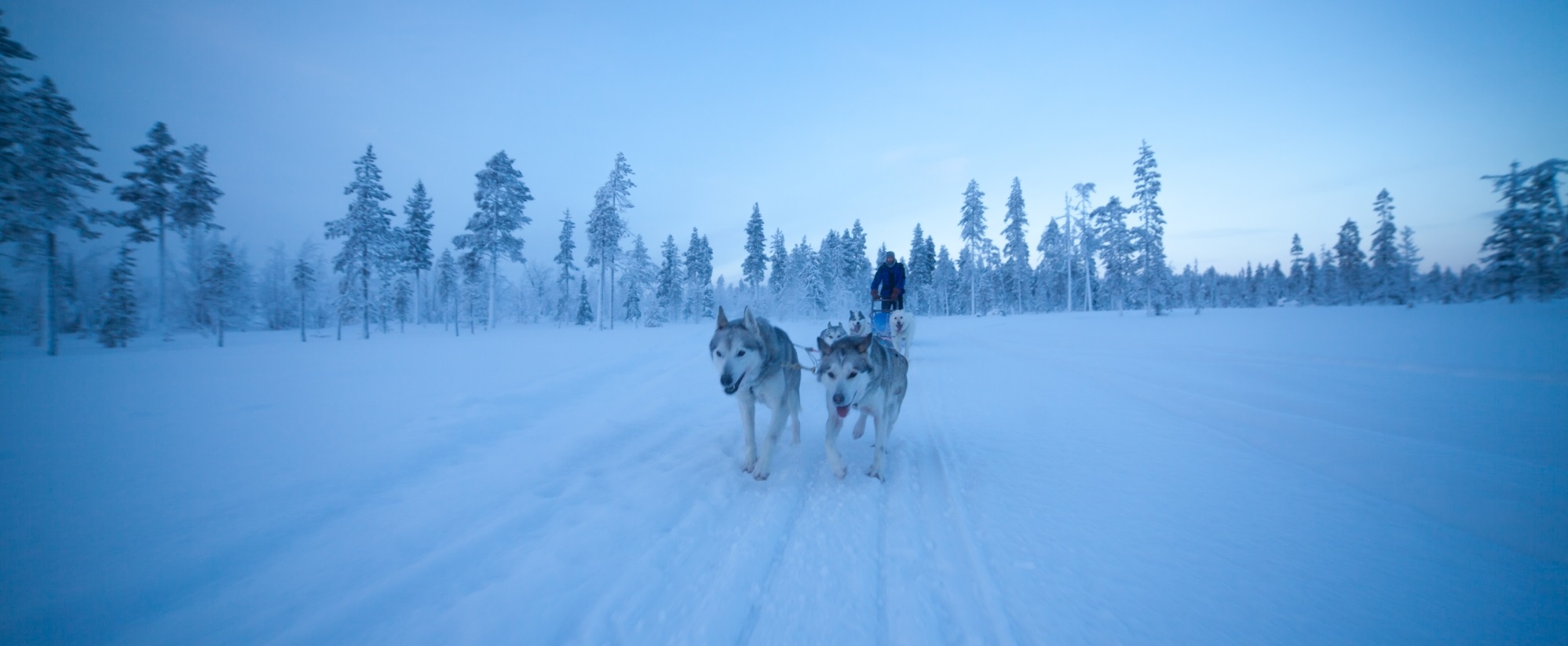 Dog sledding in Finland
Dog sledding in Finland is a popular pastime steeped in tradition. Not only is it an exciting Arctic adventure that many refer to as a 'bucket list experience' with man's best friend, but it's also one of the best ways to get out and explore the awe-inspiring surroundings and complete your winter experience on a holiday to Finnish Lapland.
Nothing compares to the feeling of travelling across pristine snowy trails and discovering the natural wonders of Finland during a dog sledding trip. Though the dogs' eagerness may be loud before you set off, once they settle into their pace all you'll hear is the sound of paws running over the powdery snow. In fact, dog sledding is actually quite peaceful, allowing you to experience a dream-like sensation of being closer to nature than ever before on a journey across the Arctic tundra.
There are many different types of dog sledding tours in Finnish Lapland. They depend on a few factors including; your past experience, how long you want to stay out in the wilderness and how big of an adventure you want to undertake. Here at Artisan Travel, we offer a comprehensive range of dog sledding holidays to make this bucket list activity accessible to as many travellers as possible. Ranging from introductory half-day experiences, through to epic multi-day safaris, we have something for everyone to enjoy.
About Dog sledding in Finland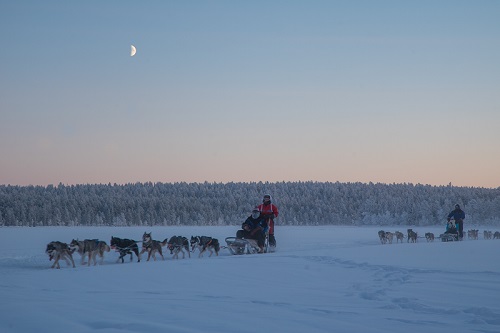 What is dog sledding?
Dog sledding, otherwise referred to as mushing, has been integral to Finnish way of life for thousands of years. In addition to dogs being loyal friends, they were initially a vital form of transport to take goods and people across the snow-covered land, which was otherwise treacherous to travellers. When there were no roads to take, it was the perfect solution to help locals reach other settlements with vital supplies.
The first dog sleds were made of just a single dog pulling a lighter load but as the need to travel further distances while carrying larger loads increased, teams of dogs were introduced.
Due to modern-day life, the need for dogs to transport supplies has reduced significantly. Dog sledding, however, still remains important to these rural parts of the world as now, their primary use is for tourism. The tours allow visitors to gain an exclusive insight into the cultural significance of sledding as well as adding a bucket list activity to their winter adventure.
Which dog sledding tours in Finland can I choose?
There are a number of dog sledding tours in Finland for you to choose from. You could opt for a shorter route to get your first taste of dog sledding, or if you want the full Finnish experience, you could try a multi-day dog sledding tour, covering larger distances and staying in wilderness cabins along the way. We have a range of dog sledding tours on offer so that you can experience this activity of a lifetime.
For example, during our log cabin taster week to Luosto, you'll get a gentle introduction to dog sledding over a 10km course which includes learning how to harness the dogs and talking to the mushers about their incredible lifestyle. Whereas in Harriniva, you could embark on an epic seven-day expedition where you will cover around 300km with your dogs in remote areas of Finland. For those who've experienced husky sledding before but seek more adventure, this is the real deal!
View our holidays to Finland with a dog sledding experience here or, if you would prefer a longer tour, click here to view our overnight husky sledding activities here.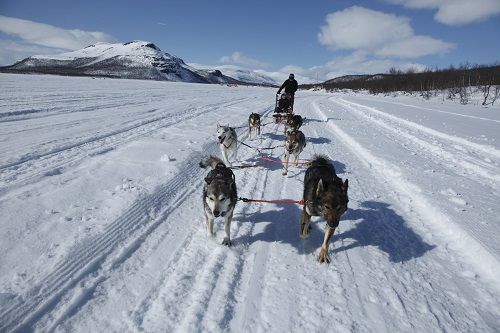 What can I expect during dog sledding?
Dog sledding is a fantastic sport but it can be intimidating trying your hand as a musher for the very first time. With the help of our local experts, you'll learn everything you need to know before you take to the trails and embark on your adventure across the fells and forests of Lapland.
Though there is an initial force that comes with the dogs taking off, after they settle into their pace, you'll find that dog sledding is a relatively easy activity. You will probably be surprised at how quickly you get a feel for it as you use your weight to help the sled through the turns.
We provide you with the warm winter outwear for the duration of your stay in Lapland, however, when you travel through the harsh wilderness on a husky sled it can feel much colder, particularly if you are a passenger. Make sure you wear plenty of layers whilst experiencing the activity, and take hand and feet warmers too. To help prepare you for dog sledding in Finland, once you book your holiday with us, we will send you a trip dossier which includes a packing list for this type of environment.
What's the difference between husky sledding and dog sledding?
The difference between husky sledding and dog sledding is nothing other than the type of dog used to pull the sled. It is a common misconception that all sled dogs are huskies when in fact, there are many different breeds of dog that are used for this sport. The term 'husky sledding' should really be reserved for teams that are only made up of this specific breed which is usually associated with a certain area.
The Siberian Husky is one of the oldest breeds of dogs in the world. They are directly descended from wolves and were used for hunting and herding by the Chukchi tribe, located in Russia. The Alaskan Husky is a cross-breed, carefully selected in the 1900s during the Alaskan gold rush for transportation help.
In Finland, the Finnish Lapphund was thought to be originally brought in for racing but was also used for reindeer herding. It wasn't long until they were being used for mushing too. The Finnish Lapphund are a breed born to run and their obedience makes them brilliant for dog sledding.
In our chosen destinations, our dog sledding teams are often made up of a mix of different breeds.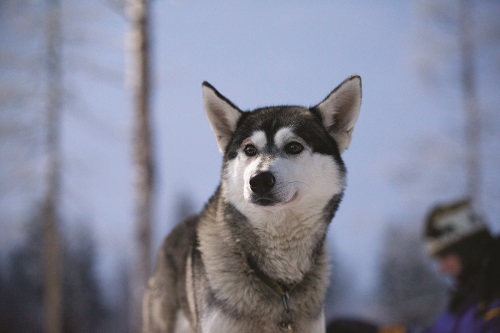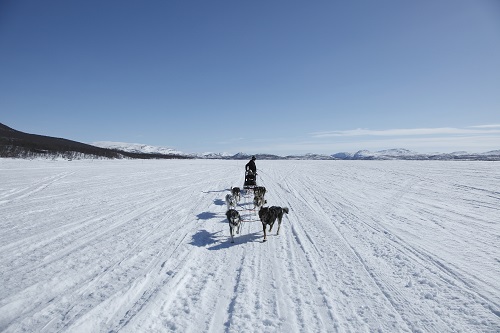 Local people, local knowledge
We have worked with our suppliers in Finland for many years and having experienced all of the tours and activities ourselves, we can assure you that you're in very good hands. We ensure that all of our suppliers work to a high level of animal welfare standards and, as we work with local people, you'll get a truly authentic dog sledding experience.
It's important to remember that sled dogs are not like the domesticated dogs we know and adore at home. Though the owners love and care for their animals, sled dogs are working animals, and so are treated a little differently. These dogs have adapted to life in the Arctic, and usually, they will sleep outside in purpose-built kennels but with their incredibly thick coats, this isn't an issue for them!
Whilst these are working dogs, most of them also love a good pet and a cuddle, and you'll have plenty of time to schedule this into your activity time. However, our top tip from our Artisan Travel Experts is that it's best to wait until after the tour because beforehand, the dogs are far too eager and excited to get going!