Torassieppi
Torassieppi is the epitome of snowy Lapland. Originally a reindeer farm, it's fair to say that those beasts must have witnessed some remarkable night skies over the decades.
About
Torassieppi is one of the most quintessentially Finnish destinations we feature. Owned by the Pietikainen family who also run the delightful Jeris and Harriniva Hotels, the cosy cottage accommodation here sits in the grounds of a traditional reindeer farm.
When our friends took charge of the accommodation in 2013 we were really thrilled as our staff and guests had loved visiting the reindeer farm itself over many years and so to be able to stay there was the icing on the cake. We have since built a range of holidays here to showcase the stunning beauty of the region and to provide some unforgettable highlights.
We have a tailor-made option that allows you to choose the activities that you want and design a holiday to suit you.
The original farm building dates back to 1847 and is one of the oldest buildings in the area. We promise that the guest accommodation is more modern - although it still retains a sense of tradition and charm.
The accommodation sits on the banks of Lake Torasjärvi which is on the edge of the Pallas Yllas National Park. Any time spent at Torassieppi is spent surrounded by some of Finland's finest wilderness, creating a canvas for unforgettable experiences, high above the Arctic Circle.
Speak to our Artisan Travel Experts
01670 785 085
Finnish Experiences
Guests at Torassieppi have access to some of the best Arctic experiences in Lapland.
The reindeer herding heritage remains one of the main attractions and guests can enjoy the museum, which documents a unique way of life and how the community has adapted to the modern world. Of course, you can see reindeer up close (you often see them whilst on activities in this area) and you can get to grips with some of the traditional herding techniques such as lassoing.
You can enjoy a reindeer-pulled sleigh ride through the pristine wintery landscape, taking in the snowy surroundings in the company of these great animals. You can also explore on foot using snowshoes and cross-country skis to enjoy the peace and tranquillity of the area.
As the lake is frozen there are no water sports available, but the ice is put to good use as trails are marked for both dog sledding and snowmobiling adventures instead. Dog sledding in Finland is one of the most popular activities we offer and simply is a must-do on your visit here.
For Aurora hunters, Torassieppi's location is ideal and there are many Northern Lights excursions available. The lights are visible in the area from very late August through to early April.
All of these options can be viewed in our Torassieppi Tailor-Made winter programme.
Torassieppi's cool and cosy places to stay
The cosy cottages at Torassieppi are a real attraction for guests. With their wood burners and additional living space they really create a retreat after a day in The Great Outdoors. There are also some lovely hotel rooms at Torassieppi and they are also housed in cosy cottage buildings.
All the accommodation is just a short walk from the main restaurant building where all meals are served. The set menus and buffets here typically include local ingredients as they try and source as much produce locally if they can. Expect hearty reindeer dishes as well as locally-caught fish to feature during your stay.
Torassieppi is home to two very 'cool' overnight options. A short walk from the accommodation is Torassieppi Winter Village. This marvel is created annually from snow and ice and offers the chance for guests to spend the night in a cold igloo room during the winter. A night here is a true Arctic experience.
Torassieppi is also the home of 'Aurora glamping', as guests can spend the night in one of their purpose-built Aurora domes. These are effectively large tent-like structures which have been adapted for this remote environment. Situated on the shores of Lake Torasjärvi and with a large north facing window, they provide those lucky enough to spend a night in one, an excellent vantage point from which to view the Northern Lights.
Photography by Antti Pietikainen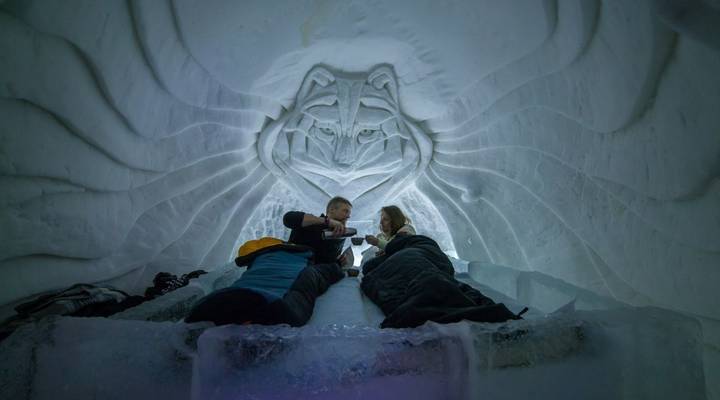 Holidays
Accommodation