Jeris
Jeris is what Finnish Lapland is all about. It is situated on a stunning lake whose water eventually gives way on its far shores to the rounded fells which typify this part of the world. Simply lovely!
About
Jeris really encapsulates Finnish Lapland with its snowy forests, frozen lakes and winter fells. We always think of it as being like a haven with its relaxing atmosphere and slower pace of life. With easy access from Kittilä Airport, it is always a favourite with our guests many of whom return year after year for their annual fix of all things Lappish.
The location is spectacular, with the main restaurant sited on a slope that gently leads to the Arctic Elements Lakeside Spa. Renovated for winter 2019/20 and the first of its kind in Finland, the spa has strong eco-credentials thanks to features including entirely renewable electricity and geothermal heating generated from the Jerisjärvi lake. There are four saunas, each meticulously designed to incorporate the four elements; earth, air, fire and water and named after Finnish gods and goddesses. There is also a fifth Northern Lights sauna for one of the most relaxing ways to search the skies for a display. For the brave (and healthy), you can complete you sauna experience in true Finnish style with a dip in the ice pool.
Famous for its cosy winter cottages, Jeris is one of our most sought-after destinations. The surrounding landscape is wild and wonderful and a real activity playground.
Jeris is owned and operated by our good friends the Pietikainen family who also own and run Harriniva and Torassieppi. We have worked here for well over a decade and, together with the local team, we have created itineraries for all tastes. Whether you are looking for a week-long active break, a gentler tailored holiday, a New Year to remember, or something in between all of the above, we have it covered. Jeris also offers the choice of either hotel rooms or the cosy winter cottages which are set in the snowy woods around the main hotel building.
Speak to our Artisan Travel Experts
01670 785 085
Our activities and experiences
Our range of holidays at Jeris is extensive and varied so there is really something for everyone. Make the most out of your location by dog sledding through Finland's snowy landscape or take a more relaxed approach and snowshoe over the deep powder.
For those who really want a taste of adventure, our Jeris Winter Adventure delivers a thrilling snowmobile safari, a reindeer sleigh ride and an unforgettable overnight dog sledding trip so you can really experience the surrounding wilderness.
Our Winter Cottage Escape covers a fabulous range of experiences and is one of our most all-encompassing Lapland holidays. The itinerary includes a husky safari, an Aurora workshop, cross-country skiing, snowshoeing, a trip to a Winter Village, a reindeer encounter, ice fishing and snowmobiling. It may sound action-packed, but the agenda is well balanced and there is also time for you to relax. After all, with your own sauna and wood-burning stove, those winter cottages are pretty darn alluring.
We also offer a fully tailor-made holiday option at Jeris which allows you to determine the duration of your stay and the activities you would like to include. Alternatively, we feature a 7-night tailor-made break which takes advantage of direct flights and, whilst the duration is fixed, you can pick and choose your preferred activities.
We also offer two holidays over the New Year at Jeris, as it is a very special place in which to welcome in the next 12 months. You can enjoy our 6-night New Year Winter Cottage Escape.
Our accommodation at Jeris
There are hotel rooms available here within the main building but for us, it is the winter cottages that are the real draw.
The cottages at Jeris are dotted amongst the forests that surround the hotel. The nearest are just a few minutes from the main building while the furthest are a 10 - 15-minute walk through the snowy woods.
The cottages come in three sizes creating retreats for couples through to space for groups of around seven. There is nothing better than feeling like you have your own little home in Lapland and your own space in which to relax and unwind in the evening after an active day. This whole experience is enhanced by the log-burning stoves and private saunas which feature in all of the cottages here.
Jeris is also around 20 minutes from the spectacular Torrassieppi Winter Village and we can arrange for you to customise your stay and include a night in a snow room there. Torassieppi is also home to the Aurora Domes, which provide an unforgettable Northern Lights glamping experience with incredible views.
---
Photography by Antti Pietikainen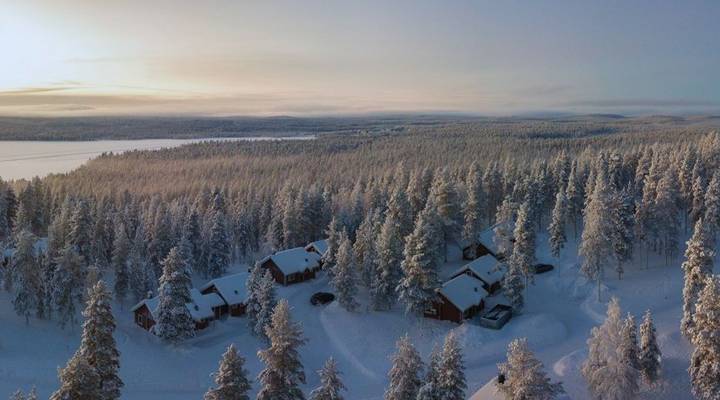 Popular holidays to Jeris
Holidays
Accommodation