Harriniva
Harriniva lies just off the Northern Lights Route, a road which links Muonio in Finland to Tromsø in Norway and passes through some of Scandinavia's best Aurora hunting districts.
About
Far longer ago than some of us here care to remember, Harriniva was the first place we ever featured during the winter months. It was a remarkable success and led to us expanding to offer the wonderfully diverse range of Arctic adventures that you see in our Winter Collection today.
To this day, holidays at Harriniva remain amongst our most popular. We have developed a close partnership with the Pietikainen family who own and run the hotel which has allowed us to create numerous exciting itineraries here.
Located a few kilometres from the small town of Muonio, in North West Finnish Lapland, our guests fly into Kittilä Airport. The transfer (if not interrupted by reindeer licking salt off the road) takes about one hour and with some of our holidays to Harriniva including direct flights from the UK, access to this far-flung corner of Europe is remarkably simple.
Harriniva provides a single destination in which you can try all of the key highlights of an Arctic holiday in the company of expert guides. Many of our team here in the UK have visited Harriniva and are on hand to answer all of your questions. We've eaten in their cosy dining rooms, tried the activities, enjoyed a post-activity beer in the bar, relaxed in the saunas and slept in the beds. We know the people and the place, so do not hesitate to contact one of our Travel Experts for further details.
Speak to our Artisan Travel Experts
01670 785 085
The Experiences
We have a wealth of holidays at Harriniva but we think that our Winter Adventure holiday, which has long been a bestseller, encapsulates the destination. The combination of snowmobiling, a reindeer safari, and an overnight husky safari make this a wonderful all-round holiday with an added sense of adventure.
Our Five Day Husky Safari also begins at Harriniva and is one of our most popular dog sledding adventures. Harriniva is home to the Arctic Sled Dog Centre and more than 400 eager huskies delight our guests with their company each year. This adventurous holiday allows you to drive your own team of dogs through the wilderness, staying in remote cabins and exploring with expert guides – it's a true adventure.
If you prefer horsepower to 'pawpower' then we also feature a range of multi-day snowmobile safaris, which take you through Northern Lapland's wonderful fell, forest and lake country.
If you fancy a taste of both overnight dog sledding and overnight snowmobiling then our Extreme Adventure is the only holiday we offer which features both of these experiences.
If you aren't quite sure what you would like to try then our tailor-made holiday at Harriniva is ideal. This gives you the opportunity to design your own itinerary and choose the perfect holiday duration. Our Travel Experts will be more than happy to help create your itinerary.
The Accommodation
Harriniva is located just outside the small town of Muonio, some 230km above the Arctic Circle. There may be a few houses nearby but within minutes you can be out in the wilderness, enjoying the delights of the trails or gazing at the Aurora Borealis.
There are 64 rooms, so it is not too big and not too small. This means that you end up spending your time with a wonderful mix of like-minded people from all over the world. Everyone is united in their desire to try something new and experience an adventure, so it is all extremely friendly.
The rooms are clad in wood and decorated in a typically Finnish style. They are cosy and comfortable and all have en-suite facilities. Importantly, there are no TVs in the rooms which encourages guests to mingle with others or enjoy outdoor pursuits.
Some guests may also choose to stay in one of the Northern Lights Cabins which are found down on the eastern bank of the Muonio River. These simple cabins provide a small home from home and are available on request.
Guests participating in one of the multi-day dog or snowmobile adventures may be based in a safari house; some of which are on-site and others around 3km from the hotel. These houses provide the ideal base in which to get to know your trail partners before setting off together into the wilds.
From Harriniva we can also arrange for you to spend the night in the wonderful Torassieppi Winter Village or the Aurora Domes, both of which are situated at one of Harriniva's sister hotels. Details of these options can be found in the 'Personalise' sections of the Harriniva holiday pages.
---
Photography by Antti Pietikainen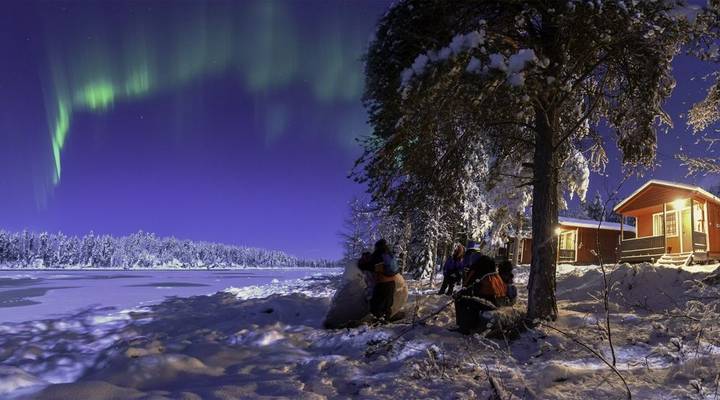 Popular holidays to Harriniva
Holidays
Accommodation