Utsjoki
Utsjoki is the second most northerly village in the EU and this is wild country where reindeer outnumber humans by a significant margin.
About
Utsjoki is the northernmost municipality in Finland. It is a pretty remote spot where reindeer significantly outnumber people. This is a rugged and wild corner of Europe but it is a real favourite here at Artisan Travel.
We are always very cautious when we band around the word 'authentic' but in the case of Utsjoki, we feel it can be applied accurately. This is a place where the pace of life remains slow and the indigenous Sámi culture remains central to daily life.
Sámi culture is so entwined with this landscape, that three of the fells surrounding Utsjoki are considered to be "AIligas" which in Sámi means "Sacred Place." When you stand in that huge snow-swept wilderness surrounded by the undulating fells, listening to nothing but the sounds of Mother Nature and the Aurora Borealis blazing overhead, it is not hard to understand why the Sámi people attach such spiritual significance to the Utsjoki municipality.
We have created two holidays in this very special place. Our 'Top of Finland' multi-activity week is a real escape from the every day and encompasses key Arctic activities such as dog sledding through the Finnish wilderness. Our 'New Year Twice' holiday delivers exactly what it says on the tin – you'll celebrate the New Year in Finland and then exploit your location on the Norwegian border to hop back in time and do it all again an hour later.
---

Speak to our Artisan Travel Experts
01670 785 085
It's all about balance...
Our holidays in Utsjoki are all about balance. We want you to experience some of the key activities available but we also want to ensure you have time to simply reflect on your location. It is such a privilege to spend time in such a remote area, and with such genuinely welcoming people, that you need time just to enjoy the simple things.
The family who own the accommodation here are traditional reindeer herders and so holidays here offer a unique perspective on life in the Arctic. You will really begin to see how intertwined local culture and reindeer herding are. We, of course, include a reindeer-pulled sleigh ride in both holidays which will take you out into the wild fells.
Available throughout the winter season, our 'Top of Finland' holiday gives a complete introduction to life in Utsjoki. You'll try the key activities of cross-country skiing and snowshoeing. You'll go dog sledding across the border in Norway and you'll get a real insight into this region. One of the key activities during this holiday is the tour of the village, where you'll begin to understand the realities of living here both in the past and present. There will also be the chance for you to admire some local handicrafts and works by local artisans.
At New Year, we balance the daytime and night-time activities. You'll enjoy cross-country skiing and snowshoeing, a husky safari, a reindeer sleigh ride and a three Aurora activities during your stay. Combine these with the double New Year celebrations and you have an exceptional way to see out one year and see in the next!
Part of the family
The accommodation at Utsjoki is operated and owned by a local family whose main day to day work remains reindeer herding. This offers guests an interesting perspective on local culture and family life way up above the Arctic. Your hosts are truly welcoming and we have had many guests return saying that they felt like they were one of the family on departure.
The rooms and cabins which are available for guests are warm and cosy. The rooms have a huge window which looks out across the Teno River and across the Norwegian Fells nearby. It is this view that our Managing Director still talks about years after his visit to Utsjoki and so we can assure you it is worth the trip.
The winter cabins here are also a popular option and each has two bedrooms, kitchenette, fireplace, and sauna so they really are a home from home.
Utsjoki's remote location may not be everyone's cup of tea but, if you are after a real taste of life in the wild and an escape from the every day, then we cannot recommend it highly enough.
---
Photography by Klaus Peter Kappest and Holiday Village Valle Hotel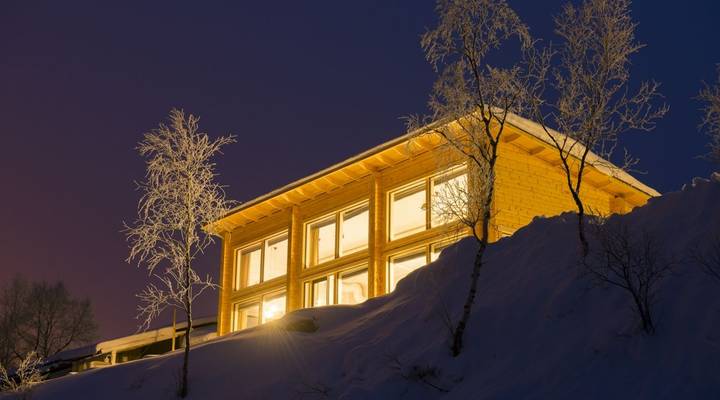 Holidays
Accommodation