Ranua
Experience the combination of wildlife, activities and lovely accommodation on our tailor-made holiday to Ranua.
About
Ranua is a small village peacefully nestled in Finnish Lapland, just below the Arctic Circle. Our holiday is based at Ranua's most famous attraction (situated around 4km from the village), the Ranua Wildlife Park. The park is home to around 50 Arctic animals which are all housed in carefully designed enclosures that closely match the settings of their natural habitats. The star inhabitants are undoubtedly the polar bears and the chance to feed them is something that many guests like to include in their holiday. Details regarding Ranua's rehabilitation work and conservation efforts can be found below.
Alongside the park, Ranua offers a wonderful array of activities and our guests can create their very own itinerary when booking our Ranua Tailor-Made holiday. The choices include some exceptional winter activities such as dog sledding, snowmobiling, reindeer and horse-drawn sleigh safaris and ice fishing. Ranua's location also means that it is within the Aurora Zone and therefore offers the chance for guests to potentially witness the Northern Lights if conditions are favourable.
Speak to our Artisan Travel Experts
01670 785 085
All creatures great and small
The wildlife park allows you to meet a huge variety of Arctic animals and witness them at close quarters in their natural environment. There are bears, wolves, wolverine, musk oxen, wild boar, lynx, beavers, moose and many more mammals, alongside an array of reptiles and fabulous birds for you to enjoy glimpsing.
Ranua is part of the European Association of Zoos and Aquaria and follows their aim of conserving healthy populations of endangered species in wildlife parks, whilst also working to preserve their natural habitat. The park also takes in injured or orphaned animals with the aim of releasing them back into the wild, or caring for them if this cannot be achieved. The polar bears, European mink, wolverines, Arctic fox, common otters and musk oxen at Ranua are all part of the European Endangered Species Programme, meaning that they are the pedigree animals of their species and of huge significance.
Alongside the animals you'll meet at the park, you'll also have the chance to encounter huskies and reindeer if you choose to select those activities from the available options.
Relaxing at Ranua
You'll stay at the Gulo Gulo Holiday Village which is located just across a quiet road from the park, making access to the attractions and activities incredibly easy.
The Gulo Gulo apartments are an excellent base of stylish apartments with all amenities, including a personal sauna and open decking area. If there is a larger group of you travelling then these are an excellent option as some of the apartments are interconnecting.
Its central position means that most other activities start on site and depending on which itinerary you select, you could be cross-country skiing, snowmobiling or snowshoeing within a matter of metres from your apartment.
---
Photography by Gulo Gulo Holiday Village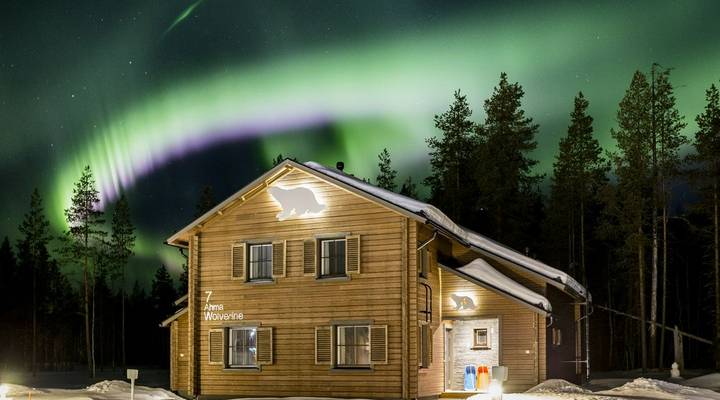 Popular holidays to Ranua
Holidays
Accommodation