Overview
Ranua allows you to combine encounters with some of the Arctic's most endangered species at the Wildlife Park, with some unforgettable activities on our tailor made holiday. The proximity of your fantastic apartment accommodation to the Wildlife Park also means that all of the animals and activities are within easy reach. Here the chance to try dog sledding, Aurora hunting, snowmobiling, horse-drawn sleigh rides and much more is combined with the opportunity to feed polar bears!
What's included?
Flights: direct return flights from London Gatwick to Rovaniemi are available on most dates, otherwise indirect flights will operate between London Gatwick and Rovaniemi via Helsinki. Please speak to our Travel Experts for further details. (Flight routes are subject to change and flight supplements may apply)
Transfers: return airport transfers between Rovaniemi and Ranua
Accommodation: minimum of 3 nights apartment accommodation
Meals: half board (full board upgrade available for a supplement)
Activities: choose from our extensive range which is detailed in the 'Activities' section of the holiday page (activities are all priced individually). The order of activities you select is subject to change
Unlimited access to Ranua Wildlife Park
Cold weather clothing for the duration of your stay
Fully qualified wilderness guides and instructors for any activities
---
Ranua offers a tantalising combination of excellent accommodation, a range of exceptional activities and some truly unique opportunities at Ranua Wildlife Park.
Ranua Wildlife Park is the main base for all activities here and it is just a short walk from the accommodation. All of the key winter activity options are possible and as this is a tailor made holiday option, you can pick and choose from the activities listed in the 'Activities' section of the holiday page. You can snowmobile, dog sled, enjoy reindeer encounters and horse-drawn sleigh rides, try snowshoeing or cross-country skiing all within easy reach of your delightful accommodation. You will also receive unlimited access to the park throughout your stay too.
The main thing, however, which helps Ranua stand out from other destinations, is the Wildlife Park. Home to some of the Arctic's, if not the world's, most endangered animals it is a place that adds a lot of unique experiences to your winter escape. Here you can see wolves, brown bears, wolverine, wild boar, lynx and even polar bears amongst an array of over 50 species which live at the park. A visit to the park is a must for guests staying here and the chance to feed the polar bears is also something that we highly recommend adding to your holiday experience. The park is dedicated to the conservation of these endangered animals as well as the protection of their natural habitats. The park also takes in a range of injured or orphaned animals to either rehabilitate and release them or care for them if that is not an option.
Ranua is an ideal destination for a tailor made holiday as there is simply so much on offer. So, whether you are looking for an active holiday or are to take things at a more leisurely pace, there is something for you. The spacious, modern and well-equipped apartments have their own private saunas and are a fabulous base to return to. The team will take you to the local supermarket to get any supplies you'd like for your stay, but half board is included and your meals will be enjoyed in the restaurant at the park, we can also arrange full board if you prefer.
This tailor made holiday is based on a minimum of three nights at Ranua. The package includes return flights from Gatwick to Rovaniemi (either direct or via Helsinki) as well as half board accommodation, airport transfers and cold weather clothing for the duration of your stay. You can then add in additional nights and the activities that you would like from the full range listed in the 'activities' section of this holiday page.
Please note: Activity schedules are subject to change. Duration of activity includes transfer times and breaks, and all distances are approximate. Some activities require a minimum number of participants to operate and are subject to availability.
Single snowmobiles: All snowmobile safaris are based on two people sharing. If this is not possible in your party, then you will be paired with someone else taking part in the activity. If you wish to guarantee your own snowmobile you must pay a single snowmobile supplement - please ask our Travel Experts for a quotation.
---
Image credits: Gulo Gulo Holiday Village
Accommodation
Included in price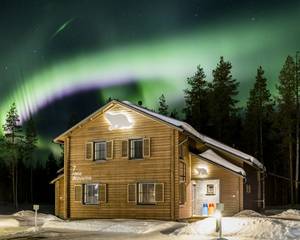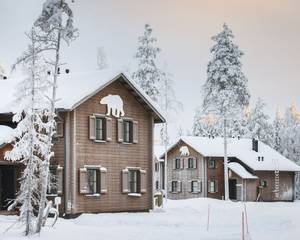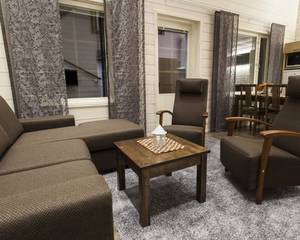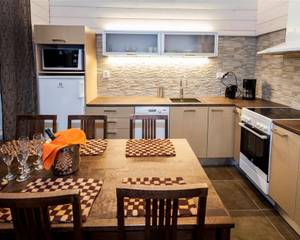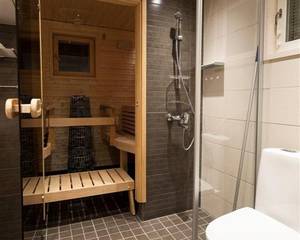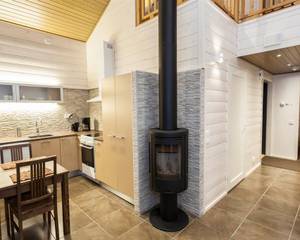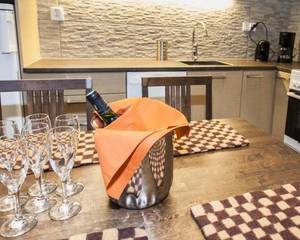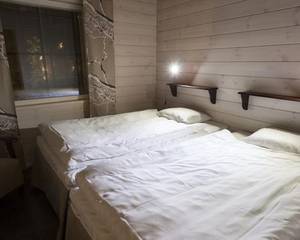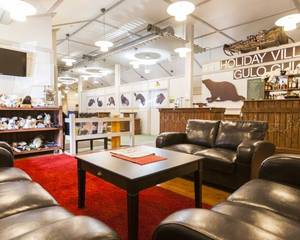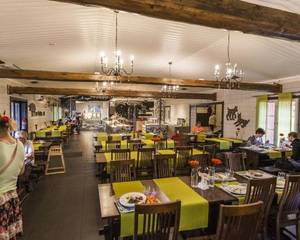 Gulo Gulo Holiday Village
Nights:
1-3
Located around 4km from the small town of Ranua, the Gulo Gulo Holiday Village takes its name from the Latin word for wolverine, and the wildlife theme continues throughout due to the accommodation's proximity to the Ranua Wildlife Park which guests have unlimited access to throughout their stay.
The holiday village offers guests modern, comfortable and wonderfully equipped apartments which are self-contained and very spacious.
The simple, yet convivial restaurant at the wildlife park is where breakfasts and dinners will be served. Breakfasts are a buffet and evening meals consist of both Finnish dishes and more continental dishes, also served in a buffet format. Drinks are available for purchase with meals.
Guests will also be driven once to the local supermarket in order to stock up on any supplies that you may like to have back in the apartments.
Room types
Superior apartments
The superior apartments are recently built, modern, spacious, airy and extremely comfortable. In total, there are twenty-eight superior holiday apartments at Gulo Gulo, which are housed within ten semi-detached buildings. All of the buildings back onto the snowy forest and are within an easy walking distance of the Wildlife Park and its restaurant (it's just across the road).
The ground floor accommodation comprises of an open-plan living room with flat screen TV, kitchen and dining area. The kitchen is well equipped with stove, microwave, dishwasher, fridge, coffee maker and kettle (you may want to take your own tea and coffee to enjoy in your apartment, or you can get them at the local supermarket during your trip there).
There is one twin bedroom downstairs as well as the bathroom which includes a shower, toilet and drying cabinet for clothes. There is also a private sauna which is a real treat. The accommodation also offers hairdryers and ironing facilities.
On the first floor, there is a second twin bedroom as well as an open loft area with two smaller extra beds (suitable for children) as well as a shower and toilet. All linen and towels are of course provided.
The apartments have their own decking area which can come in very handy for viewing the local wildlife or (fingers crossed!) maybe even the Northern Lights.
Two deluxe apartments are available for a supplement. These are marginally larger (there is around one square metre difference) and so offer more spacious accommodation if there are four adults in the accommodation. They are also equipped with a washing machine. Some of the apartments are also interconnecting so if you are in a larger party then this can work well.
Read more
Read less
---
Special Nights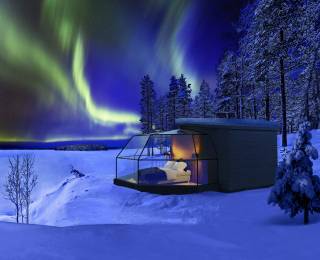 Arctic Fox Igloo
From: £112pp
Brand new for the 2018/19 winter season the team at Ranua have constructed some beautiful Glass Igloos which are available for guests to stay in for a real adventure during one night of their holiday. There are 20 igloos in total which are located around 8km from Ranua Wildlife Park. They are set in an idyllic lakeside location with very little light pollution and uninterrupted views to the North which gives you an excellent chance of watching the Northern Lights from your bed, talk about a holiday memory!
The igloos include a double/ twin bed with space for one extra single camp bed (max occupancy of 3 people). They also have a small kitchenette and a bathroom with private sauna (this is Finland after all!). You will normally transfer to the Arctic Fox Igloos after your evening meal before you spend the night in complete comfort in the serene arctic wilderness. Then you will be picked up the following morning in time for breakfast back at the main restaurant. If you have any questions during your stay then you are provided with a contact number for the local team.
---
Image credit: Gulo Gulo Holiday Village
Activities
Keep yourself busy!
---
---
---
Activities
Special Nights
Dates & Prices
We include more, no hidden costs
On each of our holidays you will see a clear outline of exactly what's included in the price of your holiday. We never use 'headline' or 'lead-in' prices like so many tour operators, as we prefer to include as much as we can, rather than see our clients incur considerable additional costs in our destinations.
Prices
Departure dates between

Wed 02 Jan 2019
to
Thu 10 Jan 2019

Book now

Book

3 Nights

£ 795

Extra Night

£ 145

Fri 11 Jan 2019
to
Thu 14 Feb 2019

Book now

Book

3 Nights

£ 725

Extra Night

£ 115

Fri 15 Feb 2019
to
Thu 21 Feb 2019

Book now

Book

3 Nights

£ 755

Extra Night

£ 115

Fri 22 Feb 2019
to
Fri 29 Mar 2019

Book now

Book

3 Nights

£ 725

Extra Night

£ 115
Next season's pre-sale dates and prices
To secure your holiday for next season, you can make a pre-sale booking and fix the price of your trip at the pre-sale price displayed below. Simply by paying an initial deposit of £50pp, you will protect yourself from any package price increases. The departure dates and itineraries remain preliminary and we will contact you when the final dates and itineraries are confirmed, you will then have 14 days to decide if you would like to go ahead. Should you wish to proceed, the remaining deposit will be payable at this stage. If you decide not to travel, we will refund your initial £50pp payment. We reserve the right to charge supplements where there are significant changes to an itinerary or increases in flight costs. Any non-package rates remain subject to change.
Departure dates between

Fri 08 Feb 2019
to
Mon 11 Feb 2019

Enquire

3 Nights

£ 895

Extra Night

£ 120

Wed 01 Jan 2020
to
Thu 09 Jan 2020

Enquire

3 Nights

£ 960

Extra Night

£ 165

Fri 10 Jan 2020
to
Thu 06 Feb 2020

Enquire

3 Nights

£ 925

Extra Night

£ 130

Fri 07 Feb 2020
to
Mon 17 Feb 2020

Enquire

3 Nights

£ 925

Extra Night

£ 125

Fri 14 Feb 2020
to
Thu 20 Feb 2020

Enquire

3 Nights

£ 850

Extra Night

£ 130

Tue 18 Feb 2020
to
Sat 28 Mar 2020

Enquire

3 Nights

£ 810

Extra Night

£ 125

Fri 21 Feb 2020
to
Fri 27 Mar 2020

Enquire

3 Nights

£ 815

Extra Night

£ 130
Terms
For our full booking terms and conditions please click here
Holiday group size (approximate)
Minimum of two people, maximum can vary for activities
Group sizes
Most of our holidays require a minimum number of participants to operate. Minimum numbers are detailed on each holiday page and are always approximate. Group sizes for tailor-made holidays will vary for each of the activities. For private departures, you may also be joined by other guests during the activities unless you have discussed specific private activities with us.
If your selected date has not yet reached minimum numbers, you will be informed at the time of booking. In the unlikely event that your chosen date has not reached the required minimum numbers nine weeks before your scheduled departure date, we will contact you and discuss the various options available to you. We will always do all we can to operate a holiday and in some cases, we may be able to operate the holiday by combining your itinerary with that of other guests for some activities (this may mean that the maximum group size is increased but this will be discussed in full with you).
If we are unable to operate the holiday, then you will be offered the chance to transfer to an alternative holiday or date (subject to availability). If the alternative is more expensive you will be asked to pay the difference, if it is cheaper then you will be reimbursed. You will also be offered the option to cancel and receive a full refund of all monies paid.
Minimum age
Unless otherwise stated in the 'Key Facts', the minimum age for participation in an Artisan holiday is typically 8 years old (there may be younger children in some destinations who have booked with other companies). If an adult only environment is important to you, then please contact our Travel Experts and they will advise on the best dates and destinations for you. If you are looking for a holiday designed specifically for families then please see our sister company: www.activitiesabroad.com
Single supplements
Please note that some of our holidays may incur a single supplement. Please speak to one of our Travel Experts who will provide you with a quotation.
Medical history and advice
You must inform us at the time of booking if any of your party has a disability, medical or behavioural conditions which could affect their own participation in the holiday or indeed that of the other people on the holiday.
We cannot be held responsible for any incident or event arising from your failure to do so.
Reduced mobility
If you have a reduced level of mobility, then please contact our Travel Experts to discuss the suitability of this holiday in relation to your requirements.
Experience and fitness
Any activities included in your itinerary are all designed for beginners. Full instruction and tuition are provided for all activities and you do not need to have any previous experience. For example, you need never have set foot on a pair of skis of any kind before a cross-country ski tour. We have adults of all ages and fitness levels taking part in our holidays.
We do highlight certain itineraries where an increased level of fitness is required. If you have any questions at all with regards to fitness levels please get in touch and talk to one of our experts. You can find further details in our trip preparation section online. You must inform us at the time of booking if any of your party has a disability, medical or behavioural conditions which could affect their own participation in the holiday or indeed that of the other people on the holiday.
Guides and safety
It is essential when partaking in any activity that you listen very closely to, and abide by, the instructions provided. Nobody knows the environment better than our activity providers who work here almost every day.
Consequently, their knowledge and experience are unsurpassed. If there is anything that you are unsure of during a safety briefing or that you would like to clarify with the guides, please make this clear to them immediately before starting the activity.
There may be rare occasions when our guides consider local conditions unsuitable for a certain activity. Hence, your itinerary may be subject to change at short notice, but we will always endeavour to firstly find a replacement on the day and secondly, to provide the cancelled activity later in your stay whenever possible. Very occasionally it proves impossible to provide the activity in which case you will be refunded when you return home.
Our guides' word on activities is always final and your safety is their principal concern at all times, please respect their decisions. By following their instructions, your safety and enjoyment during each activity will be greatly enhanced.
You must inform us of any medical conditions that may affect your participation in an activity at the time of booking.
Booking activities locally
In almost all our destinations, you can book and pay for additional activities locally. Please note that we cannot be held responsible for any injury or loss that occurs through any activities that are booked in your destination (see our terms and conditions for further details).
Please always ensure that your safety is your primary concern when arranging any such activity.
Car hire
If your trip includes car hire the named driver must have a credit card registered in their name which they can present when they collect their car along with their driving licence, as a deposit will be held on the credit card. Please see your trip dossier for full details.
Reviews
Traveller Reviews
I can't fault anything, or think of a single thing to improve it. Perfect.
30 March 2018
by Steph & Gary Green
Excellent not strong enough rating for Graham Hughes who helped me choose the right holiday for me (I have difficulties with mobility) and always there with his expertise and knowledge. I felt totally secure and reassured thanks Graham! I felt like I had a friend not a holiday rep.Felt very personal it was a pleasure booking with you, I'm so very glad I found your website and Graham started the…
Read more online chat. Feel lucky. Also can't give high enough rating to the staff at the village and the holiday as a whole. The guides were excellent, giving clear instruction and keeping us safe at the same time as making sure we had a great time and getting the most out of it. Fantastic magical unforgettable experiences. Every single thing we did was so fab - we did huskies twice, reindeer sleigh, snowmobile, feed the polar bear, finn horse sleigh at night and visited the wildlife park. The accomodation was superb, immaculate with everything you need and more - so cosy and warm when you returned from an activity. And mobility problems or not I made the most of the sauna in the bathroom too and jumped in the snow with Gary! It had to be done. But if I have to choose I will say the husky sleds. This holiday was a special surprise for my husband who loves huskies and it was a dream for him to experience this. The dogs are so wonderful and it was magical. That word keeps coming into my mind as I think about the holiday. This experience will stay in my heart forever. I feel quite emotional thinking about it. The staff at the village were lovely and really looked after me. They went the extra mile for me to make sure I could do everything and it wasn't too difficult for me - I had plenty of sleigh rides or snowmobile lifts to activities to help me get to and from activities that were a bit too far for me to manage! Wonderful people. One of the guides, Yesse, even insisted on driving me to the top of the wildlife park to see the wolves and wolverine, then came and picked me up and took me home when I was ready. For the feed the polar bear activity they took the whole group there and back on a sleigh so that was easy for me too.I did everything. Gary made the most of his time too, sledging in every spare minute! Totally unforgettable, the best holiday ever and I've had some good ones. Thank you thank you thank you
Read less
I loved the holiday, I loved the accommodation and the excursions. I want to go back again!!!!
16 February 2018
by Anita and Anthony Greenfield
I loved the excitement of the huskies barking and leaping about. The scenery was fantastic just like a Christmas card! made all the better by the blue skies and sunshine. Speaking to the owners afterwards and being able to have wonderful photos taken with the huskies.
We had a brilliant time
09 February 2018
by Jacqueline & Peter Terry
Everything was excellent with great accommodation & very helpful staff at Gulo Gulo where nothing was too much trouble.
The holiday was very good
05 February 2018
by John and Veronica Rawstrone
The holiday was very good, and as always we enjoyed the activities booked especially the huskeys, each time we go for this activity we book a longer one. Sooooo enjoyable and in some cases relaxing. Thanks to all who made our holiday so enjoyable.
Would we recommend it? YES!!!!
22 January 2018
by Susan & Peter Doughty
OMG, the best experience!! Every year we go somewhere 'different' - different as in not our usual beach lay around the pool holiday. So far we have visited Iceland, Moscow and Budapest but Finland is our firm favourite. Everything you need is there, just pack your thermals and go! No need for expensive clothes literally everything is given to you. A few base layers and thermals are all you need to…
Read more pack and something to eat dinner in if you go to the restaurant i.e. some jeans rather than your thermals! The lodges are lovely, again everything you need is there. The beds were super comfy after a long day of activities and the sauna helped those aching muscles. All the staff and instructors were super friendly and made every activity really enjoyable. We squashed 7 activities into our 3-day stay (we didn't get there until lunchtime on the first day) but never felt rushed from one to another as everything is so laid back. We went with another couple and got chatting to so many other people everyone was commenting on what a great time they were having and swapping stories. During each activity, you get a rest period where you make a campfire, cook sausages and get a hot berry juice. Such a lovely touch and when new friendships were made. Any criticism? They could do with a bar/lounge area for after the last activities which end around 10 pm to sit and chill out and chat with your new friends; everything is shut when you come back. Best bit? The 4hr snowmobile safari, we covered over 70km. Would we recommend it? YES!!!!
Read less
I would highly recommend this holiday
22 January 2018
by Ryan and Anna-Marie Holliday
The best experience was the husky sledding closely followed by ice fishing. The guide we had for ice fishing was very experienced and knowledgeable and it made it even better that we were the only two people on the tour so we got a very personal service! Normally on a package holiday, the tours wouldn't run with only two people booked on so we were very impressed.The reception team were very…
Read more friendly and helpful.
Read less
Iso-Syote
16 January 2018
by Anthony Schneider and Elaine Parker
The dog sledging was unique and exhilarating.
---
---