Overview
This short break at Sörbyn Lodge has plenty of activities to let you experience the very best of Swedish Lapland. Drive your own husky sled, snowshoe in search of the Northern Lights, zoom over the landscape on snowmobiles, and learn how to ice fish like a local. The lodge is renowned for its amazing hospitality and restaurant menu, making for a luxurious stay.
What's included?
Transfers: Return airport transfers
Accommodation: 3 nights accommodation in double or twin room at Sörbyn Lodge
Meals: 3 breakfasts, 2 lunches, 3 dinners
Included activities (December departure ONLY): Husky safari, ice fishing, full-day snowmobile safari (50km), Northern Lights snowshoes (the order of activities is subject to change)
Included activities (January onwards ONLY): Husky safari, ice fishing, three-hour snowmobile safari, Northern Lights snowshoes (the order of activities is subject to change)
Cold weather clothing is provided for the duration of your stay
Services of our expert local guides
A note on flights: Flights are not included in the holiday price so that the best possible fares and schedule can be found at the time of booking. Both low cost and scheduled airlines serve Luleå Airport and our travel experts will happily provide a quotation and arrange the flights as part of the package.
---
Experience the very best of Swedish hospitality at the homely Sörbyn Lodge in Lulea while getting a taste of some the most popular Scandinavian activities. Despite being a remote destination, the lodge offers wonderful hotel rooms and an exceptional restaurant food. Sat next to a pretty frozen lake and surrounded by wilderness, it is a magical place for a short getaway.
During your time here in Sorbyn, you will get to drive a husky sled over the snow, losing yourself in the fast-paced and surprisingly quiet drive of the pack. You will try the local pastime of ice fishing, learning from an expert guide how to drill through the ice and set up a line.
Thanks to the excellent Aurora-viewing potential of this location, you will be well-placed for a display. Enjoy a session of night-time snowshoeing in search of the Northern Lights, learning about the local fauna and flora as you go along.
There will also be the chance to try out snowmobiling. Choose a December departure and you will head off on an epic 50km ride over the whiteness. Travel from January onwards and you will do a three-hour snowmobile safari – a shorter activity, but equally as thrilling.
Should you wish to stay on in Swedish Lapland at the end of your stay, we can arrange for you to spend a night in the marvellous Treehotel, or to visit a local Aurora Safari Camp for a taste of Arctic glamping.
At the end of your stay, there is also the possibility to add an additional night in one of two amazing locations. You can upgrade to the Treehotel, one of Sweden's most iconic hotels, or add on a night in a comfortable and charming Aurora Safari Camp for some serious Arctic glamping.
---
©

Tomas Jönsson, Graeme Richardson
View Gallery
Download Dossier
Key facts
| | |
| --- | --- |
| Duration: | 3 nights |
| Pace: | Active |
| Suitable for: | Anybody over the age of 18. See our terms for further information. |
Make an enquiry
Agenda
Accommodation
Included in price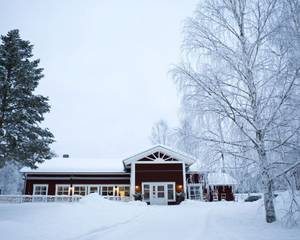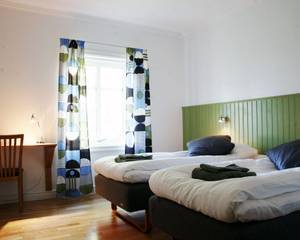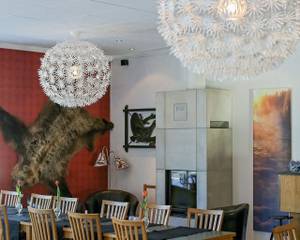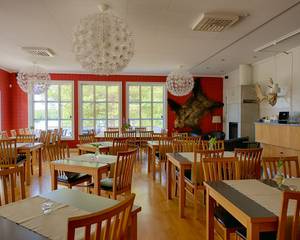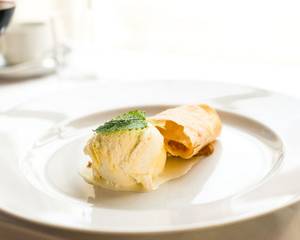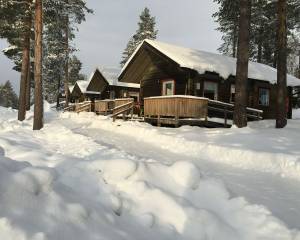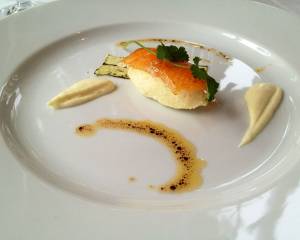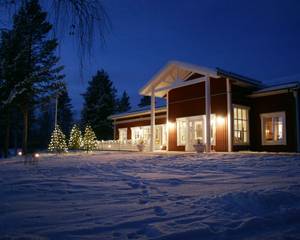 Sörbyn Lodge
Nights:
1-3
Lying in the heart of one of the most beautiful areas of Swedish Lapland, Sörbyn Lodge is an absolute gem that we cannot recommend highly enough.
Nestled on the edge of a frozen lake, it is also an exceptional Aurora viewing spot should the conditions be favourable.
Sörbyn Lodge is located on the edge of the village of Sörbyn and approximately one hour from Luleå Airport.
One of the most appealing features of the area is that it remains relatively undiscovered in tourism terms; therefore you will immediately sense a cosier and more personal ambience. The lodge was developed with a huge amount of input from the community and is family run; the atmosphere truly reflects this.
Hotel facilities
The hotel restaurant (situated in the main building) is one of the finest in the region. Here pride is taken to craft and present the local produce to a very high standard.
A well stocked bar and lounge area (with a large log fire) provide the perfect setting for an after dinner tipple.
Tea and coffee making facilities are available in the corridor of the accommodation wing.
A short walk from the hotel there is also a traditional sauna that can be used by guests and this can be pre-booked locally (additional charges may apply).
Guest bedroom types
The eight guest bedrooms have been uniquely designed to reflect the climate in this part of the world. Well furnished and offering the modern comforts of TV and Wi-Fi, each guest bedroom has an ensuite bathroom with toilet and shower. With only eight rooms this is small scale accommodation at its very best.
Read more
Read less
---
Other options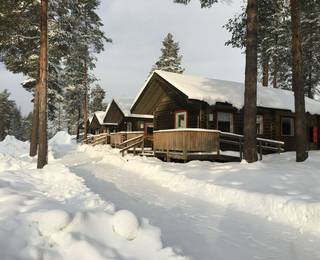 Sörbyn Cabins
A short walk from the main lodge there are a number of cabins which guests can also choose to stay in for the duration of their holiday.
The recently renovated cabins offer guests their own space in which to relax after a day of activity.
All meals are served in the lodge's main restaurant so you can enjoy the delicious menus on offer during your stay.
Cabin facilities
These cosy cabins feature one bedroom with either a double or twin beds and a sofa bed in the living room. The living room is a great place to relax after a day in the Great Outdoors
The cabins have their own small kitchenette so we recommend taking your own tea and coffee supplies if you would like to enjoy hot drinks during your stay
The cabins have their own private bathrooms with hairdryers
Each cabin has wireless internet access
Credit: Graeme Richardson
Read more
Read less
Personalise
Personalise this tour
---
Our pick
Spend a night at The Treehotel
An incredible example of the talent and imagination of Swedish architecture, the Treehotel is one of the most sought after accommodation options in Swedish Lapland.
Here you can spend the night in one of the remarkable concept rooms. You can choose from The UFO (any sci-fi addicts dream), The Bird's Nest tucked high up in the trees, The Mirror Cube with its stunning exterior, The Cabin with its delightful interior or The Blue Cone which offers wonderful views a bit closer to the ground. All of the rooms are surrounded by the forest and offer an unforgettable place in which to end your holiday.
This one night package is an ideal extension to your trip and includes an overnight at the Treehotel (based on two sharing a tree room, excludes The Dragon Fly), a delicious three-course meal at the nearby Britta's Guesthouse, breakfast and transfers to the airport the following day.
---
Other options
Activities
Stockholm winter city break
As the majority of our holidays in Sweden include flights which connect through Stockholm, we do encourage our guests to take advantage of the chance to visit this wonderful city.
Stockholm is frequently depicted as one of Europe's most beautiful cities and presents a welcoming combination of modernity with its dazzling cityscape of islands and a more historic feel with harbour side houses and cobbled streets.
Read more about this activity
Our favourite places to visit include the Nobel Prize Museum showcasing past recipients, as well as Drottningham Palace, the home of the Swedish Royal family. For nature lovers we would also suggest a visit to the beautiful island of Bjorko and the UNESCO listed Woodland Cemetery (Skogskyrkogården).
One of the best things about Stockholm is that is a simple and straightforward city to navigate. In particular it has efficient public transport in the form of its Metro, whose beautifully decorated stations have led to it being labelled as the longest art gallery in the world.
When it comes to food and drink the city has an array of restaurants which offer both traditional Swedish food and nouveau Nordic cuisine.
Overall, the city is an excellent base for stopovers with an array of attractions for visitors. Please get in touch with our Travel Experts if you would like to discuss this further.
Please note that any stopover is subject to flight availability.


Image credit: Helena Wahlman & Imagebank.sweden.se
Special Nights
Aurora safari camp
This modern Aurora Safari Camp is one of the most comfortable and cosy camps we have discovered in Lapland. This is the brainchild of renowned Swedish photographer, Fredrik Broman, who was inspired by the safari camps of Kenya. He has brought a touch of rustic luxury to the wilderness of Sweden.
Read more about this activity
At the camp, you will sleep in one of the lavvus (a traditional Sámi tepee), tucked in a remote forest location. They are all equipped with Arctic grade sleeping bags, comfortable chairs, heaters and a shared eco toilet and washroom located around 25 metres from the tents.
There's a central 'lounge' tent where meals and drinks are enjoyed, as well as a campfire outside, ideal for guests awaiting a potential display of the Northern Lights.
The view of the night sky and Northern Lights from here can be outstanding and from our experience guests enjoy an excellent night's sleep in the complete silence of the wilderness.
You will enjoy a delicious evening meal at the camp and breakfast the next day before you are transferred to the airport for your return flights home.
Image credit: Fredrik Broman
Dates & Prices
We include more, no hidden costs
On each of our holidays you will see a clear outline of exactly what's included in the price of your holiday. We never use 'headline' or 'lead-in' prices like so many tour operators, as we prefer to include as much as we can, rather than see our clients incur considerable additional costs in our destinations.
Single supplement: Price for a single traveller is based on a single room but sharing the transfer and a snowmobile. If you would like to drive your own snowmobile please ask our Travel Experts for a quotation.
Prices
Next season's provisional dates and prices
To secure places for next season, you can make a provisional booking and fix the cost of your holiday at the provisional package price displayed online. Simply by paying a deposit, you will protect yourself from any package price increases. The departure dates and itineraries remain subject to change and we will contact you when the final dates and itineraries are confirmed. You will have 14 days to decide if you would like to go ahead. If you decide not to travel we will refund your deposit. We reserve the right to charge supplements where there are significant changes to an itinerary or increases in flight costs. Any non-package rates remain subject to change.
Dates

Tue 18 Dec 2018
to
Fri 21 Dec 2018

Enquire

Adults

£ 1,680

Single Adult

£ 1,795

Sun 06 Jan 2019
to
Wed 09 Jan 2019

Enquire

Adults

£ 1,605

Single Adult

£ 1,720

Sun 13 Jan 2019
to
Wed 16 Jan 2019

Enquire

Adults

£ 1,605

Single Adult

£ 1,720

Sun 20 Jan 2019
to
Wed 23 Jan 2019

Enquire

Adults

£ 1,605

Single Adult

£ 1,720

Sun 27 Jan 2019
to
Wed 30 Jan 2019

Enquire

Adults

£ 1,605

Single Adult

£ 1,720

Sun 03 Feb 2019
to
Wed 06 Feb 2019

Enquire

Adults

£ 1,605

Single Adult

£ 1,720

Sun 24 Feb 2019
to
Wed 27 Feb 2019

Enquire

Adults

£ 1,605

Single Adult

£ 1,720

Sun 03 Mar 2019
to
Wed 06 Mar 2019

Enquire

Adults

£ 1,605

Single Adult

£ 1,720

Sun 10 Mar 2019
to
Wed 13 Mar 2019

Enquire

Adults

£ 1,605

Single Adult

£ 1,720
Terms
For our full booking terms and conditions please click here
Holiday group size (approximate)
Minimum 2 people; maximum 24 people
Group sizes
Most of our holidays require a minimum number of participants to operate. Minimum numbers are detailed on each holiday page and are always approximate. Group sizes for tailor made holidays will vary for each of the activities. For private departures you may also be joined by other guests during the activities unless you have discussed specific private activities with us.
If your selected date has not yet reached minimum numbers you will be informed at the time of booking. In the unlikely event that your chosen date has not reached the required minimum numbers nine weeks before your scheduled departure date we will contact you and discuss the various options available to you. We will always do all we can to operate a holiday and in some cases we may be able to operate the holiday by combining your itinerary with that of other guests for some activities (this may mean that the maximum group size is increased but this will be discussed in full with you).
If we are unable to operate the holiday then you will be offered the chance to transfer to an alternative holiday or date (subject to availability). If the alternative is more expensive you will be asked to pay the difference, if it is cheaper then you will be reimbursed. You will also be offered the option to cancel and receive a full refund of all monies paid.
Minimum age
Whilst Artisan Travel only sells holidays to those aged 18 years and over on a small selection of holidays there may be those under the age of 18 who have booked with other companies and where our local supplier also allow those under 18 to participate (additional activities during tailor made holidays for example). Our travel experts will answer any concerns you may have in this regard.
Medical History and advice
You must inform us at the time of booking if any of your party has a disability, medical or behavioural conditions which could affect their own participation in the holiday or indeed that of the other people on the holiday.
We cannot be held responsible for any incident or event arising from your failure to do so.
Experience and fitness
Any activities included in your itinerary are all designed for beginners. Full instruction and tuition is provided for all activities and you do not need to have any previous experience. For example you need never have set foot on a pair of skis of any kind before a cross-country ski tour. We have adults of all ages and fitness levels taking part in our holidays.
We do highlight certain itineraries where an increased level of fitness is required.If you have any questions at all with regards to fitness levels please get in touch and talk to one of our experts. You can find further details in our trip preparation section online. You must inform us at the time of booking if any of your party has a disability, medical or behavioural conditions which could affect their own participation in the holiday or indeed that of the other people on the holiday.
Guides and safety
It is absolutely essential when partaking in any activity that you listen very closely to, and abide by, the instructions provided. Nobody knows the environment better than our activity providers who work here almost everyday.
Consequently, their knowledge and experience is unsurpassed. If there is anything that you are unsure of during a safety briefing or that you would like to clarify with the guides please make this clear to them immediately before starting the activity.
There may be rare occasions when our guides consider local conditions unsuitable for a certain activity. Hence, your itinerary may be subject to change at short notice but we will always endeavour to firstly find a replacement on the day and secondly, to provide the cancelled activity later in your stay whenever possible. Very occasionally it proves impossible to provide the activity in which case you will be refunded when you return home.
Our guides' word on activities is always final and your safety is their principal concern at all times, please respect their decisions. By following their instructions, your safety and enjoyment during each activity will be greatly enhanced.
You must inform us of any medical conditions that may affect your participation in an activity at the time of booking.
Booking activities locally
In almost all of our destinations you can book and pay for additional activities locally. Please note that we cannot be held responsible for any injury or loss that occurs through any activities that are booked in your destination (see our terms and conditions for further details).
Please always ensure that your safety is your primary concern when arranging any such activity.
Car Hire
If your trip includes car hire the named driver must have a credit card registered in their name which they can present when they collect their car along with their driving licence, as a deposit will be held on the credit card. Please see your trip dossier for full details.
---
---