Land of the Midnight Sun
Image credits: Sherman Hogue , Explore Fairbanks, Arctic Range Adventure Ltd
Travel to the Land of The Midnight Sun – Episode 3
The third and final part of Alexander Armstrong's Arctic adventure sees the affable presenter travel to North America's furthest extremes. In Canada, he visits the gold rush town of Dawson City and flies across the mighty Yukon River. From Canada, Armstrong's journey ends in Alaska where he joins an Ice Road Trucker on the Dalton Highway and witnesses a spectacular display of the Northern Lights.
Many of the places he visits are very much "off-the-beaten-track" but here at Artisan Travel, we have worked closely with local suppliers in both Alaska and the Yukon to create holidays which allow you to make the absolute most of your stay in these remarkable places.
If you have been inspired by what you have seen then read on and discover a wealth of unforgettable opportunities which are delivered to you by a group of true experts and guides dedicated to sharing The Land of the Midnight Sun with their guests.
About Land of the Midnight Sun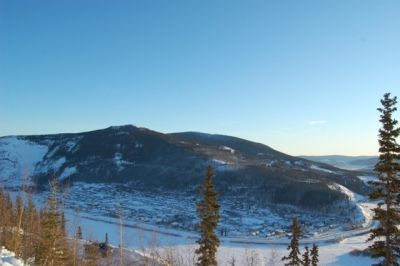 The Yukon and The Last Great Gold Rush
In this episode, Armstrong travels to Dawson City which sits on what was originally a mosquito infested swamp on the confluence of the Yukon and Klondike Rivers. It was near here in 1896 that George Carmacks noticed gold deposits while salmon fishing that would be the cause of what is now known as "The Last Great Gold Rush".
Armstrong learns that Dawson City has lost none of its Gold Rush charm and describes it rather affectionately as being
"....exactly what I was expecting a gold rush town to look like. If you listen hard, you can almost hear the ghostly piano playing downstairs and maybe a few chairs being broken over people's heads."
Read more
Broken chairs and barroom brawls notwithstanding, Armstrong succinctly captures the enduring mood of this one time boom town and learns that the current high price of gold is once again attracting latter day prospectors to the Yukon. Indeed, he joins one such fortune hunter at his claim site and digs for gold himself before returning to Dawson City and trying a rather unpleasant local drink, the "Sourtoe Cocktail". We wouldn't recommend it ourselves.
Alaska – Auroras, Ice Roads and Bush Pilots
Armstrong's journey finishes in Alaska where, after spending a night in the wilderness and witnessing a stunning auroral display, he joins an Ice Road Trucker on the Dalton Highway between Fairbanks and Coldfoot. The Dalton is one of the roads featured in "Ice Road Truckers" and is known as one of the most dangerous in the world.
Armstrong witnesses a couple of incidents along the route and learns how the trucking community works very much as a team to ensure survival in what can be an extremely inhospitable environment. With winter temperatures dropping as low as -60C in winter and snowy blizzards reducing visibility to practically zero, this can be a dangerous place to live and work and anybody whose vehicle breaks down can face serious peril.
Read more
Armstrong sees how the truckers and other road users always stop to lend a hand in such circumstances.
From Coldfoot, Armstrong flies further north to the tiny settlement at Anaktuvuk and in the process learns just how important small aircraft and bush pilots are to Alaska's more remote communities which very often are not accessible by road.