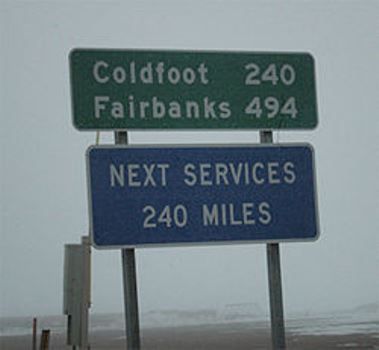 It's a bit of a hike to the shops if you run out of milk
.....and that's a long, long way to the nearest shop. What's more, it has to be driven on an "Ice" road although…..whisper it quietly……in this case "Ice" road is a bit of a misnomer.
If you've watched the TV show, you'll have doubtless seen dramatic footage of ice creaking ominously under the huge weight of these hefty vehicles as they rumble across frozen lakes, marshes and other water courses. This doesn't actually happen on the Dalton Highway. The Dalton is largely gravel and tarmac and, in winter, its surface becomes compacted ice and snow but, at no point does the highway actually cross a frozen waterway.
Regardless, The Dalton is considered to be one of the most dangerous roads in the Northern Hemisphere especially in winter when snowy blizzards whip across the road and visibility can be reduced to virtually zero. Anybody driving its course is advised to carry survival gear and supplies, to watch out for huge potholes and be prepared for temperatures as low as -60°C/-80°F. Most imperative of all however, is the Dalton's Rule No.1: Trucks have right of way.

Rule No.1: Trucks have right of way on the Dalton Highway
My own journey on The Dalton started in Coldfoot, the truckers' stop that punctuates the highway almost midway between Fairbanks and Deadhorse. As we pulled into the main parking area, it was immediately obvious that the truck is king of the road here and we immediately encountered four of them idling side by side with their engines still running. We later learned that the drivers always leave the engines running while they themselves are inside refuelling because, in the Arctic cold, it can be the devil's work to restart a stalled engine.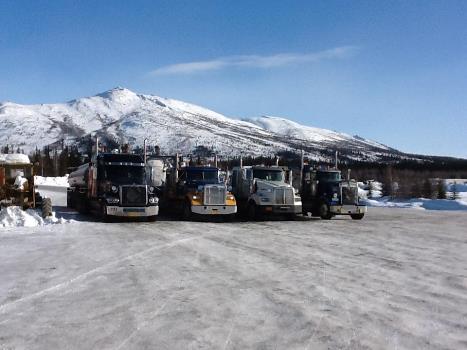 Engines running while their drivers take a well earned break
Coldfoot's main purpose is to serve as a truck stop but fascination with "Ice Road Truckers" and, more significantly, the Northern Lights has led to an influx of tourists who, when they are not staring in awe at the Aurora Borealis, stay in Coldfoot "hotel" accommodation (basically, converted and upgraded portacabins which were originally used to house the Alaskan Pipeline's construction workers.
Truckers only
Stepping inside the main building which house the reception and the dining quarters it was immediately obvious that the truckers are afforded a certain respect here. Whilst the tourists bring welcome revenue, it is the truckers who are Coldfoot Camp's year round bread and butter and they are afforded a separate area where mere mortals are politely requested not to tread.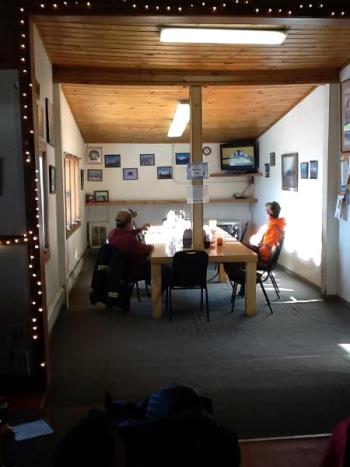 Reserved Area for Truckers Only
It's not that the drivers are inhospitable (I was soon to learn that they are an incredibly affable bunch) but they work long and tiring hours and understandably, when they pull into Coldfoot for a well-deserved meal, the last thing they need is to be mobbed by fans of the TV show. So, the truckers are provided with their very own dining area where they can watch TV, shoot the breeze with their peers, enjoy a revitalising meal and, this is considered the big, big privilege, smoke indoors. Anybody else wanting to indulge their nicotine addiction is required to do so outside in the sub-zero Arctic temperatures and to me, this perfectly illustrated what I was to see repeatedly, that, in these parts, the trucker always comes first.
Of course, they still command some attention and their segregated area had become something of a zoo-like enclosure as the tourists stood, gawped and surreptitiously snapped the occasional photograph (Ahem! Guilty as charged your honour). Little wonder that the TV faces the main reception area so that the truckers don't have to.
"Chuck Nana. Joy paid for a piece of pie for you"
At the time, this first sighting of the drivers gave the immediate impression that they were unsociable and even aloof but I was soon to learn that the opposite is true. I wandered over to the reception desk to check in for the night and notice a wooden pole with notes pinned to it including most prominently, one which read
"Chuck Nana. Joy paid for a piece of pie for you"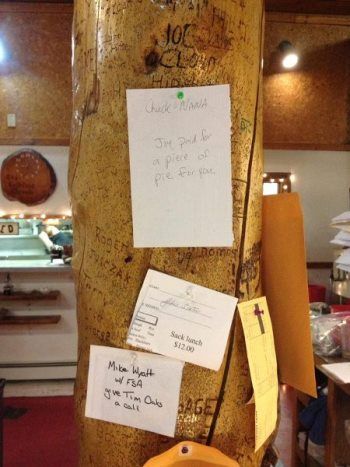 Where good deeds are rewarded and news is passed forward
This was the first indication of the camaraderie and sense of cooperation that exists among the truck driving community here on the Dalton Highway. With no mobile phone signal in this far-flung corner of North America, the CB radio (ubiquitous in every cab) and the assistance of fellow road users can amount to a matter of life and death in the event of an accident or crash. The notes pinned to the pole here at Coldfoot Camp are the truckers' way of thanking fellow road users for acts of kindness along the 414 mile route.
The plan the following morning was to head north from Coldfoot in a minibus - known on the CB Radio channels as "Little Tour Van" chauffeured by a very experienced wilderness guide who knows the Dalton Highway as well as the truckers. It all depended on the weather however, as snow storms or strong winds would result in the postponement or, worse still, cancellation of a trip which I'd been anticipating for months. Thankfully, the weather gods were on our side and as we emerged from our portacabins we were greeted by the kind of dry Arctic chill that I've come to associate with perfect Arctic days. Shamefully, I have forgotten our driver's name but when we gathered for breakfast his immediate instruction was for us to wrap up warm because on a perfectly clear day such as this we might just get as far north as Atigun Pass, the highest point on the Dalton.
Suitably fortified and dressed to protect from the bitter cold outside, our vehicle's toasty heating had us shedding layers even before we'd passed the sign saying "Next services 240 miles" and turned right onto the most beautiful road I have ever travelled in my 51 years on this planet.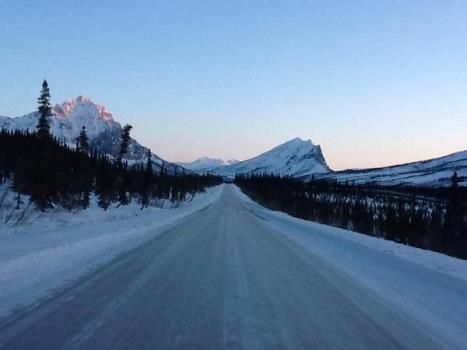 The Dalton Highway
Just "WOW!!!"
The Dalton passes through various terrains over the course of its 414 miles but the stretch from Coldfoot to Atigun has got to be the most spectacular section. I have vowed to myself that I will one day come back and explore its full length but I can't imagine that there is any section as magnificent as the 71miles we drove to the top of the pass. Basically, it is just "WOW!!" around every corner and over every crest as a new and evermore impressive vista reveals itself.
Initially, the whitish/grey road was delineated by a line of rather sorry looking yet hardy spruce trees but as we travelled further north and began to rise towards the Atigun Pass, we passed a sign saying
"Farthest North Spruce Tree on the Alaskan Pipeline
Do not cut"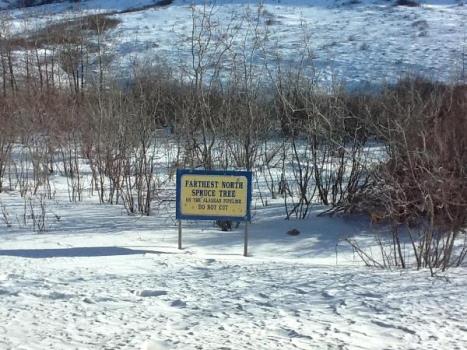 Not anymore it isn't
Naturally, some terribly amusing wag had cut down the "Farthest North Spruce Tree" and it occurred to me that somebody might want to move the sign slightly southwards until I realised that such an action was probably futile as the same fate would undoubtedly await the next title holding spruce and the next and the next so why bother?
The Brookes Range's jagged snowy peaks
The absence of trees meant that the landscape became almost as one with the road as we drove through a seemingly limitless winter landscape which gradually came into sharper focus in the form of the Brookes Range's jagged snowy peaks.
I'd urge anybody with a love of wild isolation to visit these spots. We pulled to the side of the road and simply marvelled at the sheer size and purity of it all. Apart from the Dalton's constant companion, The Alaskan Pipeline, there are virtually no signs of human influence here. Amidst all this wilderness terrain I found it strangely paradoxical that as I stood in the middle of it all, million upon millions of dollars' worth of oil were flowing south just a few metres from where I stood. However, I wasn't about to let liquid wealth spoil the occasion and rejoiced in the immensity of the landscape.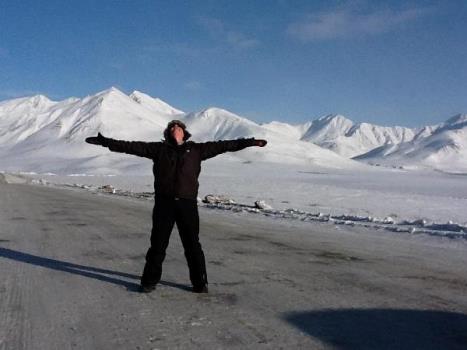 My idea of heaven
Reading through what I have written thus far, I can't help but notice that I have digressed alarmingly from the original purpose of this missive which was to inform about the people who use the Dalton Highway on a daily basis, the truckers.
Ice Road Truckers
Landscapes notwithstanding, the most noticeable thing about our drive along the Dalton was the trucks and their drivers. As soon as we turned onto the "Haul Road" as it is often referred to, the CB radio in our minibus started to crackle with news of happenings elsewhere on the route. Whether it was warnings about winds at the top of the Atigun Pass or a minor incident further south where the Dalton crosses the mighty Yukon River (by bridge!), it swiftly became evident that this is a community of people who look after their own. It was also very clear that they have a huge amount of consideration for road users other than their fellow truckers, users who they might understandably view as being an inconvenience.
For one reason or another, I had assumed that the truckers would be gruff, possibly irritable giants who would gladly have swatted our minor minibus irritant that was sharing their road as they might a mosquito in summer. Nothing could have been further from the truth and it was immediately obvious that clear and polite communication is the cornerstone of safe driving here. We were made aware over the radio of every vehicle in our proximity regardless of whether it was approaching us from the front or behind.
The reason for this constant stream of information didn't really become clear until we had driven some miles further north where there was more loose snow lying on the road surface. Until then, when a truck passed us going in either direction, we had marvelled at the power of these bulky haulage vehicles and enjoyed a brief yet always friendly chat with their drivers. Every driver that passed in the opposite direction acknowledged us with a barely distinguishable yet always friendly wave from behind cab windows which seemed disproportionally small in comparison to the wonderfully retro cabs that house them.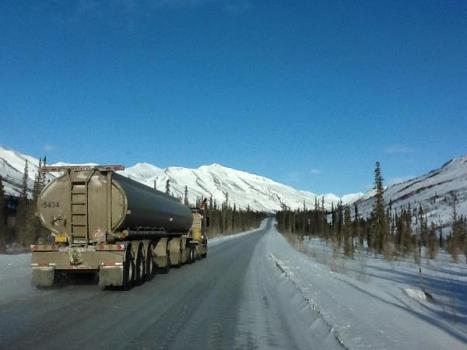 "Coming right past you"
Watch as our "Little Tour Van" is passed by a terribly polite trucker
However, once there was snow on the road, the passing vehicles became an altogether different proposition as they threw up a flurry of loose, powdery snow which would completely obliterate our view of the highway.
The first time it happened was really rather sobering and we were immediately appreciative of why so much advanced warning is provided here on the Dalton Highway. This was a perfect driving day with crystal clear views and, despite our driver having slowed almost to a halt as the truck sped by, we were rendered temporarily blind. Suddenly, the harsh and dangerous reality of ice road trucking was brought sharply into focus although, it being such a beautiful day, we emerged almost immediately from our visionless state and it was still hard to imagine just how difficult it must be during a winter storm of the kind of ferocity that is typical here in the Arctic.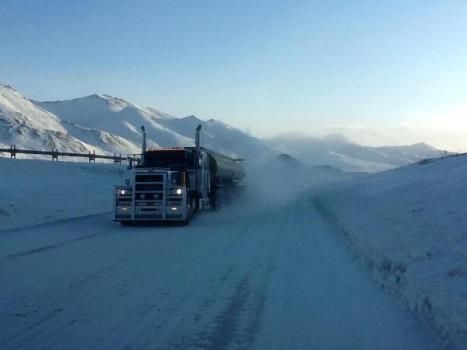 A passing truck leaves a flurry of loose ice and snow in its wake
Here on the Dalton Highway everybody's back is covered
Thanks to the expertise of our driver and the spirit of communication amongst the Ice Road's many users, we safely reached the top of the Atigun Pass. It was an unforgettable journey on certainly the most dramatically picturesque road I have ever travelled but far more than that, it revealed a work ethic based on trust and shared cooperation that is all too often missing in the modern corporate world. Here on the Dalton Highway everybody's back is covered by their fellow drivers. In this inhospitable terrain, stopping to assist a fellow human being can save lives pure and simple and every trucker who plies his or her trade on the Dalton is more than aware of their obligation and duty to others on the same highway.
I loved the Dalton Highway; it is one of the finest and most remarkable places I have ever visited but even better than those fabulous Arctic backdrops were the people I never actually met face to face. The closest I came to actually meeting a trucker was when I took a couple of sneaky photographs of them relaxing at Coldfoot Camp. Nevertheless, the notes on the wooden pole at reception and the spirit of trust, cooperation and camaraderie that exists on the road has engendered an even greater respect for these "Giants of the Road". I've watched Ice Road Truckers ever since and have done so with a renewed respect for these amazing folk.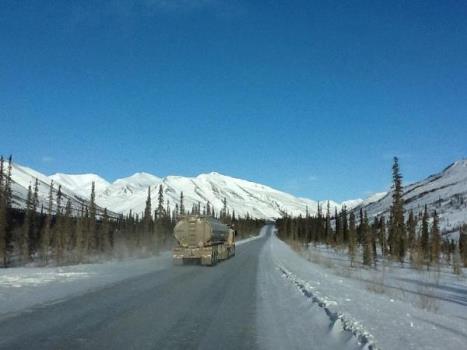 Fancy an Alaskan holiday? Click here for some inspirational ideas