Portugal
Portugal is an enticing mix of tradition and modernity and there is no better way to experience is all than on a small ship cruise.
About
Strangely enough, whilst we feature Portugal as a destination, only one of our holidays actually touches ground on the mainland. We feel that mainland Portugal is pretty well covered these days. The Algarve has long been a haunt for holidaymakers but nowadays, the Lisbon and Alentejo Coasts have become pretty accessible too.
Instead, we've focused our attention on seeing less visited parts of this captivating country and, when we do feature established holiday spots such as
Madeira
, we like to think that we've taken a different approach to holidays there.
Portugal is situated on the Iberian Peninsula where the climate is generally cooler than in other parts of southern Europe. This is especially the case along the Atlantic Coast where it's not just the beaches that attract visitors but a previously unheralded and burgeoning gastronomic and cultural reputation.
In the late 15th and 16th century, as a result of the pioneering age of discovery, Portugal expanded its influence and established the world's first global empire. Spreading throughout the world in vast numbers of territories which are now part of 53 different sovereign states, including regions in Africa, Asia and America this incredible empire has left a legacy of 250 million speakers worldwide. In Portugal, it has had an influence on everything, from culture to language to cuisine.
On our
small ship cruise
, you can start or end in one of Europe's most underrated capital cities, Lisbon, before exploring some of the countries iconic towns and cities.
Speak to our Travel Experts
01670 785 085
A Landscape of Heritage and Beauty
Portugal's location on the southernmost point of Europe includes the Madeira and Azores archipelago in the Atlantic Ocean and the country offers a plentiful array of geographical features and regions of heritage. Along Alentejo's Atlantic Coast, the landscape reflects a simple way of life, dotted with cork oaks and olives trees as well as knots of small whitewashed houses.
The landscapes of the coastal regions where we feature our small ship cruises are hilly and rugged, with small sheltered coves between the dramatic cliff backdrops.
The climate is defined as a Mediterranean one with hot dry summers and mostly mild winters, with the temperatures influenced by the country's latitude and proximity to the sea. This, in combination with the 10-12 hours of daily sunshine in the summer months, attracts millions of visitors each year.
Our small ship cruises run from May to October. It seems rather obvious to say so but sun and heat worshippers should be looking to travel in the high summer months of July and August but it's worth remembering that even coastal cities like Lisbon will be pretty warm at that time. The "shoulder" months of May, June, September and October are all very enticing. Warm but nowhere near oppressive, it's an absolute pleasure in early and late summer to watch the mainland slip by from the comfort of the good ship Panorama II Motorsailer.
Europe's Underrated Capital
Our small ship cruises either start or end in Lisbon which is very possibly the most underrated capital in Western Europe.
Lisbon is all architecture and colour. It is a city that dances to its own vibrant beat with red tiled roofing and buildings vibrantly painted in shades of lavender, pastel blues, pinks and greens amongst myriad others.
Stroll the cobbled streets, browse and buy at the eclectic flea markets, taste and dine at the fabulous Palácio Chiado food hall and marvel at the wonderful architecture. Sounds too good to be true, doesn't it? Believe it or not, it gets better because there's even a slightly milder Atlantic climate.
Large cities can be stifling, Lisbon, whilst hot, is decidedly refreshing in that respect.
Leaving Lisbon is rarely easy but it's made easier if you are departing by sea on a double-masted sailing with berths for just 49 guests and 18 crew members. You'll sail southwards arriving on the first morning at Silves.
There'll be an optional half day exploration of this delightful town which is regarded as a throwback to how the Algarve used to be before the advent of mass tourism. The red-bricked castle dominates the town's skyline and the views from atop the hill are worth any effort involved in getting there.
From Silves, your voyage continues onto Portimão where you have the option of joining a walking tour of the old town or simply doing some shopping or relaxing.
From Portimão, you'll sail eastwards passing the more touristy parts of The Algarve before entering Spanish waters. The voyage continues onto Malaga stopping to visit Jerez de la Frontera (try the sherry!), Cadiz, Sanlucar De Barrameda, Gibraltar, Ronda and Granada's finest vestige of the Moorish occupation, the magnificent and splendid Alhambra.
It's worth mentioning here that this small ship cruise sails both ways between Lisbon and Malaga. You can spend extra time in Lisbon at the end of your trip if you start the journey in Malaga.
---
Image Credits: Variety Cruises
Read more
Read less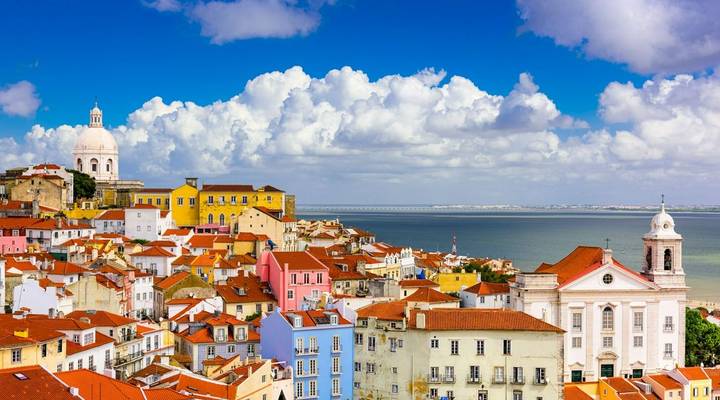 Popular holidays to Portugal
Holidays
Accommodation