Overview
Madeira is a haven for wildlife and its landscape is utterly breathtaking. The waters that surround the island are home to whales and dolphins and the island itself is brimming with natural wonder and amazement. This seven-night tour takes you from land to sea, searching for wildlife and discovering the luscious forests and towering peaks of Madeira.
What's included?
Flights: direct return flights from London to Funchal. Flight routes subject to change. Regional departures are available on request and may attract a supplement
Transfers: all transfers included
Accommodation: 7 nights' hotel accommodation in double/twin rooms
Meals: 7 breakfasts, 4 lunches, 1 dinner
The following activities are included in the holiday: East island tour with wine tasting, evening with folklore, Desertas Islands boat trip, west island jeep tour, whale and dolphin watching, snorkelling with dolphins, Levada do Rei (the order of activities is subject to change)
Fully qualified guides and instructors during activities
---
The landscape of Madeira is simply stunning and for such a small island, it has a huge variety of scenery. Towering mountain peaks covered in thick, green forests are home to a wealth of flora and fauna and the terraced hillsides are packed with colourful flowers and blooming fruit trees.
The Atlantic Ocean wraps around the Madeiran archipelago and the Gulf Stream makes the sea warm and pleasant and also a perfect year-round home for all sorts of marine life. Bottlenose and Atlantic-spotted dolphins, as well as humpback and short-finned pilot whales, are often found here in abundance, making it a wildlife lover's paradise.
This itinerary has been designed for you to explore as much of Madeira as possible and to maximise your chances of seeing wildlife on land and sea. You'll enjoy a tour of both the east and west parts of the island, travelling along the winding coastline, through the deep ravines and across the high, jagged mountain peaks. The sub-tropical climate has created beautiful forests of emerald green, filled with flowing rivers and streams and enchanting Levada, which are just asking to be explored and enjoyed. From the towering mountain peaks, you'll enjoy splendid views of the landscape beyond and the beautiful blue ocean below.
Thanks to its position in the Atlantic, Madeira enjoys warm, comfortable summers and mild winters. In fact, during most months of the year, you can enjoy the sub-tropical climate of Madeira in comfort, with average highs of 16-18°C from December to February and 18-23°C in the spring, summer and autumn, it is a fantastic place to explore across the seasons.
After exploring the island by road, you'll take part in a boat trip to the dramatic Desertas Islands, which are a haven for wildlife, including a variety of birds and a monk seal colony. You'll also get to enjoy a whale and dolphin watching cruise aboard a small boat and, if you are in luck, you'll even have the chance to snorkel with the wild dolphins as they swim in the waters below; a truly magical experience like no other.
Back on land, a guided walk along the Levada do Rei will take you through the forests and terraces that surround the beautiful valley of Sao Jorge. Walking through ancient laurel forest, keep your eyes peeled for local wildlife as you head towards a gorgeous waterfall and savour the beautiful scenery of this stunning island.
---
Image credits: Madeira Promotion Bureau, Francisco Correia, Visit Madeira, Miguel Moniz, Carlos Viveiros, Miguel Perestrelo, Madeira Promotion Bureau
Agenda
Accommodation
Included in price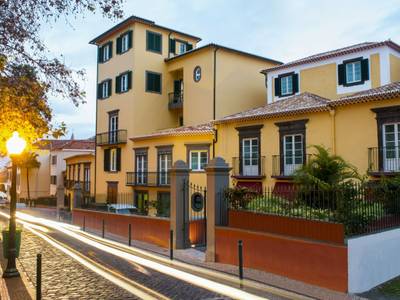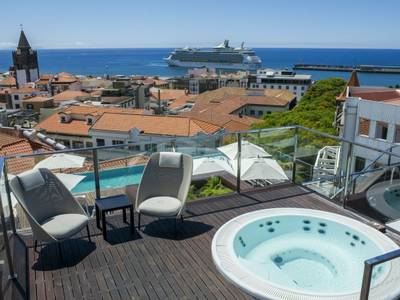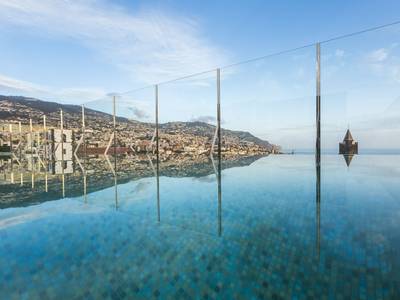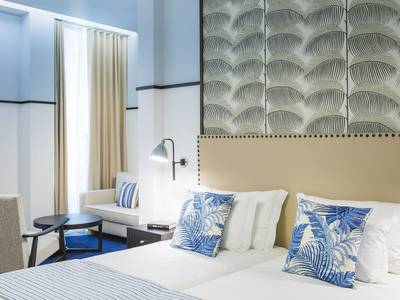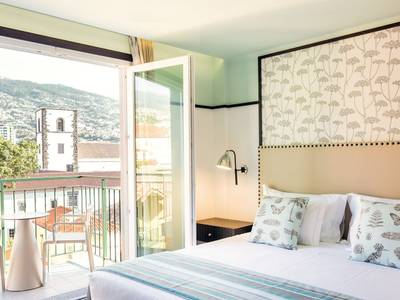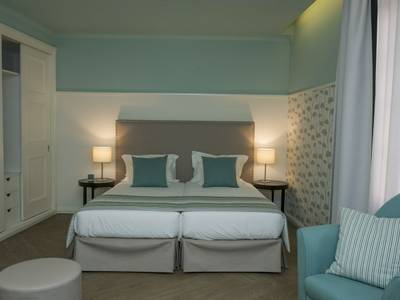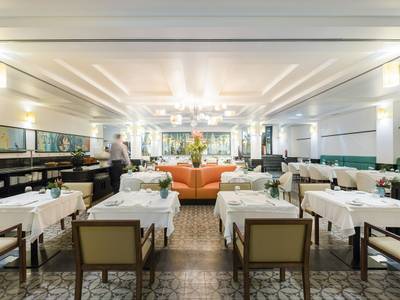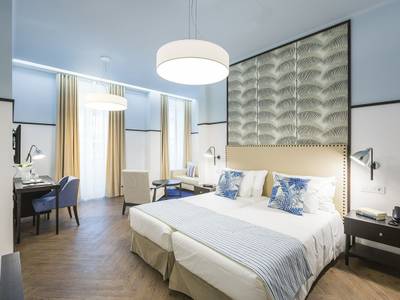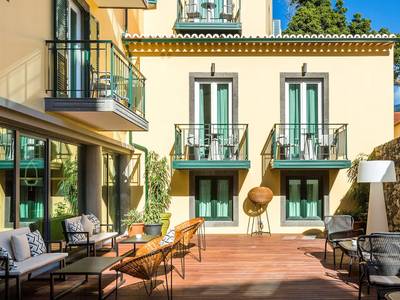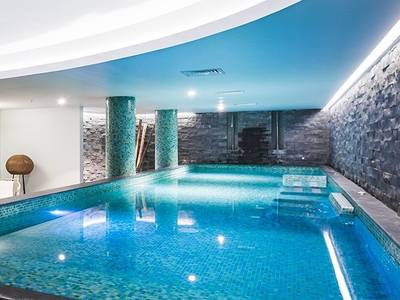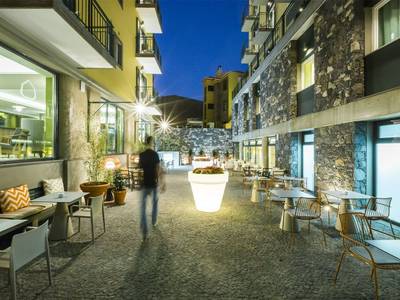 Castanheiro Boutique Hotel
Nights:
1-7
The Castanheiro Boutique Hotel is situated in Funchal's fascinating Old Town, next to the Palace of Jesuits and only steps away from a host of wonderful local restaurants, cafés and shops. The cobbled streets, terracotta-roofed buildings and beautifully painted houses make for charming surroundings.
The hotel is composed of five historical buildings, each with unique heritage and character. Spanning from the 18th – 20th centuries, the buildings have been lovingly restored and transformed into this spectacular hotel.
Hotel facilities
The hotel has a small rooftop swimming pool with wonderful views of the Old Town and the surrounding mountains
Relax by the hotel's bar and enjoy a meal in the fabulous on-site restaurant
Enjoy the spa area, complete with hydrotherapy pool, Jacuzzi and sauna
Free Wi-Fi is available throughout the hotel
For those wanting to exercise while away, there is also a small fitness room
Room options
Standard double/twin room
Our package includes accommodation in a double or twin-bedded standard room. Each room has an en-suite bathroom, as well as air conditioning, TV, telephone, hair dryer, in-room safe, minibar, robes & slippers.
Read more
Read less
---
Other options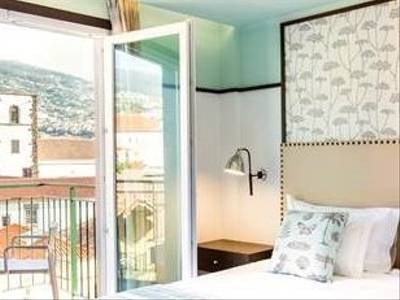 Castanheiro Boutique Hotel - upgrade
De Luxe double/twin room
These rooms have all of the same inclusions that the standard rooms do, however, they each have a balcony with table and chairs, enjoying courtyard views, as well as a small kitchenette.
Personalise
Personalise this tour
---
Our pick
Funchal's Old Town is a fascinating place to explore. This guided tour will take you to the local market 'Mercado dos Lavradores' where you'll find a huge array of fruits, flowers, spices and local delicacies.
After the market, you'll venture further into Funchal's Old Town, past the amazing 'Art of Open Doors' where artists have painted fascinating scenes on the historic doors that line the cobbled streets. The local shops and cafes are buzzing with excitement and atmosphere; it is a wonderful place to discover.
The tour ends with a chance to enjoy some wine tasting at The Wine Lodge, where you can sample some of Madeira's famous vintages.
Image credit: Visit Madeira & Francisco Correia
---
Other options
Activities
Ponta de Sao Lourenco guided walk
Ponta de Sao Lourenco is the easternmost point of Madeira. The peninsula's terrain is completely different to the rest of the island, with towering sea cliffs of red, brown and orange. With little vegetation, the walk has unobstructed views out to sea and back towards the inner mountains of Madeira.
The sea cliffs are home to numerous species of bird, such as terns, canaries and the Madeiran Storm-Petrel and on a clear day, the Desertas Islands and Porto Santo can be seen.
This guided walk takes you along the sea cliffs and to the end of the peninsula. You will be picked up from your hotel and the walk will cover approximately 8 kilometres, lasting for around 4 hours, not including transfer time.
Dates & Prices
We include more, no hidden costs
On each of our holidays you will see a clear outline of exactly what's included in the price of your holiday. We never use 'headline' or 'lead-in' prices like so many tour operators, as we prefer to include as much as we can, rather than see our clients incur considerable additional costs in our destinations.
Single travellers: please speak to our Travel Experts for a quotation
Prices
Next season's pre-sale dates and prices
To secure your holiday for next season, you can make a pre-reservation by paying only £50pp. The provisional departure dates, prices and itineraries remain subject to change. We will contact you when the final dates, prices and itineraries are confirmed and you will have 14 days to decide if you would like to go ahead. Should you wish to proceed then a further deposit (typically of £150pp) will be payable at this stage. If you decide not to travel, we will refund your initial £50pp payment. Our Travel Experts will happily provide you with full terms and a complete quotation.
Dates

Fri 29 Mar 2019
to
Fri 05 Apr 2019

Enquire

Adults

£ 1,520

Fri 26 Apr 2019
to
Fri 03 May 2019

Enquire

Adults

£ 1,355

Fri 03 May 2019
to
Fri 10 May 2019

Enquire

Adults

£ 1,420

Fri 10 May 2019
to
Fri 17 May 2019

Enquire

Adults

£ 1,385

Fri 17 May 2019
to
Fri 24 May 2019

Enquire

Adults

£ 1,420

Fri 24 May 2019
to
Fri 31 May 2019

Enquire

Adults

£ 1,655

Fri 31 May 2019
to
Fri 07 Jun 2019

Enquire

Adults

£ 1,450

Fri 07 Jun 2019
to
Fri 14 Jun 2019

Enquire

Adults

£ 1,450

Fri 14 Jun 2019
to
Fri 21 Jun 2019

Enquire

Adults

£ 1,450

Fri 21 Jun 2019
to
Fri 28 Jun 2019

Enquire

Adults

£ 1,450

Fri 28 Jun 2019
to
Fri 05 Jul 2019

Enquire

Adults

£ 1,450

Fri 05 Jul 2019
to
Fri 12 Jul 2019

Enquire

Adults

£ 1,450

Fri 12 Jul 2019
to
Fri 19 Jul 2019

Enquire

Adults

£ 1,510

Fri 19 Jul 2019
to
Fri 26 Jul 2019

Enquire

Adults

£ 1,620

Fri 26 Jul 2019
to
Fri 02 Aug 2019

Enquire

Adults

£ 1,590

Fri 02 Aug 2019
to
Fri 09 Aug 2019

Enquire

Adults

£ 1,680

Fri 09 Aug 2019
to
Fri 16 Aug 2019

Enquire

Adults

£ 1,655

Fri 16 Aug 2019
to
Fri 23 Aug 2019

Enquire

Adults

£ 1,655

Fri 23 Aug 2019
to
Fri 30 Aug 2019

Enquire

Adults

£ 1,655

Fri 30 Aug 2019
to
Fri 06 Sep 2019

Enquire

Adults

£ 1,520

Fri 06 Sep 2019
to
Fri 13 Sep 2019

Enquire

Adults

£ 1,575

Fri 13 Sep 2019
to
Fri 20 Sep 2019

Enquire

Adults

£ 1,575

Fri 20 Sep 2019
to
Fri 27 Sep 2019

Enquire

Adults

£ 1,530

Fri 27 Sep 2019
to
Fri 04 Oct 2019

Enquire

Adults

£ 1,450

Fri 04 Oct 2019
to
Fri 11 Oct 2019

Enquire

Adults

£ 1,440

Fri 11 Oct 2019
to
Fri 18 Oct 2019

Enquire

Adults

£ 1,450

Fri 18 Oct 2019
to
Fri 25 Oct 2019

Enquire

Adults

£ 1,590
Please note: Our holiday prices are based on the lowest available airline fares. These fares can sell out quickly and, as a result, prices may increase and supplements may be applicable. We recommend booking at the earliest opportunity in order to secure the best possible fares and flight times.
Terms
For our full booking terms and conditions please click here
Holiday group size (approximate)
Approximately 2 - 20 people (up to 80 people may be present during the Desertas Islands boat trip)
Group sizes
Most of our holidays require a minimum number of participants to operate. Minimum numbers are detailed on each holiday page and are always approximate. Group sizes for tailor-made holidays will vary for each of the activities. For private departures, you may also be joined by other guests during the activities unless you have discussed specific private activities with us.
If your selected date has not yet reached minimum numbers, you will be informed at the time of booking. In the unlikely event that your chosen date has not reached the required minimum numbers nine weeks before your scheduled departure date, we will contact you and discuss the various options available to you. We will always do all we can to operate a holiday and in some cases, we may be able to operate the holiday by combining your itinerary with that of other guests for some activities (this may mean that the maximum group size is increased but this will be discussed in full with you).
If we are unable to operate the holiday, then you will be offered the chance to transfer to an alternative holiday or date (subject to availability). If the alternative is more expensive you will be asked to pay the difference, if it is cheaper then you will be reimbursed. You will also be offered the option to cancel and receive a full refund of all monies paid.
Minimum age
Unless otherwise stated in the 'Key Facts', the minimum age for participation in an Artisan holiday is typically 8 years old (there may be younger children in some destinations who have booked with other companies). If an adult only environment is important to you, then please contact our Travel Experts and they will advise on the best dates and destinations for you. If you are looking for a holiday designed specifically for families then please see our sister company: www.activitiesabroad.com
Single supplements
Please note that some of our holidays may incur a single supplement. Please speak to one of our Travel Experts who will provide you with a quotation.
Medical history and advice
You must inform us at the time of booking if any of your party has a disability, medical or behavioural conditions which could affect their own participation in the holiday or indeed that of the other people on the holiday.
We cannot be held responsible for any incident or event arising from your failure to do so.
Reduced mobility
If you have a reduced level of mobility, then please contact our Travel Experts to discuss the suitability of this holiday in relation to your requirements.
Experience and fitness
Any activities included in your itinerary are all designed for beginners. Full instruction and tuition are provided for all activities and you do not need to have any previous experience. For example, you need never have set foot on a pair of skis of any kind before a cross-country ski tour. We have adults of all ages and fitness levels taking part in our holidays.
We do highlight certain itineraries where an increased level of fitness is required. If you have any questions at all with regards to fitness levels please get in touch and talk to one of our experts. You can find further details in our trip preparation section online. You must inform us at the time of booking if any of your party has a disability, medical or behavioural conditions which could affect their own participation in the holiday or indeed that of the other people on the holiday.
Guides and safety
It is essential when partaking in any activity that you listen very closely to, and abide by, the instructions provided. Nobody knows the environment better than our activity providers who work here almost every day.
Consequently, their knowledge and experience are unsurpassed. If there is anything that you are unsure of during a safety briefing or that you would like to clarify with the guides, please make this clear to them immediately before starting the activity.
There may be rare occasions when our guides consider local conditions unsuitable for a certain activity. Hence, your itinerary may be subject to change at short notice, but we will always endeavour to firstly find a replacement on the day and secondly, to provide the cancelled activity later in your stay whenever possible. Very occasionally it proves impossible to provide the activity in which case you will be refunded when you return home.
Our guides' word on activities is always final and your safety is their principal concern at all times, please respect their decisions. By following their instructions, your safety and enjoyment during each activity will be greatly enhanced.
You must inform us of any medical conditions that may affect your participation in an activity at the time of booking.
Booking activities locally
In almost all our destinations, you can book and pay for additional activities locally. Please note that we cannot be held responsible for any injury or loss that occurs through any activities that are booked in your destination (see our terms and conditions for further details).
Please always ensure that your safety is your primary concern when arranging any such activity.
Car hire
If your trip includes car hire the named driver must have a credit card registered in their name which they can present when they collect their car along with their driving licence, as a deposit will be held on the credit card. Please see your trip dossier for full details.
---
---