Overview
During this seven-night trip, you will follow the Yukon Quest – the toughest dog sled race on Earth. You will see the nail-biting finish, meet up with the teams at a checkpoint and will also spend two days driving your own team of sled dogs across jaw-dropping frozen landscapes.
What's included?
Transfers: return airport transfers* and fully-guided ground transportation throughout
Accommodation: 5 nights' standard twin/double room accommodation in Whitehorse, 2 nights' standard twin/double room accommodation in Dawson City
Meals: 4 lunches
Activities: Dawson City sightseeing tour, Dawson City checkpoint, two full-day dog sledding tours, Yukon Quest race finish, Yukon Wildlife Preserve visit (the order of activities is subject to change)
Services of our expert local guides
Winter clothing for the duration of the holiday
Please note that flights are not included, however, they can be arranged. Please contact our Travel Experts for a quotation
*Flights must arrive and depart between 8 am-8 pm, otherwise, you will use the hotel's free airport shuttle service
---
This trip has been carefully designed to highlight the best of the Yukon, following the famous Yukon Quest dog sledding race as part of a fully-guided, small group tour. Stopping at some of the most interesting places in the province along the way, you'll also get to enjoy two days of dog sledding in the Canadian wilderness; embracing the true spirit of the race.
The Yukon Quest is regarded as the toughest dog sledding race on earth and sees up to 50 teams of mushers and sled dogs competing across a race track that spans 1,000 miles from Whitehorse, Yukon through to Fairbanks, in Alaska. Travelling along some of the most remote and untamed wilderness in North America, some mushers aim to complete it within 10 days; the words 'endurance race' certainly have a different meaning here!
The race was created in 1984 and the route follows parts of the fascinating Klondike Gold Rush trail from the late 1800s, as well as traditional routes used by early explorers and adventurers. Crossing frozen rivers and mountain summits, the trail has nine checkpoints along the way, some of which are separated by more than 200 miles.
Fear not, however, as our trip has been expertly crafted to offer you the best of the Yukon Quest, without the perils of a 19th Century expedition, but packed with just as much adventure!
Read more
You'll begin your tour in Whitehorse, then venture north to Dawson City to watch the famous race checkpoint in this gold rush town. Cheering the teams on, you'll feel the buzz and excitement of the race against the clock. You'll have plenty of time to explore this small town, where you'll learn about the history of the area and the fame and fortune that was found during the gold rush. It's like stepping back in time to an age of wooden boardwalks, swinging saloon doors and dancing cabaret acts…you can almost hear the clink of glasses and the shouts of the miners striking it rich!
From Dawson, you'll head back south to Whitehorse, where you can try your own hand at dog sledding with two full days out on the trails, achieving your own sense of glory and accomplishment. There's something incredibly special about having the opportunity to experience dog sledding in the Yukon, home of the mightiest race on earth, in a place where dog sledding has been a part of native First Nations' lives for hundreds of years.
While in Whitehorse, you'll also witness the incredible finish of the Yukon Quest, as the first team dashes across the line in a cloud of frost and snow, to become champion; a breath-taking sight! You'll also make a stop at the Yukon Wildlife Preserve, where you can see some of the local wildlife, such as moose, caribou (reindeer), musk-ox and elk.
By the end of your week here, you'll come away with amazing memories of adventure and discovery, coupled with some fantastic tales to tell your friends and family when you return.
---
Image credits: Arctic Range Adventure Ltd
View Gallery
Download Holiday Overview
Download Trip Notes
Key facts
| | |
| --- | --- |
| Duration: | 7 nights |
| Pace: | Active |
| Suitable for: | Ages 18+ with a good level of physical fitness. See days 5 & 6 of the agenda for further information. |
Make an enquiry
Agenda
Accommodation
Included in price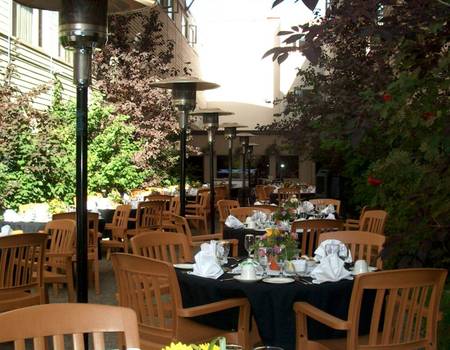 Westmark Whitehorse
Nights:
1,4-7
The Westmark Whitehorse holds an enviable location, situated in the heart of downtown Whitehorse. Within easy reach of several cafés, restaurants and bars, it is ideally placed for your stay here and provides brilliant access to various attractions, with the beautiful Yukon River only a short walk away from the hotel.
Clean and comfortable, the hotel has 181 rooms in total, as well as its own restaurant and lounge and is of a standard comparable to other hotels within Whitehorse.
Hotel facilities
Steele Street Restaurant & Lounge serving dishes such as authentic Yukon salmon or Alaskan halibut as well as craft beers from the local Yukon Brewery
There is an on-site fitness centre for guest use
Wi-Fi available throughout (fee applicable)
Desktop computers for guests to use
Laundry facilities
Luggage storage facilities
Room types
Standard Room
The welcoming and comfortable rooms are equipped with either one or two double beds and include an en-suite bathroom. The room amenities include coffee maker, hairdryer, iron & ironing board, telephone, radio and TV.
---
Please note: if the Westmark Whitehorse is unavailable at the time of booking, you will be placed in a hotel of the same standard in downtown Whitehorse
---
Image credits: Arctic Range Adventure Ltd & Westmark Whitehorse
Read more
Read less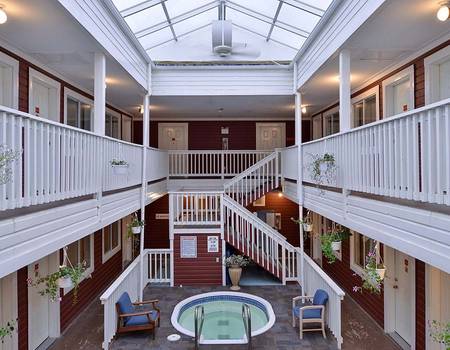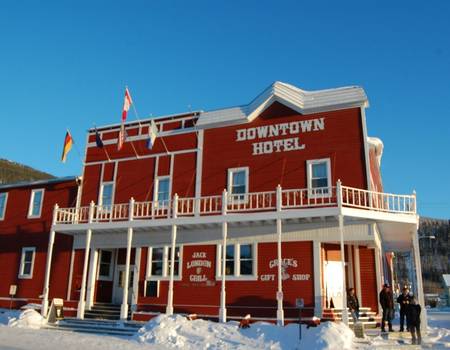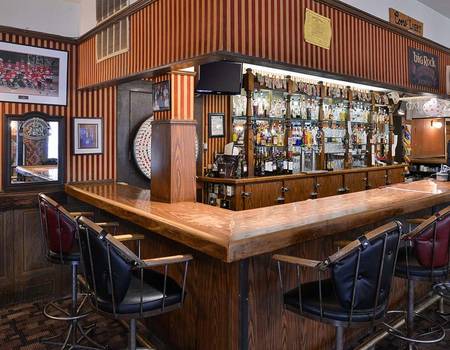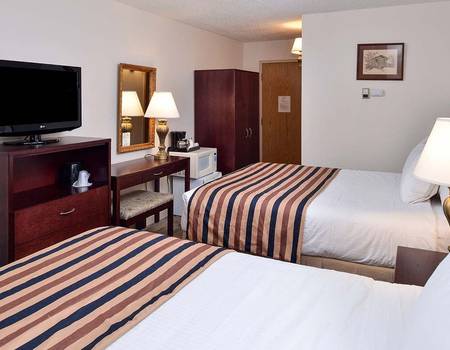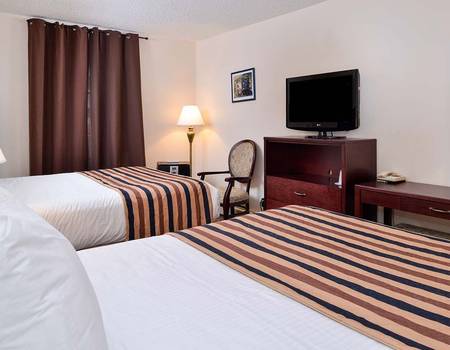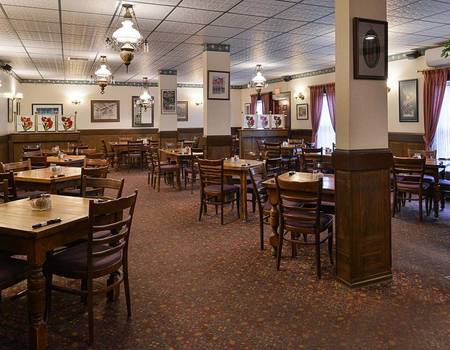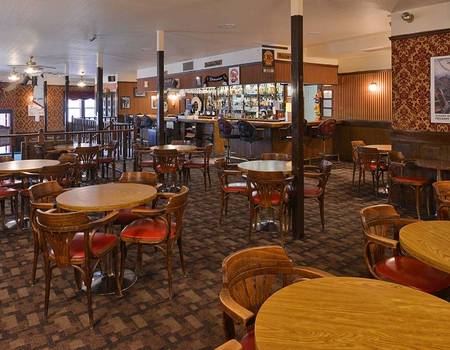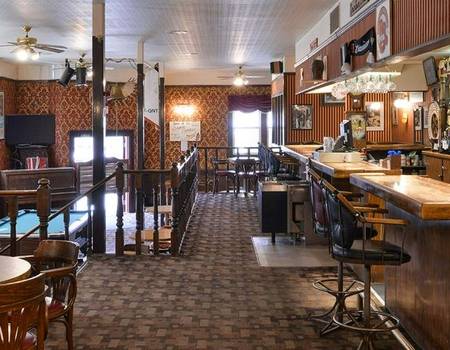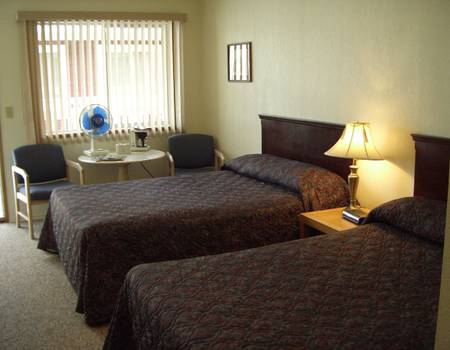 Downtown Hotel, Dawson City
Nights:
2-3
This hotel is perfectly suited for those who want to experience the history and heritage of Dawson City and to gain a glimpse into the gold prospectors lives all those years ago. Its wooden façade, complete with boardwalk and balcony, is straight out of the Gold Rush days.
The hotel sits in the heart of Dawson City, close to some of the most popular places in town, such as Diamond Tooth Gerties, the Old West-inspired casino, and the Palace Grand Theatre, which is a replica of the original 1899 building and hosts various shows. It's also only a short walk away from several restaurants, cafés and the Yukon River.
Hotel facilities
There is a hot tub available for guests to use in the annexe building
The Jack London Grill serves up hearty, local food to keep you going throughout the day
There is free Wi-Fi available throughout the hotel
The Sourdough Saloon is one of Dawson's most famous bars. Here you can become an honorary Yukoner (or sourdough) if you are brave enough to try the 'Sourtoe Cocktail'…whisky with a human toe in it. 'You can drink it fast, you can drink it slow, but your lips must touch the toe!'
Room types
Standard room
The hotel has 59 rooms in total, with 34 in the main hotel building and 25 in the annexe across the street. Each room offers a basic and comfortable standard of accommodation, containing two double beds, or two single beds, each with en-suite facilities. TVs and coffee makers are available in each room.
---
Image Credit: Downtown Hotel, Arctic Range Adventure
Read more
Read less
Dates & Prices
We include more, no hidden costs
On each of our holidays you will see a clear outline of exactly what's included in the price of your holiday. We never use 'headline' or 'lead-in' prices like so many tour operators, as we prefer to include as much as we can, rather than see our clients incur considerable additional costs in our destinations.
Prices
Terms
For our full booking terms and conditions please click here
The Specifics
Holiday group size (approximate)
Approximately 4-16 people
Group Size
We always try to provide an approximation of the group size you can expect to be with for the duration of each of our holidays. It may be that you are joined by others for parts of your holiday (such as transfers and particular activities) but the above number reflects those you can normally expect to be with from beginning to end. If group size is something which is particularly important to you, please speak to our Travel Experts and they can suggest the best holidays for you.
Tailor-made holiday group sizes will vary for all activities as will the group size for any additional activities you book.
Minimum and maximum age
If a specific minimum age applies to this holiday, it can be found in the Key Facts box on the holiday Overview page.
Unless otherwise stated in the in the Key Facts box on the holiday Overview page, the minimum age for participation in an Artisan holiday is typically 8 years old (there may be younger children in some destinations who have booked with other companies). If an adult-only environment is important to you, then please contact our Travel Experts and they will advise on the best dates and destinations for you. If you are looking for a holiday designed specifically for families then please see our sister company www.activitiesabroad.com
Itinerary amendments
The order of activities listed in this agenda is provided for guidance only, your final and detailed itinerary will be provided either with your final travel documents (which are uploaded into your online account around a week prior to departure) or upon arrival.
Medical History and Advice
We want our holidays to be accessible as they can be and will do our best to accommodate any special requests and requirements where possible. We have a wide range of holidays and destinations and so our travel experts will help find the best holiday for you.
In order to give us the best possible chance to do this we ask that if you or any member of your party has any medical condition or disability which may affect your holiday or has any special requirements, that you tell us at the time of enquiry or booking. You must also promptly advise us if any medical condition or disability which may affect your holiday develops after your booking has been confirmed. You may need to provide a doctor's note and proof of insurance in some cases as the health and safety of our clients is absolutely paramount.
In providing this information you are allowing us to work with our expert local partners to ensure that your whole party can enjoy the holiday. By letting us know in advance we can discreetly work with you to adapt any part of the holiday which may potentially be challenging. Being able to prepare for this in advance makes an incredible difference to what we can offer and minimises any impact on your party and the rest of the group.
Unfortunately, if you choose not to share this information with us in advance then it may limit some or all of the itinerary you have booked, and we cannot be held accountable for any additional costs or missed activities resulting from this.
Insurance
Insurance is not included in your holiday, but it is a pre-requisite to travelling with us. You will need to ensure that you have cover for all the activities that you will be participating in during your holiday.
It is extremely important that you take out a suitable travel insurance policy at the time of booking. Plans do sometimes change, and you will need this policy should you need to cancel your holiday.
If you are struggling to find a suitable policy then details of our preferred provider, who will cover you for all the activities we offer, can be found on our website by clicking here. Please note that this policy is available to EU residents under the age of 75 only.
The UK Foreign Office Advice
Our clients' safety is at the centre of everything we do, and our operations team continually assesses and monitors the destinations we feature. We carry out thorough risk assessments and work closely with all of our suppliers to continually follow best practice. For up to date travel advice the UK government offers its Travel Aware website as well as the advice detailed below.
The Foreign and Commonwealth Office Advice
We receive all updates from the Foreign and Commonwealth Office (FCO) with regards to travel advice and we always ensure that we follow this advice in our operations. The FCO issues travel advisories for countries based on a very wide range of factors. They may provide notification about things as simple as a football match and crowds, or they may go so far as to advise against all travel to a region. We ask all our clients to refer to the relevant Travel Advice by Country for the destinations they are visiting in order to make an informed decision on the safety of the destination based on the details provided. It also provides vital information regarding entry requirements, embassy information, local laws and customs as well as specific safety and health. Guests should take responsibility for keeping themselves up to date with this advice. Please also ensure that, if you are transiting through another country, you have read the advice and meet the entry requirements for that destination too.
The FCO travel advice is applicable to British Passport Holders. Most governments will issue their own travel advice for a region and, if you are not a UK resident then you can find some helpful links below:
Australian Department of Foreign Affairs and Trade http://www.smartraveller.gov.au/
New Zealand Ministry of Foreign Affairs and Trade http://www.safetravel.govt.nz/
Canadian Consular Affairs Bureau http://voyage.gc.ca/
The U.S. Bureau of Consular Affairs http://travel.state.gov/content/travel/english.html
If the FCO deems that there is an unacceptable level of risk for UK citizens then, together with the government, they may issue an advisory against all travel to a region or country. If such an advisory is published, then we will act accordingly, and this may require the cancellation, curtailment or amendment of a holiday itinerary. These decisions are made on the basis of ensuring our clients' safety and will affect all clients on the holiday, regardless of their nationality.
If one of our local experts suggests an amendment due to a situation which develops locally then we may also take the decision to amend an itinerary appropriately.
If we have to cancel your holiday prior to departure you will be offered the option of an alternative trip (where any price difference will either be refunded to or covered by you) or a full refund of the monies paid.
If we have to curtail a holiday, then you will be refunded for any costs for the elements we have been unable to deliver, where we have been able to secure a refund from our suppliers. If we must reroute a holiday, then any basis for refund is determined on a case by case basis and dependent on whether the central holiday experience was provided or not.
Booking activities locally
Additional activities can be booked locally in almost all our destinations. However, as per our booking conditions, we cannot be held responsible for any injury or loss incurred through participation in activities which are booked at your destination outside of our holiday itinerary (see our 'Terms and Conditions' for further details).
When arranging any such activity please always ensure that safety is your primary concern.
In some of our destinations, you can borrow or hire equipment for use in your free time. You do so entirely at your own risk. You must ensure that you are properly prepared, have the necessary equipment and knowledge (maps, etc) and ensure that where applicable, you follow marked routes. We recommend discussing your plans with the local teams who will be able to advise on the most suitable options for you.
Always let the reception/guide know where you are planning to go and take a torch and mobile phone (with the hotel/guide's phone number stored). It is also a good idea to leave your contact number and the time you expect to return to the hotel should the hotel need to contact you.
Brexit information for British Passport holders
For the most up to date information on how the UK's departure from the EU may affect your holiday please click here to view our Brexit information for British Passport holders.
Flight schedule changes and connecting transportation
On your documentation, we will confirm your flight schedule. Sometimes the flight number, routing and timings might change prior to your departure. If the change is classed as a significant change then we will contact you to discuss this. Please see our booking conditions for details.
Flight schedule changes can impact on your pre and post-holiday travel arrangements if these have been booked separately to your holiday. We strongly recommend that you do not book transport (such as trains or transfers), car parking or non-connecting flights to the departure point for your holiday until you have received your final confirmed travel times when your final travel documents are issued. We are not responsible for the effect of any schedule change on your pre or post travel arrangements. We strongly recommend that you do not purchase non-flexible or non-refundable tickets to avoid cancellation and penalty charges.
Booking your own flights - cancellation disclaimer
If you have chosen to book your own flights, then you will need to wait until we confirm to you that the holiday departure has met the minimum numbers required to run (if applicable to your chosen holiday). Once the holiday is guaranteed to run, you will be informed and you can then make your arrangements.
If transfers are included in your holiday, please ensure that any potential flights will be met by our standard transfers (speak to one of our Travel Experts for advice) otherwise private transfer supplements may be applicable. Once your flights are booked, please send us a copy of your detailed flight itinerary.
Please be aware that most tickets are non-refundable in the case of cancellation. For this reason, we strongly advise you check the rules of the ticket and check the limitations of your cancellation insurance before booking. We cannot be held liable, in the unlikely eventuality that we should be forced to cancel or amend your trip, for losses incurred relating to any flight booking you have made.
Terms and Conditions
Our full booking terms and conditions can be found on our website: https://www.artisantravel.co.uk/booking-conditions
Additional Cancellation & Payment Terms and Conditions
Payment and cancellation terms:
Please note that the following payment and cancellation terms supersede in part those mentioned in sections 2 and 7 of our general booking terms and conditions.
Payment terms
A deposit of £400pp or 15% (whichever is higher) of the total holiday cost is required at the time of booking. Full payment is required 63 days/9 weeks prior to departure.
Cancellation terms
- After booking and more than 63 days prior to departure = loss of deposit
- 63-43 days prior to departure = 40%
- 42-34 days prior to departure = 60%
- 33-15 days prior to departure = 80%
- 14 days or less = 100%
Trip Specific Terms and Conditions
Waivers
Please note that for some itineraries and activities, our local representatives will require you to sign a waiver prior to taking part.
---
---