Luosto
Luosto is a small ski resort with some splendid accommodation and both Alpine and Nordic activities in abundance.
About
Luosto is a very small ski resort with seven downhill slopes, nestling amidst the fells of central Finnish Lapland. Surrounded by forests and lakes, the area surrounding Luosto is delightful and it can be accessed via Rovaniemi and Kittilä Airports (around a one and a half to two hours drive). Some of our holidays also offer direct flights from the UK.
Luosto is one of the few places outside Finland's large purpose-built ski resorts that can offer a good variety of accommodation alongside an activity selection that rivals the best in Lapland.
Having worked with our partners in the village for many, many years we have created a selection of holidays which really showcase the best of snowy Lapland and allow our clients to see it at its best.
Whilst we want to ensure guests enjoy the experiences available, our knowledge and client feedback over the years has also led us to create holidays in Luosto which allow guests more time to simply relax and enjoy laid-back Lapland. Basically, Luosto provides everything from full-on activity holidays to peaceful "do nothing" breaks which allow you to simply unwind.
Speak to our Artisan Travel Experts
01670 785 085
Our experiences and holidays
Our Taster Week includes a tried and tested agenda of activities which we have offered for many years and includes a range of the key Nordic activities along with the all-important free time.
You will enjoy a reindeer encounter, a dog sled safari, and cross-country skiing. We also include snowmobiling, both during the day and at night to hunt for the Aurora Borealis.
Our tailor-made holidays in Luosto are also extremely popular allowing you to set the duration of your holiday and choose the activities.
There are a range of dog sled, reindeer and snowmobile safaris to choose from and you can also try snowshoeing, ice fishing and cross-country skiing. Luosto does have its very own unique experiences, however. For example, you can visit the only working Amethyst Mine in Europe and dig for your own gem. The views from the mine are also spectacular and highlight the sheer size of Finnish Lapland's lake and forest wilderness.
One of the other main highlights is a visit to Aurora Kota around 35km away. To get there you can take a thrilling evening snowmobile safari or travel by car to this traditional teepee (where a Northern Lights expert will explain some of the basics behind Nature's greatest light show). The Kota is in the town of Sodankyla – the hub of Northern Lights research and forecasting in the region - so in Aurora terms Luosto is ideally situated.
Our accommodation in Luosto
For such a small village, Luosto boasts a surprisingly wide choice of accommodation ranging from cosy and quaint log cabins to the Luosto Tunturi Hotel and Amethyst Spa.
The cabins give you a real home from home experience. Having your own sauna and wood-burning stove always seems to be a winning combination with our guests.
The hotel is also very comfortable and the rooms here are all spacious and well-equipped. There are also some excellent one and two bedroom suites available. The hotel's pièce de résistance, however, is the swimming pool and spa facilities which are the perfect places to unwind. The good news is that the pool is available to both cabin and hotel guests.
Guests staying at both the cabins and the hotel will have half board included in their holidays.
From the cabins, it is a five to ten-minute walk to the hotel restaurant for your evening meals. These are typically a buffet of options which include both local and international dishes.
We can also arrange for our guests to spend the night in one of the luxurious, glass-roofed Arctic View Rooms at a nearby hotel. These provide the chance for you to gaze up at the night sky and scan the darkness for a glimpse of the Northern Lights, and it's all done from the comfort of your own bed!
No matter where you choose to stay in Luosto, it will be hard to go wrong as there is something to suit all tastes.
---
Photography by Miika Hämäläinen and Snow Games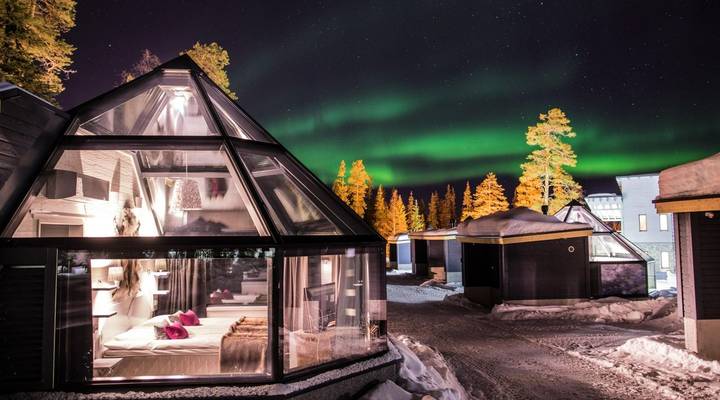 Holidays
Accommodation