Updated: 8th June 2021
As a small, family-run company we have faced numerous challenges since COVID-19 began to impact on our lives back in early March 2020.
Our primary concern throughout has been to ensure the safety of our guests and to act as quickly as possible to make new arrangements for those impacted, or to provide refunds where necessary. Our team has worked exceptionally hard to ensure that this happened with the minimum of fuss.
Our local partners, most of whom we have worked with for many years, have been outstanding. They have worked with our Operations Team to accommodate and assist our guests as events unfolded during their holidays and also when rearranging bookings to alternative dates.
Future bookings and holidays
We are constantly monitoring the advice provided by the UK Government and the Foreign and Commonwealth Office, as well as the guidance provided by the governments in our destinations.
If you are looking to travel next autumn or winter (September 2021 – April 2022):
We have been absolutely thrilled by the number of guests who, although unable to travel this winter season, have chosen to postpone until next year. Both ourselves and our local partners are very excited to be able to provide them with a wonderful holiday to look forward to.
Given the number of guests who have chosen to postpone, however, does mean that some hotels, especially during peak dates, are almost fully booked. If you want that extra special holiday to look forward to, we recommend getting in touch sooner rather than later. We have some great lower deposit and flexible booking terms which our Travel Experts will be happy to discuss with you.
INFORMATION FOR SUMMER BOOKINGS
If you are hoping to travel this summer
We are taking bookings for all our summer destinations; we have been able to negotiate some flexible booking terms and conditions with our local partners in many of our destinations. Please ask one of our Travel Experts for more information.
If you are already booked with us for this summer season:
We continue to monitor local conditions, the FCDO and all relevant governmental advice and will review all trips as required. We will update guests a minimum of 30 days prior to departure and we expect that the final decision regarding travel will be made 21 days prior to departure which is in keeping with industry guidelines.
If you want to book for Summer 2022
We don't blame you at all, it seems more important than ever to have something to look forward to! We are happy to take provisional bookings for next summer and reserve your rooms with our local partners. We will then be in touch once the airline schedules are released. We will be as flexible as we possibly can be with your booking whilst also working to get you the best prices we possibly can.
---
The UK Traffic Light System
The majority of our clients are based in the UK so we've dedicated a page to the new traffic light system - click here to find out more.
Below you'll find a brief guide of the UK Traffic Light System.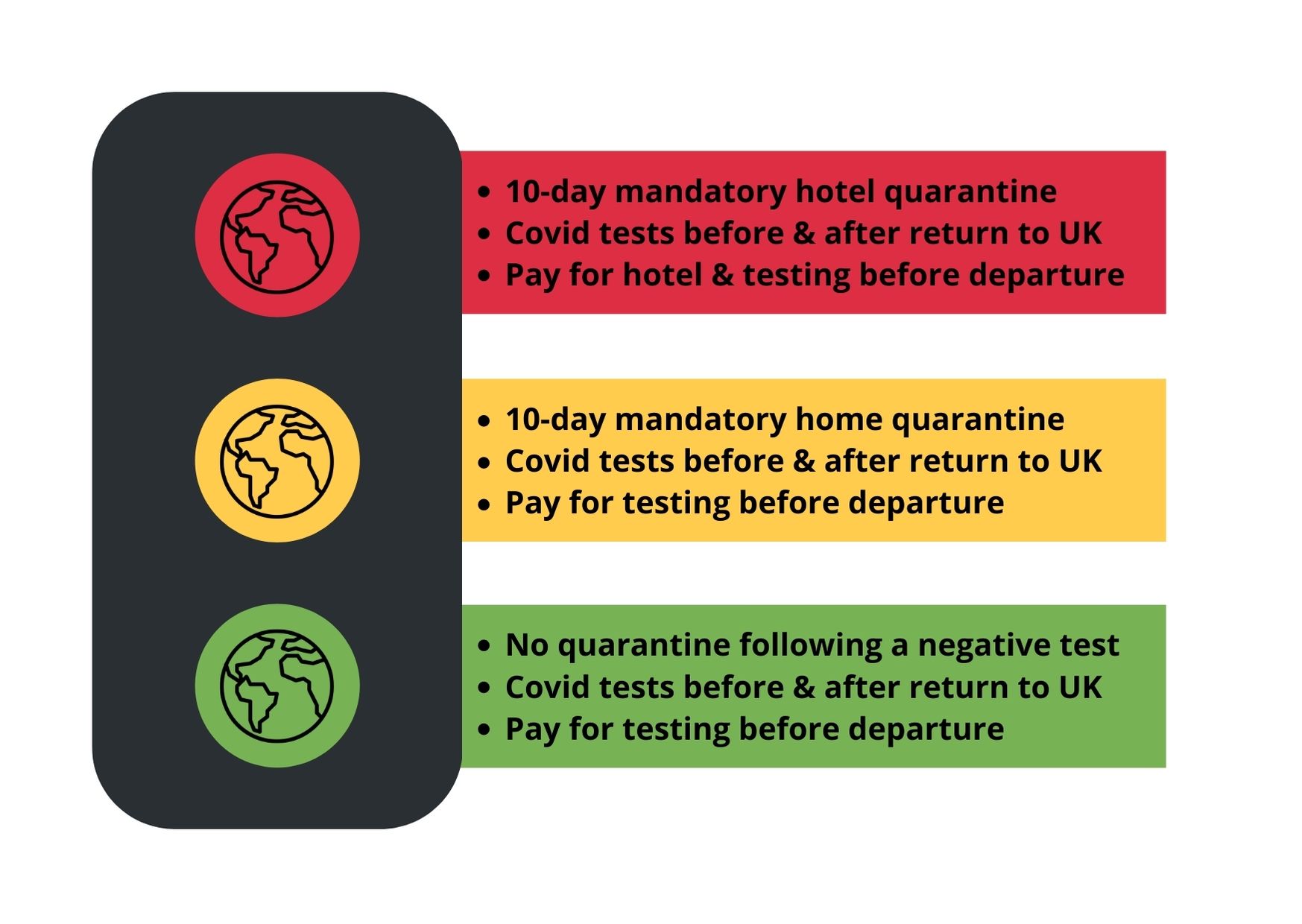 Frequently asked questions
I made a booking with you, but I no longer wish to travel, what are my options?
This will depend on when your booking was made and the specific terms relating to your holiday and flight booking if applicable. The Artisan Travel Company are happy to postpone all transferable and flexible elements of your trip to either an alternative holiday or departure date without charging an administrative fee.
For any non-transferable elements, we will do our best to minimise these costs but unfortunately, these decisions are normally out of our hands. Naturally, we promise to do our best to negotiate on your behalf.
Another option would be to transfer your booking to another passenger (subject to terms and conditions and introduced by yourselves) and we can normally facilitate this until 10 days prior to departure.
Finally, depending on the reason you no longer wish to travel, you may be able to claim on your travel insurance.
What happens if my trip is cancelled?
If you are booked onto a trip which we must cancel, then we will get in touch with you immediately. If we are forced to cancel your holiday, then there will be several options available to you:
1 – Consider an alternative destination
As we have such a fantastic network of partners across Scandinavia, we will do everything we can to propose alternative holiday options for you to consider. If you do decide to go for one of these options we will transfer the money you have already paid us to your new booking and, if it is cheaper, refund you the difference. If it is more expensive you will need to top this amount up to match the new price.
2 – Postpone your holiday
We think it is more important than ever to have something special to look forward to as the world hopefully gets back to "normal". If we are forced to cancel your holiday, then we will work with our local partners on your behalf to minimise any increase in costs to your holiday price and if they do increase or we are forced to make any changes to the holiday package which you don't like – you can cancel and receive a full refund.
3 – Accept a Refund Credit Note to financially protect your money while you choose an alternative adventure
We fully appreciate that when Refund Credit Notes (RCN) were initially launched by ABTA their purpose was a little ambiguous and they were not particularly well understood amid lockdown. There was also a frustrating lack of public support from the Civil Aviation Authority to confirm that RCNs were fully financially protected. The CAA finally confirmed that they are in July (you can read more about this here: https://www.gov.uk/government/news/boost-to-passengers-as-government-bolsters-atol-scheme).
Different companies have used RCNs in different ways.
In some cases, we have requested that guests consider accepting a credit note as a method of temporarily ensuring that their money remains fully protected whilst allowing us a chance to reclaim cash we had already paid to airlines and local partners. We have worked very hard to get the balance right between both our guests' needs and our long term (predominately small, independent) local partners' viabilities.
As this situation has been completely out of everyone's control, we have asked some guests, where they are able, to be patient and allow these businesses a small amount of leniency to return the money we have paid them in advance. Airlines have been widely reported as being excruciatingly slow to issue refunds and we are still waiting for many payments from as far back as March.
Despite this, we have refunded all guests who initially accepted a credit refund note from holidays affected in March and April. We have also refunded all guests who were unable to travel this summer due to border restrictions. This was despite their RCNs not expiring until January 2021. If you choose to rebook any of our holidays across The Artisan Travel Company group then you would be entitled to a 10% discount from that holiday and 5% off any future holidays you then go on to book with us (not to be used in conjunction with any other offer).
4 – A full refund
If you are not able to accept an RCN under the circumstances outlined above, then we do understand. Depending on the circumstances surrounding your cancellation we may request that you contact your Travel Insurance company in the first instance. Should that claim be unsuccessful then we will refund you in full. We will advise you of the relevant processing times at that stage.
My holiday is booked for a destination that still has travel restrictions. When will I know if it going ahead or not?
In keeping with industry guidelines, we are constantly monitoring the status of your holiday. These situations are obviously very dynamic, but we will contact you at the latest, 21 days prior to departure to discuss your options at that stage. You are more than welcome to check in on the status of your trip prior to this but it will be three weeks before departure that we make a final decision.
What happens if the travel advice changes for my destination during my holiday?
This would depend on how the advice changed. If the FCDO followed the pattern they have predominantly used during the summer of 2020 then they have not advised guests currently on holiday to return home. If this was the case, then we would update any guests who are abroad of any developments or changes and allow you to continue your long-anticipated holiday.
If either the UK or local government does advise guests to return home immediately then we would repatriate all guests as quickly and efficiently as possible.
What happens if there is a quarantine on my return to the UK?
In this instance, if there was no advice against travelling from either the UK or your destination's local government then we would operate the holiday as originally planned. As a quarantine upon your return to the UK would be out of both our own and our local partners' control and it does ​not impact on our ability to provide the holiday then standard cancellation terms would apply. If this situation arose and you would like to change your travel dates to postpone to a different time then we will do everything we can to assist this and minimise any non-recoverable costs.
What happens if the flights I have booked are cancelled?
If you have booked your own flights and they are cancelled then, first of all, we suggest contacting the airline to confirm the options available to you – these may be alternative flights, a voucher or full refund (this is likely to depend on the type of ticket you purchased so we recommend reading the small print very carefully).
Once you are aware of all of your options give our Customer Service Team a call +44 (0)1670 785 049 and we will do what we can to try and assist you sourcing alternative flights if appropriate, rearranging your travel dates or doing our best to negotiate a suitable alternative with our local partners. Again, we will not charge any administrative fee in this instance.
If I am put in local lockdown within the UK how would this affect my holiday?
The local lockdowns which were been put in place in England and Scotland towards the end of 2020 did not prevent people from going on holiday as planned. The advice was different in Wales where lockdown specifically did prevent people from going on holiday. If this does happen in the future and you are prohibited from going on holiday due to local restrictions then your first call should be to your travel insurer so please ensure you have a policy which covers such an eventuality.
If you are unable to reclaim your money through a travel insurance policy then we will work with the local suppliers to try to refund as much of your money as possible. However, as nothing is preventing us from running the holiday for other guests and the local suppliers are able to provide it in full we will be unable to refund any irrecoverable costs such as non-refundable flight tickets or any portion of the money the suppliers are unable to return to us. In some scenarios, our local partners, or airlines may offer vouchers to postpone your travel dates instead of a cash refund but this will vary with each booking. The only way to ensure a full refund if you are prevented from travelling due to a local lockdown would be through your travel insurance.
I'm travelling from another country outside of the UK – what happens if I'm not able to travel?
The Artisan Travel Company is based in the UK and we take all of our guidance from the Foreign​, Commonwealth and Development Office ​(FCDO) and other UK government bodies. Depending on whether you have booked a flight inclusive or land-only package your contract with us either starts at your UK departure airport (if we have booked your flights) or, if you have booked a land only package, the agreed meeting point in the destination country (usually an airport).
If there are no national UK border restrictions preventing us from operating the holiday (i.e. unless the ​FCDO advise against all but essential travel to Finland, Sweden, Iceland or Norway) OR the destination government prevent all arrivals from the UK then we will continue to run the holiday as planned. For anyone who is prevented from joining the trip as planned due to medical reasons or government advice changing from a country other than the UK or the destination of your holiday, then this cancellation by you would be dealt with as per our booking terms and conditions. And such, any loss would need to be reclaimed from your travel insurance policy so please check the wording carefully and ensure you are satisfied with the level of cover.
WHAT TYPE OF TRAVEL INSURANCE SHOULD I LOOK FOR?
Travel insurance has always been a pre-requisite for travelling with us and investing in a comprehensive travel insurance policy should be the first thing you do after booking your holiday.
COVID-19 has really highlighted the importance of a comprehensive travel insurance policy. ABTA has some useful questions and answers to scenarios which should be covered by your travel insurance. These include any problems before you go such as local lockdowns or if you or anyone you are due to travel with is diagnosed with COVID shortly before departure. You'll find them here: https://www.abta.com/news/coronavirus-outbreak
If you, or any member of your party, are diagnosed with COVID whilst you are on holiday then you need to be satisfied that your insurance policy will cover any medical costs incurred including testing, self-isolation and treatment. We would also suggest choosing a policy which would allow you to claim for any elements of the holiday you were not able to take part in.
We are in the process of researching several different travel insurance policies and hope to be able to have options to present to our guests soon. Until then please be thorough in your research to ensure you are protected against any potential issues.
Health and Safety on holiday
What steps are your local partners taking to keep me safe on holiday?
We have been so impressed with our local partners' pro-active approaches to guest safety in the destinations. Many of the small companies based in Lapland have begun working together to share best practices. They have been led by the Head of Epidemiology at Rovaniemi Hospital who is providing specific advice for those providing specialised winter activities including clothing and equipment hire etc.
We also have a range of publications and detailed information from each local partner and airline. Please just ask our Customer Service Team if you would like more specific information regarding your destination.
I am a solo traveller; will I have to share a room?
For each of our holidays, there is a single supplement for those wishing to have their own room. On some of our holidays which include a night in wilderness accommodation (i.e. an overnight husky safari) then the whole group will share dormitory-style accommodation. Single rooms are not possible on this type of holiday, but they are available in all other accommodations. Our team of travel experts will be able to discuss this with you at the time of booking.
What happens if myself or a member of my party display COVID symptoms during my holiday?
If you become unwell during your holiday then it is vital that you alert a member of staff in the destination (either a local representative or the accommodation's reception team) as quickly as possible and ideally by phone. You must remain in your hotel room. The local team will then ensure you receive medical attention as soon as possible.
If you are showing COVID-19 symptoms, then a test will be arranged and you will be asked to quarantine until the results are reported. During that time the local team will do everything they can to keep you comfortable and arrange that meals and other necessities are brought to your room. Please note that we can not cover any additional costs you might incur and they should be reclaimed from your travel insurer.
Further advice for UK travellers
Though we endeavour to inform our customers of any significant changes, this is a fast-moving situation and therefore we also ask for our travellers to keep up-to-date with the relevant travel advice.
Here are some useful links:

UK health authorities: www.gov.uk/guidance/wuhan-novel-coronavirus-information-for-the-public

FCDO travel advice: www.gov.uk/foreign-travel-advice
The National Travel Health Network and Centre (NaTHNaC) TravelHealthPro website: www.travelhealthpro.org.uk/countries
The NHS website: www.nhs.uk/conditions/coronavirus-covid-19
ABTA: www.abta.com/coronavirus
Contact us
If you have any questions or concerns, then please do not hesitate to contact our customer service team on This email address is being protected from spambots. You need JavaScript enabled to view it. or, call 01670 785 085.