Karasjok
Karasjok is where a legend in Arctic dog sledding circles plies his trade. A mushing trip from Karasjok into the snowy wilderness is the real deal. Imagine making base at a wilderness cabin, your dogs bedded down for the night and the Aurora blazing…
About
The word "legend" is bandied about far too often these days but we would like to introduce you to somebody who, in dog sledding circles, is exactly that.
The nature of our work here at Artisan Travel means that we spend a lot of time in Northern Scandinavia meeting suppliers and trying out their activities. This includes visiting a lot of husky and dog yards and talking to the mushers and whenever we mention the name Sven Engholm we always get the same reaction:
"Ah yes! Sven wrote the book"
"Sven taught us all how to dog sled"
"Sven is a legend"
There's that word again, legend!
Nestled just 6km from the Norwegian town of Karasjok is Sven's base, which he has built from scratch to indulge the great passion of his life, dog sledding.
Our Three Day Husky Safari allows you to head to Sven's base, and then spend three days in the company of his huskies as you and an expert musher head off on an unforgettable adventure in the wilds of Northern Norway.
Speak to our Artisan Travel Experts
01670 785 085
Three unforgettable dog sledding days
Another word which is bandied around a lot is 'authentic' but truly the word applies to our Karasjok Three Day Husky Safari. Created by Sven Engholm, an 11-time winner of Europe's longest sled race and a top 10 finisher at the Iditarod, Sven's passion is apparent throughout the whole experience.
Dog sledding is truly a great adventure and to be shown the ropes by those who work with Sven (you may even get the man himself) is an honour.
After your first night at the lodge, you'll meet your team of huskies. Your guide will select the size of your team and will assess your ability to handle the sled after initial instruction. For some, it is best to start riding in tandem and then progress to having a solo team.
You'll pack and prepare the sleds and will then set off on the trail. You'll travel through frozen marshlands and across lakes and may well encounter Sámi reindeer herders and their animals on your travels. There are also moose in this area and witnessing such a majestic animal is quite a treat so keep your eyes peeled.
The routes will always be determined by the conditions at the time, but you will cover between 20 and 50km a day.
Handcrafted accommodation
Sven's lodge is just 6km from the village of Karasjok in a remote area of Norway where Sámi traditions remain at the heart of everyday life.
There's a main log-built lodge where guests meet in the morning and evening for meals and a series of delightful and very comfortable wooden cabins with remarkable furniture, carvings and features all created from natural resources found in the woods by.....you guessed it, Sven! When he's out mushing he might spot a piece of wood that would create a handy coat hook, lamp or table, he'll pinpoint it on his GPS and return for it later – he's just that kind of guy.
During the safari itself, you will be based in wilderness cabin accommodation. The cabin choice will always vary depending on the route taken. Many do not have running water or electricity but that is really all part of the adventure. There are usually saunas though so you enjoy a good steam clean after your day of mushing.
Your guide will cook evening meals on an open fire and everyone will get stuck in with the camp chores and feeding the huskies.
With very little light pollution, this is also a great region for viewing the Northern Lights and whether you are at the lodge or in a wilderness cabin you have an excellent chance of catching a show if conditions are favorable. It's even better if the dogs start to howl at the same time.......imagining that they are wolves makes for real shiver-down-the-spine stuff!
---
Photography by Engholm Husky
Read more
Read less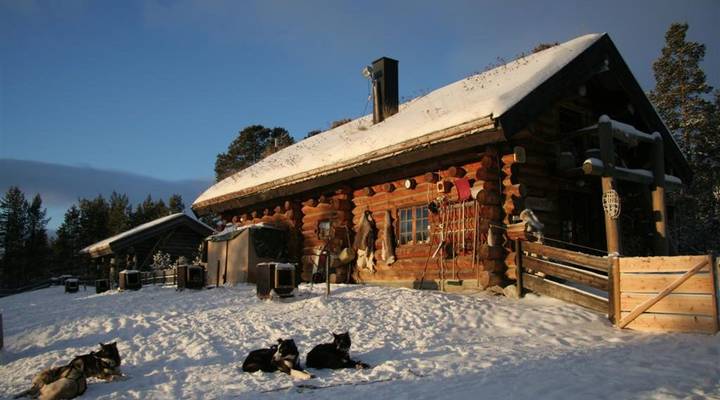 Holidays
Accommodation