Spitsbergen
The Svalbard archipelago is the last land mass before you hit the Polar ice cap and Spitsbergen is the only inhabited island. Not surprisingly, life is very different here but there is absolutely no shortage of natural wonders.
About
Sitting in the Svalbard Archipelago, just 800 miles from the North Pole and off Norway's Northern coast, is Spitsbergen.
The island was first settled by trappers and whalers but those days have passed. Now the island draws research scientists, explorers heading North and tourists who want to see what life is like at the top of the world. This is no metropolis, two-thirds of the island remains locked under glaciers and polar bears still outnumber people!
We offer an exceptional summer itinerary on this wild and rugged island, accompanied by the unending days of the Midnight Sun. The land here benefits from the long summer and the ground is very fertile for wildflowers and Arctic fauna. Our Summer in Spitsbergen holiday showcases the island during the milder months when the sun never sets, and the island comes alive with wildlife. It really showcases it as its very best.
Once-in-a-lifetime experiences are a daily occurrence here in Spitsbergen and our Summer in Spitsbergen holiday encapsulates our favourites.
Speak to our Artisan Travel Experts
01670 785 085
Why Summer?
The island offers guests a wealth of opportunities, no matter the season, but summer is where we have chosen to focus.
The landscape and wilderness here may attract adventurers, but the island is still wonderfully accessible for those who wish for a more relaxed pace but would still like to experience an Arctic island.
The beauty of a summer holiday in Spitsbergen is that, not only do you explore on land, but you also take to the seas and can witness a different perspective.
Our Summer in Spitsbergen holiday lets you enjoy the 24-hour daylight whilst visiting glaciers, dog sledding using a wheeled sled, and enjoying boat trips to explore the fjords and inlets on the island's coast. You'll also get a real insight into the region's heritage during visits to Soviet-era bases and mining settlements which are all part of the island's rich historical tapestry.
The temperatures in Spitsbergen are rarely described as warm, even in summer, but the summer average of around 5-9 degrees Celsius is positively balmy in comparison the -15-17 degrees Celsius in the winter months. It means that you can really start to explore and enjoy this spectacular landscape and see it at it's very best.
No compromise on comfort
You may think you'll have to stay in some kind of Arctic explorer's tin shed when visiting such a remote spot – nothing could be further from the truth.
For such a small and wild location, we were truly amazed at the accommodation standard on offer in Longyearbyen, where our guests are based. The quality and comfort level is a testimony to the fact that many people who travel here are looking for something exclusive and therefore facilities are excellent.
The Radisson Blu Polar Hotel offers a modern retreat with well equipped and spacious rooms, taking inspiration from their surroundings and offer easy access to Longyearbyen.
Spitsbergen also has an excellent reputation for food and drink. There are craft beers, champagne bars and fantastic fine dining experiences which would not be out of place in any modern city. These experiences provide a strong but pleasant contrast to the harsh environment beyond their doors.
Such modern accommodation can make you forget just where you are. However, if you take a walk around Longyearbyen, you'll soon see the signs which warn against venturing beyond the town's boundary without a gun, as polar bears are often sighted. We tend to find that this helps you remember Mother Nature still reigns supreme here.
---
Photography by Jens Henrik Nybo & Visitnorway.com, Spitsbergen Travel & Hanne Feyling
Read more
Read less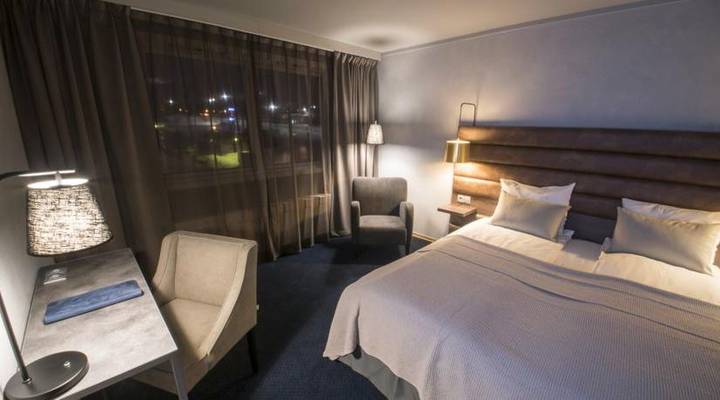 Popular holidays to Spitsbergen
Holidays
Accommodation