Tromsø
Tromsø has earned a reputation as being one of the best places in the world to base yourself for a spot of Northern Lights hunting. There is far more to this vibrant northern city, especially in the summer..
About
The Paris of the North, the Capital of the Arctic, Gateway to the North Pole… these are just some of the terms used to describe Tromsø, the largest city in Northern Norway.
Tromsø is a remarkably cosmopolitan place and has escaped the wholly functional architecture of some Arctic towns and cities. Independent shops, restaurants, and cafés are in abundance and it is a place which certainly warrants some time.
Whilst this city may have a reputation as a Northern Lights destination (we feature dedicated holidays with our sister company The Aurora Zone) our guests enjoy the milder climes of Norway's summer when the city is full of colour and the mountains and fjords are at their glorious best.
Exploring without the need for bulky winter clothes makes life much easier and you can really take your time and enjoy the sights and sounds of the city and its busy harbour.
Our holidays are not solely focused on Tromsø, as quite honestly Northern Norway is just too spectacular for you to stay in one place, so we have created our self-drive holidays, giving you the freedom to see all the highlights.
Speak to our Artisan Travel Experts
01670 785 085
Top tips for Tromsø
Both our Islands and Fjords of Northern Norway and our 10 day Self Drive holiday give free time to enjoy the city. Many members of our team have enjoyed time in Tromsø and they have compiled their favourite experiences.
1. A walk around the harbour – this fascinating working harbour is always busy and you'll see a range of Arctic fishing vessels, day boats, cruise ships and sometimes even expedition vessels down at the port.
2. Café culture and dining delights – spend some time enjoying some of the many cafés and restaurants available in the city. There are some exceptional dining experiences to enjoy.
3. Pop into Polaria – this Arctic aquarium is fascinating and offers an insight into the local landscape and wildlife.
4. Visit the Arctic Cathedral – using your hire car the cathedral's striking architecture is within very easy reach.
5. Enjoy a midsummer concert - these take place each year and you can find details of what is available online or at the tourist information centre.
6. The cable-car ride up Mount Storsteinen – this trip is well worth it for the summit views alone. Looking back over the city, the islands and fjords are a spectacular sight.
7. Head out on a glacier hike – during our Islands and Fjords holiday it is possible for us to arrange for you to enjoy a walk on a nearby glacier which is an incredible experience.
8. The Polar Museum - if you want a glimpse into the realities of polar expeditions then head to this museum. There are exhibits relating to some of the most famous of Arctic explorers.
Sleeping in the city
Due to the mix of business and leisure tourists here, there are some very well-equipped modern hotels for guests to enjoy.
We have had the very hard job of trying many of these hotels (someone has to do it!) and without a doubt, our favourite has been the Clarion Collection Hotel Aurora and this hotel features in both our self-drive holidays in Tromsø.
This hotel is centrally located and has great views across the harbour and the sea. The location means that you can leave the car for the day and explore on foot as many of the attractions are within easy walking distance.
There are two things which our team really enjoyed. Firstly, the rooftop hot tub which is a great place to unwind after a day in the city and offers great views.
Secondly, the hotel provides a light buffet in the evenings for guests. This means that you can indulge at lunch and enjoy a selection of light snacks or soup in the evening, should you wish.
The hotel's location does, however, mean that you can easily access a range of fabulous restaurants on foot though, should you prefer.
---
Photography by Ole C Salomonsen, CH/Visit Norway.com/InnovationNorway, Frithjof Fure/Visitnorway.com
Read more
Read less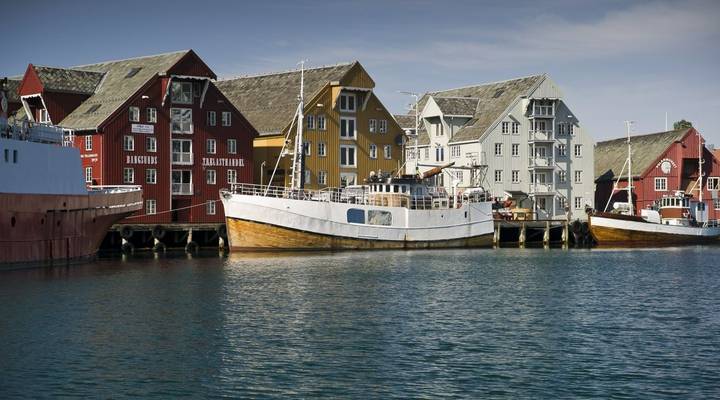 Popular holidays to Tromsø
Holidays
Accommodation