Iceland is like nowhere I have ever been. Boasting a diversity of dramatic natural features that had me vainly striving to recall my 'O' level Geology (Grade C!). The list is long, long, long: Glaciers, volcanoes, lagoons, hot springs and waterfalls being just a few of the highlights but it was a phenomenon that didn't feature in the Geology curriculum at Gosforth High School in the late 1970's that really made my trip utterly memorable.

The Midnight Sun is a natural phenomenon occurring in places north of the Arctic Circle around the summer solstice (21 June) when the sun remains visible in the sky for a full 24 hours.
To experience it to the fullest extent I flew north from Reykjavik to Akureyri, a genuinely charming city which lies just south of the Arctic Circle and a place where it just doesn't get dark in late June.
I had arrived fairly late in the evening but for all I knew, it could have been morning or afternoon given the constant light. I think everybody's reaction to the Midnight Sun is different but my experience was that I immediately felt highly energised. Rather than hit the sack after a long day travelling I found myself wandering through the town admiring the brightly painted Icelandic houses and pausing for a 10.30pm ice cream on the main street, Hafnarstræti.
Suitably invigorated by my late evening treat, I started to head back to my hotel but couldn't resist climbing the stairs (I counted 142 steps but in a hitherto unanticipated burst of energy caused no doubt by the ice cream, I must have skipped a couple because I was later told that there are actually 144) up to Akureyri's imposing church to admire the views. Glancing at my phone I realised that it was now nearly 11.30pm and still light, light, light.
Naturally, I had to stay there for another 30 minutes if only to be able to say that I was there at midnight so I strolled around the church admiring panoramic views and occasionally checking the time to remind myself that it wasn't really mid-afternoon or some other time I would normally associate with daylight hours.
The witching hour passed in somewhat brighter fashion than usual and I returned to the hotel to get my head down. Fat chance! Despite the heavy duty curtains blocking out the early (extremely early) morning light my body clock was obviously somewhat perplexed and it took a good hour or so of reading before I finally fell into the welcoming arms of Morpheus.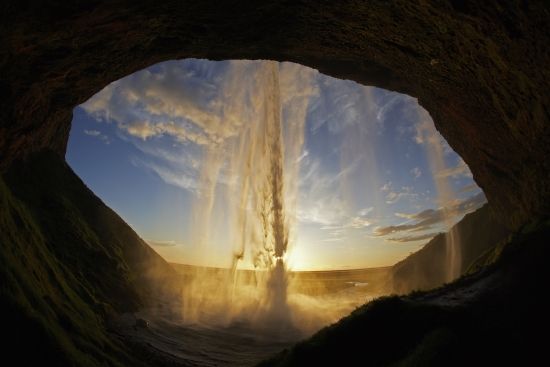 The next morning I asked just about every local I met the question that every visitor asks them:
How do you cope with the constant light? and, of course, every answer was the same, "we just get used to it."
Slowly over the next few days I too began to get used to it but it helped to have a busy itinerary exploring this wonderful and wild place because here, in the north of Iceland, there are a lot of daylight hours to fill.