Initially, I drove my machine - after a very thorough safety and instruction briefing from our highly experienced guide Timmo - and rapidly grew in confidence as I realised that it was pretty much a matter of pointing it in the right direction and braking when appropriate. However, I actually preferred the safari when I switched places with my pillion passenger because being relieved of my driving duties meant I could drink in the stunning scenery the like of which I had never seen before. It's rare to see such an untouched environment in this modern world and I wanted to appreciate it to the fullest extent so my passenger position was absolutely perfect.
At first glance and to this novice's eye, it looks like very little wildlife would be hardy enough to survive the long Lappish winters but our guide knew better and regularly paused to point out animal and bird tracks en-route.
We also dropped in to visit another native Laplander but sadly, Father Christmas's cabin was empty as the great man had apparently taken himself and Mrs C off to Australia for a holiday – this we learned on good authority from our guide Timmo.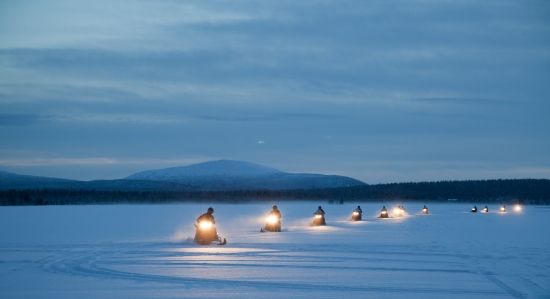 We sometimes get customers suggesting that snowmobile safaris are not the most environmentally friendly way to experience such an unspoiled part of the world but snowmobiles are a way of life here in Lapland and absolutely vital to the rural economy. When I mentioned this, Timmo bristled visibly. He had obviously been asked the question before and his vehement response was obviously well practised.
"Without snowmobiles" Timmo pointed out, "there would be no tourism industry here and much, much less employment. We use four-stroke engines which are very, very clean and less noisy, they are a way of life here just as four-wheel drive cars are elsewhere and if your clients are so worried about the environment, why are they flying to the Arctic Circle?"
That was my lesson well and truly learned and not only did I come back knowing this particular part of Lapland much better than I had previously, I was also reminded that the locals are invariably far wiser than the visitors.