To experienced mushers this canine enthusiasm is highly infectious but to dog sledding newcomers it can be pretty daunting because these animals are fiercely powerful and you can be forgiven for thinking that the task of controlling them might be difficult. The most important thing I learned on my first ever dog sled safari was to keep the brake at least half way down at the point of departure.
That first dog sledding experience was at the Arctic Sled Dog Centre near Muonio in Finnish Lapland. I'd met my team of six dogs and, having never mushed before, was waiting somewhat nervously on the back of my sled for the off. To say that the dogs were eager to be on the trail is an understatement and as they strained heartily at their harnesses I became aware of just how powerful a team of dogs can be.
Our guide signalled our departure and one of her colleagues released the sturdy rope which had previously kept my canine partners in check. Whoosh!! Like greyhounds out of a trap we were off and as the track out of the Dog Sled Centre immediately descended through a tunnel and under the last road we would see for a few days, the pace was best described as break-neck.
Like hounds from Hell, the dogs whizzed through the tunnel and I found myself simply hanging on and thinking "How on earth am I going to control this lot".
Mercifully, we almost immediately encountered an upward slope which brought gravity back into play and even the dogs were forced to slow their pace. From there we travelled on pretty flat terrain and the team settled into a nice steady pace, my heart rate dropped back to something approaching normal and the joy of mushing became apparent as I marvelled at the wonderful winter scenery of Fell Lapland.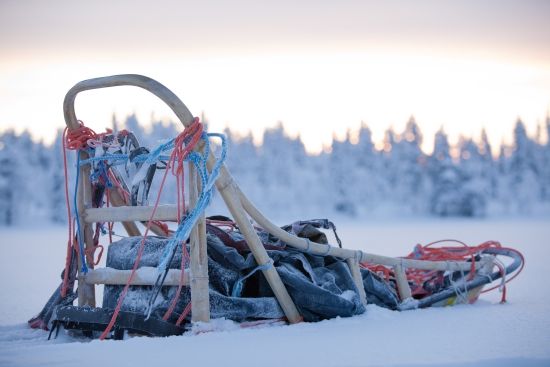 As we lolloped along at a far gentler pace, I very soon realised that the mistake I had made was to forget all about the sled's brake. Ever since that first dog sled safari, I have always kept my foot firmly on the hefty metal brake which runs across the sled's two runners (you can see it at the foot of the sled pictured above) for this is the secret to a stress-free departure.
The secret is to watch your guide closely for the signal to depart and then slowly, very slowly let the brake come up.
Nowadays, I rarely release the brake fully until we've been moving for at least a minute or two just to let the dogs know that I am in control and that we'll do things at my pace. It seems to work and, if I say so myself, I've become a pretty decent musher over the years which I believe is at least partly due to dictating the early pace by using that oh-so-precious brake.
I hope this blog doesn't make dog sledding sound too daunting because it isn't and more often than not you'll have four dogs rather than the six I had which makes them far easier to control.
Mushing across a winter wilderness, through snowy forests and across frozen lakes is one of those must-do bucket list experiences but it is one that you will find is much easier if you use the brake from the outset and show the dogs that you are the boss.