1. Hear the Silence
Deep snow deadens sound and in places where reindeer outnumber people there is very little noise to start with. Stand dead still on a frozen lake or in a snow laden forest and the silence is so perfect it becomes almost spooky.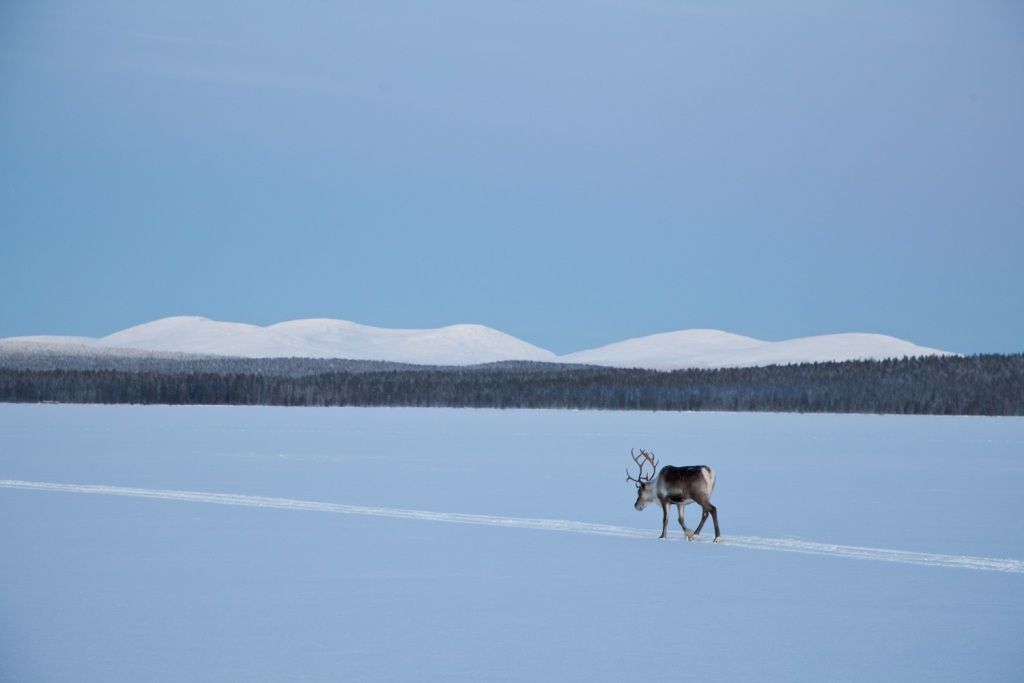 ©A Pietikainen
2. Be a Child Again
Remember when school was closed because of snow and you could spend a gloriously happy day sledging with your friends? Simple pleasures are often the best and with purpose built slopes and free use of the sledges, there is absolutely no reason not to relive those happy days of winters past.
3. Ice Fish on a Frozen Lake
Drill a hole through metre thick ice, make yourself comfortable on Mother Nature's best insulator, a reindeer skin, feed your line into the chilly water below and wait for a bite. Grayling, Arctic Char and the ubiquitous "Whitefish" are common catches and delicious when simply fried as fresh as fresh can be.
4. Snowshoe in a Snowy Forest
It is notoriously difficult to walk across deep snow so bright spark invented snowshoes which spread your weight more evenly and allow you to explore the wintery forests. Watch out for animal tracks and you might just encounter arctic hare, reindeer, fox and even moose.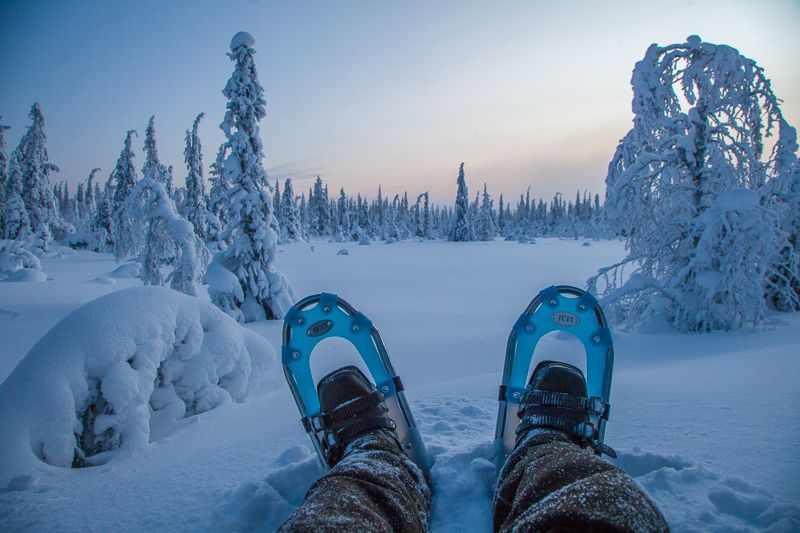 ©A Pietikainen
5. Drink Coffee Brewed in a Black Kettle
The Finns drink more coffee per head of capita than any other nation on the planet and a warming brew is very much part of the Finnish outdoor experience. Prepared over an open fire in soot stained, cast iron pots, a coffee-stop is almost compulsory on those cold winter days.
6. Have a Sauna
It is often said that the first room built in any Finnish house is the sauna. The Finns absolutely love to take time out and relax in the cleansing steam. A sauna is a place to contemplate, to socialise and to simply take time out to chill (probably the wrong word to use!).
7. Roll in the Snow or Plunge into and Icy Pool
Immediately following a sauna, many Finns take things to the opposite extreme by swimming in an icy pool or rolling in the snow. The water is always just above freezing point but snow holds the temperature of the air so it could be down to -30°C. It sounds horrific and at the time it is but, once you emerge with your skin tingling, it is a fantastically invigorating experience.
8. Winter Glamping
There's all manner of exciting accommodation in Finnish Lapland but one of our absolute favourite are these fabulous Aurora Domes. Imagine, sitting or lying in one of these heated tents and watching the night sky!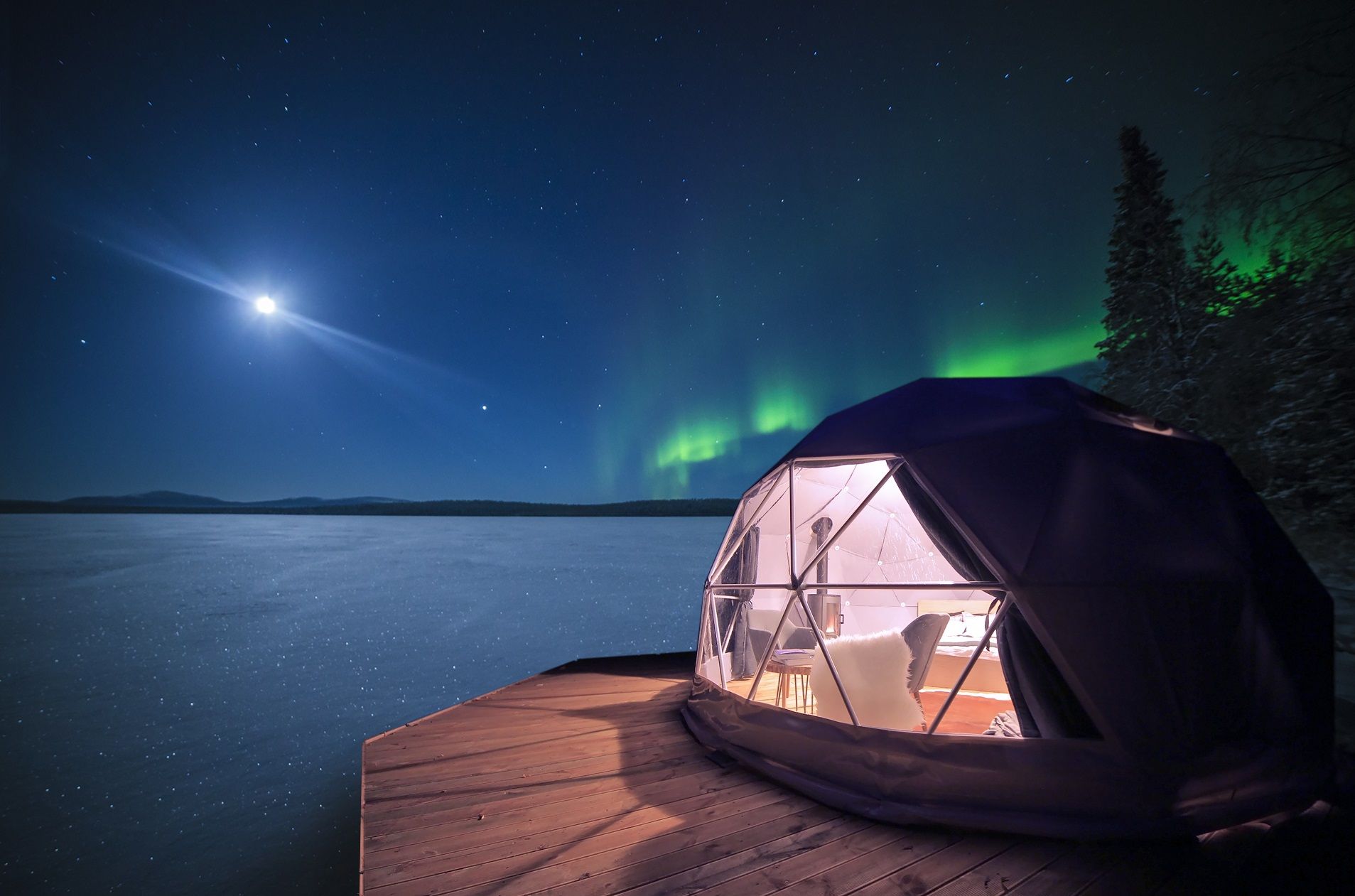 ©J Rannalla
9. Stay in a Wilderness Cabin
Finnish Lapland has vast tracts of open space and remote wilderness cabins which provide a comfortable if somewhat rustic place to escape the sub-zero temperatures of winter. There's often no electricity and water has to be fetched from a stream but there's always a log fire, a sauna and perfect silence outside.
10. Learn to Cross-Country Ski
In Finnish Lapland you'll see locals aged from 3 to 93 going about their daily business on cross-country skis. Longer and thinner than downhill skis, cross-country skis are surprisingly easy to master and once you have there is a massive network of well-marked winter trails to explore.
11. Sleep in an Igloo
If you are feeling hardy and fancy spending the night in an igloo then Finnish Lapland is as good as anywhere to try it. You'll be provided with a mattress, an insulating reindeer skin to lie on and, snug in an Arctic grade sleeping bag, you can spend the night in traditional style.
12. Feed the Reindeer
Joining a herder when he goes out to feed his animals is a unforgettable experience. Please remember one thing though, it is considered very rude to ask the herder how many reindeer he owns.
13. Go on a Snowmobile Safari
There is no better way to see this picturesque part of the world than on a snowmobile. The best safaris will follow the well maintained trails to the summit of the snowy fells from where the elevation reveals exquisite lake and forest winter landscapes which stretch endlessly away to the horizon.
©A Pietikainen
14. Stay in a Cosy Log Cabin
What could be cosier than returning to a log cabin as night falls and the temperature begins to plummet? The crunch of the snow as you walk up to the front door, the blast of warmth as you step inside and a glass of wine in front of the wood burning stove seems like the perfect way to end any day.
15. Go Dog Sledding
Imagine guiding a team of willing huskies along winding forest trails and across vast frozen lakes. This is real "Call of the Wild" stuff, just man and canine best friends against a wintry wilderness. It's little wonder that dog sledding is close to the top of many bucket lists.
16. Look up to the night sky
The Northern Lights or Aurora Borealis are surely one of Mother Nature's greatest wonder. They originate 93 million miles away on the surface of the sun in the form of electronically charged particles which manifest themselves as curtains of flickering light in the night sky. At their best, the Northern Lights are spellbinding and have reduced many a watcher to tears.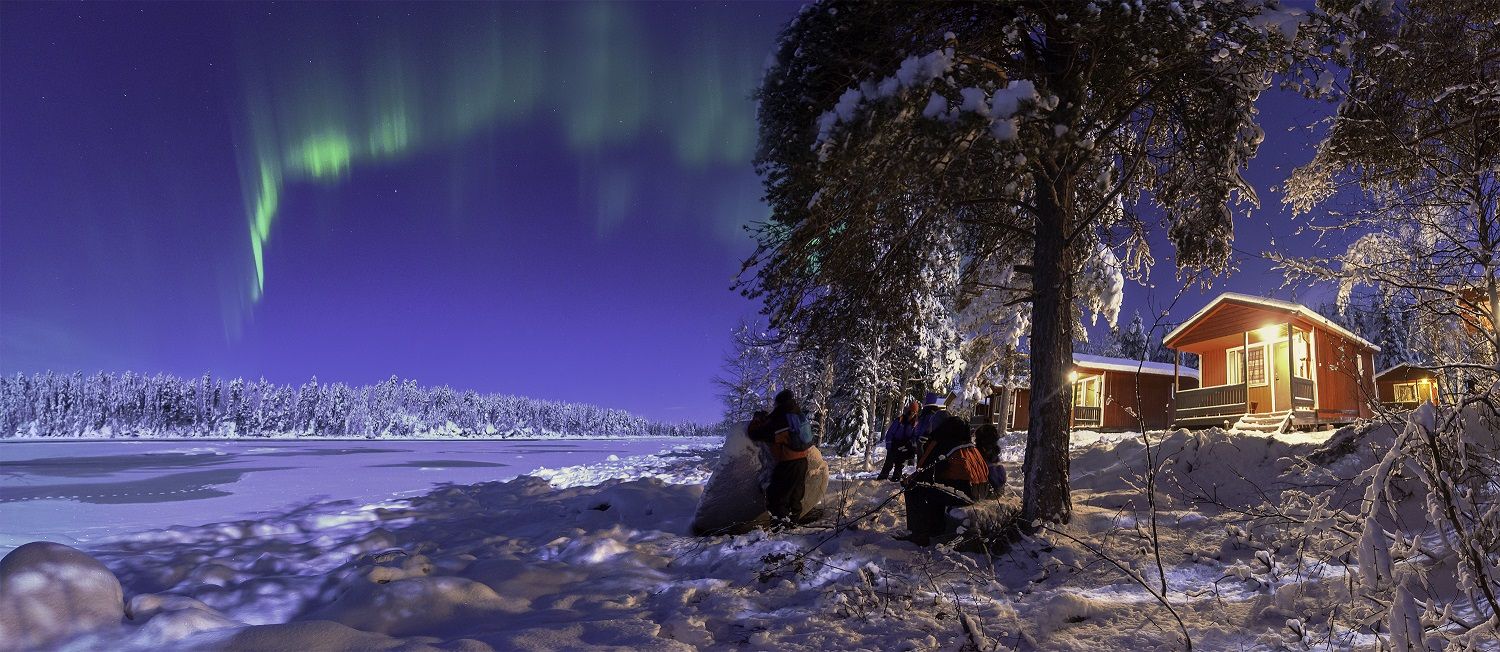 ©A Pietikainen
17. An Aurora Sleigh Ride
If the thought of hunting the Northern Lights at night sounds a bit chilly then these Aurora Sleighs provide shelter from the cold and a very comfortable viewing spot. They are pulled by a snowmobile so you also have the mobility to get to the best vantage points for seeing the Northern Lights.