Reykjavik, the most northerly capital in the world is fast growing a reputation as a modern and cosmopolitan base for travellers, and it has steadily established itself among its European counterparts.
I found it had a pretty wonderful mix. On one hand you have all the great shops, restaurants and museums, whilst on the other you have the small wooden houses and friendly people that give it a lovely sense of small town neighbourliness. There's something very laid-back about the city too and I found it to have a widespread sense of peace and calm – perhaps something to do with the backdrop of glaciers and mountains and crisp cold air!.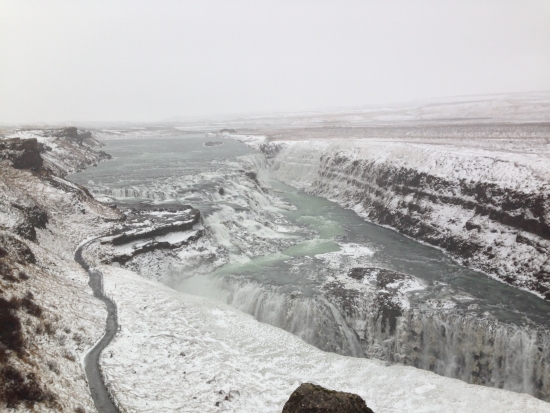 After Reykjavik, we did a mini-tour of the Golden Circle - a famed Icelandic triumvirate which incorporates the hot steam spout of Geyser, the dramatic powerful waterfall of Gulfoss and the historical centre of Icelandic national consciousness, Thingvellir. We sadly only managed two thirds (Thingvellir was too far out of our reach for the direction we were going) but it is really very easy to see why it forms a famed tourist route.
At Geysir we made our way to where a small crowd of people where stood expectantly around a crack in the lava field landscape, cameras at the ready, ready to witness Strokkur, the most active geyser here (sadly Geysir, the geyser after which the region was named erupts very infrequently). We stood and waited like everyone else and were rewarded with a steaming spurting water shoot that rose rapidly out of the ground and high into the air - a short and simple display, but one so impressively cool that we stood around and waited for the next eruption. And the next. And one more before we left. This was no tourist gimmick, or magic trick, but quite simply nature at its mesmerising best.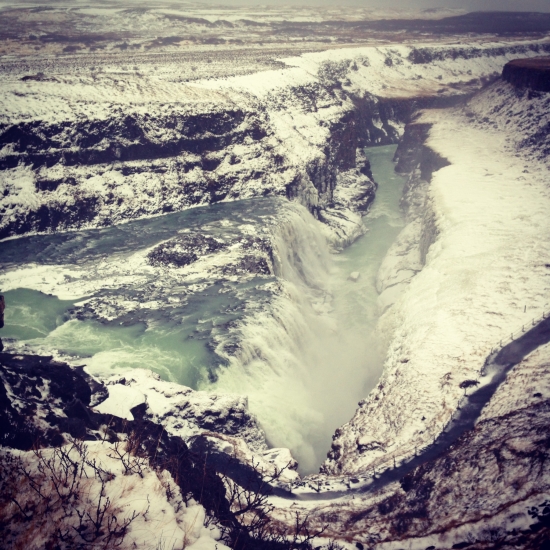 Gulfoss was our next stop - an awe-inspiring epic waterfall that at this time of the year is topped with snow and ice. It was absolutely freezing at this point and we had rain blowing into our faces from the high speed winds but the view was worth it - this phrase gets used a lot, but genuinely it was!
So far we had seen two sides of Iceland's many facets - the cool urbanity of Reykjavik and a brief taste of its endless natural wonders.