Watching a television programme about wildlife at home in your warm living room makes it difficult to really understand the scale of the forests here. We had a one-hour drive to get to our destination and it was only then that we started to appreciate just how big and empty this land really is. We saw very few cars on the main highway to Torassieppi which leads north, winding for hundreds of kilometres deep into the Arctic, eventually reaching Nordkapp in Norway, the last solid ground before the North Pole.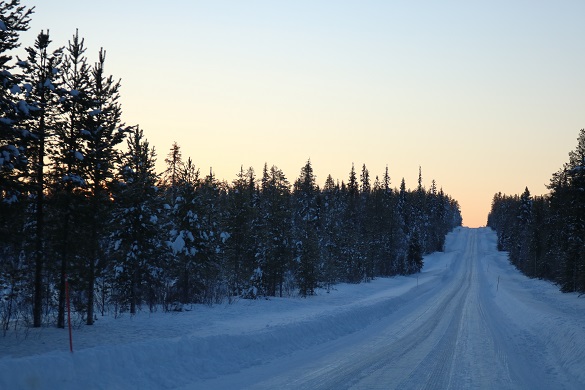 After about eighty kilometres we turned off the highway onto a minor road covered in hard-packed snow, unsurprisingly there was not much traffic here either. Soon we reached another turn-off, this time to a narrower track into the trees, where the snow was softer and even deeper. With a wide-open frozen lake on one side and a deep silent forest on the other, we had arrived at a picture book scene of small cabins gathered around a larger building right on the lakeshore. Snow piled in drifts on each side and a half a metre deep on each roof, lights twinkled even though it was early afternoon, as the sun had set and the "blue light" had arrived.
After a light lunch, we were issued with our extra kit, an insulated oversuit, double boots, thick socks, fleece mitts and overmitts, together with a fleece balaclava. It all felt a bit over the top until we went for a short walk to the ice village and then down to the frozen lake, and as darkness fell the temperature dropped. It really was only 4 pm but having been up since 5, we were soon ready for dinner and an early night. The cabin was snug, the beds comfortable and warm and we slept very well ready for the first day of activities.
Day Two:
Excitement and a delayed sunrise made it difficult to judge the time and impossible to stay in bed. Still, in the strange half-light before sunrise, we went for breakfast, and then to get ready for our first adventure.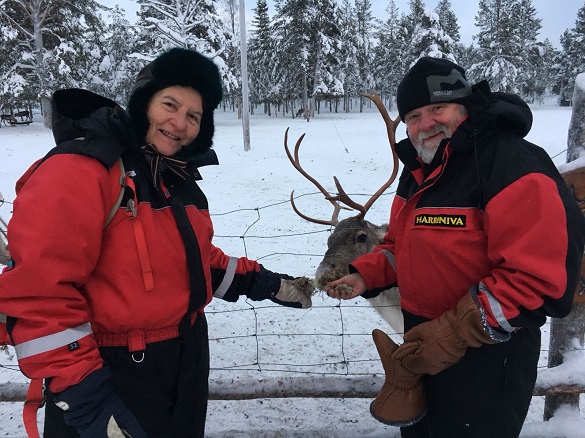 Dressed in multiple layers we walked along to the reindeer farm to meet a Sami farmer. After a short explanation, we loaded ourselves into sleighs each one coupled to a reindeer, and we were off. Exhilarating is an understatement when thinking how to describe the experience, but after a few hundred metres we stopped as our guide unfastened the lead from the sleigh in front and handed a rope (and control!) to me.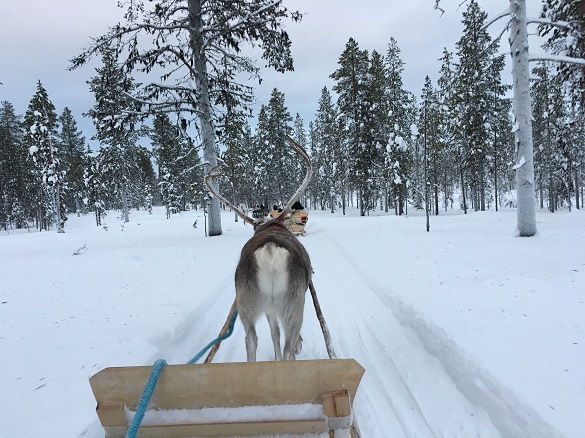 This time the reindeer galloped after the sleigh in front and snow began to fly up. Following the sleigh in front, our "engine" raced through the trees and out into the open country. By the next trees, our reindeer slowed down and halted browsing at some long hairy moss that had fallen from the trees. Later we found out this delicacy is a favourite of reindeer much preferred to the ground growing lichens!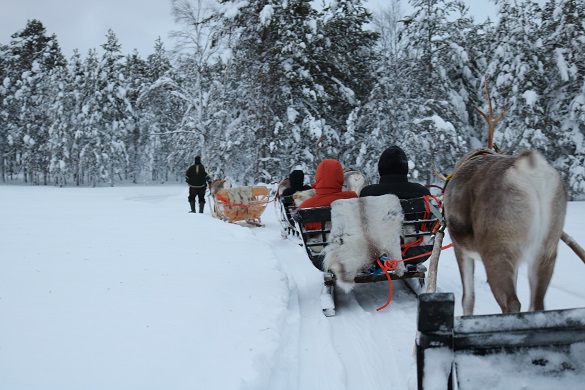 With increasing confidence, we urged the beast onward and realised that while not in complete control we were actually driving the sleigh ourselves. All too soon we had circled back through the trees to the farm. Our guide then showed us one of the few older houses in Lapland, now a museum, which had survived the terrible wars of the twentieth century, probably due to its remoteness.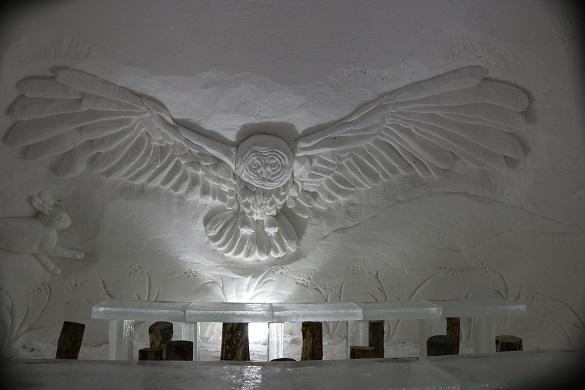 We then listened to a short informative talk about Sami culture and the local environment, before walking a short distance through open woodland to the Kota, where a rich and warming lunch had been prepared for us. On our way back to our cabins we passed the Ice village with magical owls and woodland animals carved into the walls, sleeping chambers and an ice bar. Finally, we were back to the main lodge for a coffee and relaxing afternoon before dinner, the end of a brilliant day.
---
Feeling inspired? Find out more about our holidays to Torassieppi here