As soon as I arrived, I came to find that Luosto is a location with fantastic ways to spend your free time. After spending two weeks in the wonderful world of Luosto, and after meeting our lovely guests and hearing about their Luosto experience, I have compiled a list of the top 5 things to do there! So, in no particular order…
1) Snowmobile to the Amethyst Mine
Luosto offers a wide and varied number of activities, so I thought I would choose just one to put on this list. Of all the amazing activities that Luosto has to offer, I think snowmobiling to the Amethyst mine has to be my favourite. This is a must-do for the chance to experience stunning views from the top of Luosto's fells, as well as just being brilliant fun!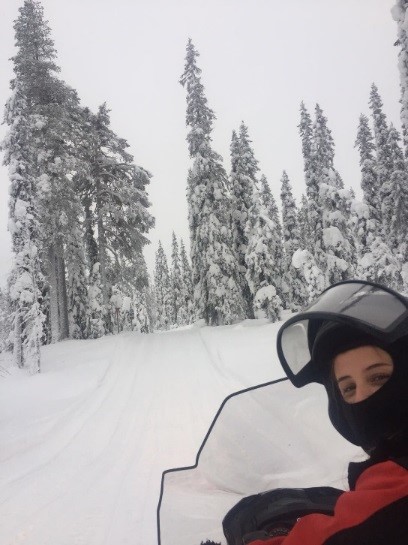 From my experience, the snowmobile drive up to the top of the fell was a steady speed, which is great for beginners in particular, and the terrain was quite smooth. This proved perfect for me and the other guests, as the views were so picturesque that all we wanted to do was take photos. The trees became gradually heavier with snow the more we gained altitude, with the sight becoming more enchanting the higher we got.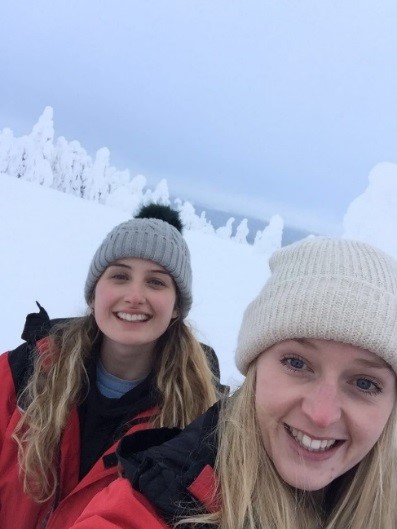 After plenty of time to enjoy the views at the top, we were lead inside to enjoy a talk from a guide who knows everything there is to know about Amethyst mining. After a hot drink, samples of different types of Amethyst were passed around the group, and by the end, we were itching to go and find our own.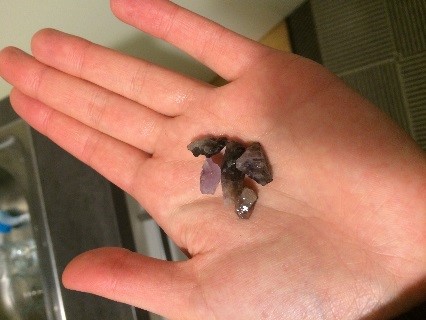 Then, we climbed down a number of stairs into the mine and started digging frantically! I don't think anyone came away disappointed, and although I didn't find anything too rare or big, I was happy with my handful of miniature amethysts which I gave to my mum when I returned to the UK.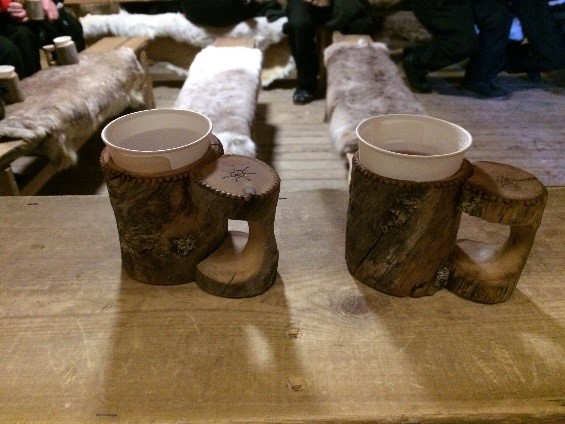 2) Enjoy the Local Landscape using Luosto's Marked Trails
Something I find wonderful about Finnish people is that they absolutely love nature, and you'll see many locals enjoying the great outdoors wherever you go. One fantastic feature of Luosto is that there are clearly marked walking, snowshoeing, and cross-country skiing trails in the surrounding area so that even guests who are new to the landscape can make the most of the stunning scenery.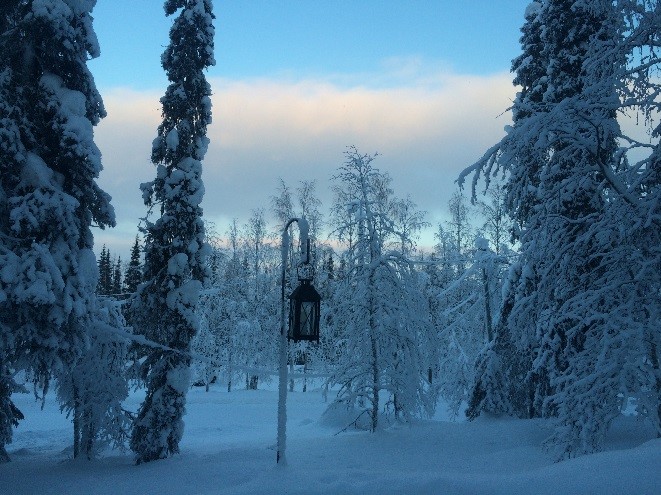 If you don't fancy hiring any equipment, you can simply walk over compacted trails that are easy to tread over without snowshoes. My particular favourite was a simple walk around the lake that is just behind the hotel, which also proved perfect for looking out for the Northern Lights (we were lucky enough to see them from there!).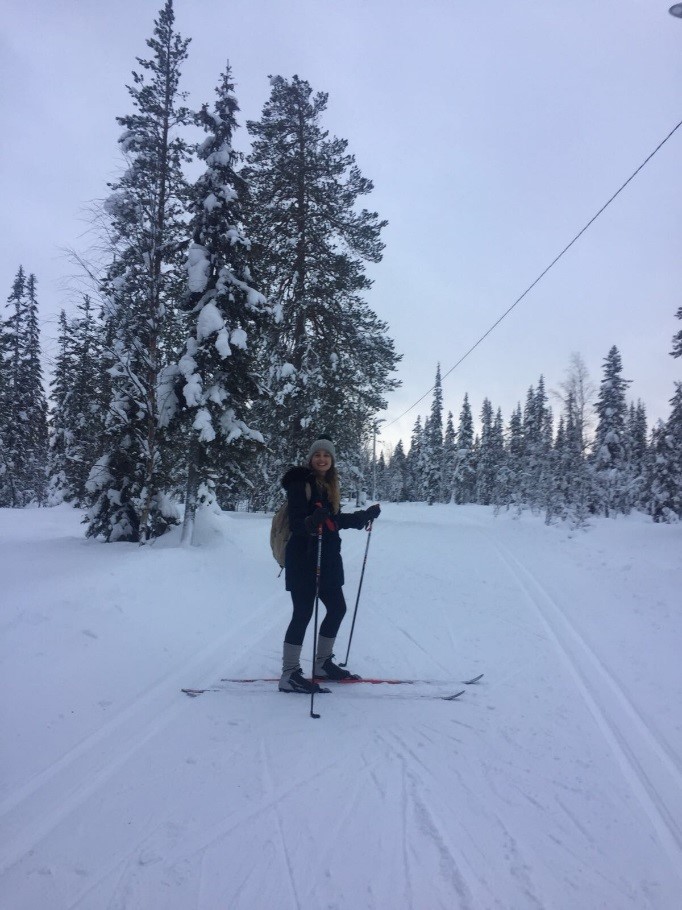 If you would like to try something a little more adventurous, you can hire some snowshoes locally and head into the nearby forest. The great thing about doing this independently is that you can travel at your own pace, so you can take it slow or you can use it as your cardio hit for the day! And trust me, stomping over the thick powder can really take it out of you.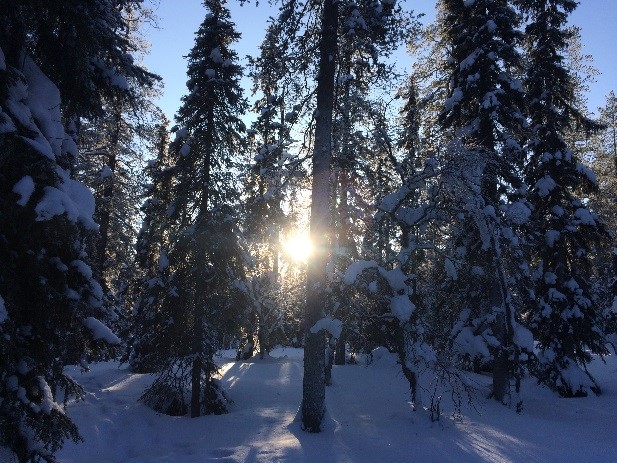 Cross-country skiing is another option, and I absolutely loved gliding over the trails whilst appreciating the fresh air and the stunning views. I can't say that I perfected the skill of cross-country skiing, but I was shuffling along and enjoying it nonetheless, so I think that still counts! Unlike downhill skiing, this is something that you can try independently even as a beginner, however, we do also offer guided cross-country skiing.
3) Explore the local cafés and cuisine

Although Luosto is a very small and remote location, it has something that many of our other destinations do not, as there are a few different culinary options to choose from in the area.
My personal favourite during my time at the Tunturi was a café called Puna Kettu, meaning 'Red Fox'. Whenever I had some spare time or some work to do, this was the perfect place to sit and enjoy the atmosphere, the lattés, the hot chocolates, and the delicious food! It was in here that I realised that one of the best ways to unwind on a cold day is to sit with a hot drink and watch the snow drifting slowly outside.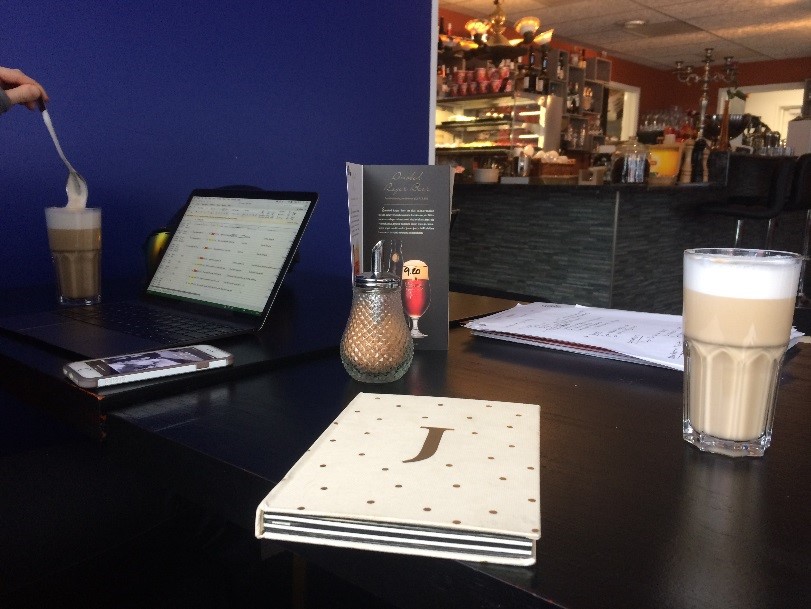 I especially enjoyed watching a group of Finnish friends jeering and groaning at the Ice hockey just as an English bunch might react to the football. It was lovely to observe this and be surrounded by locals as well as an array of hotel guests.
I can highly recommend the mushroom soup and the goat's cheese salad from the menu if you are looking for a lunch spot. Puna Kettu is not the only option, however, and Hotel Tunturi's Bistro offers a fantastic menu, as does Hotel Aurora, and there are a couple of others pubs in the area too.
4) Downhill Skiing
As a nervous skier, I noted the slopes behind the hotel but I didn't have much desire to make use of them. My colleague Anna, who was also staying with me in Luosto, brought her ski gear especially, and couldn't wait to strap on her skis in our spare time.
After a few days had passed, and Anna repeatedly telling me that I was crazy to pass up the opportunity to ski, I decided to bite the bullet and book a lesson directly at the ski school. To my surprise, it was one of my favourite experiences during my time in Luosto, as the slopes were almost empty, meaning no queues for the lifts, and no experienced skiers speeding past me and throwing me off-balance!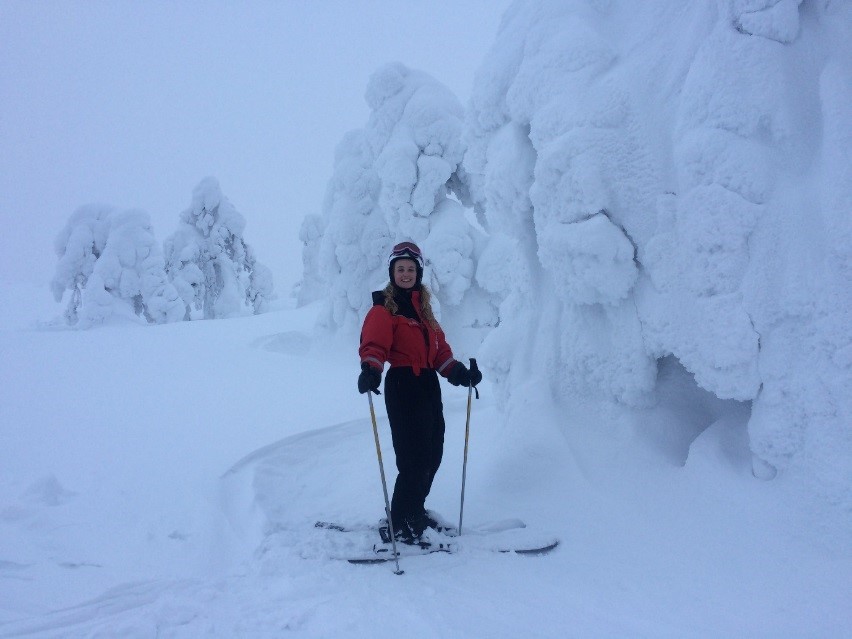 As the slopes were so quiet, my class ended up being a one-on-one lesson, so I got a great price for personalised tuition. We also offer an activity called 'Start at the Slopes', which you can book through us in advance and includes equipment rental, the group instructor, and a ski pass during your lesson.
The thing that I especially loved about skiing was experiencing the views from the top of the fell, as I have never seen quite so much snow clinging onto trees, which can apparently hold up to two tonnes of the stuff.
5) Relax in Tunturi's Spa
Last, but certainly not least, has to be Hotel Tunturi's spa facilities. One of the many brilliant things about staying in the Tunturi is that all guests have free access to the sauna, steam room, jacuzzi and pool. After a day in the snow, there is nothing more relaxing than warming up in the sauna, and I can now understand why the sauna culture is so important in Finland.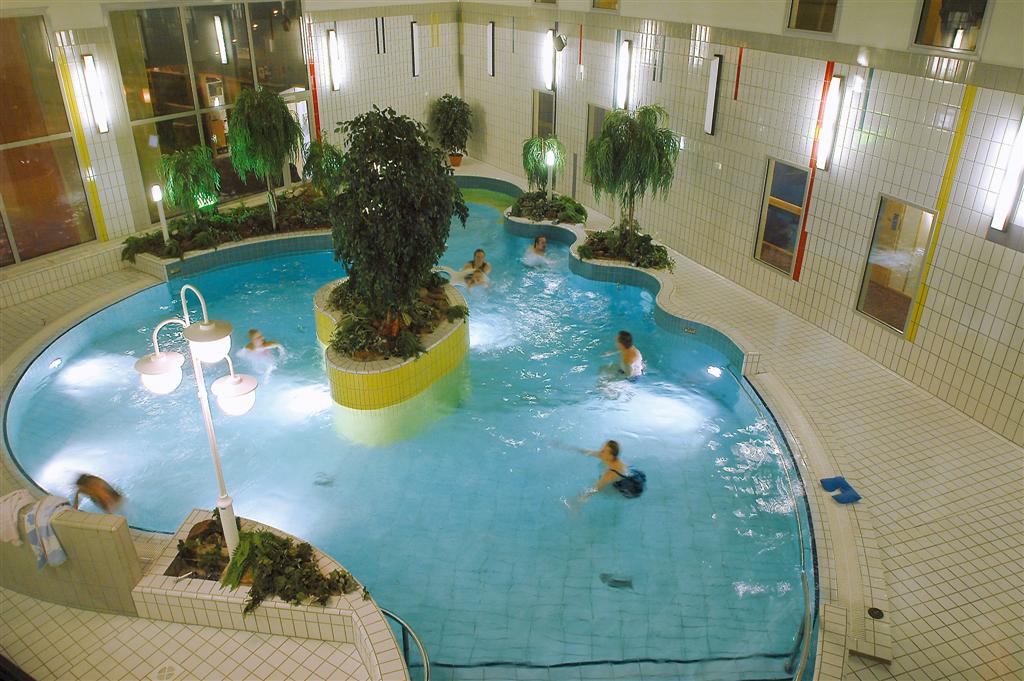 A leisurely swim, a relaxing ten minutes in the jacuzzi followed by a sauna session became one of my favourite pastimes here. This is something I would recommend to all hotel guests who fancy a little relief from the cold and want to relax during their stay.
I could have written a list that was hundreds of points long about the many amazing ways to spend your time in Luosto. However, I hope my 'top 5' are enough to encourage you to visit for yourself, and fall in love with the place like I did.
---