We had flown that morning from Anchorage to Fairbanks with Alaskan Airlines (excellent!) on a plane that was continuing on to Deadhorse (who thought up these names). Rather than join the flogging, (get it? Deadhorse, flogging? Oh never mind!), we took a short transfer from the main airport to a private one where dozens and dozens of smaller planes serve the small communities that lie further north in the more remote parts of Alaska.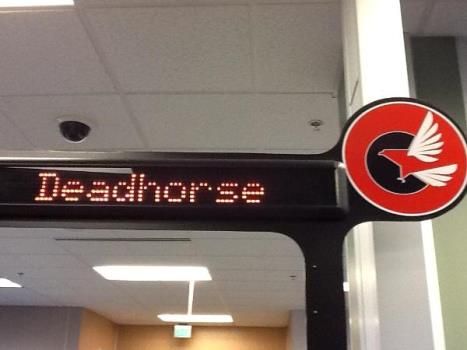 Off to a flogging?
This is my kind of outing. There's nothing I love more than heading north into territory I have only ever dreamed of exploring and here I was boarding a small 12 seater to do just that. I've long been a fan of the TV series Northern Exposure and had felt nothing but envy for one of the main characters, Maggie O'Connell who was a Bush Pilot by profession. I never imagined that I'd be emulating Janine Turner's character in a small aircraft crossing some of the most unforgiving yet beautiful landscapes in the world.
To make matters even better, we were blessed by a fine March day with clear ice blue skies and visibility that stretched away for what must have been hundreds of miles. A terribly useful map and a live commentary from our affable pilot kept us well informed as we flew north.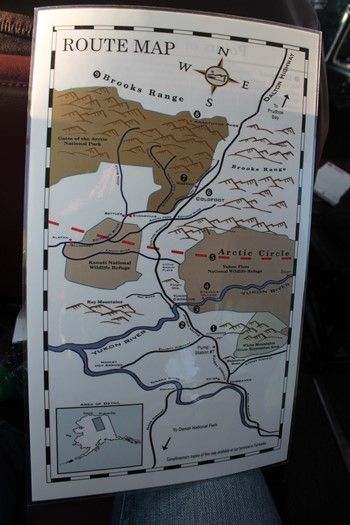 The Flight Plan
The first landmark below us was a tiny settlement called Livengood. At the 2000 census, this village had just 29 inhabitants which rather made me think that Livengood is perhaps a misnomer as you'd expect folk to flock to such an excitingly named place. It transpires that the village sprung up around a mining camp in 1914 after two prospectors, N R Hudson and J Livengood (ah!) struck gold there. As with many a gold rush, the camp became a town in next to no time and as soon as the gold was exhausted it faded back into obscurity. Such was the life and eventual fate of many gold rush towns.
Surrounded by a vast white tundra, it's hard to imagine that life in Livengood is much easier now than it was back in 1914 when it was first established. What it did, was give me some idea of just how isolated and remote some of these Alaskan settlements are. It must take a certain type of person to live in such a place as they are certainly not for anybody who craves too many of our latter day urban conveniences or a wild nightlife! Not much further on, we spied Stevens Village which, compared to Livengood is a sprawling metropolis of 87 inhabitants of whom 95% are Native American. I did some research on Wikipedia later and found that 60% of families in Stevens Village live below the poverty line. As I suspected, theirs is a very, very tough existence.
I'd very nearly missed seeing Stevens Village because it lies on the north banks of the mighty Yukon River. Mighty is a word that is used far too often in association with rivers but believe me, it is more than justified here. Indeed, in the native Gwich'in tongue Yukon means "Great River" and the Yupiks called it Kwiguk, or "large stream". Some stream! The river emerges in British Columbia before winding its near 2000 mile course through Canada's eponymous Yukon Territory and Alaska before spilling out into the Bering Sea.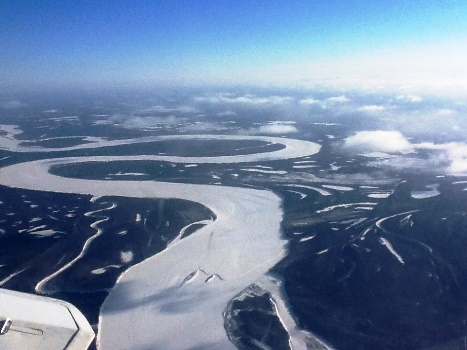 The Mighty (and frozen) Yukon
I've always been fascinated by the Gold Rush of the late-1900s which caused a huge stampede of wildly optimistic fortune seekers into the wild north with barely a clue as to the hardships that would ensue. Looking down on the wide Yukon River and the harsh wintery wilderness below me, I found it a wonder that anybody managed to reach the likes of Dawson City on the confluence of the Yukon and Klondike Rivers. The journey must have been treacherous especially as many prospectors were completely unprepared for the frozen wastelands that lay ahead. Not surprisingly, it is reported that the majority of hopefuls turned back well before reaching the goldfields.
The plane continued on towards Coldfoot and from time to time we would catch a glimpse of the Dawson Highway which is pretty much the only road heading north out of Fairbanks. Known locally as "The Haul Road" it serves the oil fields at Prudhoe Bay and apart from its constant neighbour, the Alaskan Pipeline, it was often the only visible sign of human influence from our vantage point high above. It is probably best known from the TV show Ice Road Truckers but, unlike its Canadian neighbour, The Dempster Highway, the Dalton doesn't actually have any stretches that are purely ice (I'll reveal all in a later blog about my trip up the Dalton by minibus).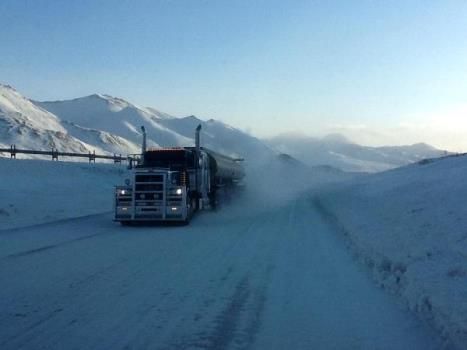 Ice Road Trucking on the Dalton Highway
Looking for significant landmarks makes this a wonderfully fulfilling one hour flight and as the jagged peaks of the Brookes Range came into sharper focus our pilot announced that we were now crossing the Arctic Circle. As one, in some sort of Arctic Pavlovian reaction, we all dutifully looked out of the window at what we all know is an invisible line. The Arctic Circle marks the latitude above which the sun does not rise on the winter solstice or doesn't set on its summer equivalent. I've crossed it dozens of times and to be perfectly honest find it rather underwhelming. No matter how much it's "bigged up", it remains an invisible line and every year it moves slightly so it's really difficult to know when you are crossing it exactly.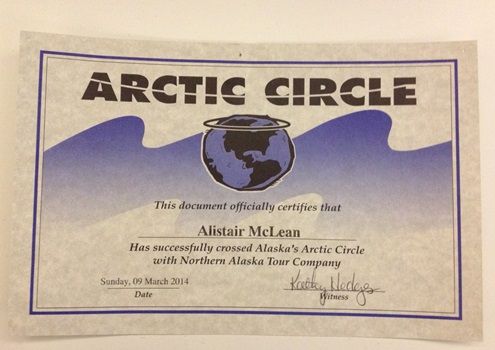 Proof!
Perversely, I love entering the Arctic. The terrain doesn't change dramatically; you'd be unlikely to know the difference if you were suddenly transported from 100 miles south of it to 100 miles north but there is something about the very name that captivates. Perhaps it's because the Arctic represents one of the few remaining untamed wildernesses on the planet and evokes thoughts of human endurance, exploration and privation at their most extreme.
Whatever the case, we were now descending towards our destination and, with a bird's eye view, the Arctic on this lovely day in late-winter looked deceptively docile. We flew over what appeared to be gently rolling fells blanketed in a Christmas card layering of snow and it all appeared rather inviting. Appearances however, can be deceptive, especially from on high and as we approached the landing strip at Coldfoot (population 13, 12, 11 or 10 depending on who you talk to) we realise that the gently rolling fells were considerably more sizeable than we had imagined and markedly less hospitable.
As we alighted from the plane, what appeared to be at least three generations of the same family were preparing to board. On the short transfer to our truck stop base for the night our driver imparted some local knowledge. He informed us that the party about to board the plane was indeed from the same family and that they were going to attend the funeral of their matriarchal family head. This recent death had led to some conjecture as to the exact population of Coldfoot as some say her demise reduced it from 13 to 12, others from 12 to 11 and others from 11 to 10. Perhaps this is what life (and death) is like this far north, speculation about such matters would surely be satisfied by simply counting up Coldfoot's inhabitants. Let's face it, it wouldn't take long!
And that was that for the flight. It only lasted an hour but I loved every single second of it. I imagine it would be a very different proposition in poor weather; bush aircraft are known to go down from time to time and the pilots are legally required to carry a considerable weight of survival gear and supplies. Nevertheless, I rather envy them their profession of flying over the great expanses of Alaska. It is such big country and one that is ever changing with the seasons. I just can't imagine anybody ever becoming bored with it all.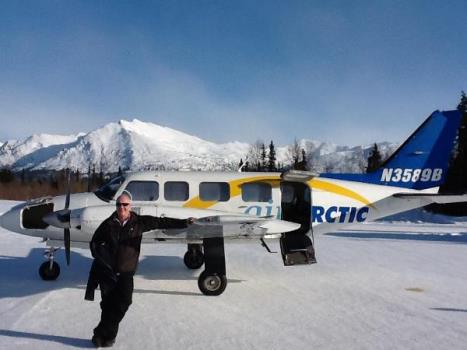 It's hard to not look rather pleased with yourself after a flight like that one