Next services 240 mile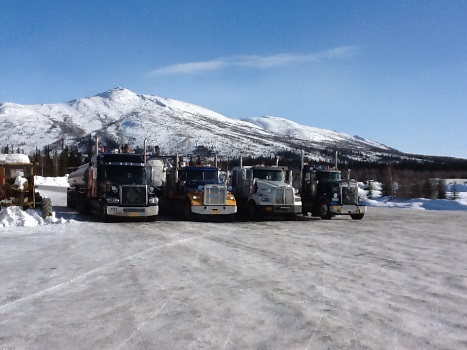 Ready to Roll - It's a long way to the next services!

As you leave Coldfoot there is a road sign which states "Next services 240 miles" which gives you some idea of how remote its location is on the Dalton Highway which services Alaska's Prudhoe Bay oilfields. Coldfoot (you may have seen it on television's Ice Road Truckers) is primarily a truck stop but in recent years, a new clientele has begun to arrive in search of Alaska's great wilderness and the Aurora Borealis.
Nowadays, you can stay at Coldfoot Camp in converted haulage containers complete with en-suite shower and toilet facilities. They are fairly basic but certainly a lot more comfortable and warm than the accommodation in the original Slate Creek mining camps. As the sign above says, in 1902, Coldfoot boasted 2 roadhouses, 2 stores, 7 (SEVEN!!!) saloons, a gambling house and a post office. Nowadays there is only the post office (where only State Troopers may carry a gun), the truck stop/accommodation and, believe it or not, an airstrip.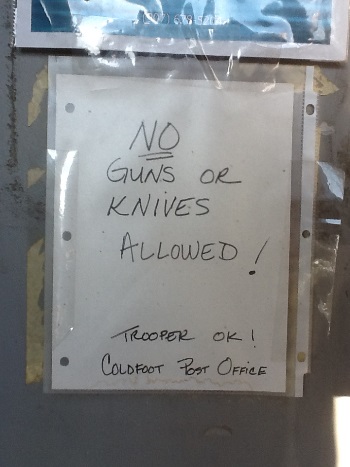 Sign at Coldfoot's Tiny Post Office
very possibly the best thing I have ever done!
That airstrip is typical of Alaska's isolated communities because small aircraft and their bush pilots are absolute lifelines ferrying in much needed supplies from the comparatively sprawling metropoles of Anchorage and Fairbanks. It also allows visitors to fly to Coldfoot, enjoy a night of Aurora hunting and then be driven back down the Dalton Highway the next day or a few days later. I did just that during a winter trip to Alaska and it was very possibly the best thing I have ever done! It is also the only time I have been blamed for somebody else, a complete stranger, getting cold feet in Coldfoot.
The flight from Fairbanks only lasted an hour but it was utterly memorable for the magnificent Alaskan scenery and entirely worthy of its very own blog – Wings over Alaska. Once in Coldfoot we settled into our accommodation, ate a hearty buffet dinner - "fry it deep, pile it high" seems to be an Alaskan mantra (see breakfast below) – before boarding the minibus which took us to the tiny village of Wisemen where our hosts have set up an excellent Aurora Camp.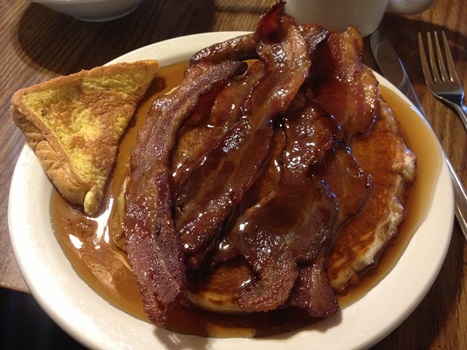 I could feel my arteries closing! - My hand slipped as I poured the maple syrup (honest)

It was a frustrating evening however. A green smudge of light hung in the Arctic sky for hours but steadfastly refused to manifest itself into a vivid and dancing display of the Northern Lights. Still, this gave everybody the chance to enjoy the warm drinks and snacks as well as getting to know some of the other people who were making their own Northern Lights pilgrimage.
This is your fault!!
One such person was a young woman from Singapore called Emily who was patently unprepared for the sub-zero temperatures. This was especially the case in the shoe department because she had come wearing Wellington boots, rubber Wellington boots. As the night grew older, her forays from the comfort of our warm shelters became shorter and shorter and began to resemble a form of traditional native dance as she hopped from one freezing foot to the other.
Sounding hideously sanctimonious I asked her,

"Did you read the advice you were given about keeping warm?"

"Yes, but I thought these would keep my feet warm."

"You should always listen to expert advice, especially somewhere as wild and cold as this." (NB. Increasingly sanctimonious)

"Ah yes" she replied "but this is your fault."

Knowing that we had no clients on this particular trip I have to confess that I was somewhat taken aback by this accusation and enquired as to why it was my fault.....

"Eh!" I spluttered. "Why is it my fault?"

"Well, you are English and Wellingtons were invented in England. You should have made them warmer"
I honestly couldn't tell whether she was serious or not but I was prepared to forgive as it had been a disappointing night in terms of her main goal, witnessing the Aurora.
Dancing on the Dalton
Sometime around 1am, we all climbed back into the minivans for the short journey back to Coldfoot and just as we joined the Dalton Highway I looked up at the night sky and turning to our driver said,

"You might want to find a safe parking spot."
Which he immediately did and we all piled out to gaze at a sky that was flooded with swirling green light, the Aurora had finally come out to play and, as ever, her dance was captivating. Daring to glance away from the sky for a nanosecond, my eyes fell upon my new Singaporean friend who had given up on her Wellington boots and was lying on her back mesmerised by the Northern Lights and occasionally emitting sporadic squeals of delight. All around her, my fellow guests were "ooh-ing" and "aah-ing" and some were even dancing on the Dalton such was the vitality of the night sky.
Alaskan Aurora - Image:
Sherman Hogue & Explore Fairbanks
The display only lasted about twenty minutes but it satisfied everybody who was there and especially Emily who, as we arrived back at Coldfoot, turned to me, smiled and said,
"My feet don't feel cold anymore."
And with that, I took myself off to bed feeling a whole lot better and prepared to dream of Aurora filled skies rather than frozen toes.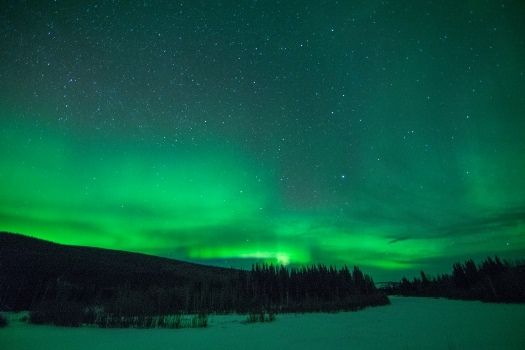 Alaskan Aurora - Image: Sherman Hogue & Explore Fairbanks
---
I am utterly convinced that Alaska is the greatest place on the planet. Here are a few ideas for places to see and things to do while you are there:
Alaskan Holidays with Artisan Travel